Last Updated on
Looking for an easy gluten-free brunch recipe? These gluten-free vegan apple cinnamon scones are perfect! They only require a few ingredients and are so easy to make. Top them with a cinnamon apple cider glaze for a sweet breakfast treat that everyone will love. Serve with warm apple cider or a big mug of coffee for the ultimate brunch.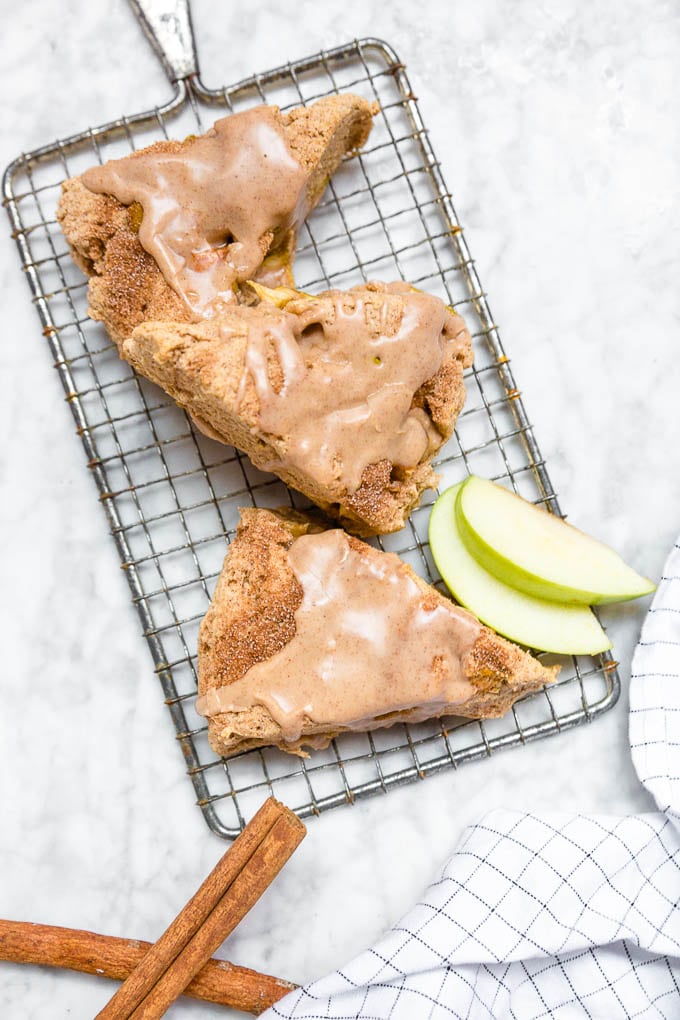 I just love Fall. I've said it a million times on here, and I'll say it again. If you hadn't already figured that out, now you know!
My birthday is during the Fall. In fact, it's in just two short weeks. I'm turning 30 this year (it's scary and exciting but mostly scary)! Which also means this blog is turning 9 soon. I started this blog back when I was 21 and I can't believe it's been a part of me throughout the entirety of my 20's!
I wish I had more profound words to say about 30. Honestly, it's a little scary. When you're growing up you have all of these thoughts of what life will be like when you're 30. Then you get there.. and it's all so different than you had originally thought. At least that's the way I feel about it.
When I turned 20, I thought I'd be an accountant and that would be it. And that's still sort of true. I left my job in accounting last year to pursue this blog and my cookie company. I've since gone back to finance part time, with the rest of my time spent here creating recipes to share with you.
So while I'm making decisions and trying new things before 30, I've realized that it's okay to not know exactly what you're doing when your 30. It's okay to not have it all figured out.
All I know is, 30 is the year where I'm making it a priority to gather more. Gather with friends and family. Especially at the table.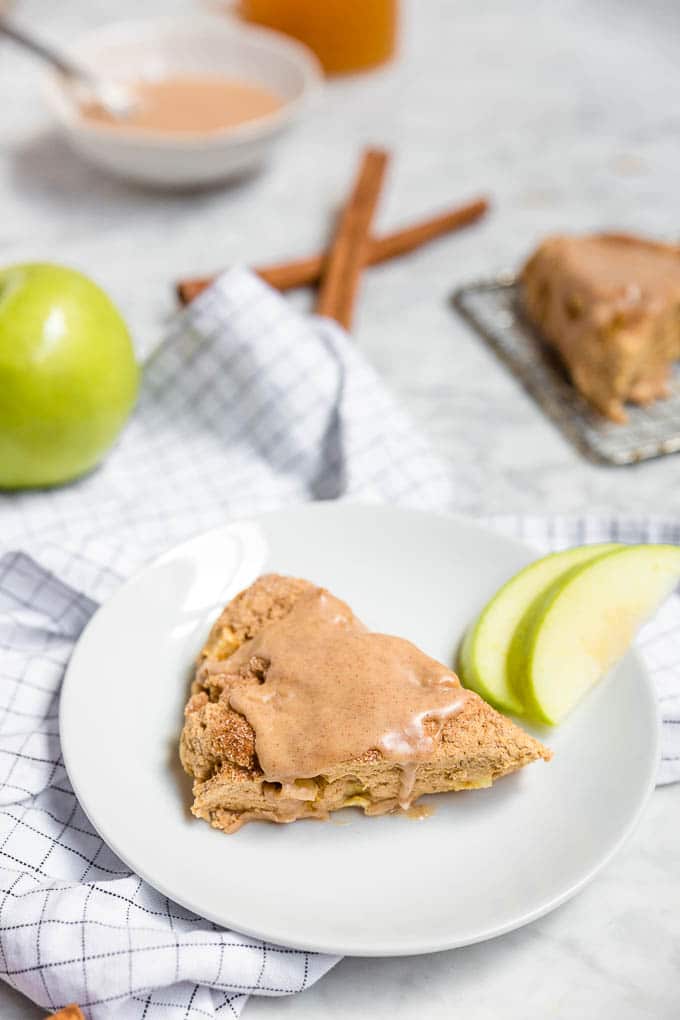 I love entertaining and spending time with my favorite people. And nothing makes me happier than to feed them. So 30 is going to be the year that there's a lot more brunch with the girls, dinner parties sharing delicious food and lots of laughs, and yummy cocktails to celebrate the happy times.
These gluten-free apple cinnamon scones are a perfect way to start off a fall brunch with friends. They seriously just taste like fall. Serve with some warm apple cider and hot coffee and chat the morning away while nibbling on these pastries.
Scones are easily my favorite pastry to make for brunch because they are so versatile and easy to make.
For this apple cinnamon variety, I love to pack in the apple flavor by using both chopped up granny smith apples in the scones and some sweet apple cider. It really amps up that apple flavor so you get apple in every bite.
I'm a fan of getting big chunks of apples in my scones, but if you prefer you can grate them so they're distributed throughout the scone instead. I also don't peel my apples for this recipe, because I love the added texture and color the skin provides.
You'll never guess these apple cinnamon scones are gluten-free, dairy-free and vegan! I used a gluten-free all purpose flour to make these decadent scones. Use your favorite brand. If you brand doesn't contain xanthan gum, you'll want to add it in. It helps bind the scone and acts in a manner that gluten would.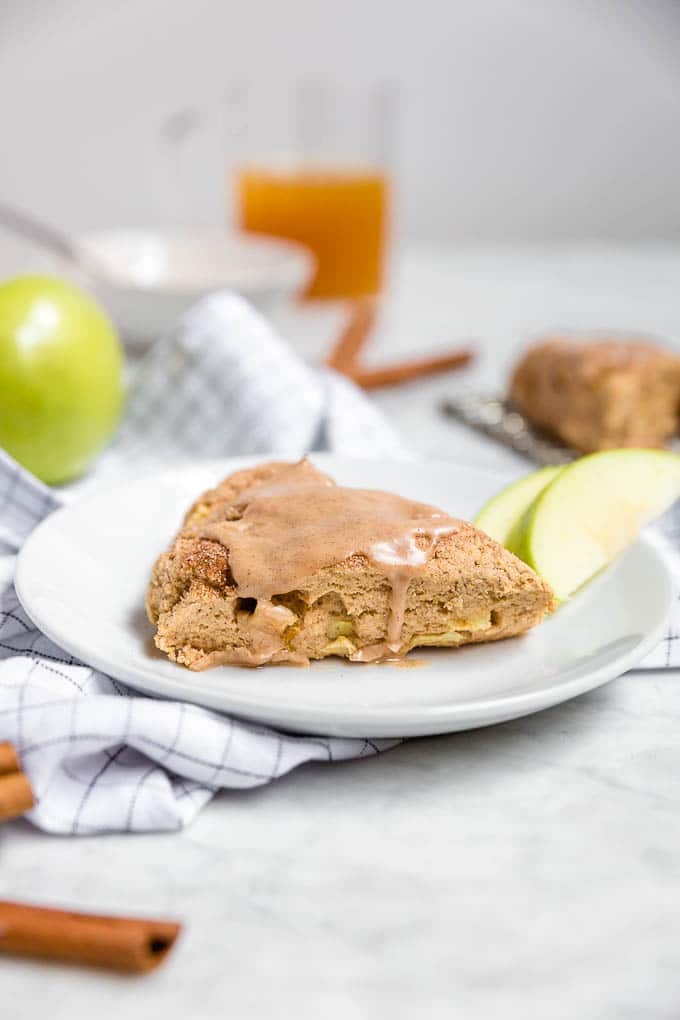 Cold coconut oil should work in this recipe, though I have not tried it. I've used both Earth Balance dairy-free buttery sticks and Smart Balance. Both have worked so well. My trick is to freeze the butter ahead of time so I can easily cut it into the flour and create a buttery and flakey scone.
You don't have to glaze these scones, but since they aren't too sweet on their own I enjoy the added sweetness from the cinnamon glaze. Apples and cinnamon are a match made in heaven!
Serve these apple scones with dairy-free butter, apple butter, or even some jam. Can you imagine these on a brunch table with other gluten-free pastries? I could! They would be beautiful for any fall party.
Tips and Tricks for Making the Perfect Gluten-Free Vegan Scones
Use a tart apple, like granny smith, for this recipe. Don't use a softer apple, like golden delicious, in this recipe.
Keep your butter cold. Cut the amount of butter you need into cubes and freeze it until it's solid.
If you don't have dairy-free butter, you can also use coconut oil instead. Chill in the freezer so it's cold and solid and treat exactly as you would the butter. That being said, if you aren't dairy-free, feel free to use regular butter, too!
Measure your gluten-free flour by spooning it into your measuring cup and leveling it off with a knife or the side of the spoon. PLEASE do not scoop your measuring cup straight into the bag. The flour will too packed and dense if you do it this way and you'll use way more flour than you need, meaning you'll get some very dry scones.
You can make the scones ahead of time if you plan on entertaining and want to prepare ahead. You can make the dough as directed and freeze it before baking – just thaw and bake when you're ready. You can also freeze the scones after they're baked. Allow them to come to room temperature and then place in a freezer safe bag or container and freeze up to one month. I'd recommend icing after thawing and not freezing with the cinnamon glaze.
More Gluten Free Scone Recipes to Make for Breakfast
Other Gluten-Free Apple Recipes You'll Fall For
Remember those little apple pies from a certain fast food restaurant? These Gluten-Free Vegan Apple Hand Pies taste just like them!
If you need an appetizer, try these super easy Brown Sugar Bacon Wrapped Apples. They're so tasty!
If you think apple doesn't belong in guacamole… thing again! This Apple Guacamole is always a crowd pleaser!
If you like apple pie, then you will LOVE this Gluten-free Dutch Apple Pie recipe. The crumble on top is absolutely fantastic!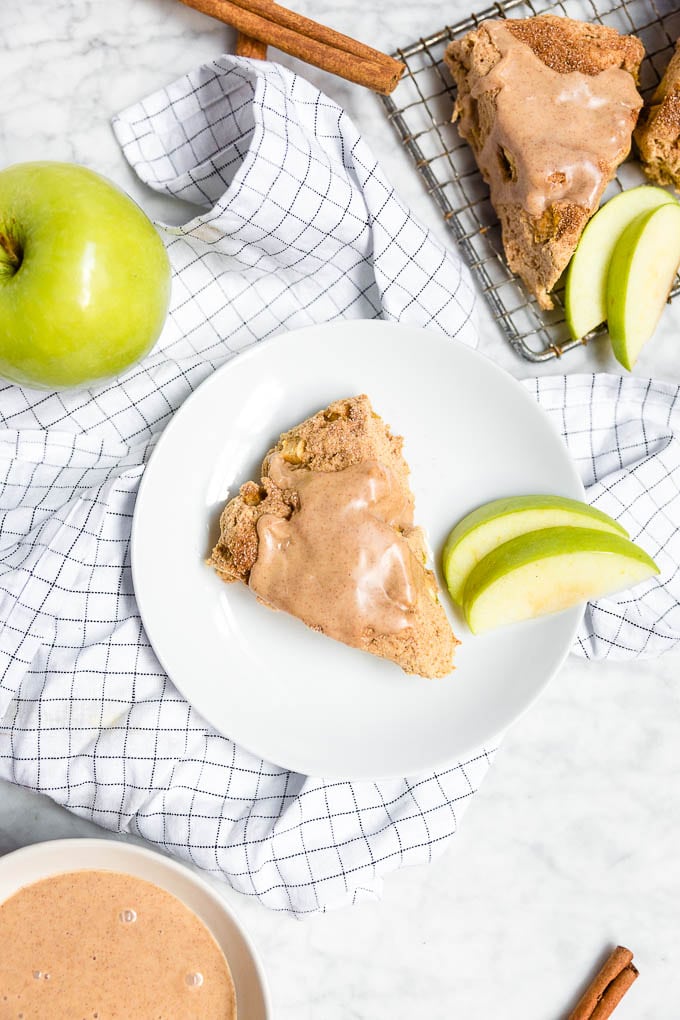 Gluten-Free Vegan Apple Cinnamon Scones Recipe
Scones have never been easier to make with this gluten-free vegan apple cinnamon scones recipe. Simple fall ingredients, like apples and cinnamon, give these scones a delightful autumnal flavor. Drizzle with cinnamon apple cider glaze for a sweet bite.
Gluten-Free Vegan Apple Cinnamon Scones
Scones have never been easier to make with this gluten-free vegan apple cinnamon scones recipe. They only require a few ingredients and are so easy to make. Simple fall ingredients, like apples and cinnamon, give these scones a delightful autumnal flavor.
Ingredients
For the Scones:
2

cups

gluten-free flour blend

1/2

teaspoon

xanthan gum

if your blend doesn't already contain it

1

tablespoon

baking powder

1/2

tablespoon

ground cinnamon

1/2

teaspoon

salt

1/3

cup

granulated sugar

6

tablespoons

dairy-free butter

cold and solid, cut into small cubes

1

teaspoon

pure vanilla extract

1/2 to 3/4

cups

apple cider

1

cup

granny smith apple

cubed

1

teaspoon

granulated sugar

1/4

teaspoon

ground cinnamon
For the Glaze:
1

cup

powdered sugar

1

teaspoon

ground cinnamon

1

tablespoon

apple cider
Instructions
Preheat oven to 375F. Line a baking sheet with parchment paper.

In a food processor, add the gluten-free flour, xanthan gum (if using), baking powder, cinnamon and salt. Pulse to combine.

Then, add in the very cold butter chunks and pulse until the butter is the size of small peas. If you don't have a food processor you can also do this in a bowl with a pastry blender or two knives.

Then, add in the vanilla and apple cider. Start with 1/4 cup of apple cider and keep adding more until the mixture is slightly wet and can be held together into a dough (I ended up using a full 3/4 cup of apple cider but it will depend on your brand of flour).

Stir in 1 cup of chopped granny smith apple.

Pat the dough into a circle (about 8 inch in diameter). Cut it into 8 wedges and place on baking sheet lined with parchment paper.

Mix together 1 teaspoon granulated sugar and 1/4 teaspoon ground cinnamon. Sprinkle over the tops of the scones.

Bake at 375F for 15-17 minutes, until they are a light golden brown.

Remove the scones from the oven and allow to cool before glazing.

Mix together powdered sugar, apple cider and cinnamon in a small bowl until smooth. Add any additional apple cider if needed to thin out the glaze.

Drizzle or spoon the cinnamon glaze over the scones and allow to set completely before serving.
Nutrition
Calories:
282
kcal
|
Carbohydrates:
49
g
|
Protein:
3
g
|
Fat:
9
g
|
Saturated Fat:
1
g
|
Sodium:
221
mg
|
Potassium:
168
mg
|
Fiber:
4
g
|
Sugar:
26
g
|
Vitamin A:
10
IU
|
Vitamin C:
0.7
mg
|
Calcium:
92
mg
|
Iron:
1.3
mg