These blackberry scones are filled with simple ingredients and make a great breakfast or brunch recipe. Gluten-free, dairy-free and vegan.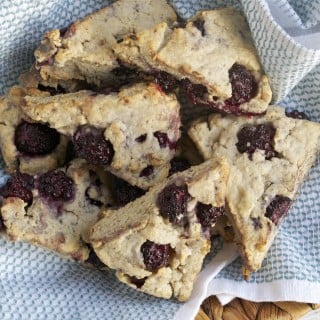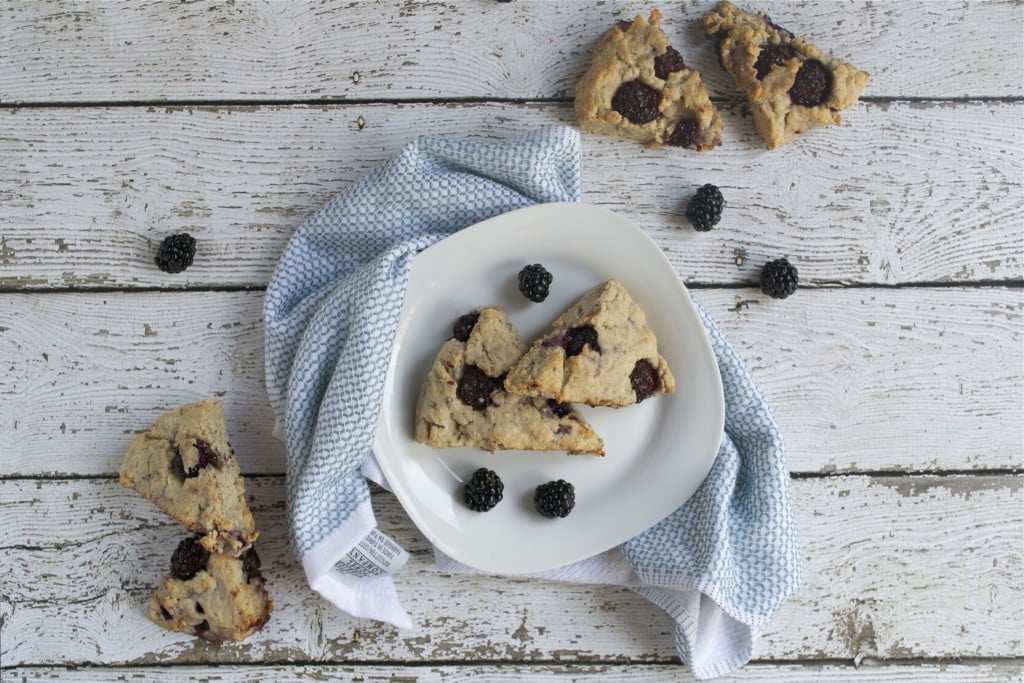 I haven't made scones for a few years, about 5 years to be exact. But all it took was a conversation with my friend Chris from my study abroad program the other day, and I had the urge to make scones once again. You see, it was the Summer of 2010 and I was studying abroad in Copenhagen. The kitchen to our dorm was locked for the entire summer for some reason or another. Actually the reason was probably that someone left garbage in the kitchen. So we cooked all of our meals on the one grill in the courtyard, which honestly wasn't bad at all. But, of course, I always had a hankering to bake. One day, everyone decided we should climb through the window to open the door to the kitchen and have a big dinner with everyone. I'm typically not a rules breaker, but the heart wants what the heart wants, and the heart wanted to bake something!
Well that same day, my friend Chris got his hands on some blueberries from Iceland. A friend from Iceland's dad brought them over on a visit. They were the most wonderful blueberries I had ever seen. Small and sweet and perfect in every way. We made the most beautiful scones with those blueberries. After a few minutes of cooling, we took big bites of the flakiest and most buttery scones I had ever tasted and quickly devoured the rest of the batch. That night, I remember having the best dinner in that kitchen. Everyone was contributing meals from their home countries and it was just a great night filled with lots of laughter and I think a lot of Italian drinking chants and swear words (because Italian sounds so pretty no matter what you say!). This will always be one of my favorite memories from living in Copenhagen, making those blueberry scones and having that amazing dinner with friends.
Chris recently got engaged to his lovely fiancé Megan (great name by the way), and I finally got a chance to catch up with him and congratulate him on the great news. This of course got me thinking of those blueberry scones and how delicious they were. Next thing I knew, and I was in the kitchen creating a recipe that would be reminiscent of the flaky, buttery scones I made that one day in Copenhagen. One bite and the memories came flooding back.
I know blueberry scones would never live up to the original in my mind, so blackberry seemed like the perfect choice here. The blackberries burst (literally) with flavor in every bite. Do you want to know the best part about these scones? They are gluten-free, dairy-free and vegan, AKA Megan friendly. That's right! I can eat a baked good and not feel totally miserable an hour later. I could not be happier with how they turned out. You would not even guess that there's no butter or cream in these blackberry scones, I promise! Crunchy exterior, fluffy inside, moist, and slightly sweet. Everything you could possibly want in a scone!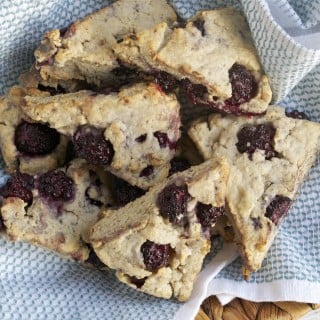 Blackberry Scones
These blackberry scones are filled with simple ingredients and make a great breakfast or brunch recipe. Gluten-free, dairy-free and vegan.
Print
Pin
Rate
Ingredients
2

cups

gluten-free all-purpose flour

1

tbsp

baking powder

1/2

tsp

salt

1/2

tsp

cinnamon

1/4

cup

granulated sugar

1

cup

+ 1 tbsp coconut milk

3

tbsp

coconut butter

(melted and cooled)

2

tbsp

coconut oil

(melted and cooled)

1

tsp

vanilla extract

1

cup

fresh blackberries
Instructions
Preheat oven to 400F and line a baking sheet with parchment paper.

In a large bowl, whisk together flour, baking powder, salt, cinnamon and sweetener/sugar. Set aside.

In a medium bowl, mix together 1 cup coconut milk, coconut butter, coconut oil and vanilla.

Pour wet ingredients into dry ingredients. Mix with a spoon until combined.

Gently fold in blackberries.

Pat dough into a large disk, about 1 inch thick. Slice into 8 equal triangles as you would a pizza. Carefully place on baking sheet.

Brush tops of scones with 1 tbsp of coconut milk.

Bake at 400F for 17-20 minutes, or until tops are golden brown and scones are cooked through.

Allow to cool for at least 10 minutes before serving.
Nutrition
Calories:
255
kcal
|
Carbohydrates:
32
g
|
Protein:
4
g
|
Fat:
13
g
|
Saturated Fat:
9
g
|
Sodium:
152
mg
|
Potassium:
242
mg
|
Fiber:
5
g
|
Sugar:
8
g
|
Vitamin A:
40
IU
|
Vitamin C:
4.2
mg
|
Calcium:
99
mg
|
Iron:
2.4
mg