Last Updated on
Did you know you can make donuts at home? You can! They're super easy to make in a donut pan, with no deep frying involved! These gluten-free vegan baked chocolate donuts are baked in the oven and ready in under 30 minutes. Brunch has never been so delicious or easy! We dip our gluten-free vegan baked chocolate donuts in a simple chocolate glaze and lots of rainbow sprinkles. Because sprinkles make everything better!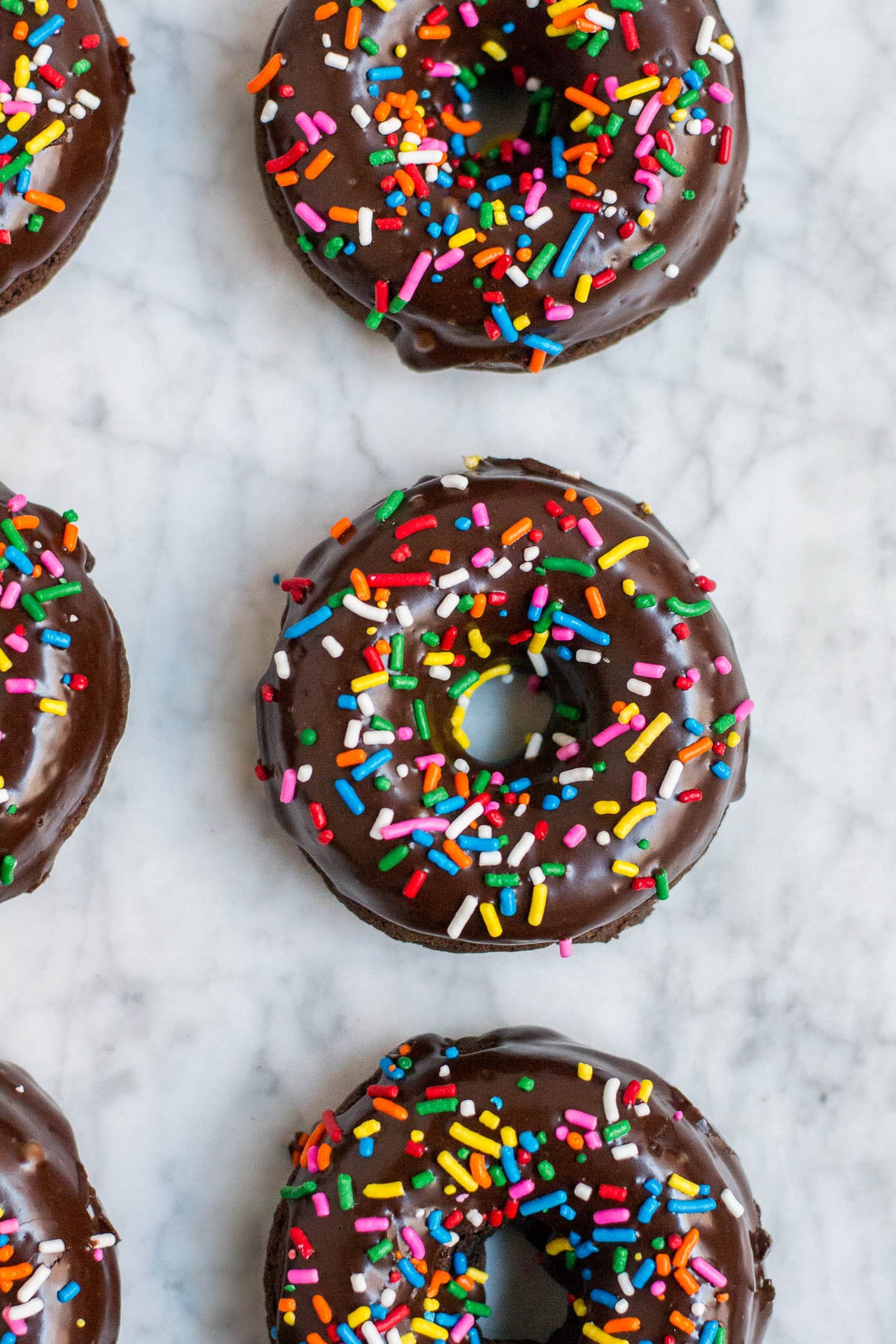 For as long as I can remember, I've been a little bit obsessed with donuts. Baked donuts, fried donuts, cake donuts, donut holes. All the donuts. However, finding a gluten-free donut out in the world is a rarity. Better yet, finding a gluten-free AND vegan donut is even more scarce. So I tend to make them at home, instead! As soon as I purchased a baked donut pan, I was hooked. The pan itself is rather inexpensive so it was a no brainer to add it to my kitchen.
I just love how quick and easy it is to get my chocolate donut fix with these gluten-free vegan baked chocolate donuts. The donuts are soft, moist, fluffy and lightly sweetened. The glaze sets to create that perfect bite. And well sprinkles make everything better!
These baked chocolate donuts are gluten-free, dairy-free, egg-free, vegan AND yeast-free! SO MANY FREES! But that doesn't mean they don't taste like the real thing. Because they most certainly do! You really wouldn't even know they were allergy friendly!
These baked chocolate donuts taste JUST like chocolate cake, except you can eat them for breakfast! Don't you just love when you can disguise dessert as breakfast? I know I do! I will say these baked donuts are slightly healthier than their fried counterparts. Just ever so slightly. But everything in moderation, my friends.
By the way… Is it donuts or doughnuts? I seriously never know. I'm calling them donuts here, but for all you doughnut lovers, I promise I made these for you, too.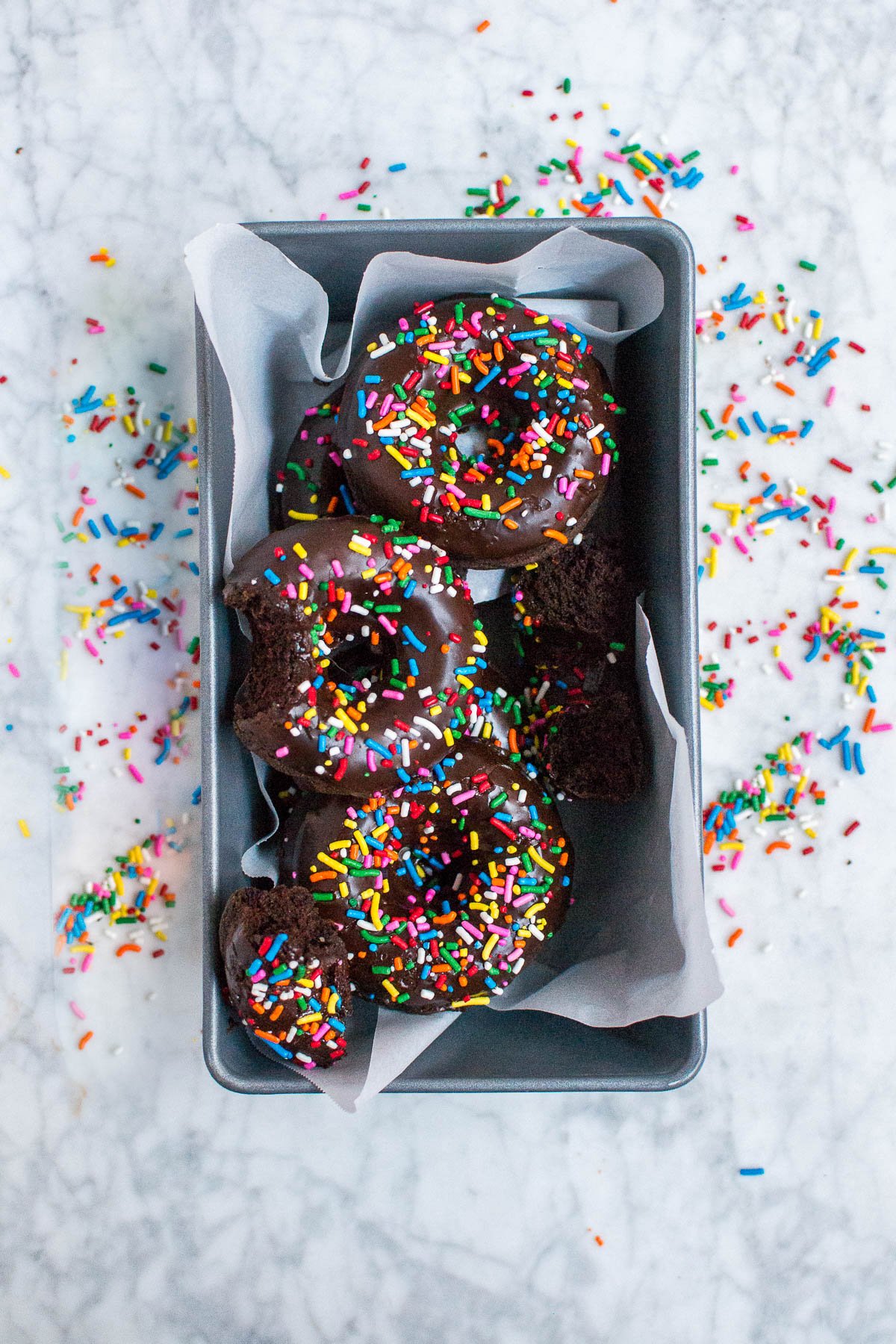 Tips for Making Gluten-Free Vegan Baked Donuts
Most recipes will tell you not to fill the donut pan up to the top with the batter. However, these are gluten-free vegan donuts. They don't rise the same way as a normal baked donut. So I fill all the way to the top. You get a perfectly round, fluffy donut this way. Trust me!
The magic is in the apple cider vinegar. Apple cider vinegar reacts with the baking soda here and helps replace eggs in this recipe. So don't skip out on that. It may seem trivial due to its small amount, but it is powerful!
Other types of non-dairy milk are able to be swapped here. I tend to use almond milk in almost all of my baking because it's what we have on hand in our house. You can try using soy milk or rice milk if you have a nut allergy.
Use a ziplock bag to pipe the donut batter into the pan. Seriously, it's so much easier than spooning it in. Just take a ziplock bag and fit it into a drinking glass, folding the top of the bag over the sides. Use a spatula to fill the bag with the batter. Snip off one of the corners with scissors and you have yourself a DIY pastry bag! Trust me, it's so easy!
Donuts are best eaten the same day, but you can keep them in an airtight container for 2-3 days. For longer storage, you can freeze them. Defrost at room temperature for about an hour before serving. Just keep in mind the glaze will not stay set when you defrost them from the freezer. Still delicious, though!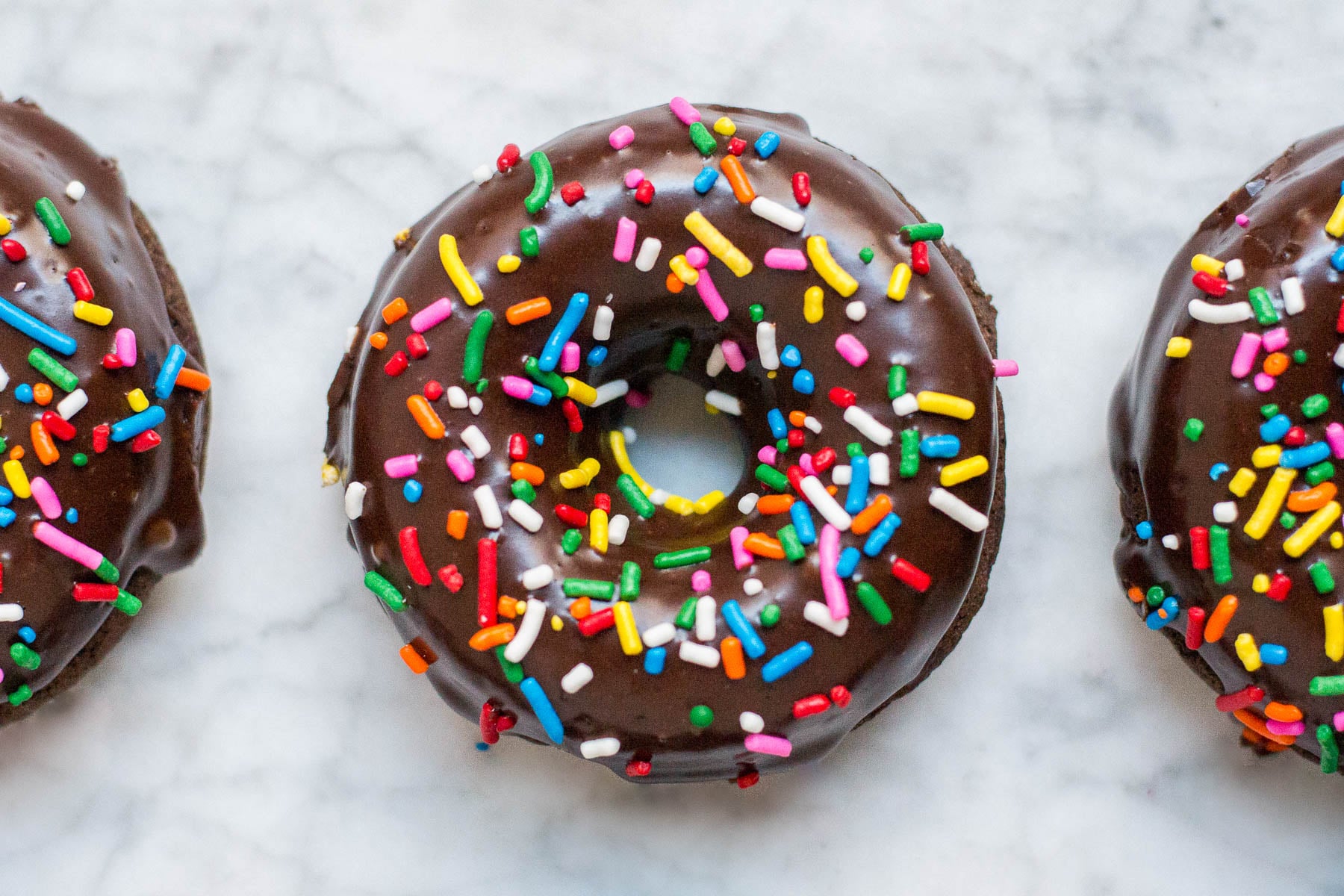 You May Also Like…
Gluten-Free Vegan Baked Chocolate Donuts Recipe
You'll fall in love with how easy these gluten-free vegan baked chocolate donuts are to make. Dipped in a chocolate glaze and rainbow sprinkles, your family will think you grabbed these donuts straight from a bakery! They are fun to make and ready in under 30 minutes. Does it get simpler than that?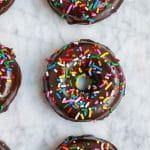 Print Recipe
Gluten-Free Vegan Baked Chocolate Sprinkle Donuts
Who knew gluten-free vegan baked chocolate donuts could be so easy to make at home? They're baked in the oven, not fried for a quick and easy gluten-free brunch recipes. Dipped in a delicious dairy-free chocolate glaze and topped with rainbow sprinkles for a fun breakfast treat!
Ingredients
For the Donuts:
1 1/4

cups

gluten-free flour blend

1/4

cup

cocoa powder

1/3

cup

granulated sugar

1/2

tsp

baking soda

1/2

tsp

baking powder

1/2

tsp

salt

1

tsp

vanilla extract

1

tsp

apple cider vinegar

3/4

cup

unsweetened almond milk

or other non-dairy milk

1/4

cup

vegetable oil
For the Glaze:
3/4

cup

powdered sugar

3

tbsp

cocoa powder

2-3

tbsp

unsweetened almond milk

1/2

tsp

vanilla extract

1/4

cup

rainbow sprinkles
Instructions
Preheat oven to 375F. In a large bowl, mix together flours, cocoa powder, sugar, baking powder, baking soda and salt.

Add in vanilla extract, apple cider vinegar, almond milk and vegetable oil. Whisk until smooth.

Spray a donut pan with nonstick cooking spray (make sure it does not have flour in it if you need to be gluten-free).

Spoon or pipe batter into the donut pan. The batter should just about reach the top of the pan.

Bake at 375F for 10-14 minutes or until the donuts spring back when you touch them. Cool on a wire rack.

To make the frosting, add powdered sugar and cocoa powder to a medium sized bowl. Whisk to combine.

Add almond milk one tablespoon at a time until your preferred consistency is reached. You don't want it to be so thin that it drips right off the donut, but too thick and you won't be able to dip the donuts successfully without them crumbling.

When the donuts are cooled, dip them into the frosting and shake off any excess. Place back on wire rack and sprinkle with rainbow sprinkles if desired.
Notes
As always, check the labels of your products to make sure they are gluten-free! 
Nutrition
Calories:
314
kcal
|
Carbohydrates:
54
g
|
Protein:
3
g
|
Fat:
11
g
|
Saturated Fat:
8
g
|
Sodium:
351
mg
|
Potassium:
137
mg
|
Fiber:
4
g
|
Sugar:
32
g
|
Calcium:
89
mg
|
Iron:
1.8
mg