Hi there! I'm Megan, and I am a 30-something accountant turned food stylist and gluten-free food blogger. I live in the Chicagoland area with my husband and our dog, Nova.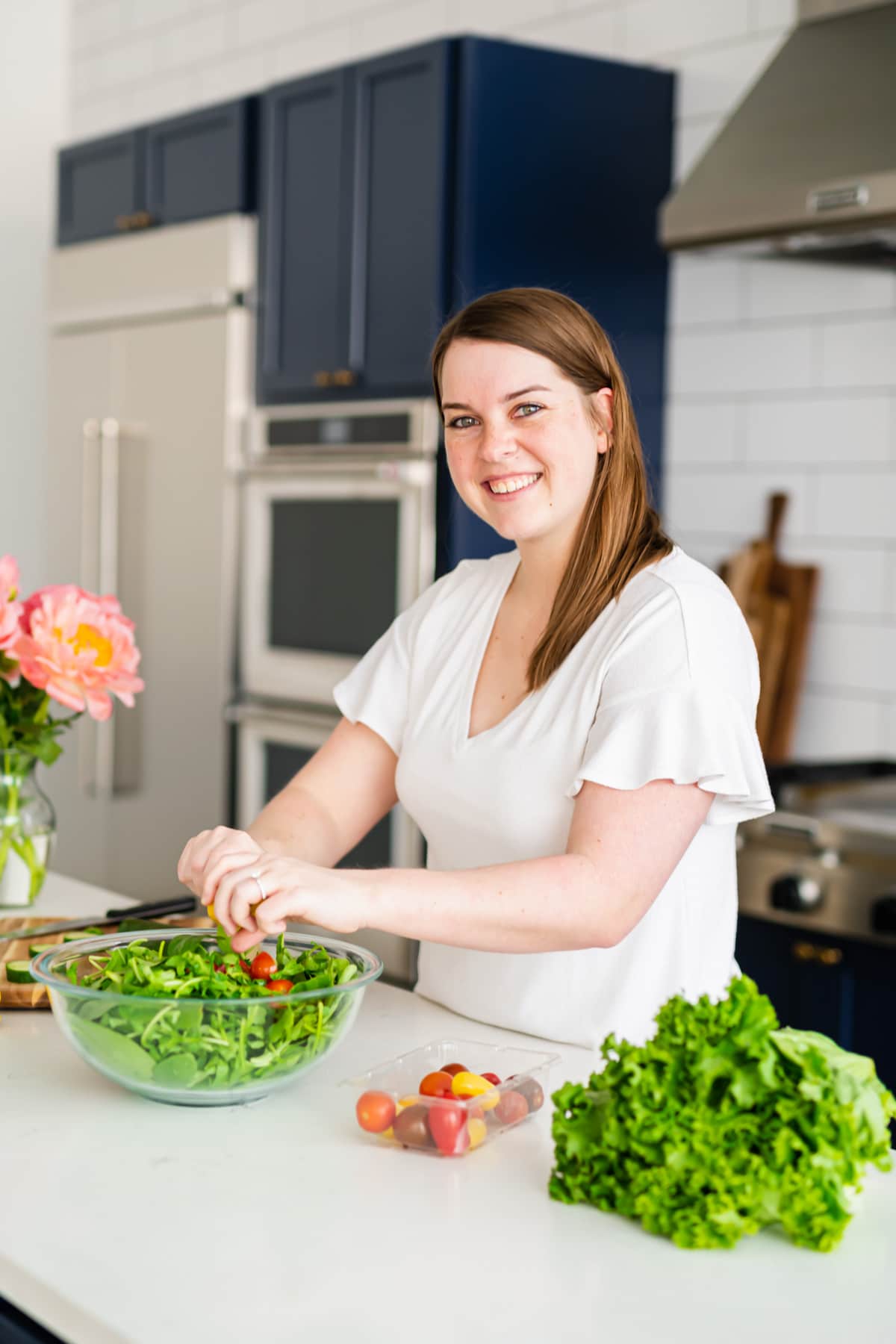 I started A Dash of Megnut in 2010 while I was a college student, learning how to cook. It was a way to share my favorite recipes with my family and friends. It was a fun hobby as I studied to be an accountant and quickly I became passionate about being in the kitchen.
Little did I know that one diagnosis would change my whole path.
My Gluten-Free Journey
After years of chronic illness and countless doctor trips that left me with no explanation for my sickness, I was diagnosed with Celiac Disease in 2013. I was so relieved to finally have an answer to why I was feeling so sick all of the time, but I was also scared. How was I going to navigate this gluten minefield? What was I going to eat?!
At that time, there weren't many safe options at restaurants for eating gluten-free and grocery store finds were scarce. I had already been blogging about food for a few years, so I knew I could create my own gluten-free recipes and share them here on A Dash of Megnut as a source for myself and for other people going through something similar. Fast forward a decade or so and the gluten-free food industry (and this blog) has come such a long way! Since then, I've gone to culinary school, owned a gluten-free cookie subscription box company, and quit my job in accounting to dedicate my time to creating delicious gluten-free recipes.
What you'll find here
A Dash of Megnut is a place where you can come to find all types of gluten-free recipes, from breakfast to dinner to dessert, perfect for gluten and gluten-free eaters alike. My goal is to make gluten-free recipes easy and accessible and prove that gluten-free doesn't have to be taste-free.
I am constantly testing, adding, updating, and tweaking new and old recipes here, but if you don't see what you're looking for, send me a note and I'll work to add it to the recipe box. Happy (gluten-free) eating!
10 fun facts about me
The nickname"Megnut" came from a disastrous, delirious, yet hilarious game of Scattergories with my sisters.
I have a Masters in accounting and no I will not do your taxes.
I went to culinary school in my 20's for night school while working full time.
I am a sucker for all Hallmark movies.
My favorite baked good to make is cookies. They're quick, easy and so satisfying. Plus you can keep dough in the freezer for whenever you have an itch to bake.
I hate pickles, but I love pickle juice.
I think ketchup is disgusting. I put BBQ sauce on my grilled cheese and honey on my hot dogs. (Because again.. ketchup is gross.)
I have a black thumb. I'm currently *trying* to keep 4 plants alive in my house and I'm just thankful fake plants exist.
If I had to choose one meal for the rest of my life it would be (gluten-free) pizza. Probably with arugula, sausage and a balsamic glaze drizzle on top.
My footwear of choice is crocs and pillow sandals. I'd describe my style as comfy. Not very stylish, but very comfy always.