Gluten-Free Vegan Tomato Basil Galette
Fresh from the garden, this gluten-free vegan tomato basil galette tastes just like pizza! You won't even miss the cheese or toppings!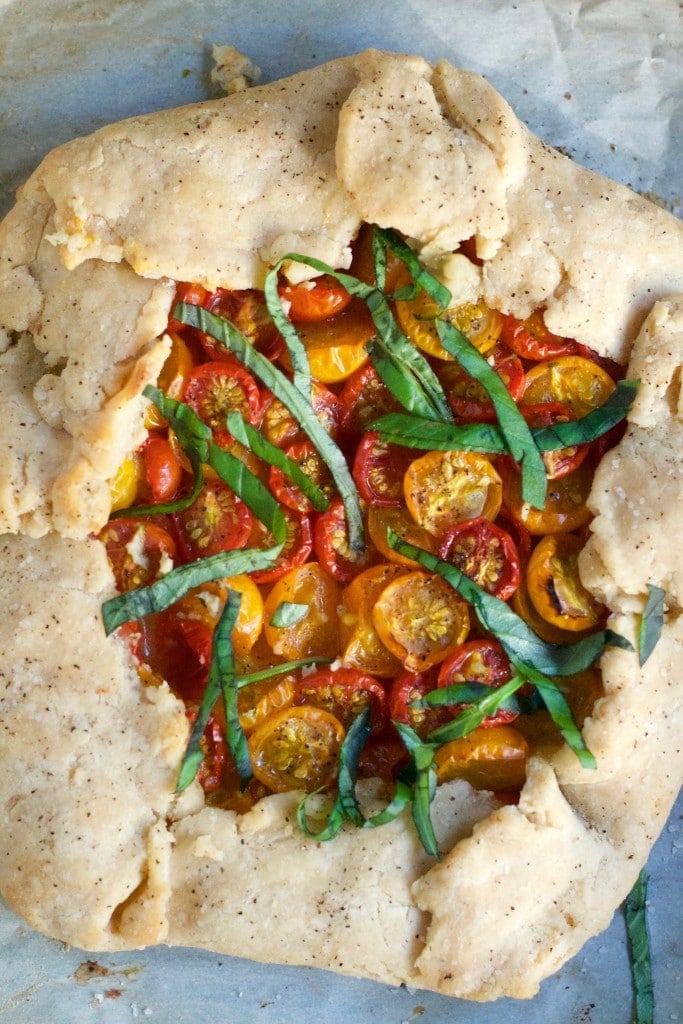 Can I just say I am LOVING gardening this year? Last year, I was easily the worst gardener in the world. I had maybe about 3 tomatoes grow and that was about it. But this year?
My garden is FILLED with cherry tomatoes, cucumbers, rainbow chard, edamame, bell peppers, lavender, strawberries, basil and more. I can't even believe it.
The garden gods are smiling down at me. With all of this beautiful produce, I've been putting them to good use in recipes this summer!
Did I mention my garden is at my office? It's pretty awesome in fact. They started the community garden in our building a few years ago as they noticed a space that wasn't being used just outside of the building.
We have about 15 plots and about 25 of us in the garden community. Some departments even share a plot. I make sure I get the accounting team out there with me every once in awhile to water my plants and check out all of the flowers, herbs and produce everyone is going.
Everyone loves a good field trip outside when you've been staring at numbers at your desk all day!
The cherry tomatoes are my absolute favorite. I love going out to the garden during lunch and grabbing a hand full of ripe cherry tomatoes and popping them in my mouth for an afternoon snack with some hummus.
They work better for me than say heirloom or roma tomatoes for that very reason. I also love including them in some recipes, such as this peach tomato salsa, farmer's market salad with mustard vinaigrette and this gorgeous gluten-free vegan tomato basil galette. Huge bonus that I get to use my fresh basil in this recipe too!
Adapted from my rustic italian plum gallete recipe, this gluten-free vegan tomato basil galette is seriously so good. I added masa harina corn flour to give it more of a buttery crust without the butter.
You can also use corn meal, I just used masa harina since it's what I had on hand. Let me tell you, this gluten-free vegan tomato basil galette reminds me so much of pizza. The flavors are all there – the cornmeal, garlic, roasted tomatoes. Even without the cheese or yeast.
I haven't been able to eat pizza in so long since I can't eat dairy, eggs or yeast and with one bite this just took me right back to my pizza eating days. Pure bliss. I almost didn't even share any of this with Michael it was that good. Almost.
I ended up leaving him two pieces so I could make sure it really was as good as I thought (it really is, I promise). Michael's verdict? DELICIOUS! (even if he did ask to add some Italian sausage on his next time)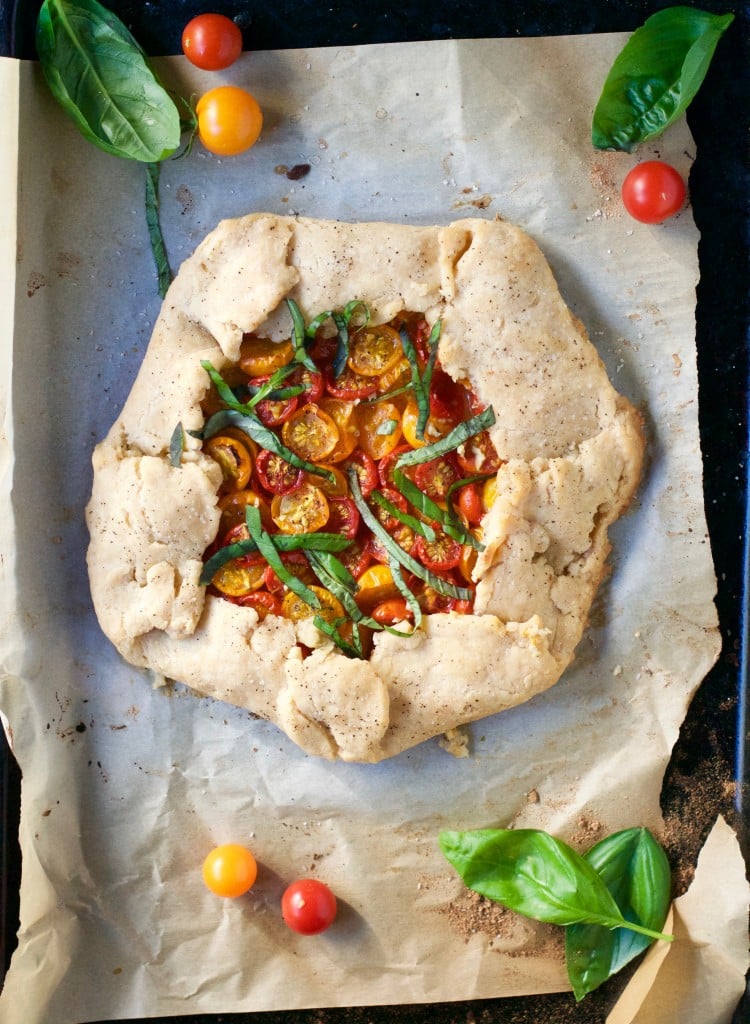 Gluten-Free Roasted Tomato Basil Galette
Fresh from the garden, this gluten-free vegan tomato basil galette tastes just like pizza! You won't even miss the cheese or toppings!
Print
Pin
Rate
Ingredients
½

cup

masa harina corn flour

(corn meal works here too)

1

cup

gluten-free flour blend

1

tsp

xanthan gum

(if your blend does not already contain it)

1

tsp

garlic powder

½

tsp

kosher salt

½

cup

vegan butter

(cubed and cold (can also use regular unsalted butter))

4

tbsp

cold water

2

cups

cherry tomatoes

(cut in half)

2

tbsp

oil

(olive oil, avocado oil, grapeseed oil all work)

pinch

of kosher

(salt)

pinch

of ground black pepper

fresh basil

(to taste (around 1-2 tablespoons), cut into thin ribbons (chiffonade))
Instructions
In a food processor, add corn flour, gluten-free flour blend, garlic powder and salt and pulse to combine.

Add water one tablespoon at a time and pulse until a dough forms. You may not need all of the water. You don't want the dough to be too wet but you should be able to form it into a ball with your hands.

Pat into a flat circle and chill for at least an hour.

Preheat oven to 375F. Line a baking sheet with parchment paper.

Roll out the dough to a 12-inch circle about ½ inch thick. Place tomatoes cut side up in the middle of the dough.

Crimp dough over the filling leaving a circle in the middle. Brush crust with oil and drizzle the remaining oil over the tomatoes.

Top with a sprinkle of salt and pepper over both the filling and the dough.

Bake at 375F for 40-50 minutes, until crust is golden brown.

Remove from the oven and sprinkle fresh basil over the top. Cut into 8 pieces and serve.
Nutrition
Calories:
198
kcal
|
Carbohydrates:
18
g
|
Protein:
2
g
|
Fat:
13
g
|
Saturated Fat:
2
g
|
Sodium:
252
mg
|
Potassium:
104
mg
|
Fiber:
2
g
|
Sugar:
1
g
|
Vitamin A:
720
IU
|
Vitamin C:
8.5
mg
|
Calcium:
24
mg
|
Iron:
0.9
mg
Recipe adapted from my rustic italian plum galette.