These mini blueberry tarts are SO easy to make in your mini muffin tin! They're made with a sugar cookie crust that gives the tarts extra flavor and they taste just like fresh blueberry pie! They're gluten-free, dairy-free and vegan.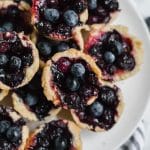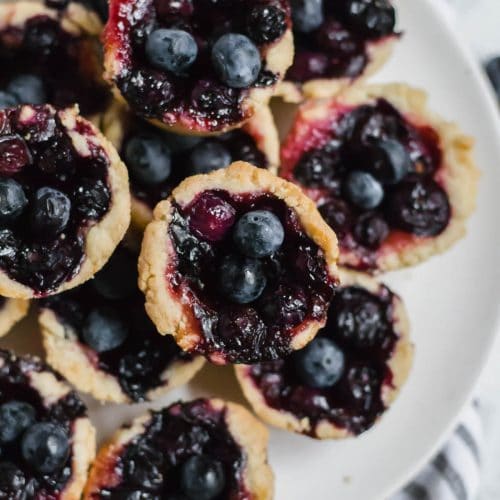 These easy mini blueberry tarts are made with a sugar cookie crust and bursting with fresh blueberry flavor! Made in a muffin-tin, they are a great gluten-free and vegan dessert recipe that is devoured in just one bite! Perfect for any potluck or get together this season.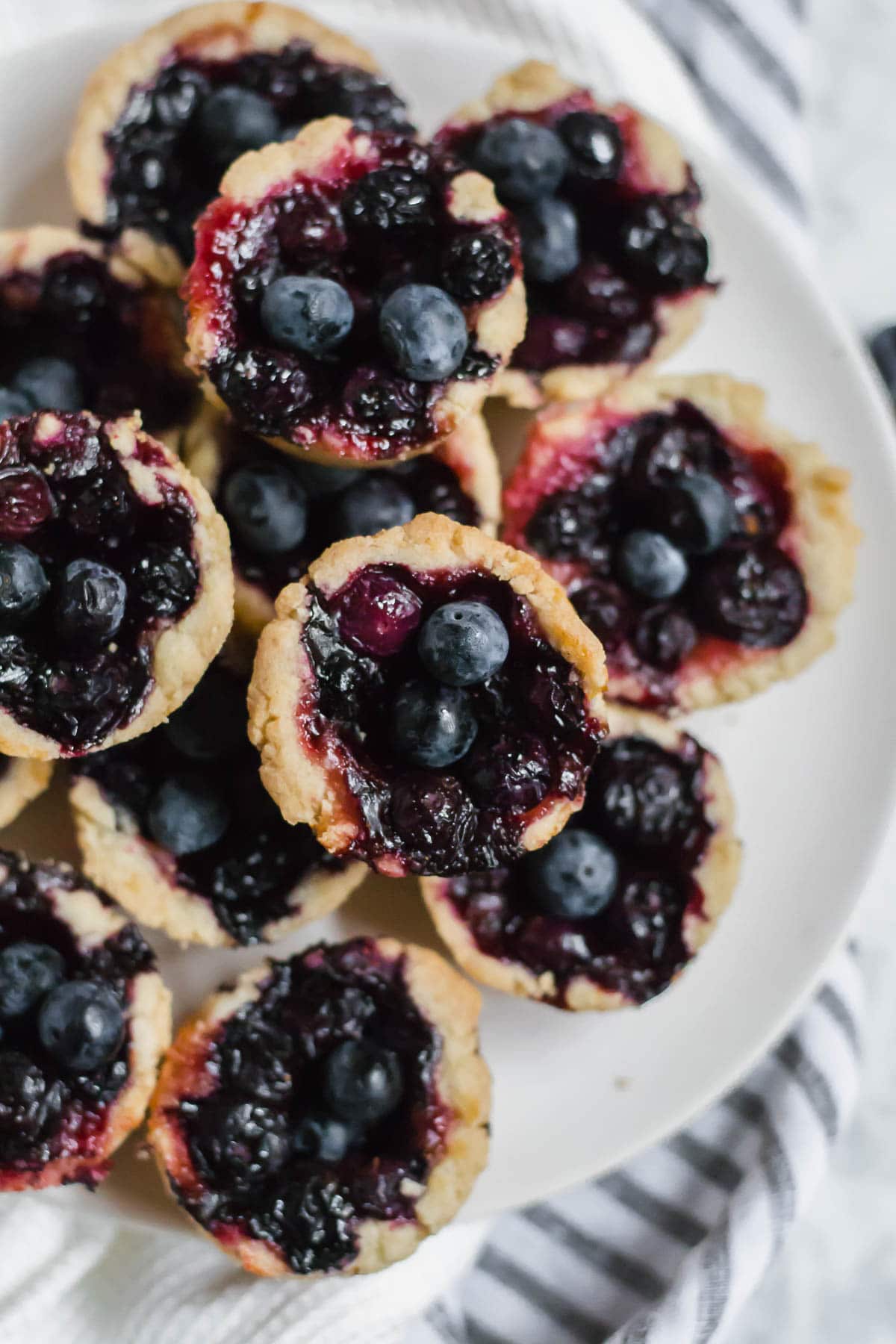 I'm clearly on a muffin tin kick lately. Don't worry about me, I'm just making tons of cute little bite sized treats in my mini muffin tin over here.
If you missed it, I made these
mini beef taco bites
in my mini muffin tin last week. The muffin tin isn't just for muffins, friends. It's for EV-ER-Y-THING. From appetizer sized beef taco bites to sugar cookie blueberry tarts.
Seriously I'm so in love with how these gluten-free mini blueberry tarts turned out. They're the epitome of summer – full of fresh blueberries, tart and sweet, with a delicate and flakey gluten-free vegan sugar cookie crust.
I went the sugar cookie route for this recipe instead of a traditional pie dough or tart dough. I just really wanted the crust to have a slightly chewy texture and be able to hold up to the blueberry filling. So you kind of have a cross between a sugar cookie and a pie and a tart.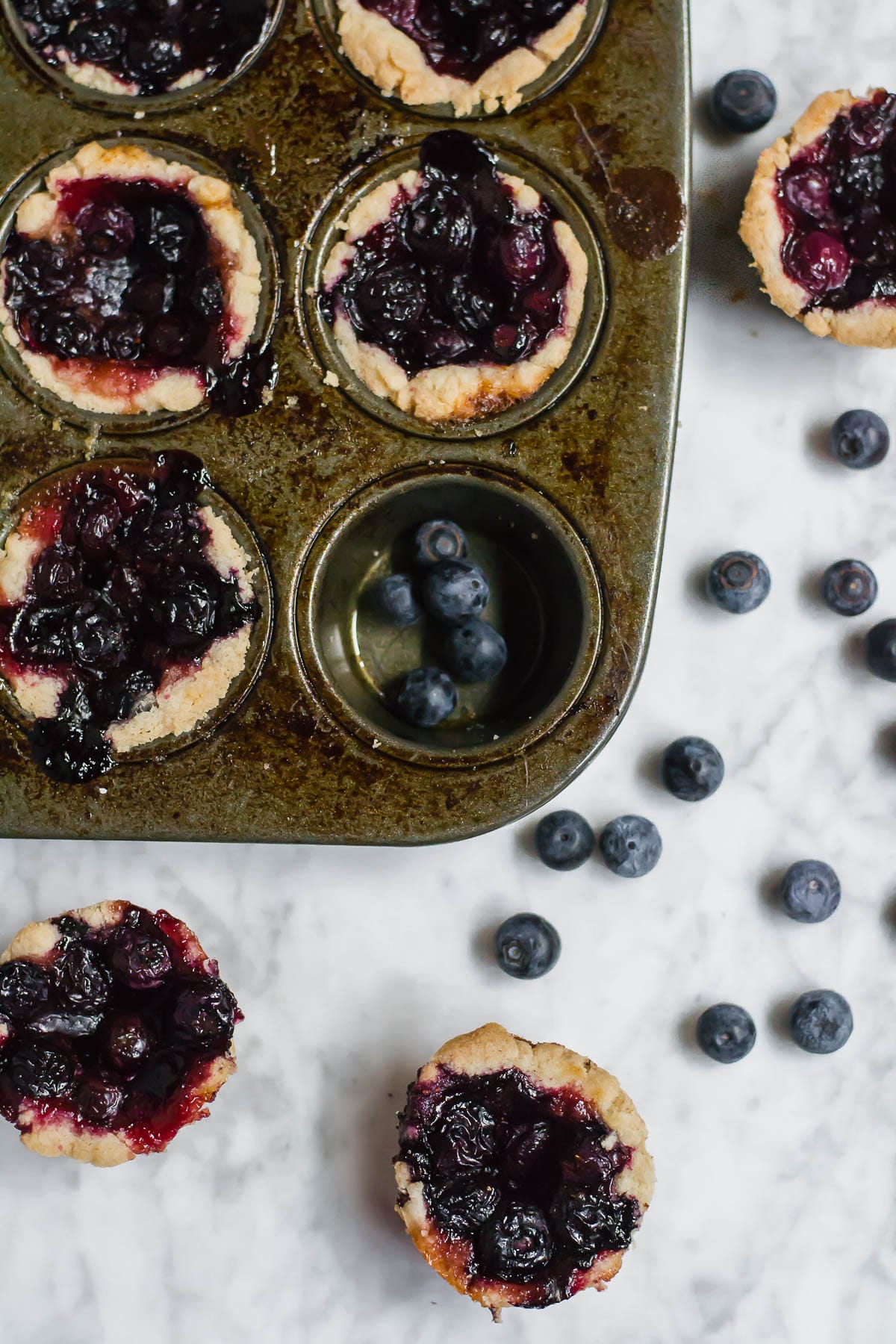 Needless to say, I STRUGGLED with what to name this recipe. Is it just a gluten-free sugar cookie with blueberries? Maybe it's a mini blueberry pie? Or is it a gluten-free mini blueberry tart? You guys… I HAVE NO IDEA!
All I know it's delicious and you should make it this Spring and Summer for every single potluck or social event you go to! Bridal shower, graduation parties, 4th of July gatherings. They all need these little mini blueberry muffin tin tarts! (For real, what do we call these things?)
I coincidentally made these gluten-free muffin-tin blueberry tarts also vegan by chance. If you know me, then you know I love creating gluten-free and vegan desserts. I personally don't eat much dairy because of a casein intolerance (casein is one of those other proteins in dairy besides whey), though I am slowly trying to add back sheep's milk and goat's milk cheeses.
I also don't eat eggs for an egg intolerance. Currently, eggs that are baked into baked goods seems to be okay for me right now in low quantities. But a fried egg for breakfast? Not a chance. The body is weird right? I'm sure you can all relate.
I had every intention of using my favorite roll out sugar cookie dough recipe for this dessert, but after testing I realized the egg was totally not necessary! Why? Well I didn't want these guys to be too chewy or puff up too much so there was more room for the blueberry filling. It's all about the blueberry filling after all!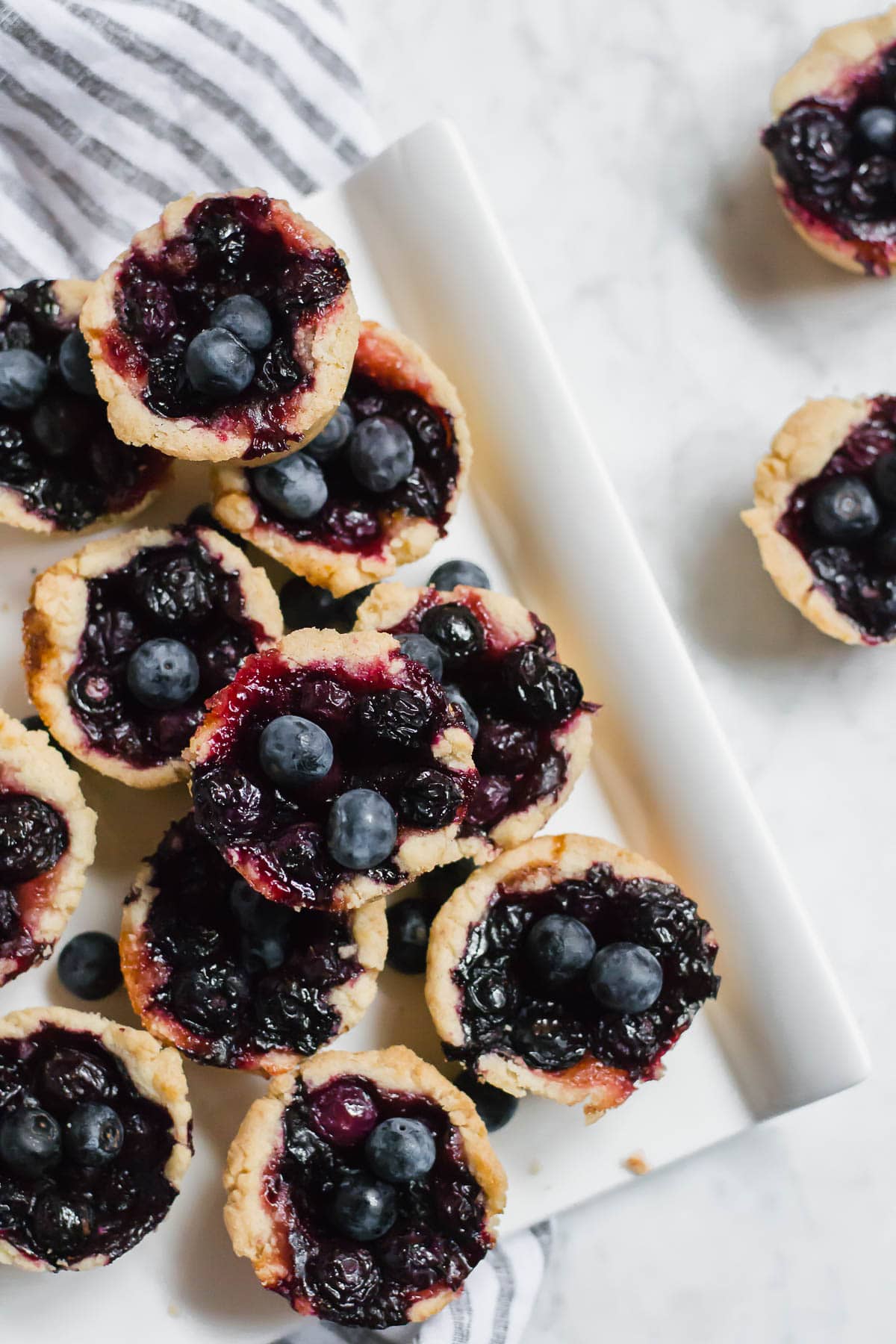 Tips and Tricks for Making the Best Easy Mini Blueberry Tarts
Don't overfill the dough with blueberry filling. You really don't want the blueberry to overflow because it sticks to the pan and creates a mess. You want the blueberry filling to stay contained within the sugar cookie shell.
Don't feel like you have to use all of the blueberry filling. You may have a few extra tablespoons of the blueberry filling. As I mentioned previously, don't overfill those tart shells.. the result isn't great. You can use up the leftover blueberry filling in oatmeal for breakfast!
Let the sugar cookie blueberry tarts cool completely before serving. You want to take the tarts out of the oven when the outer edges of the cookies are starting to brown. The center will not look set yet. Once you let the cookies cool for about 5 minutes, the centers will set and you can remove the tarts from the pan with a knife.
Speaking of removing tarts from the pan… Grease those muffin tin wells SUPER well. There is nothing worse than making beautiful mini blueberry tarts and not being able to remove them from the pan. It's heart breaking, really. But really, if they break – eat them anyways! (or sprinkle over your ice cream – yum!)
SUBSTITUTIONS are okay! If you don't want to use dairy-free butter, use regular butter. If you have a nut allergy, use soy milk or cow's milk instead of almond milk. If you have a corn allergy, use tapioca starch instead of cornstarch in the filling.
You may be wondering.. Can I make these sugar cookie blueberry tarts in a regular size muffin tin? You bet you can! Just increase the time in the oven and you'll obviously get less tarts – probably around 6 regular sized ones.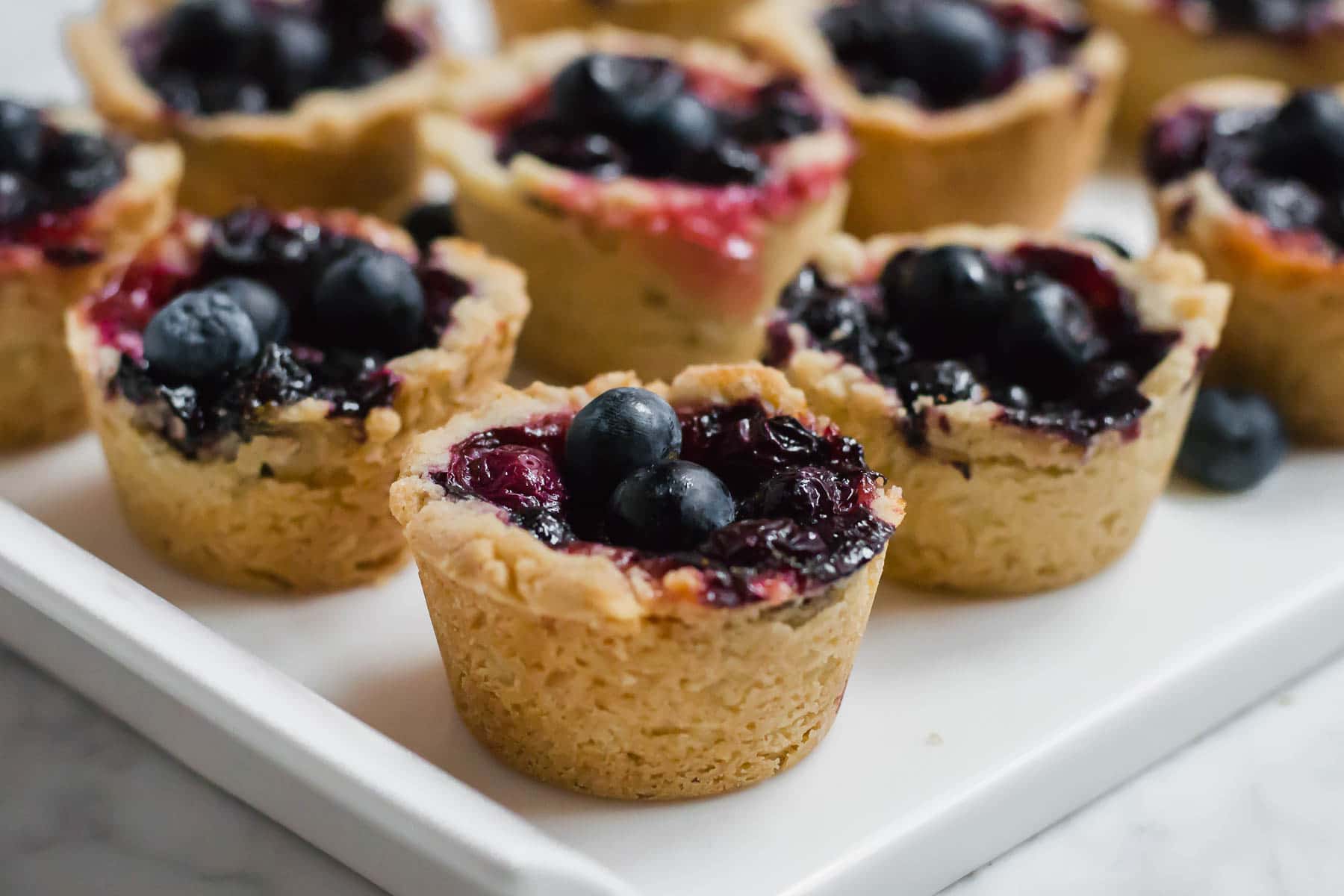 How to Make Gluten-Free Mini Blueberry Tarts
You'll love how simple and fun these gluten-free sugar cookie blueberry tarts are to make in a mini muffin tin! The sugar cookie crust is lightly sweet with a chewy but sturdy structure to hold all of those bright and fresh blueberries in the filling. The tarts are gluten-free, dairy-free and vegan and will be a staple at any gathering this season!
More Gluten-Free Blueberry Recipes: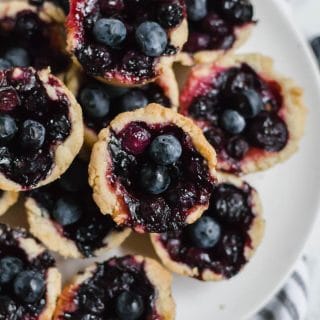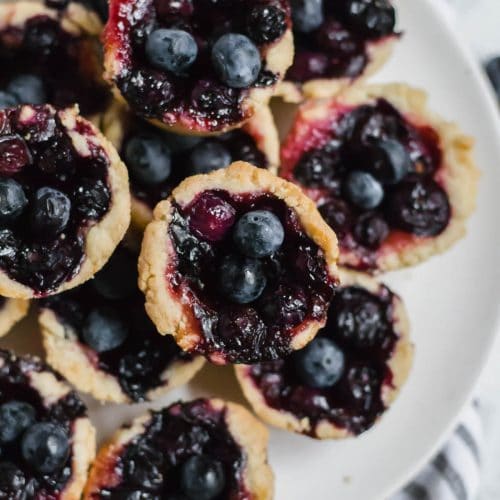 Easy Mini Blueberry Tarts
These mini blueberry tarts are SO easy to make in your mini muffin tin! They're made with a sugar cookie crust that gives the tarts extra flavor and they taste just like fresh blueberry pie! They're gluten-free, dairy-free and vegan.
Print
Pin
Rate
Ingredients
Cookie Crust:
1/2

cup

dairy-free butter

1/2

cup

granulated sugar

1

tbsp

unsweetened almond milk

(or soy milk)

1/2

tsp

vanilla extract

1/2

tsp

salt

1 1/4

cups

gluten-free flour blend
Blueberry Filling:
2

cups

blueberries

1/4

cup

granulated sugar

1

tsp

lemon zest

(from 1 lemon)

1

tbsp

lemon juice

(from 1/2 lemon)

1

tbsp

cornstarch

1/4

tsp

cinnamon

pinch of

salt
Instructions
In a mixing bowl, cream together butter, granulated sugar for 3-4 minutes, until light and fluffy.

Add milk, vanilla, and salt and mix to combine.

Add in the gluten-free flour about half of a cup at a time, mixing in between, until the flour is incorporated.

Scoop cookie dough out onto a piece of parchment paper and pat it flat so that it's no more than an inch high. Freeze for about 30 minutes.

While the cookie dough is chilling, make the blueberry filling. Add fresh blueberries, sugar, lemon zest, lemon juice, cornstarch, cinnamon and salt to a bowl and stir to mix.

Preheat oven to 350F. Grease a mini muffin tin with cooking spray.

Press about a tablespoon of cookie dough into each well of a mini muffin pan. Press the cookie dough up the sides of the well and make sure there are no thin spots.

Spoon some blueberry filling into each tart shell, being sure not to overfill. You may have leftover blueberry filling which is okay.

Bake mini tarts at 350F for 22-26 minutes, until the edges of the cookie shell is golden brown. Cool to let the filling set. Remove from muffin tins and serve.
Nutrition
Calories:
114
kcal
|
Carbohydrates:
17
g
|
Fat:
5
g
|
Sodium:
104
mg
|
Potassium:
12
mg
|
Fiber:
1
g
|
Sugar:
10
g
|
Vitamin A:
10
IU
|
Vitamin C:
2.1
mg
|
Calcium:
8
mg
|
Iron:
0.3
mg