Blueberry Turkey Breakfast Sausage
Blueberry turkey breakfast sausage is so flavorful with only a few ingredients. Gluten-free, Whole30 friendly, and dairy-free.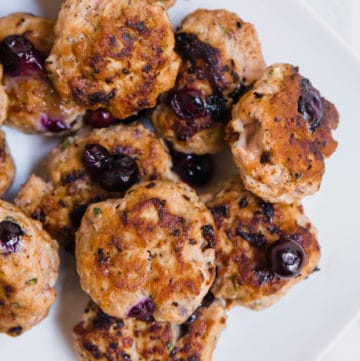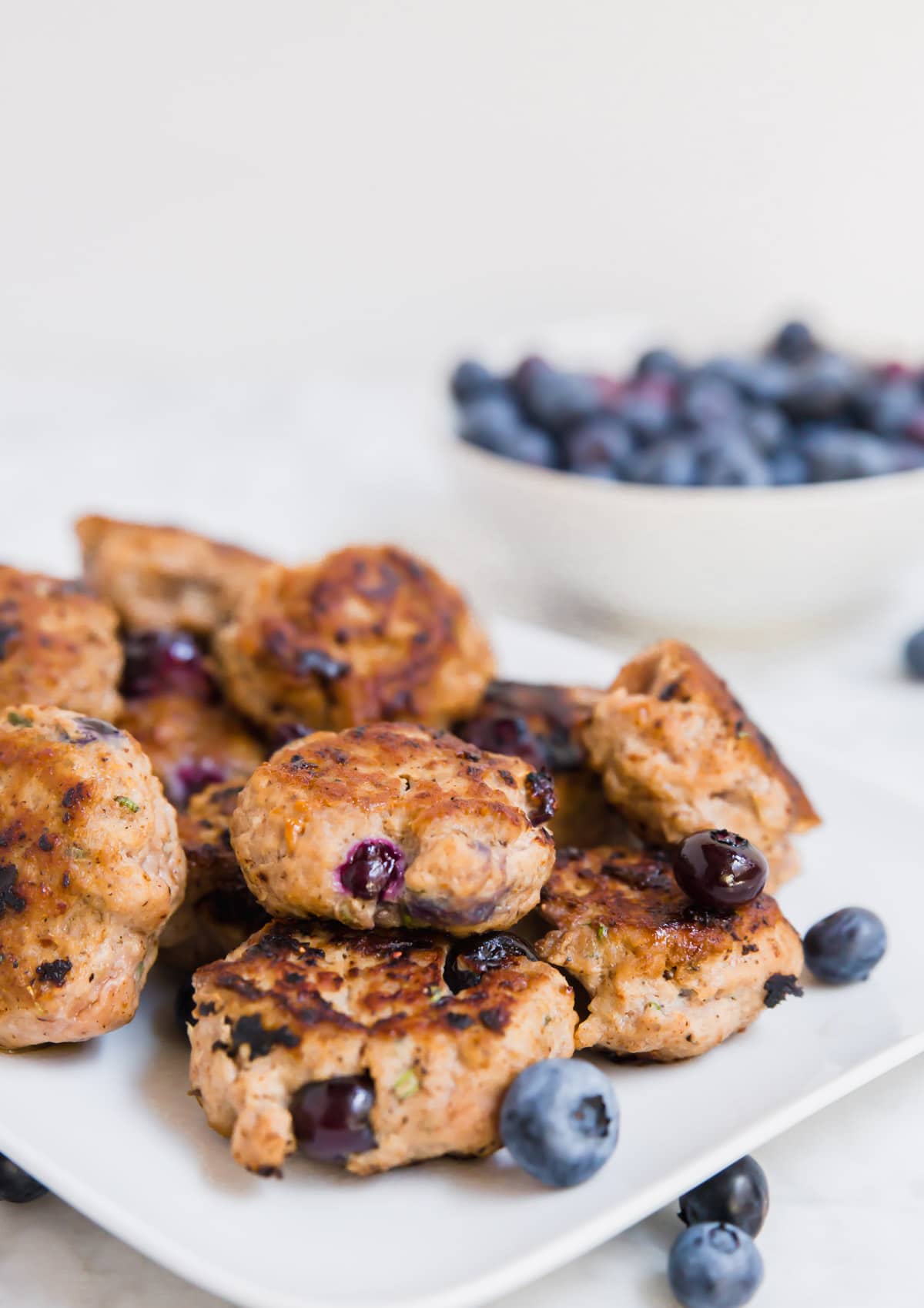 Breakfast sausage is taken to the next level with ground turkey, fresh blueberries and a touch of maple syrup. This blueberry turkey breakfast sausage is gluten-free, dairy-free and refined sugar-free! Perfect for easy weekday morning breakfasts!
You know how much I love recipes that are born out of too many ingredients in the refrigerator. This recipe is definitely one of those.
Let's just say this recipe is brought to you by the sponsors of… "a buy one get one free purchase at the grocery store and blueberries being super cheap so I bought the biggest package." Ah. One of my favorite sponsors ha!
So I purchased ground turkey for the purpose of making my crock-pot turkey chili on Sunday since Michael and I were going to the Blackhawk's game with our friends Brittany and Shane so I wanted an easy meal that we could come home to. Lucky me, buy one get one free meant more recipes to play with! Woohoo!
I also bought the largest package of blueberries ever for $1.99 so they've been going in everything this week and I thought instead of putting apples into my breakfast sausage, why not try blueberries?
You might be scrunching your nose up at this one, but I assure you, it's seriously delicious. The blueberries soften up in the skillet and when you take a bite of these warm turkey patties, they create this jam-like experience in every bite. TO. DIE. FOR.
And if you're also thinking that these turkey blueberry breakfast sausage patties are going to be super sweet, don't fret. They're not.
The only sweetness is from the blueberries and the tablespoon of maple syrup. Which, if you're watching your sugar intake, you can definitely leave that out. I just think it gives it this great flavor.
But, there are so many savory spices like thyme and rosemary and garlic powder to really round out the flavors and not make this breakfast sausage overly sweet.
Oh, and P.S., if you have any fresh herbs like rosemary, thyme or even sage – by all means go ahead and use those! It would really up the game on these sausages!
Not going to lie, I may have gone a little blueberry overload yesterday when I had these with some blueberry waffles with blueberries on top. I got a few side glances in the break room at work but I'm pretty sure they were just jealous of these sausages!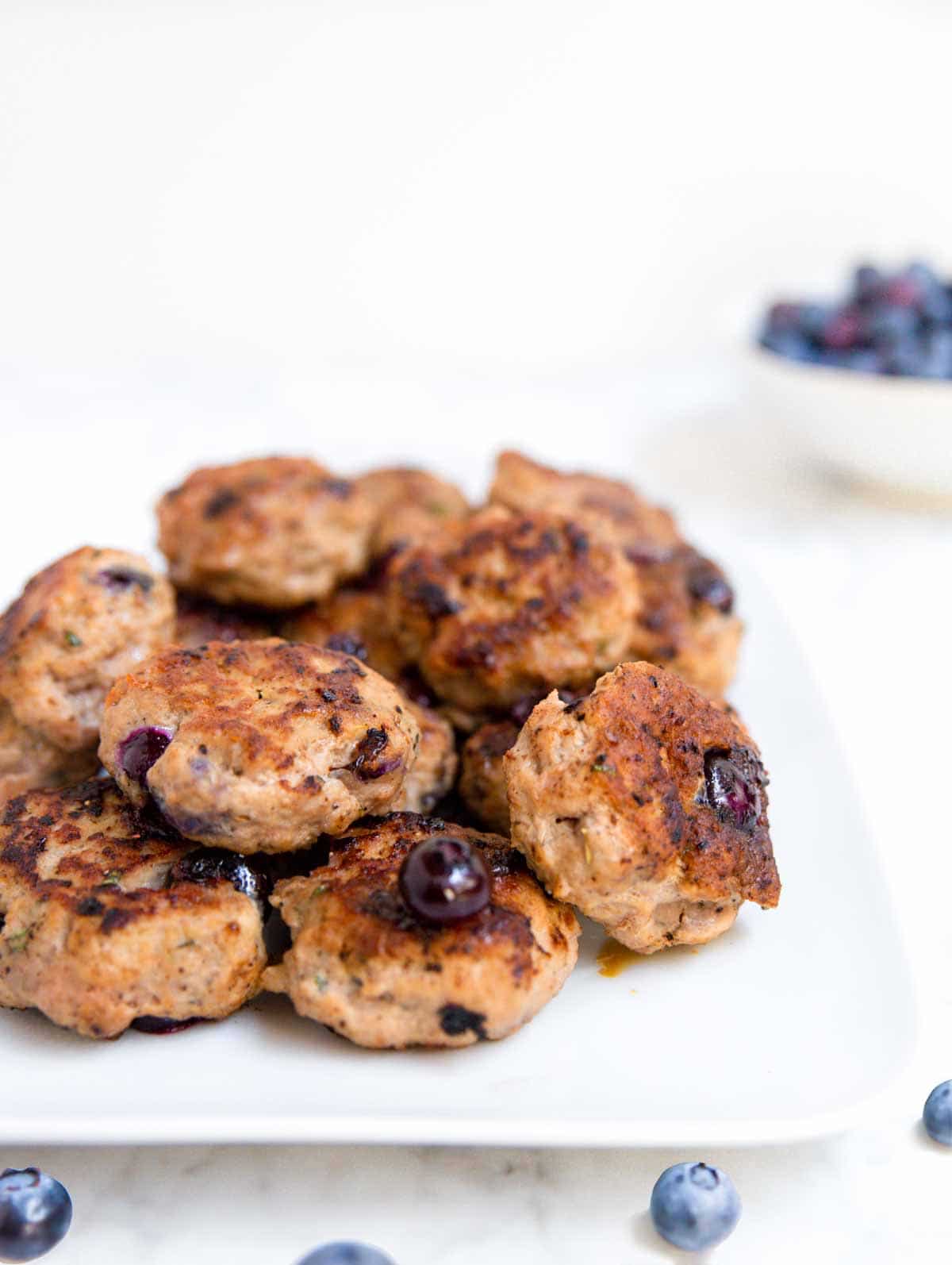 Serving brunch? Try these other gluten-free recipes, too!
I love serving these easy turkey sausages as a side for breakfast. They pair perfectly with these Gluten-Free Pancakes or Gluten Free Crepes for weekend brunch.
If you're like me, then you'll also probably love to serve these turkey sausages with a smoothie, like this Green Smoothie, Cranberry Beet Smoothie or Apple and Kale Green Smoothie!
More gluten-free blueberry recipes you'll love!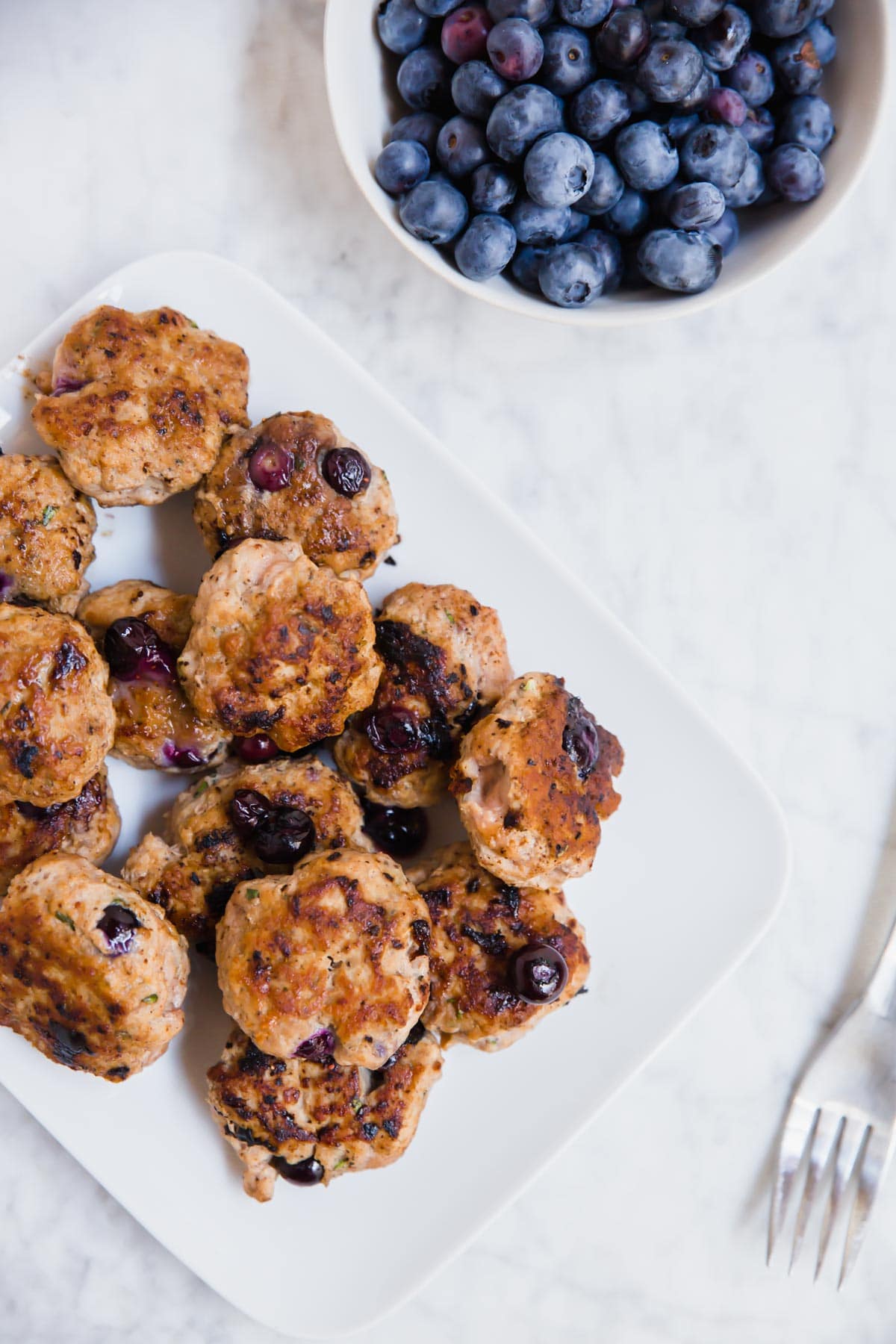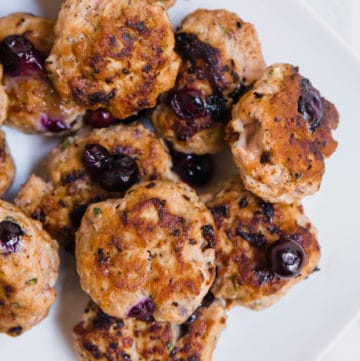 Blueberry Turkey Breakfast Sausage
Blueberry turkey breakfast sausage is so flavorful with only a few ingredients. Gluten-free, Whole30 friendly, and dairy-free.
Print
Pin
Rate
Ingredients
1

lb

ground turkey

1

tsp

kosher salt

1/2

tsp

ground black pepper

1/2

tsp

garlic powder

1

tsp

dried rosemary

(roughly chopped)

1/2

tsp

dried thyme

1/2

tsp

ground nutmeg

1

tbsp

maple syrup

(omit for Whole30)

1/2

cup

fresh blueberries

1

tbsp

olive oil or avocado oil
Instructions
In a large bowl, combine ground turkey, salt, pepper, garlic powder, rosemary, thyme, and nutmeg and mix until the spices are even dispersed throughout the turkey. Then stir in the maple syrup and blueberries carefully so you do not break any of the blueberries.

Form into 8 to 10 patties.

Preheat a large skillet over medium high heat with the tablespoon of oil.

Place patties in the skillet in two batches, cooking for about 3-5 minutes on each side, until the patties are browned on each side, the center is cooked through and reaches an internal temperature of 165F.
Nutrition
Calories:
74
kcal
|
Carbohydrates:
2
g
|
Protein:
10
g
|
Fat:
2
g
|
Cholesterol:
24
mg
|
Sodium:
256
mg
|
Potassium:
144
mg
|
Sugar:
1
g
|
Vitamin A:
10
IU
|
Vitamin C:
0.7
mg
|
Calcium:
5
mg
|
Iron:
0.5
mg