Last Updated on
This rhubarb blueberry peach galette is gluten-free and vegan and SO simple to make. With a flaky crust and juicy filling, you can't go wrong with this recipe for an easy summer dessert. Serve with your favorite ice cream for an extra treat!
Is anyone else loving going to their local farmer's market as much as I am? It's always a fun adventure. You never know what produce will be there. The people watching is also great.
This past weekend, my boyfriend and I took our dog to our neighborhood farmer's market for the first time. Our puppy loved it! She made so many friends as we walked through the crowds to see what goodies we could find. And then she just laid down at my feet and chewed on a stick while we snacked on some gluten-free baked goods from a local stand.
I always find it so inspiring to go to the farmer's market. I love talking to other small business owners. Learning what's in season. How best to use the produce that was so carefully grown on farms not too far from where I live.
That's how this rhubarb blueberry peach galette was born. After picking up some rhubarb at the farmer's market I knew I needed to get right into the kitchen and get baking. One of my favorite ways to use fresh summer produce is in a beautiful, rustic galette. Gluten-free of course.
What is a galette you may be wondering? A galette is a rustic free-form tart that is folded around the edges and filled with fruit. In other words it's a flaky crust wrapped around fruit. Pure deliciousness.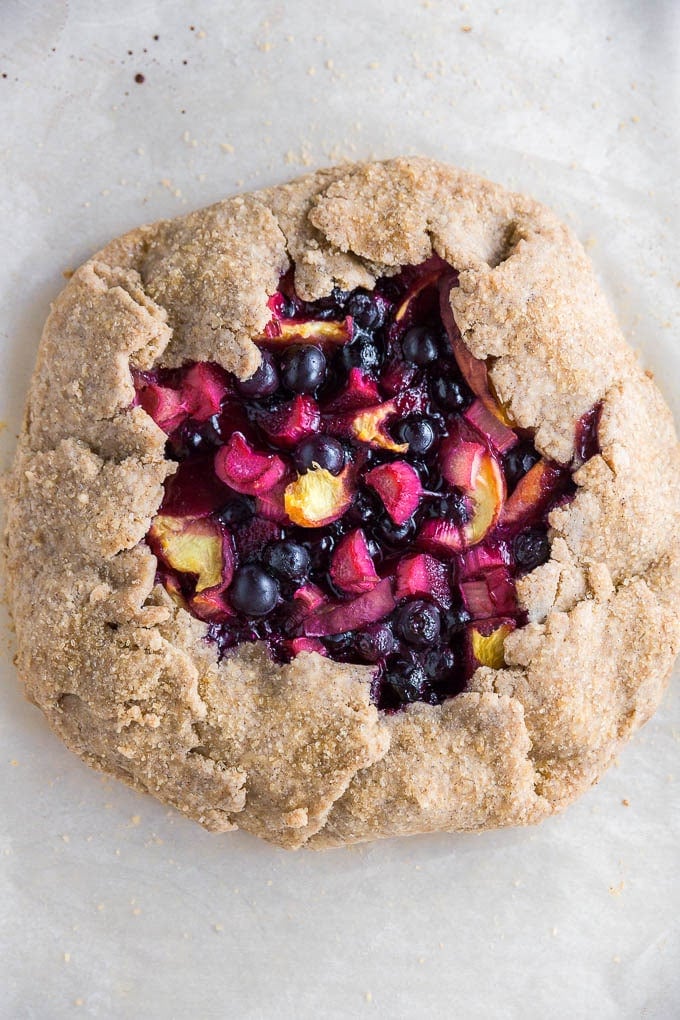 In this case I've made my galette gluten-free, dairy-free and vegan with the use of a gluten-free flour blend and dairy-free butter. Since there are no eggs used in the recipe traditionally so all that is needed to be converted is the flour and butter. Galettes are definitely one of those desserts that are rather easy to make gluten-free and vegan.
Another reason I love to make galettes is that there is no pie tin required! It's a freeform pie/tart – so just roll the dough out into a big circle, place your filling in the center and fold the edges of the dough over. So so easy.
PLUS can we just talk about the crust to filling ratio on galettes? It's absolutely perfect! Crunchy, flaky crust. Sweet, juicy filling. Crunchy turbinado sugar on top. So simple, yet so good!
If you haven't had rhubarb before, it is very acidic. Typically you'll want to increase the sweetness in your recipe when you're using rhubarb. Rhubarb is often combined with strawberry in recipes (like in my gluten free strawberry rhubarb pie!) – the colors go so well together and the sweetness of the strawberries balances the rhubarb. However, I really wanted to show off the rhubarb with some other fruit – such as peaches and blueberries.
Top the rhubarb peach blueberry galette with a scoop of (dairy-free) ice cream and watch it melt into the warm filling. Buy hurry, you'll want to grab a spoon and dig in!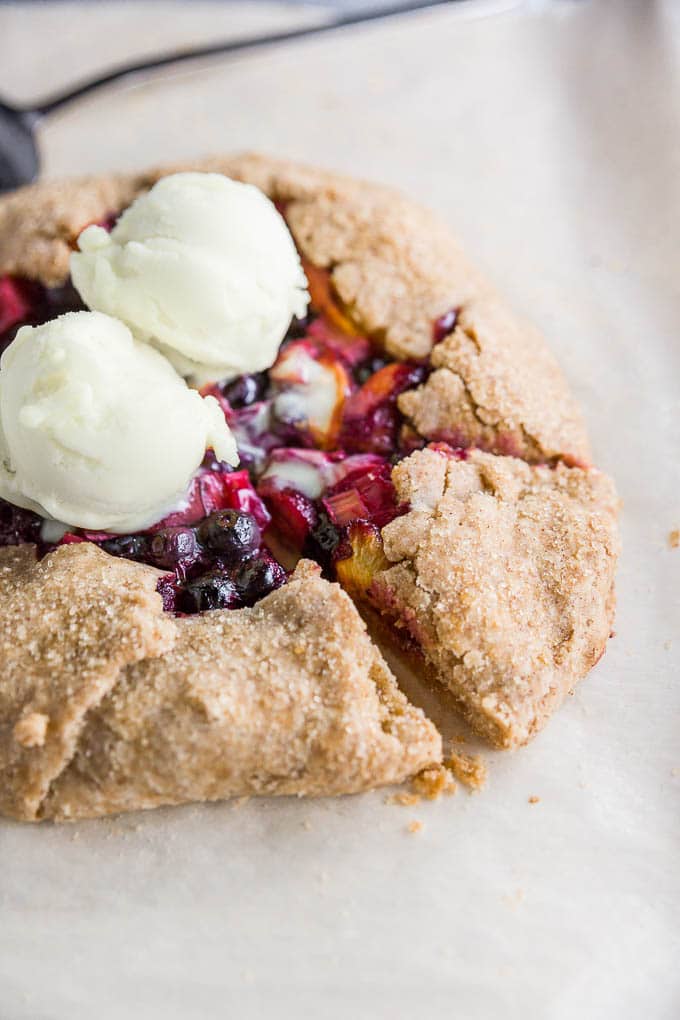 Tips and Tricks for Making Rhubarb Blueberry Peach Galette
This recipe has also been tested with regular butter and is just as delicious.
Make sure you roll out the crust to a 1/8″ thickness. You want to make sure you roll it thin enough so that you have enough room for the filling, but not so thin that the dough breaks.
Be sure to leave a border around the fruit filling so you can easily wrap the edges around the filling.
The turbinado sugar adds nice texture and sweetness to the top. However, if you don't have it or can't find it at your local grocery store, you can always leave it out. It's just some crunchy fun.
Want to make this recipe refined sugar-free? Swap out the sugar for maple syrup or honey. You may not need to add as much water to your dough mixture – just add one tablespoon of water at a time, just until the dough comes together.
Try These Other Gluten-Free Galette Recipes

Rhubarb Blueberry Peach Galette Recipe
With it's rustic, flaky crust and sweet filling, this rhubarb blueberry peach galette will be a favorite on your family's dessert table this summer. Gluten-free, dairy-free and vegan, the whole family will love this sweet treat. Serve with a scoop of your favorite ice cream and dig in with a spoon. It's as simple as it is delicious!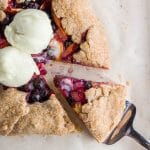 Print Recipe
Rhubarb Blueberry Peach Galette - Gluten-Free and Vegan
This rhubarb blueberry peach galette is gluten-free and vegan and SO simple to make. With a flaky crust and juicy filling, you can't go wrong with this recipe for an easy summer dessert. Serve with your favorite ice cream for an extra treat!
Ingredients
For the Crust:
1 1/2

cups

gluten-free flour blend

1

tsp

xanthan gum

if your blend does not already contain it

1

tsp

cinnamon

1/4

tsp

nutmeg

1/2

tsp

salt

2

tbsp

brown sugar

8

tbsp

dairy-free butter

cubed and cold

4-5

tbsp

cold water

1

tbsp

dairy-free butter

melted

1

tbsp

turbinado sugar
For the Filling:
1/2

cup

rhubarb

diced (from 1 stalk)

1/2

cup

blueberries

1/2

cup

peaches

diced (1 large peach)

2

tbsp

granulated sugar

1

tbsp

lemon juice

1

tbsp

cornstarch
Instructions
In a food processor, add gluten-free flour, xanthan gum, cinnamon, nutmeg, salt and brown sugar and pulse to combine.

Add vegan butter and pulse until butter is the size of peas, with some bigger pieces.

Remove from food processor and place in a bowl, add in water one tablespoon at a time just until a dough forms. You may not end up using all of the water.

Pat into a flat circle and chill for at least 30 minutes.

To make the filling, combine diced rhubarb, peaches, blueberries, cornstarch, sugar, and lemon juice in a bowl and mix together. Allow to sit for 5-10 minutes. Filling should be slightly thickened.

Preheat oven to 375F. Line a baking sheet with parchment paper.

Roll out the dough to a 12-inch circle about 1/8 inch thick.

Spoon filling into the middle of the dough.

Crimp dough over the filling leaving a circle in the middle. Brush crust with melted butter and sprinkle turbinado sugar along the edges.

Bake at 375F for 40-50 minutes, until crust is golden brown.
Nutrition
Calories:
234
kcal
|
Carbohydrates:
28
g
|
Protein:
2
g
|
Fat:
13
g
|
Saturated Fat:
2
g
|
Sodium:
261
mg
|
Potassium:
47
mg
|
Fiber:
3
g
|
Sugar:
10
g
|
Vitamin A:
40
IU
|
Vitamin C:
2.9
mg
|
Calcium:
27
mg
|
Iron:
0.9
mg