Last Updated on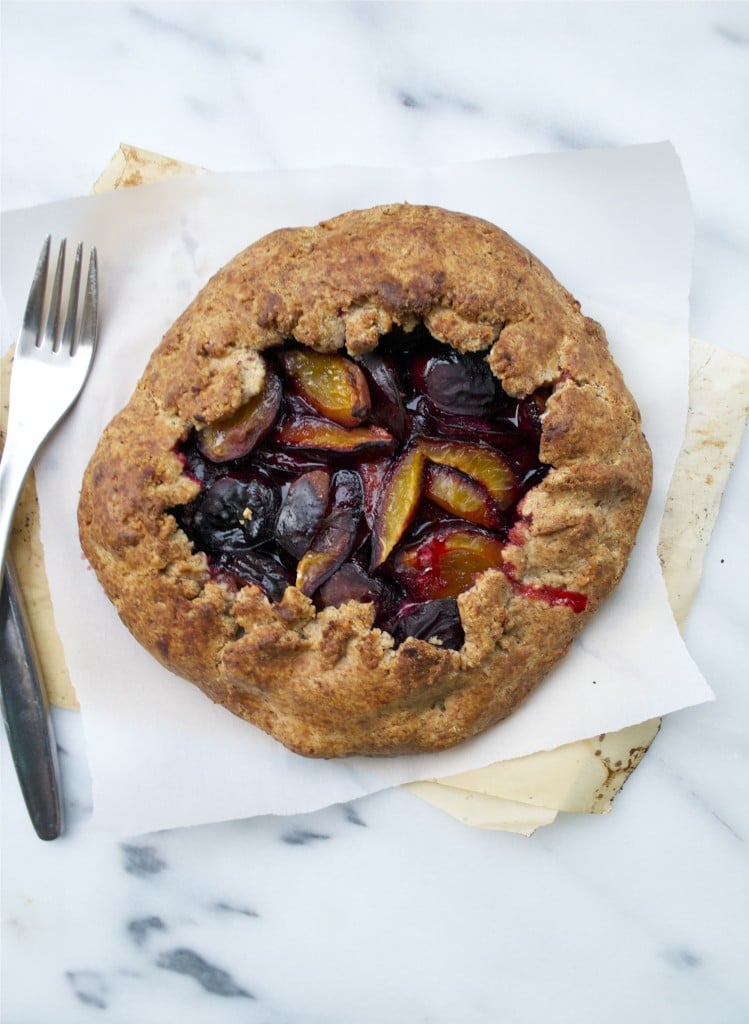 Today we're talking Rustic Italian Plum Galette. I told my mom what today's post was going to be and her first response was "Rustic what?" So let's dissect this a little bit:
Rustic: the fun word we get to use that makes something seem chic but really it's just that we didn't spend a ton of time making it look absolutely perfect
Italian Plum: Little, juicy things of goodness that are great for baking
Galette: flat or round, freeform crusty cake (Thank you Wikipedia)
So while this sounds super fancy, it really is just some flaky crust wrapped around some ripe fruit. So don't let it scare you! Because, I promise, it's way easier than making a pie. Nothing intimidating here except pronouncing that name!
As part of my weekly farmer's market hauls, I spotted these Italian plums from one of the stands. I was so struck with their unique, beauty. I literally stopped in my tracks and Michael could tell by the look on my way that I wanted them. "Buy them," he urged. But what would I do with them? So I asked one of the farmers what the plums were best for. She launched into a great explanation about all the uses but all I could hear was the first sentence – "They are best for baking.." She had me hooked right then and there. My mind went straight away to a plum galette – simple, rustic (here we go again with that word), and beautiful. Once I got home, I spotted on the cover of Bon Appetit magazine, a blueberry galette. Was it just a coincidence? Or was this fate?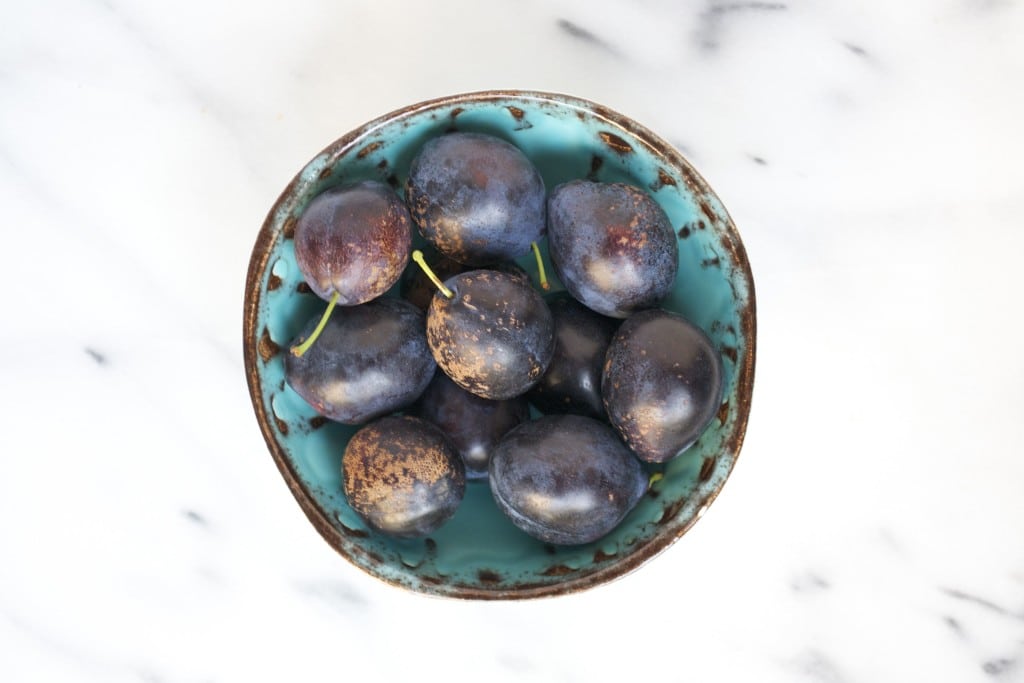 Taking anything I could as a sign, I decided it was fate and started perusing the magazine for recipe inspiration for my gluten-free, vegan, low-sugar version. What I came up with was pure deliciousness. You honestly would not even know that this is not full of wheat, butter, eggs, and refined sugar. The crust is so tender and flaky, baked to a perfect golden brown. The filling is full of juicy plums, bursting with their natural sweetness. After one bite, Michael and I were hooked. We decided then and there that we could eat this all day everyday.
Have you found any great farmer's market finds lately?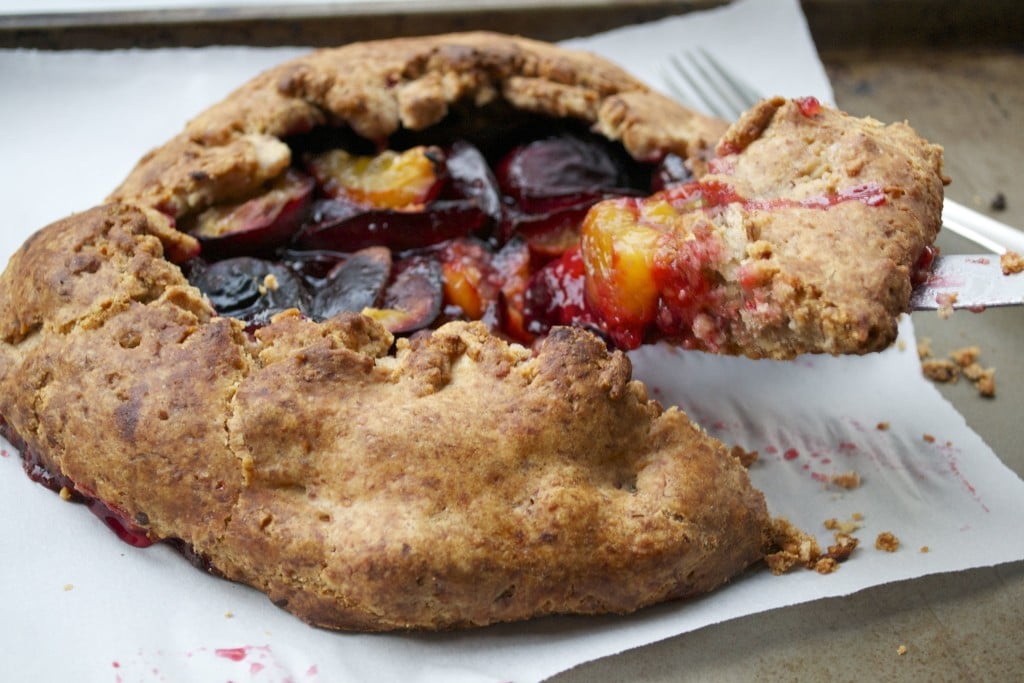 Print Recipe
Rustic Italian Plum Galette
This rustic italian plum galette is absolutely stunning for entertaining. Filled with bright and juicy plums and wrapped in a gluten-free vegan pastry. Gluten-free, dairy-free, vegan.
Ingredients
Crust:
1/2

cup

almonds

1

cup

gluten-free flour blend

1

tsp

xanthan gum

if your blend does not already contain it

1/2

cup

vegan butter

cubed and cold (can also use regular unsalted butter)

1/2

tsp

cinnamon

1/2

tsp

kosher salt

1

tbsp

honey

or maple syrup if vegan

4

tbsp

cold water

1

tbsp

almond milk

for milk wash
Filling:
3/4

lb

italian plums

about 2 cups quartered or halved

1

tbsp

cornstarch or tapioca flour

1

tbsp

honey

or maple syrup if vegan

1/2

tbsp

lemon juice

pinch

of salt
Instructions
In a food processor, pulse almonds until they become an almond meal. Add flour, salt and cinnamon and pulse to combine. Add vegan butter and honey and pulse until butter is the size of peas, with some bigger pieces. Remove from food processor and place in a bowl, add in water until a dough forms. Pat into a flat circle and chill for at least an hour.

To make the filling, combine plums, cornstarch, honey, lemon juice and salt in a bowl and mix together. Allow to sit for 5-10 minutes. Filling should be thick and not super liquidy.

Preheat oven to 375F. Line a baking sheet with parchment paper.

Roll out the dough to a 12-inch circle about 1/2 inch thick. Spoon filling into the middle of the dough. Crimp dough over the filling leaving a circle in the middle. Brush crust with almond milk.

Bake at 375F for 40-50 minutes, until crust is golden brown.
Notes
Recipe adapted from Bon Appetit.
Nutrition
Calories:
300
kcal
|
Carbohydrates:
31
g
|
Protein:
5
g
|
Fat:
18
g
|
Saturated Fat:
3
g
|
Sodium:
334
mg
|
Potassium:
173
mg
|
Fiber:
4
g
|
Sugar:
12
g
|
Vitamin A:
915
IU
|
Vitamin C:
5.9
mg
|
Calcium:
53
mg
|
Iron:
1.3
mg