Last Updated on
I've been wanting to share this apple and kale green smoothie recipe with you guys for seriously it seems like over a month. I've just been putting it off. Not because the recipe isn't good. Because let me tell you.. it's definitely one of my favorites! So much so that I've had this smoothie at least three times a week for the past month. No, the reason is… I just can't seem to take a good picture of this smoothie! It's a beautiful bright green color but no matter what I do, the picture doesn't do it justice. Also, have you ever tried to take a picture of a glass before? Not easy. Crazy glare and reflections don't make for pretty smoothie pictures.
I honestly just couldn't hold off any longer though on this post because I love this smoothie recipe sooo much! And those are the recipes I should be sharing with you! The ones that I love so much that I make it multiple times a week, right? Right! Well I hope you love this apple and kale green smoothie too! If you know me, you know I like my greens. Me and fruit is somewhat of a different story. I have to keep my sugar intake low because of my candida issues in my gut, and that includes fruit. So I'm basically limited to one to two servings of fruit a day, which sometimes makes smoothies a wee bit difficult. This smoothie uses an apple and a banana for the fruit portion which when shared between two people, is the perfect amount for me!
The apple and the banana help mask a bit of the kale flavor in the smoothie so that you don't feel like you're drinking straight up kale. I also love the lime juice in this smoothie which gives it a little tartness too! Everything in this smoothie is for the benefit of helping you detox. I'm not a nutritionist (so don't take medical advice from me because everything I know is from self research) but here are some great reasons I included the ingredients I did in this smoothie.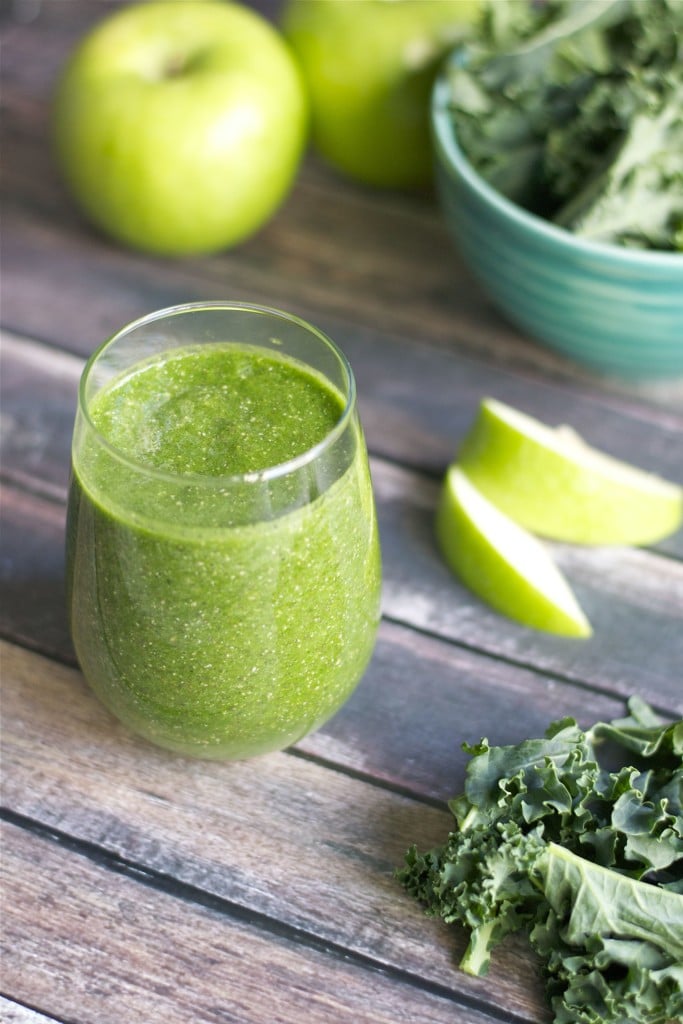 Coconut water – keeps you hydrated, rich in nutrients and aids in digestion
Kale – full of fiber and sulfur which keep your liver happy and healthy
Lime Juice – stimulates the digestive system (that's why lemon or lime water in the morning is sooo good for you!)
Chia Seeds – high in fiber, protein and keep you fuller longer
Apple – helps with bile production and adds a bit of sweetness to our smoothie!
Cucumber – high in water and fiber, which help with digestion
Banana – natural antacid effect on the body, provides relief from constipation and provide energy!
Ginger – stimulates digestion, cleanses toxins in the organs
Obviously the benefits of these ingredients go on and on, but these were just some of the reasons I thought they would make great additions to my apple and kale green smoothie. If you haven't tried a green smoothie before and are a little hesitant, this smoothie will be your new best friend! Even my boyfriend (who is not a big fan of greens) always asks for this smoothie in the morning!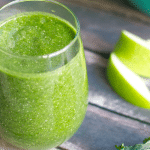 Print Recipe
Apple and Kale Green Smoothie
Start off your day with this apple and kale green smoothie. Full of good for you ingredients like ginger, cucumber and lime juice, this smoothie will get you energized and feeling good! Gluten-free, dairy-free, vegan and refined sugar free. 
Ingredients
2

cups

kale

packed

1

cup

granny smith apple

diced, about 1/2 large apple

1

frozen banana

1 1/2

cups

coconut water

1/2

cup

cucumber

seeded and diced (or about 1/2 cup diced apple to substitute)

1

tbsp

chia seeds

1/2

tbsp

fresh lime juice

1

tbsp

fresh ginger

grated or 1/2 tsp ground ginger

4

or 5 ice cubes
Instructions
Add all of the ingredients to a high powered blender (I use a Vitamix).

Blend until smooth.
Nutrition
Calories:
217
kcal
|
Carbohydrates:
46
g
|
Protein:
6
g
|
Fat:
3
g
|
Sodium:
219
mg
|
Potassium:
1186
mg
|
Fiber:
8
g
|
Sugar:
24
g
|
Vitamin A:
6795
IU
|
Vitamin C:
97.5
mg
|
Calcium:
189
mg
|
Iron:
2.3
mg