Last Updated on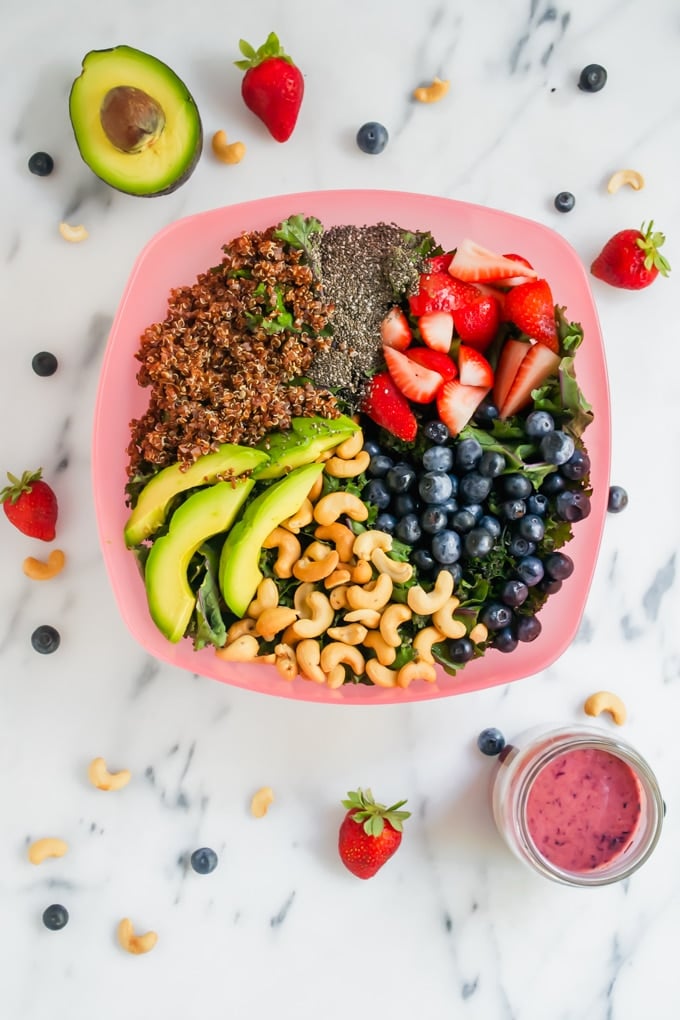 Ah the life of a food blogger.
I was mid photo shoot with this Rainbow Power Salad with Blueberry Vinaigrette when I called over Michael to help with the photos. Do you ever wonder whose hands are in my photos? Nine times out of ten, it's Michael. Always willing to stop playing video games or whatever he is doing to help out with my photos. Well for this particular photo I instructed him to drip vinaigrette over a large bowl of salad. He was about to comply to my request when he stopped and asked:
"Wait isn't this the salad I'm going to be eating for my lunches all week?"
"Um, yes…"
"So why are we drizzling salad dressing all over it? Won't it get soggy?"
Welp. He had a point. Sometimes you're mid photo shoot and you just forget. You forget that you're going to eat the stuff you just made. And maybe, just maybe you shouldn't smother blueberry vinaigrette all over your salad that you plan on eating for the week because it will most likely get gross.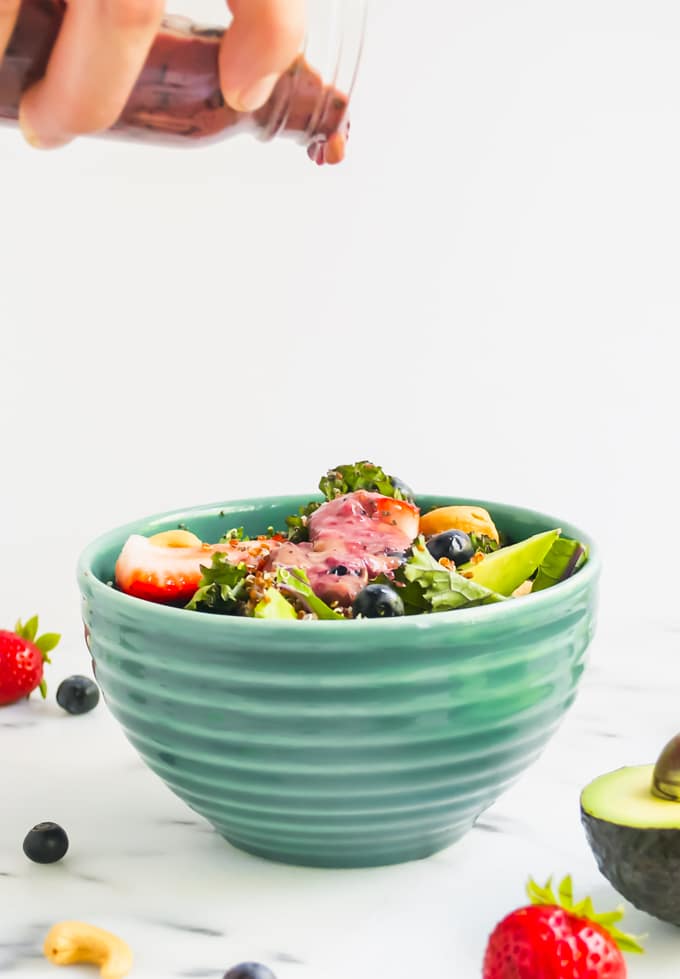 Michael could probably write a whole book on what it's like to date a food blogger. Endless amounts of props and backgrounds and lighting strewn across the apartment. Mismatched bowls and plates hiding in the cabinets. A whole drawer (yes, a whole one) dedicated to placemats and fabric for taking pictures. The list goes on.
In the end, we drizzled the dressing only over my salad that I was going to eat for lunch the next day. Because sometimes you have to sacrifice a little soggy kale (which actually wasn't even soggy the next day – woot!) for a thing of beauty.
And ladies and gents, this salad is just pure beauty as far as salads go. It has a powerful punch of antioxidants, protein, and straight up goodness. The problem with a lot of salads is that they leave you hungry, craving anything and everything only an hour after eating. But not this salad.
Chock full of of berries, nuts, cooked quinoa, chia seeds, and avocado, this rainbow power salad with blueberry vinaigrette will keep you satisfied until your next meal. As written, this recipe is vegan, but you can easily add some chicken, salmon, or other lean meat for some extra protein!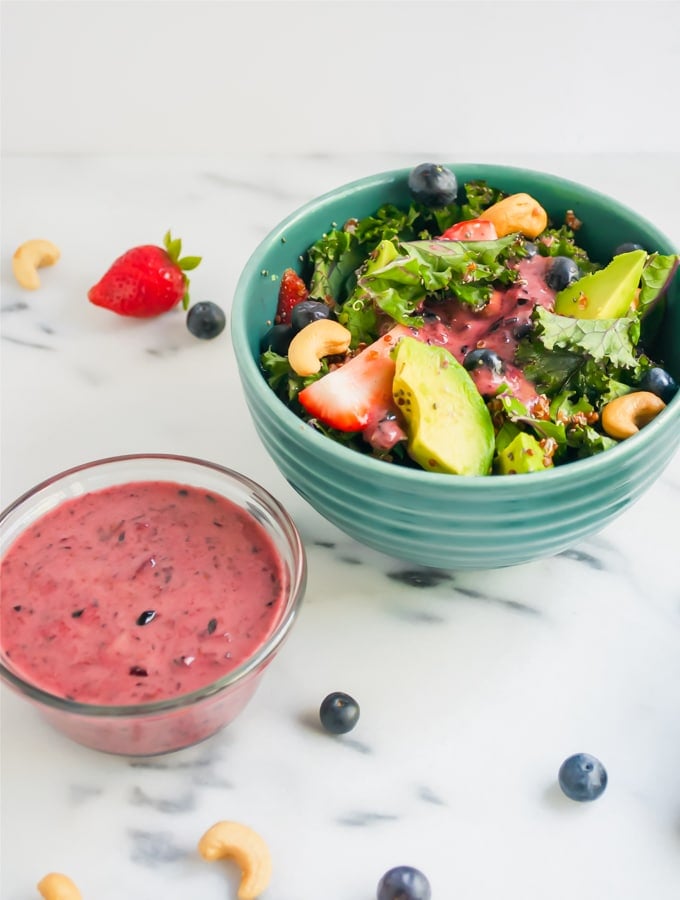 Print Recipe
Rainbow Power Salad with Blueberry Vinaigrette
This rainbow power salad with blueberry vinaigrette is filled with good for you ingredients like blueberries, chia seeds, avocado, kale, apple cider vinegar and more! Gluten-free, dairy-free and vegan.
Ingredients
1

bunch kale

stems removed and cut into pieces (about 8-10 stems)

1/2

cup

quinoa

rinsed

1

cup

water

1/2

cup

raw or roasted cashews

3/4

cup

fresh blueberries

3/4

cup

strawberries

hulled and quartered

2

tbsp

chia seeds

1

avocado

diced

blueberry apple cider vinaigrette

below
Blueberry Apple Cider Vinaigrette
1

cup

fresh blueberries

1/4

cup

apple cider vinegar

1/4

cup

oil

canola, vegetable, olive, etc.
Instructions
In a food processor, combine ingredients for blueberry apple cider vinaigrette. Pulse until combined. Store in an air tight container in the refrigerator until ready to use.

To cook the quinoa, add quinoa and water to a small pot. Heat over medium high heat until you bring it to a boil. Once it starts boiling, place a lid on top of the pot and bring it down to a simmer. Cook for 15-20 minutes, until the water is evaporated. Fluff quinoa with a fork.

To make the salad, combine kale, quinoa, cashews, blueberries, strawberries, chia seeds and avocado together. Drizzle the blueberry vinaigrette over the top and serve immediately.
Nutrition
Calories:
304
kcal
|
Carbohydrates:
25
g
|
Protein:
6
g
|
Fat:
21
g
|
Saturated Fat:
2
g
|
Sodium:
11
mg
|
Potassium:
444
mg
|
Fiber:
6
g
|
Sugar:
6
g
|
Vitamin A:
1020
IU
|
Vitamin C:
29.5
mg
|
Calcium:
57
mg
|
Iron:
2.2
mg