Last Updated on
You'll love how easy these mini beef taco cups are to make – they're gluten-free and perfect for entertaining and potlucks. From start to finish, your mini beef taco cups can be on the table in under 30 minutes. You'll love how versatile they are with different options for toppings and they look so cute on the appetizer table!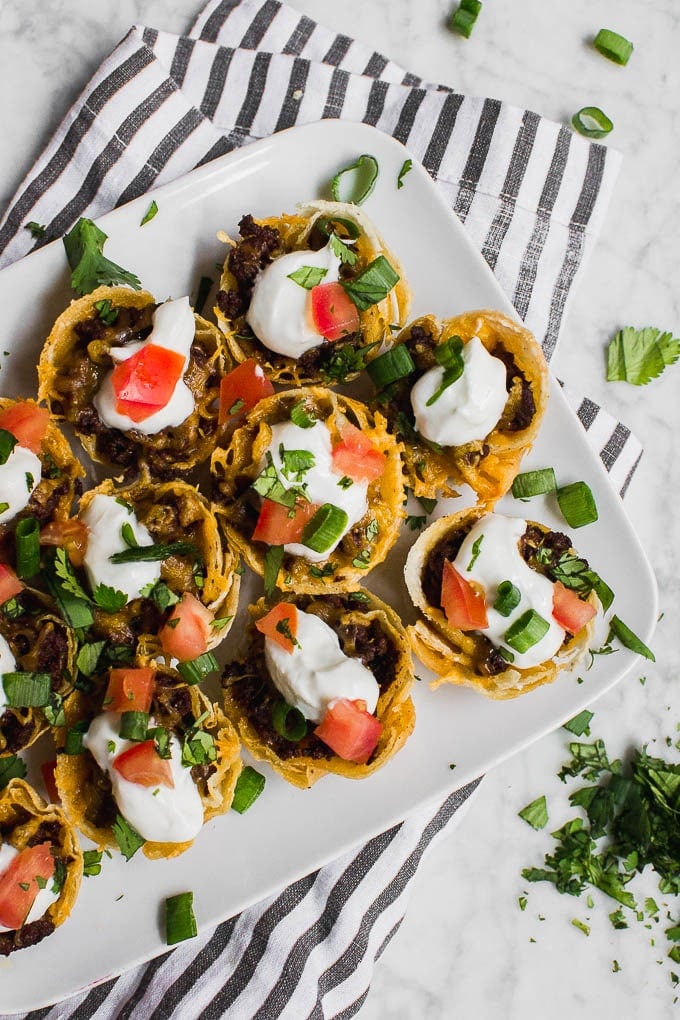 It's about that time of the year! As the weather gets warmer, we start leaving our houses more and resuming our social lives that we abandoned after the holidays in lieu of sweatpants, Netflix and hiding from the cold and snow.
Or was that just me? You too? Okay good. Right around the start of April I find myself being invited to more parties, get togethers, barbeques, potlucks. Those are my favorite kinds. Potlucks.
Well maybe in my pre-gluten-free life they were my favorite. Now they're a wee bit stressful. But the good thing about a potluck is you bring something with you, so you know you'll always have something to eat!
I, of course, end up bringing 2-3 because this girl loves to eat and can never choose if I'm bringing an appetizer, entree or dessert, but if you're going to bring one thing make it these gluten-free mini beef taco cups. TO DIE FOR. Also super easy.
If you haven't noticed around here, I like quick and easy gluten-free recipes. Approachable. Dependable. Delicious. That's what I'm all about. These gluten-free mini beef taco cups are exactly that!

I've seen a ton of mini taco cups or bites on the internet before, but most use flour tortillas or wonton wrappers. To make ours gluten-free, we're using corn tortillas!
Corn tortillas aren't exactly the most pliable of choices when it comes to our crunchy tortilla cup, but with a quick trip to the microwave, they are easy to work with and come out crispy and delicious after baking.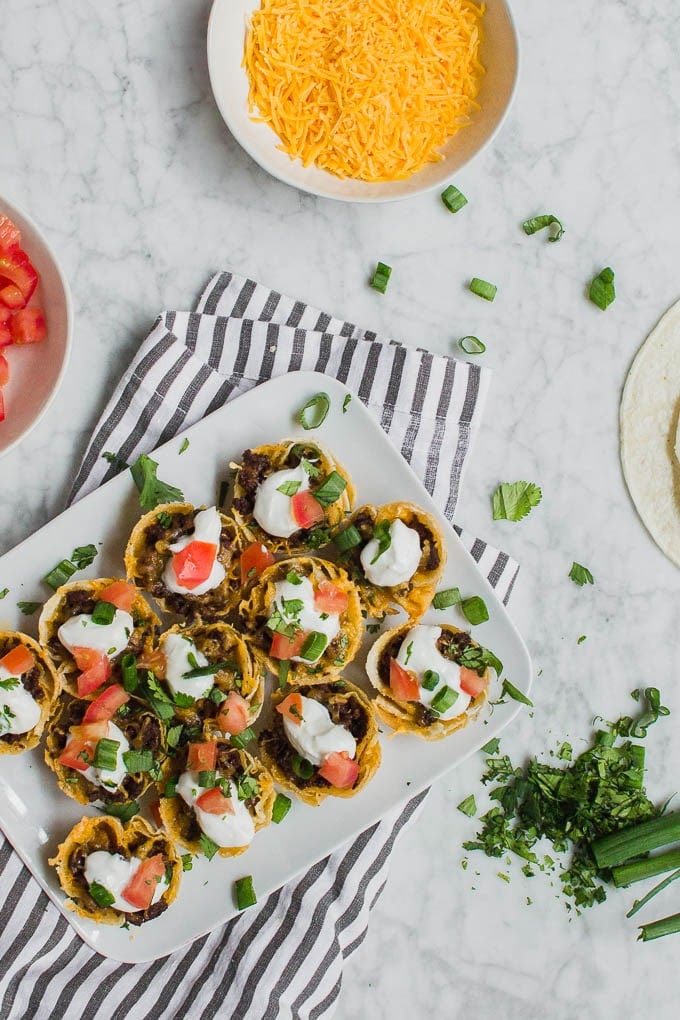 Tips and Tricks for Making Mini Beef Taco Cups
You MUST microwave the corn tortillas before stuffing them into the muffin tin. If you don't, they will break and you will be sad.
Work quickly. The tortillas cool down after being in the microwave in a few minutes, so be ready to go and have your muffin tin sprayed and prepared.
Work with only 3 tortillas at a time. If you work with more, your tortillas won't be as pliable or they will cool down too fast before you can finish cutting them. Stack all three tortillas on top of each other and cut through them with the cookie cutter or glass to save time!
Use round cookie cutters or a wine glass to make perfect little circles for your muffin tins. You will have some scraps left over which can be saved and used to make baked tortilla strips for gluten-free chicken tortilla soup. However, if you don't like the idea of saving corn tortilla strips for later, you can cut the corn tortilla with a knife into three wedges. You'll have pointy edges after you press the tortilla into the muffin tin which makes for a cute look, too!
I always get asked why I include individual spices in my taco recipes instead of a taco spice mix from a packet. Often times, those spice packets are NOT gluten-free! They include wheat as some sort of binding agent. I also like knowing exactly what spices I'm putting into my recipes and it's often more cost effective this way, too. So while it seems like a bit more work, it only takes about a minute to portion out all of these spices and it's completely worth it, I promise!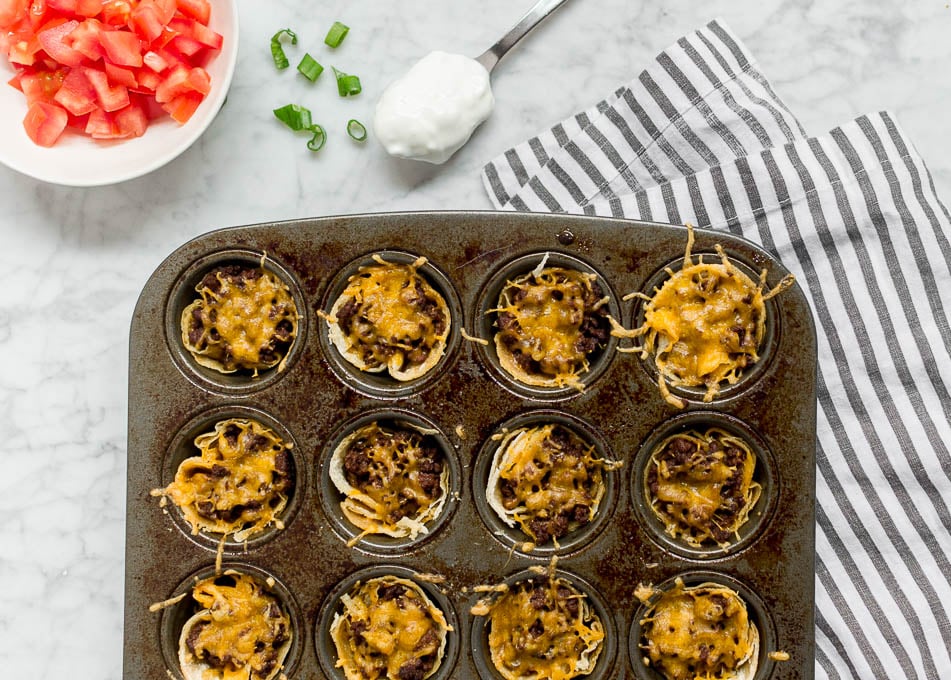 Entertaining Hacks with Mini Beef Taco Cups
Make ahead! To make these mini beef taco cups for entertaining, make the ground beef ahead the day before. You'll love how easy it is to stuff your muffin cups with the beef before baking. The tomatoes, cilantro and green onions can also be cut ahead of time.
Freeze and reheat. While I think it is better to make these fresh and instead just make the ground beef component ahead of time, you can also bake the mini beef taco cups ahead of time, cheese included, and then reheat in the oven before serving.
You can change up the size of these taco cups depending on what type of entertaining you're doing. The recipe is listed for mini muffin tins, making 36 total mini beef taco cups. This is great if you want to do cute finger foods for an appetizer. However, you can also make these in larger muffin cups! Instead of cutting three circles from each corn tortilla, just slice each corn tortilla in two pieces and place in regular sized muffin cups. You'll get around 14-16 regular sized taco cups, depending on how much ground beef you add to each. Just add a few additional minutes to the baking time, and you're all set!
Make a toppings bar! These mini beef taco cups would be SO great with all sorts of toppings. From the toppings I've suggested in the recipe – tomatoes, sour cream, green onion and cilantro – to even MORE toppings. Think guacamole, red onion, black olives, lettuce, etc. Set out the different toppings in the well of a muffin tin with little spoons and let everyone choose their own toppings.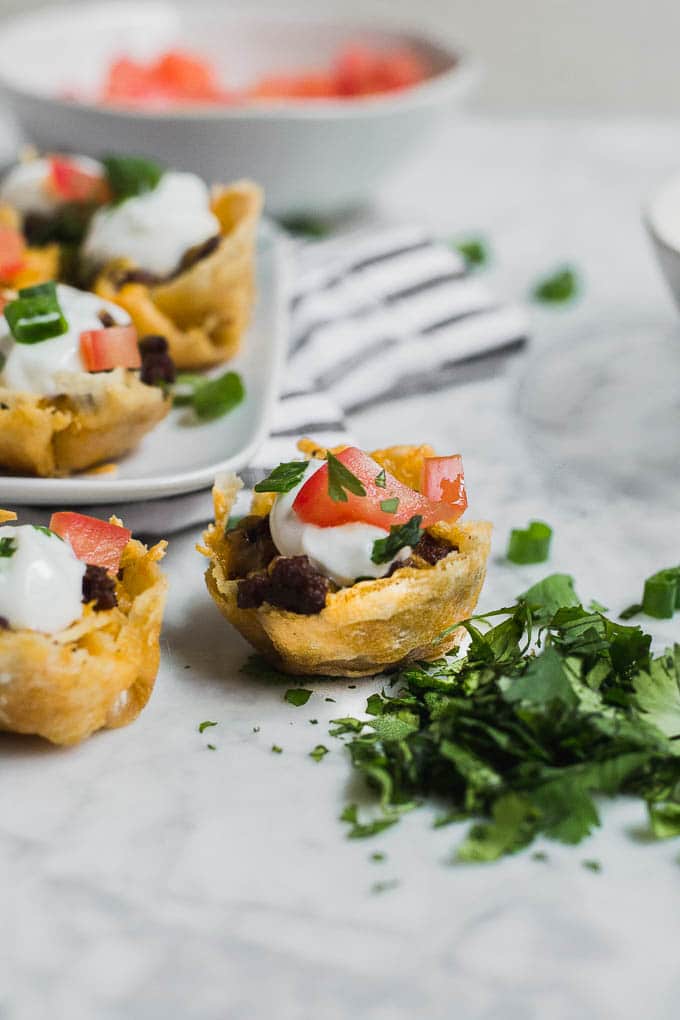 How to Make Mini Beef Taco Cups Recipe
This mini beef taco cups recipe is so versatile, with different options for your main protein or toppings. Follow my mini beef taco cups recipe for my favorite toppings and then customize as you see fit! For this recipe, you'll need corn tortillas, ground beef, taco spices and your favorite toppings – like cheddar cheese, sour cream, green onions and cilantro!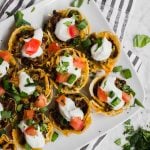 Print Recipe
Mini Beef Taco Cups
You'll love how easy these mini beef taco cups are to make - they're gluten-free and perfect for entertaining and potlucks. From start to finish, your mini beef taco cups can be on the table in under 30 minutes. You'll love how versatile they are with different options for toppings and they look so cute on the appetizer table!
Ingredients
12

corn tortillas

1

lb

ground beef

1/3

cup

water

2

tsp

chili powder

1

tsp

cumin

3/4

tsp

garlic powder

1

tsp

salt

1/2

tsp

ground black pepper

3/4

cup

shredded cheddar cheese

1/4

cup

sour cream or plain greek yogurt

for topping

1/4

cup

tomatoes

diced (I used one Roma tomato)

2

tbsp

green onions

sliced, for topping

2

tbso

chopped cilantro

for topping
Instructions
Add the beef to a skillet over medium heat. Brown for 5-6 minutes, until no pink remains. Drain fat.

Add 1/3 cup water to the skillet along with chili powder, cumin, garlic powder, salt and pepper. Stir to combine. Simmer for 2-3 minutes. Set aside.

Spray mini muffin tins with cooking spray.

Stack three corn tortillas and place on a paper towel or plate. Heat tortillas in microwave for 20 seconds. Remove from microwave and immediately cut three 3-inch circles out of each corn tortilla with either a cookie cutter or a glass. It's okay if they overlap a bit and you don't get exactly 3 inches for each circle.

Gently press in the muffin tin to get a cup shape. Repeat with remaining tortillas, working in batches.

Add a spoonful of ground beef to each muffin cup. Top with one teaspoon of shredded cheese.

Bake at 350F for 10 minutes, until cheese is melted and tortilla is crunchy. Let sit for 2-3 minutes in the muffin tin before removing carefully with a knife. Set on a paper towel for a minute to absorb all the excess oil and grease.

Top mini taco cups with diced tomatoes, sour cream, green onions and cilantro. Serve.
Nutrition
Calories:
64
kcal
|
Carbohydrates:
4
g
|
Protein:
3
g
|
Fat:
3
g
|
Saturated Fat:
1
g
|
Cholesterol:
12
mg
|
Sodium:
95
mg
|
Potassium:
61
mg
|
Vitamin A:
90
IU
|
Vitamin C:
0.2
mg
|
Calcium:
29
mg
|
Iron:
0.4
mg
You May Also Enjoy…
If you like these mini beef taco cups, try these gluten-free recipes!
Other Awesome Gluten-Free Appetizer Recipes…
Check out these gluten-free appetizers from other bloggers!