Last Updated on
Dairy-free yogurt and granola breakfast popsicles are a fun and easy way to eat breakfast this Spring and Summer! The popsicles are lightly sweetened, full of fresh berries, and have great added texture from gluten-free granola. These sweet little breakfast popsicles are just what you need for breakfast this weekend — or any time of the day really! Did I mention these yogurt and granola breakfast popsicles are also gluten-free, vegan and refined sugar-free? They are indeed!
For this recipe you'll need only four ingredients — your favorite dairy-free yogurt, maple syrup (or other sweetener like honey), fresh berries – strawberries, blueberries and blackberries – and your gluten-free granola of choice.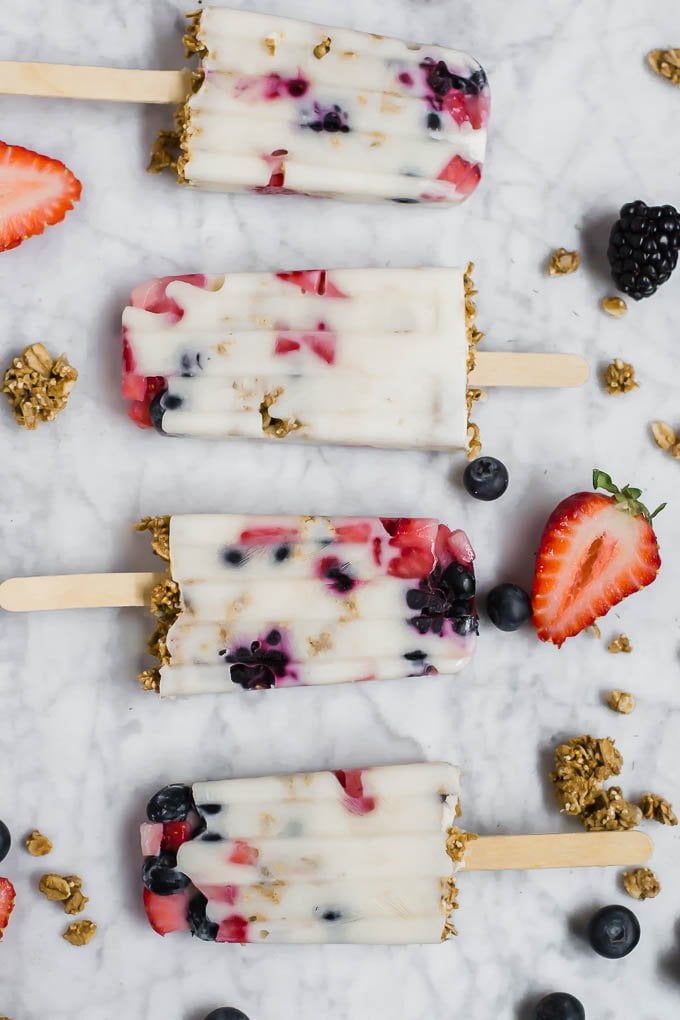 I've started to really get into dairy-free yogurt parfaits for breakfast in the morning. Thick greek-style dairy-free yogurt, fresh berries, and gluten-free granola with a drizzle of honey or maple syrup. Seriously – the best way to start my morning. Well that, and a big cup of coffee. (I'm currently obsessed with Califia Farms almond milk iced coffees, in case any of you were wondering.) If you follow me on Instagram, then you've probably seen my yogurt parfait and iced coffees in the morning! Mornings are when I do my best work. I'm most alert and I love the feeling of being productive first thing. Sometimes that means I'm on the go, and a girl on the go needs a breakfast popsicle! It's a fact.
Is there anything better than breakfast on a stick? I think not. I'm not really sure breakfast popsicles are entirely a thing, but they definitely should be! I took the same exact ingredients that I use in my morning yogurt granola parfaits and put it in popsicle form. So you don't even have to feel bad about eating a popsicle for breakfast! I love how easy these yogurt and granola parfait breakfast popsicles are to make. Only four ingredients and you're on your way to a delicious breakfast.
I think kids would really love these dairy-free yogurt parfait popsicles, too! What kid wouldn't like the chance to basically eat ice cream for breakfast? But instead, they're getting a breakfast that is relatively low in sugar and contains fruit and healthy grains – depending on what type of granola you choose. I used a gluten-free granola that was naturally sweetened with maple syrup.
As soon as the weather gets warmer, I imagine these breakfast popsicles will be a staple in my house! They are a terrific breakfast or even a snack, too! I also love how perfect this recipe is for meal prep. You make 10 popsicles from this recipe, and they're just waiting for you in the freezer. I don't think it gets much easier than that.
Tips for Making Dairy-Free Yogurt and Granola Parfait Breakfast
I used a plain unsweetened dairy-free yogurt for this recipe. You can whatever type of yogurt you prefer – from cow's milk to almond milk to coconut milk; from greek-style to unsweetened to flavored. They all work! Use whatever you have in your refrigerator. I used my favorites which are noted in the recipe card below.
Fresh berries are best, but you can also use frozen if that's all you have. Let them defrost a bit and you can even mash them with a spoon to get a jam-like consistency.
Cut your berries small enough. You want the berries to fit in the popsicles. It may seem like common sense but one of my blackberries was so big in my first round of testing it just left a huge gap in the popsicles. I cut blackberries and strawberries into small pieces and then find the smaller blueberries in each container.
Make this recipe gluten-free by using a gluten-free granola. You may be thinking… isn't granola already gluten-free? Aren't oats naturally gluten-free? Well… yes but also a hard no.
Are oats gluten-free?
Oats are technically gluten-free, but they are often contaminated with gluten in the fields and also in the milling, packaging and storing processes. This makes them unacceptable for people with celiac disease and gluten intolerances.
If you have celiac disease or are on a gluten-free diet, always buy certified gluten-free oats. There are quite a few companies in the market that offer gluten-free certified oats.
Some people who have celiac disease are not able to tolerate oats even if they are certified gluten-free. If you are one of those people, use a grain-free granola, like Hungry by Nature or one of Purely Elizabeth's grain-free varieties. Both are gluten-free and do not contain oats.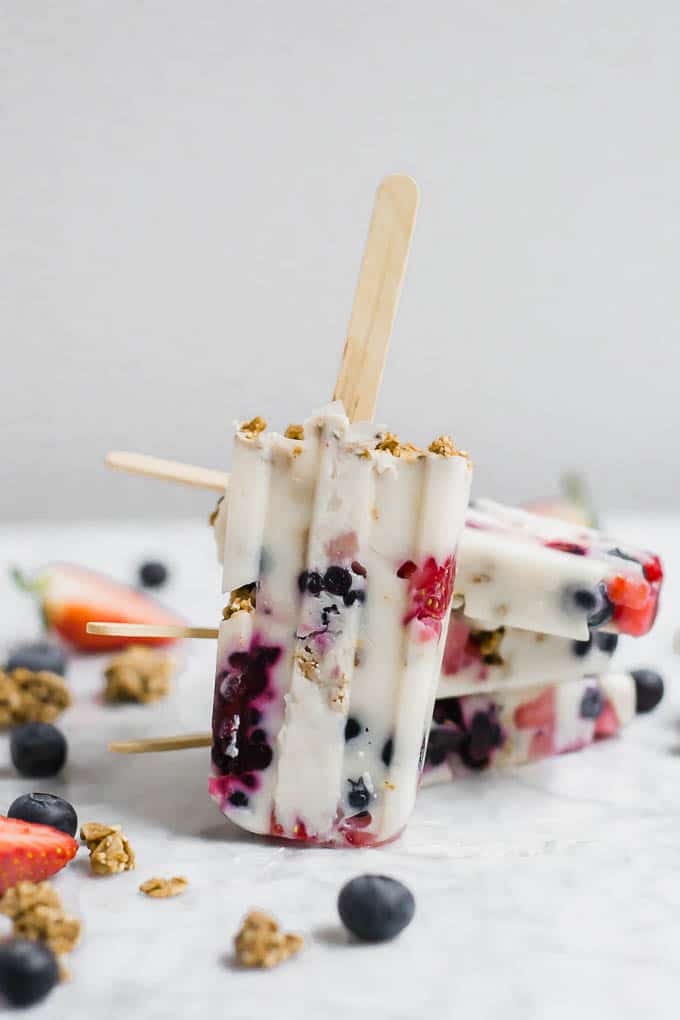 You May Need…
The following are affiliate links. We are a participant in the Amazon Services LLC Associates Program, an affiliate advertising program designed to provide a means for us to earn fees by linking to Amazon.com and affiliated sites.
Norpro Frozen Ice Pop Maker I've had this popsicle mold for about 5 years and it's so easy to use and inexpensive, too! If you have another popsicle mold you love, send me a link in the comments!
Norpro Wooden Popsicle Sticks The popsicle mold I linked to above comes with 24 popsicles sticks, but if you're planning on making these popsicles numerous times over the Summer (which you definitely should!) you're going to need more popsicle sticks. They also are great for craft projects so double duty!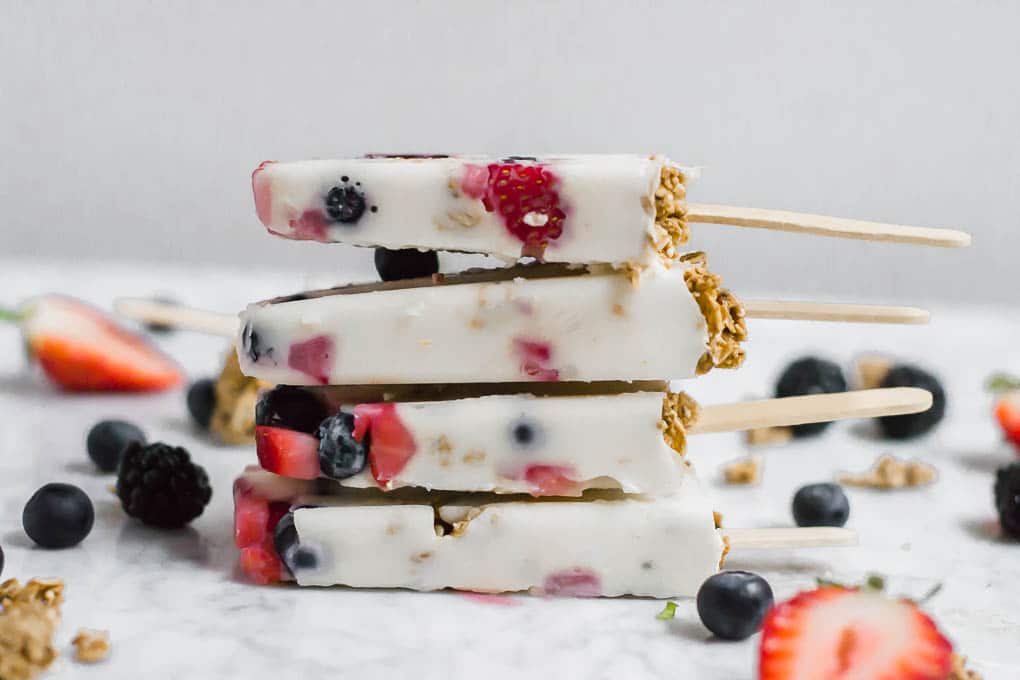 Dairy-Free Yogurt and Granola Parfait Breakfast Popsicles Recipe
To make this recipe, you only need a few ingredients – your favorite dairy-free yogurt, maple syrup (or honey), fresh berries, and gluten-free granola. That's really it! Your family will love eating popsicles for breakfast – it's such a fun way to get your protein and fruits and hellloooo perfect portion sizes!
Print Recipe
Dairy-Free Yogurt and Granola Breakfast Popsicles
You'll love how easy these dairy-free yogurt and granola breakfast popsicles are to make. Only 4 ingredients stands between you and a deliciously fun breakfast the whole family will love! Gluten-free, dairy-free and vegan.
Instructions
In a bowl, mix together dairy-free plain yogurt with maple syrup. Add 1/4 cup of the yogurt to the berries and mix together.

Layer the popsicles in the following order: berries, yogurt, granola, berries, yogurt, granola. Repeat with remaining popsicles until they are all filled to the top. Stick popsicle sticks in the center of each popsicle mold.

Freeze for 4-6 hours or until firm.

To serve, run the popsicle mold under warm water for 30 seconds, being sure not to get water into the top of the mold. The popsicles should easily release. If they don't, keep running the mold under warm water until they come out.
Nutrition
Calories:
83
kcal
|
Carbohydrates:
12
g
|
Protein:
4
g
|
Fat:
1
g
|
Cholesterol:
1
mg
|
Sodium:
14
mg
|
Potassium:
110
mg
|
Sugar:
7
g
|
Vitamin A:
10
IU
|
Vitamin C:
4.3
mg
|
Calcium:
49
mg
|
Iron:
0.5
mg
You May Also Like
Other Awesome Dairy-Free Popsicle Recipes