Love coffee and chocolate? Look no further because this coffee chocolate chip ice cream needs to be on your dessert table tonight!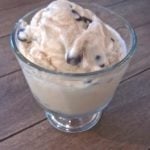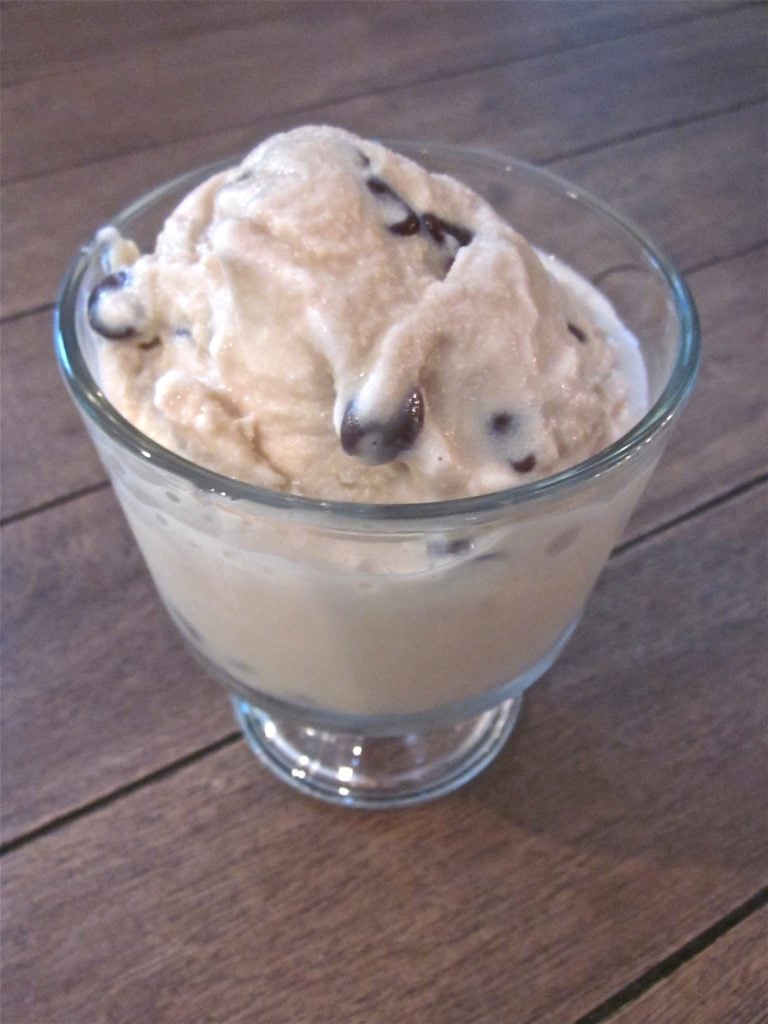 I don't know if any of you know this, but I don't drink caffeine. I haven't for almost three years and it's probably one of the better decisions I've made in my life. Caffeine makes me jittery and way too anxious for my own liking. So I gave it up. I
It sure wasn't easy because I definitely had my fair share of Diet Cokes in my 7am accounting class to wake me up Sophomore year of college. But I guess drinking less soda is also a good thing. One of the things I miss most is coffee drinks – tuxedo mochas from Starbucks, hazelnut coffee from Einstein's, iced coffees from the school cafe… ahh sooo good.
But really I'm not going to go to Starbucks to get a decaf mocha for $5. That makes no sense. Sure it's good, but so not worth it in my opinion unless you need the caffeine. Enter coffee ice cream stage left. This ice cream gave me my coffee flavor fix without any of the caffeine!
My grandma happened to have some decaf coffee on hand which is what we used. I made this ice cream for a big family dinner at our lake house. So about 14 people and 1 quart of coffee ice cream… it was gone in no time.
My dad took a huge scoop first because he apparently loves coffee ice cream. Everyone else just kind of had a spoonful to give it a try. It was so good. I personally wouldn't skip the vodka because it prevents the ice cream from becoming rock solid. I think that some sort of coffee liqueur would also be really good instead!
Coffee Chocolate Chip Ice Cream
Love coffee and chocolate? Look no further because this coffee chocolate chip ice cream needs to be on your dessert table tonight!
Print
Pin
Rate
Ingredients
1 1/2

cups

heavy cream

1 1/2

cups

milk

3

egg yolks

2

whole eggs

3/4

cup

sugar

1

tablespoon

vodka

(to prevent the ice cream from getting too hard)

1/2

cup

strong coffee

(chilled)

1/2

cup

chocolate chips

(feel free to add more!)
Instructions
In a bowl, using an electric blender or whisk, blend together eggs, yolks, and sugar for about 5 minutes.

Then, in a saucepan, heat milk and cream over medium heat. Do not let the mixture boil. Take off the heat before it begins to boil.

Slowly pour 1 cup of the heated milk mixture into the egg mixture, whisking rapidly to prevent the eggs from cooking.

Once the milk is whisked into the eggs, pour the egg mixture into the saucepan with the remaining milk mixture, while whisking.

Heat the mixture over medium heat, stirring constantly, until the custard becomes thick enough to coat the back of a spoon. Turn off heat.

Pour the custard into a bowl and cover with plastic wrap. Press the plastic wrap down so that it touches the surface of the custard. Chill in the refrigerator until cool.

Once the custard is completely chilled, pour into the ice cream maker bowl with the vodka. Follow the manufacturer's instructions. Halfway through the churn time, pour in the 1/2 cup of chilled coffee. When the ice cream has a few minutes left of churning, add in the chocolate chips.

Store in an airtight container in the freezer. Freeze ice cream for a few hours before serving. Makes about 1 quart.
Nutrition
Calories:
470
kcal
|
Carbohydrates:
40
g
|
Protein:
7
g
|
Fat:
31
g
|
Saturated Fat:
18
g
|
Cholesterol:
242
mg
|
Sodium:
84
mg
|
Potassium:
164
mg
|
Sugar:
37
g
|
Vitamin A:
1215
IU
|
Vitamin C:
0.3
mg
|
Calcium:
145
mg
|
Iron:
0.7
mg