Sweet, tangy, and SO refreshing, this homemade strawberry frozen yogurt is the perfect dessert to make this summer. Greek yogurt gives this creamy strawberry froyo its classic tang and flavor. With just a few ingredients, you can have this easy frozen yogurt for dessert!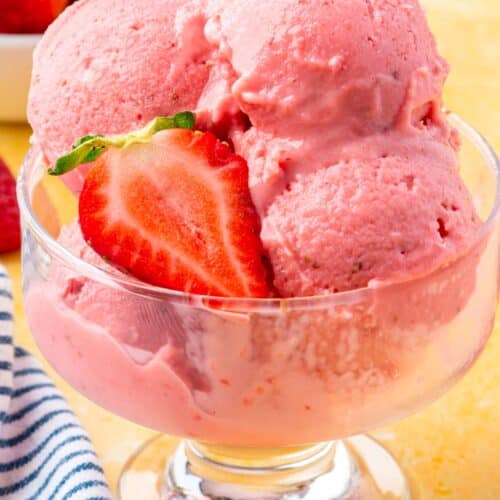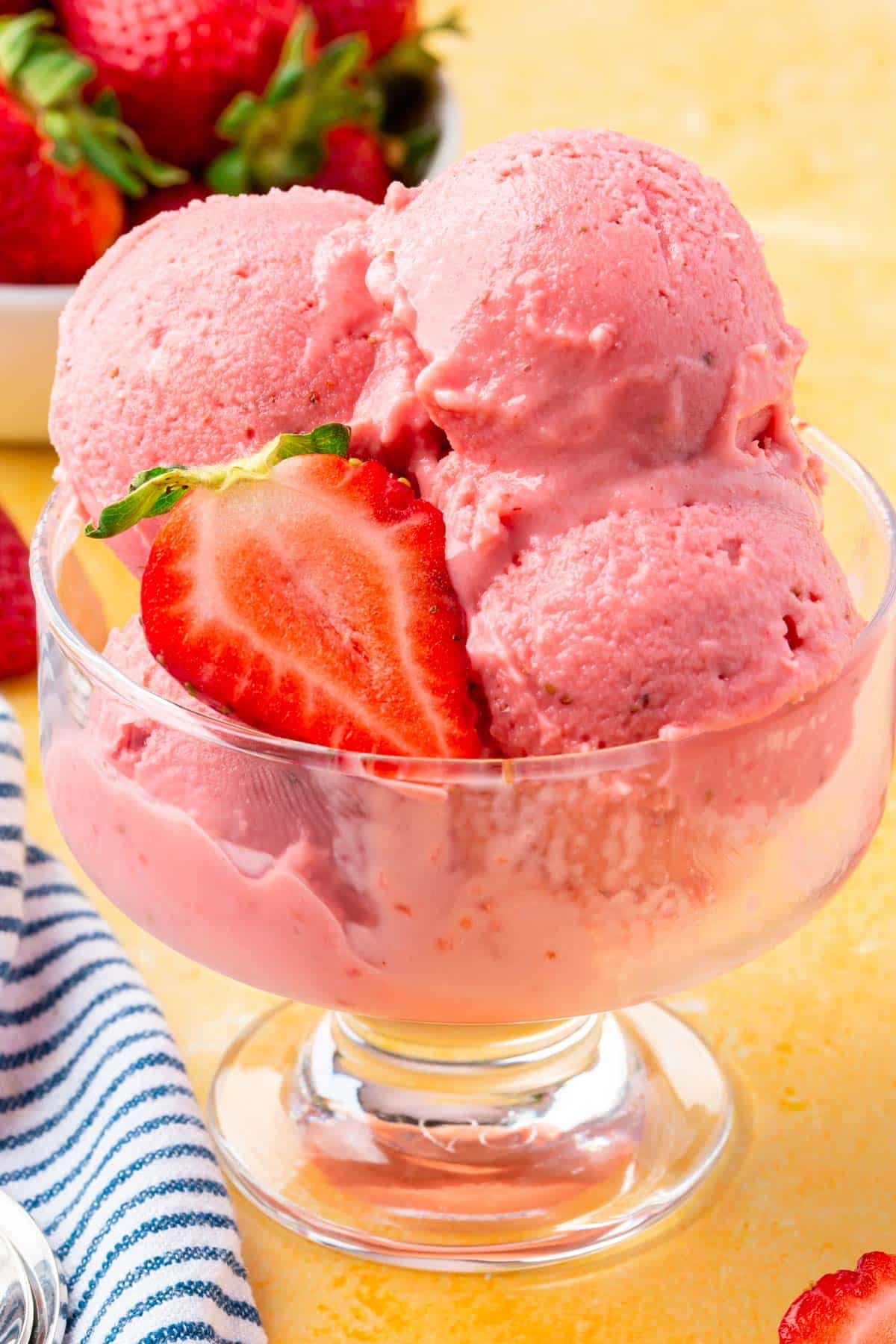 Why this recipe works
There's no better way to cool off during the summer than a scoop of tangy frozen yogurt. This homemade strawberry frozen yogurt recipe is one of my favorites using ripe strawberries picked right from the field.
This recipe was inspired by a trip to a strawberry farm in Wisconsin when we picked 16 quartz of strawberries! And trust me, this recipe shows them off so well! It's sweet, tangy, creamy and refreshing. Everything you can want in a homemade frozen yogurt on a hot summer day!
You'll need just a few simple ingredients and an ice cream maker to make this easy recipe. There is some waiting time involved, but the steps are very simple to do. Trust me, the wait is worth it!
You'll love this recipe because:
Ingredients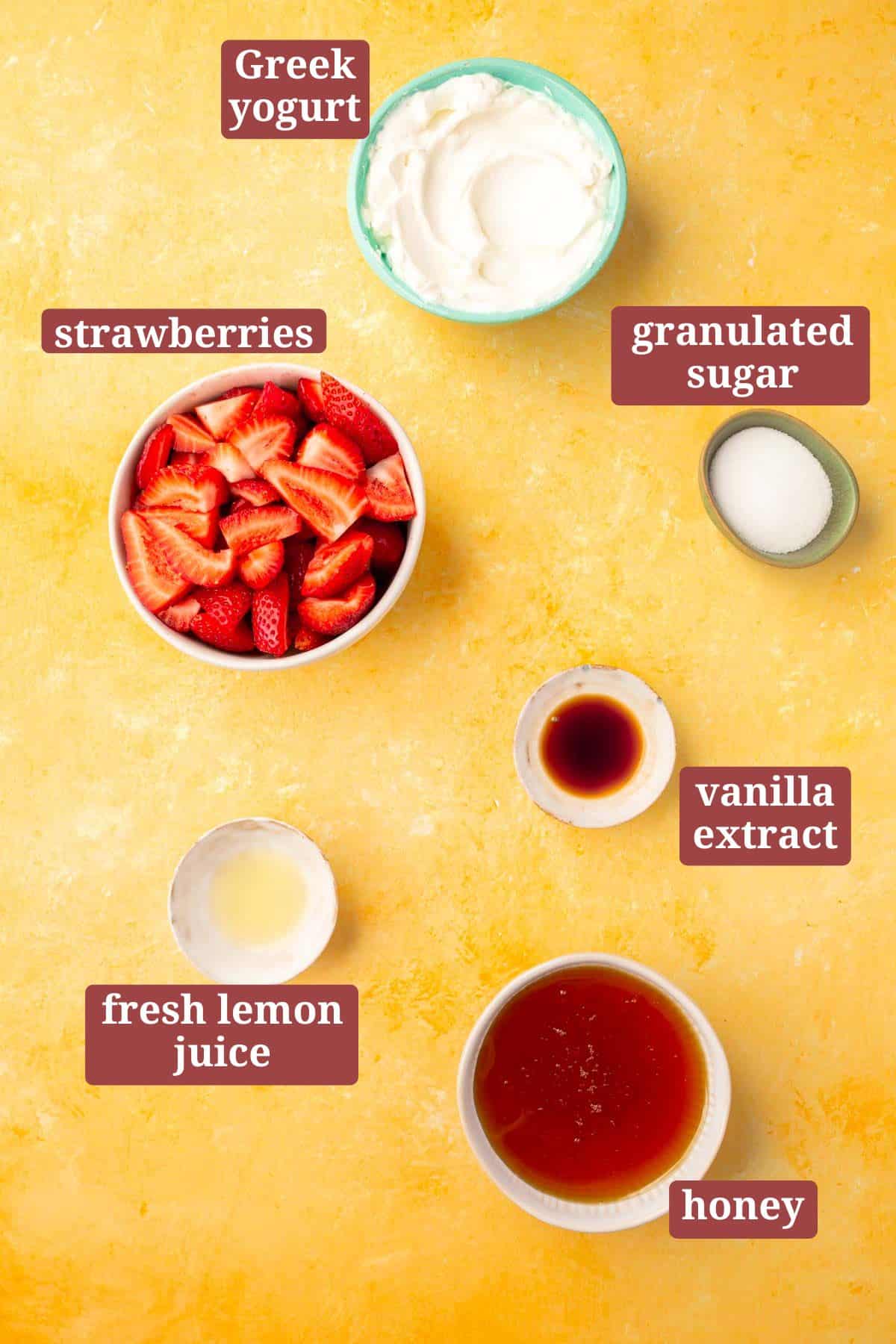 Ingredient Notes
strawberries – I prefer to use fresh strawberries when they are in season, as there is nothing that compares to the flavor. However, if strawberries are out of season or not available to you, you can use frozen strawberries. Let them thaw at room temperature before draining them and then proceeding with the written recipe.
Greek yogurt – se a full-fat plain Greek yogurt, without sweeteners or flavorings, for best results. I love Fage 2% or 5% Greek yogurt, however even a 0% Greek yogurt will work. Do not use plain yogurt (non-Greek yogurt) as it is not thick enough. Something like skyr (Icelandic yogurt) may work as it's thicker, but I have not tested this recipe using it so I cannot say for sure.
granulated sugar – You'll notice that you just use granulated sugar when tossing with the strawberries. It's my favorite sugar for macerating strawberries as it draws out the sweetness and moisture from them better than honey would in my experience.
honey – I like to use a liquid sweetener, like honey, in this froyo recipe because it pairs so well with Greek yogurt and mixes seamlessly into the frozen yogurt base without leaving any grittiness. You could use maple syrup or agave if you prefer, but the flavor will change slightly.
Special Equipment
For this recipe, you'll need an ice cream maker. I have two ice cream makers in my kitchen that I use regularly for making ice cream. I use both my Cuisinart ice cream maker and my Breville compressor ice cream maker.
The Cuisinart ICE30BC is a 2 quart ice cream maker that churns ice cream using a cold ice cream bowl. You will need to freeze the bowl for at least 24 hours before churning, otherwise the ice cream will not solidify. I typically will churn the ice cream for about 25 minutes in this ice cream maker.
The Breville Smart Scoop BCI600XL Ice Cream Maker is a compression ice cream maker that has a built-in compressor to constantly cool the ice cream as it churns. You do not need to pre-chill the ice cream bowl for this machine, or any compression ice cream maker.
I've had my Cuisinart ice cream maker for over 12 years and it's still working great, so that's the one I will typically recommend you use and start with. The Breville compression ice cream maker is great if you are short on freezer space or are making multiple batches of ice cream in a day and can't wait between churns for the bowl to freeze. However, since it is a compressor ice cream maker, it is much more of an investment.
Step-by-Step instructions
This delicious frozen yogurt recipe is so easy to make with just 6 ingredients and an ice cream maker! Follow the steps below with matching photos to help you make this strawberry frozen yogurt recipe perfectly every time!
For the ingredient list with measurements, full instructions, printable recipe, and additional notes, please scroll down to the recipe card.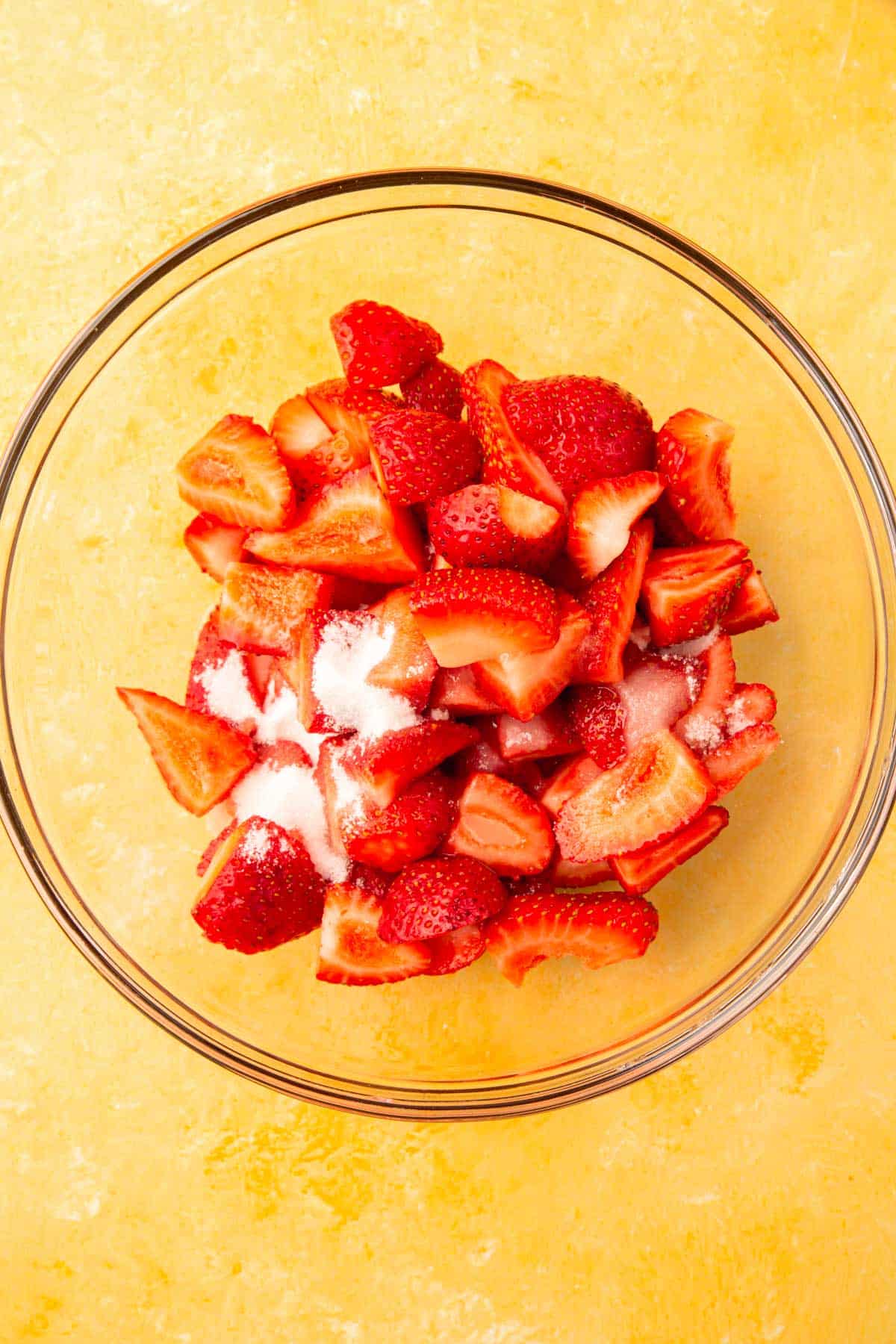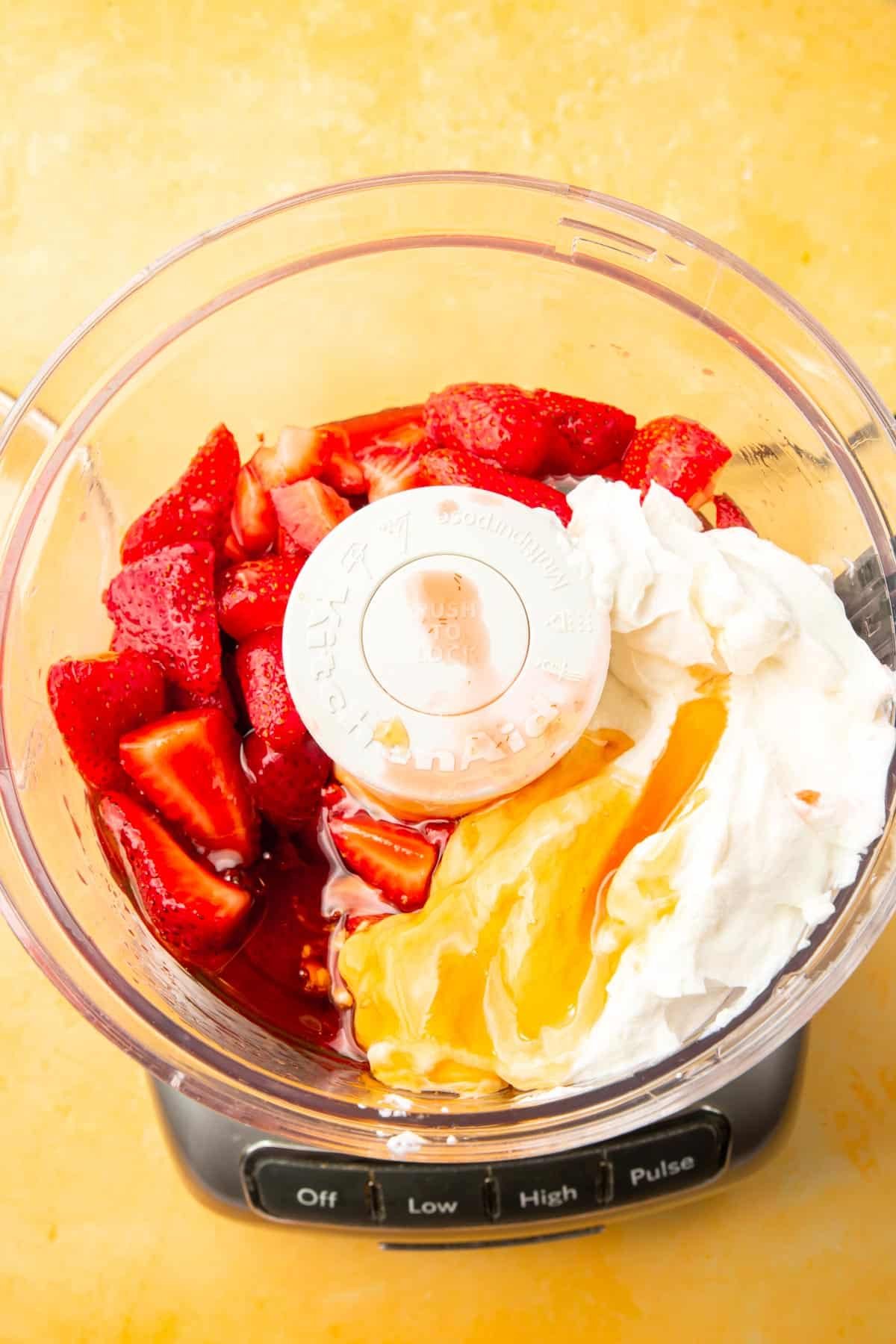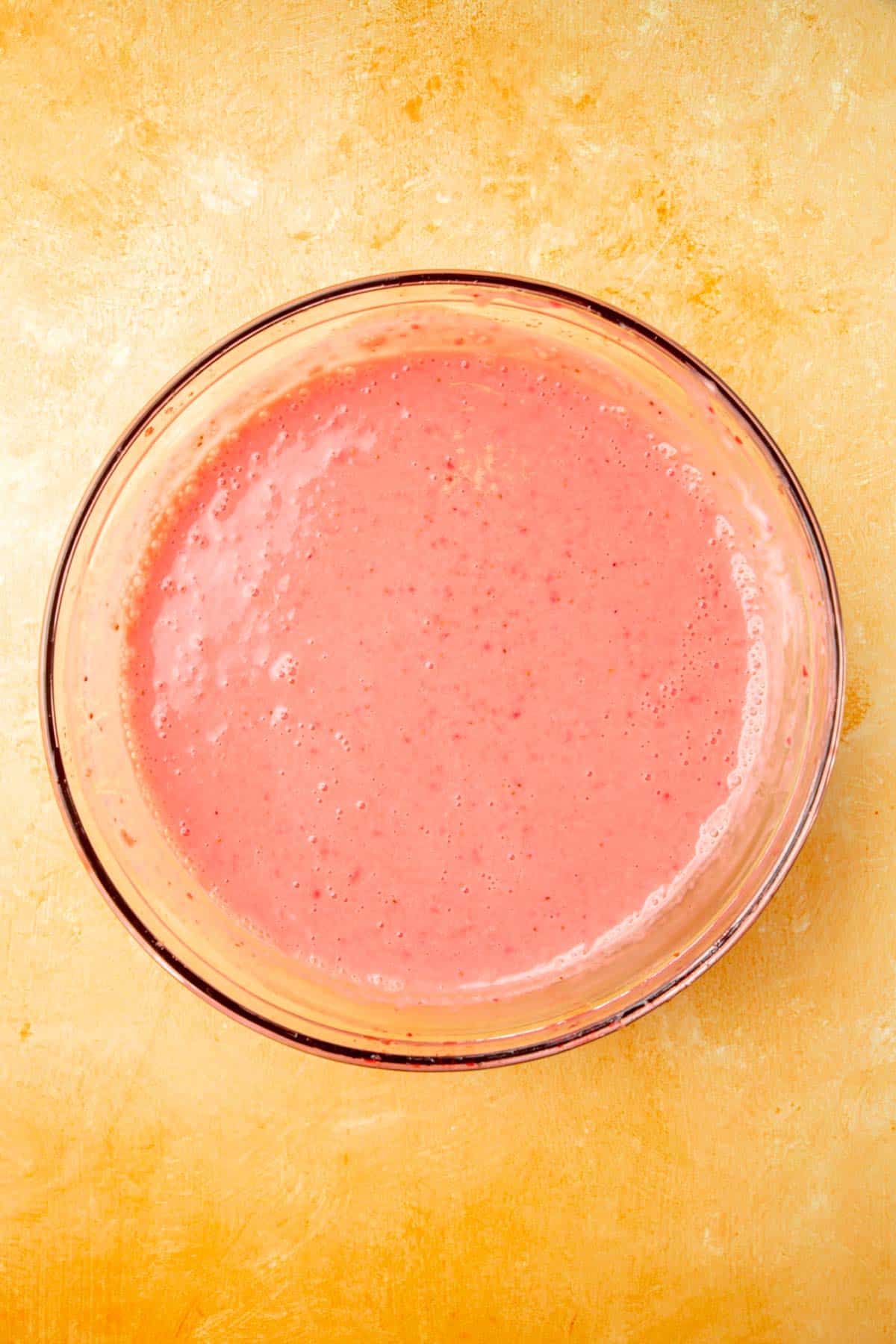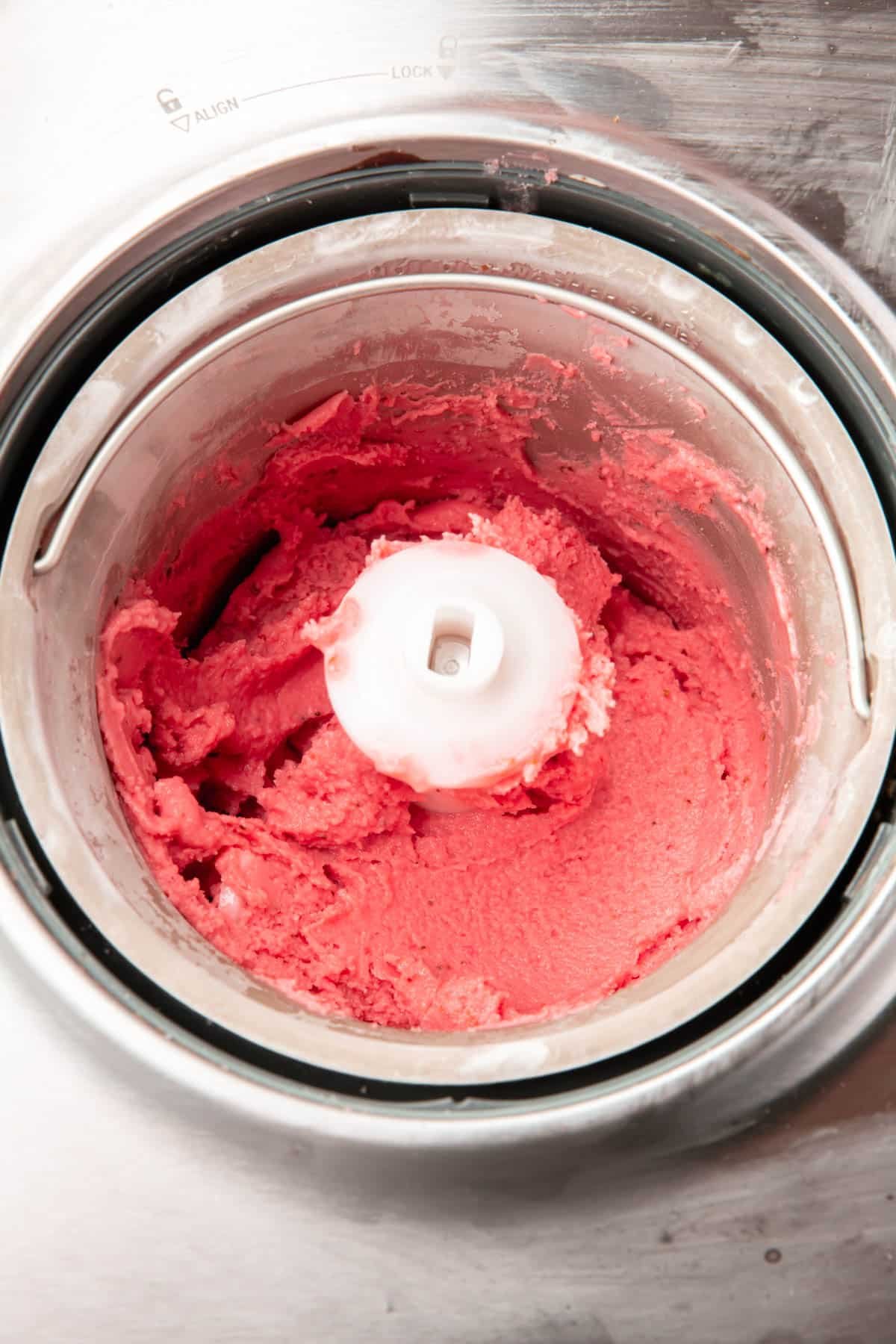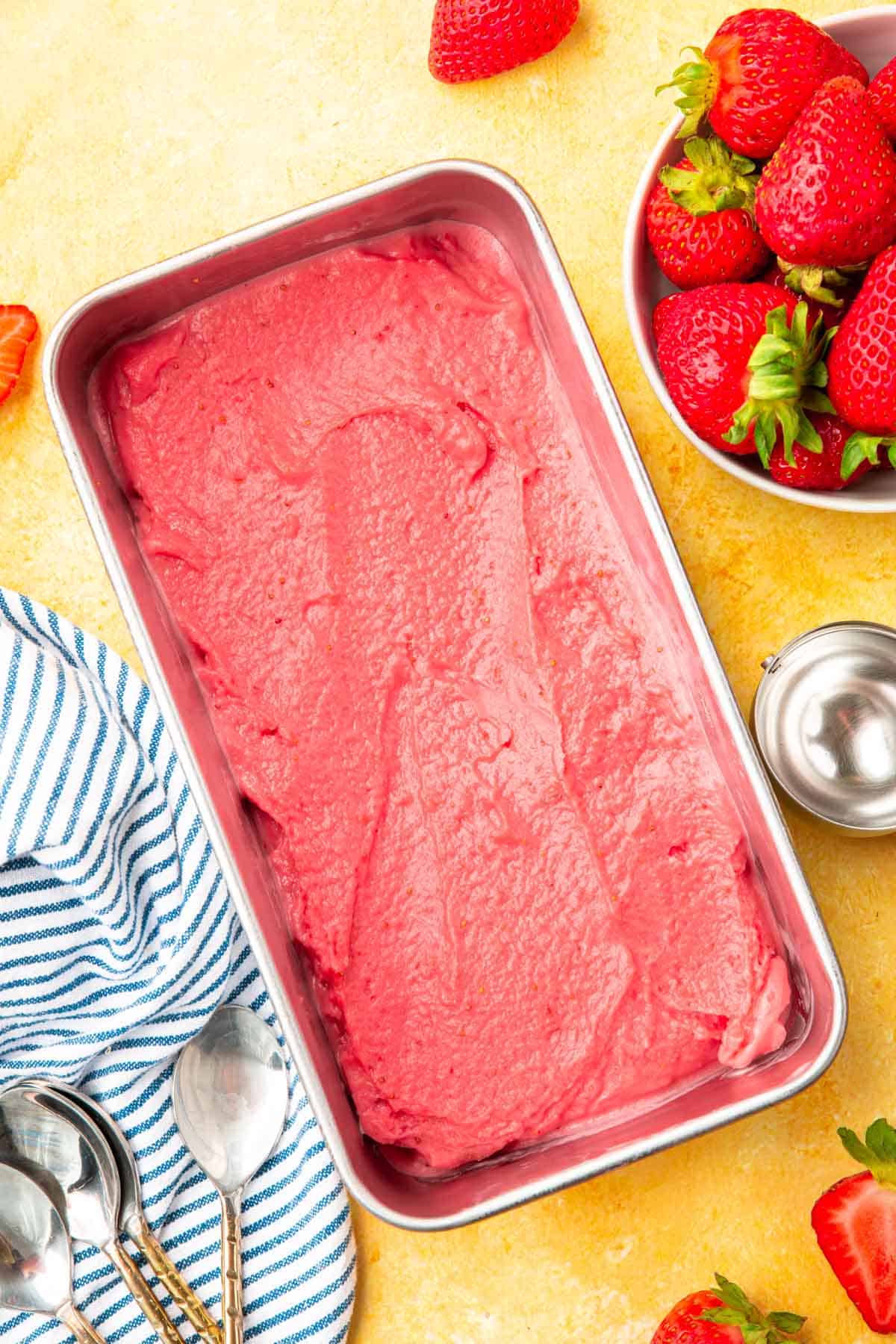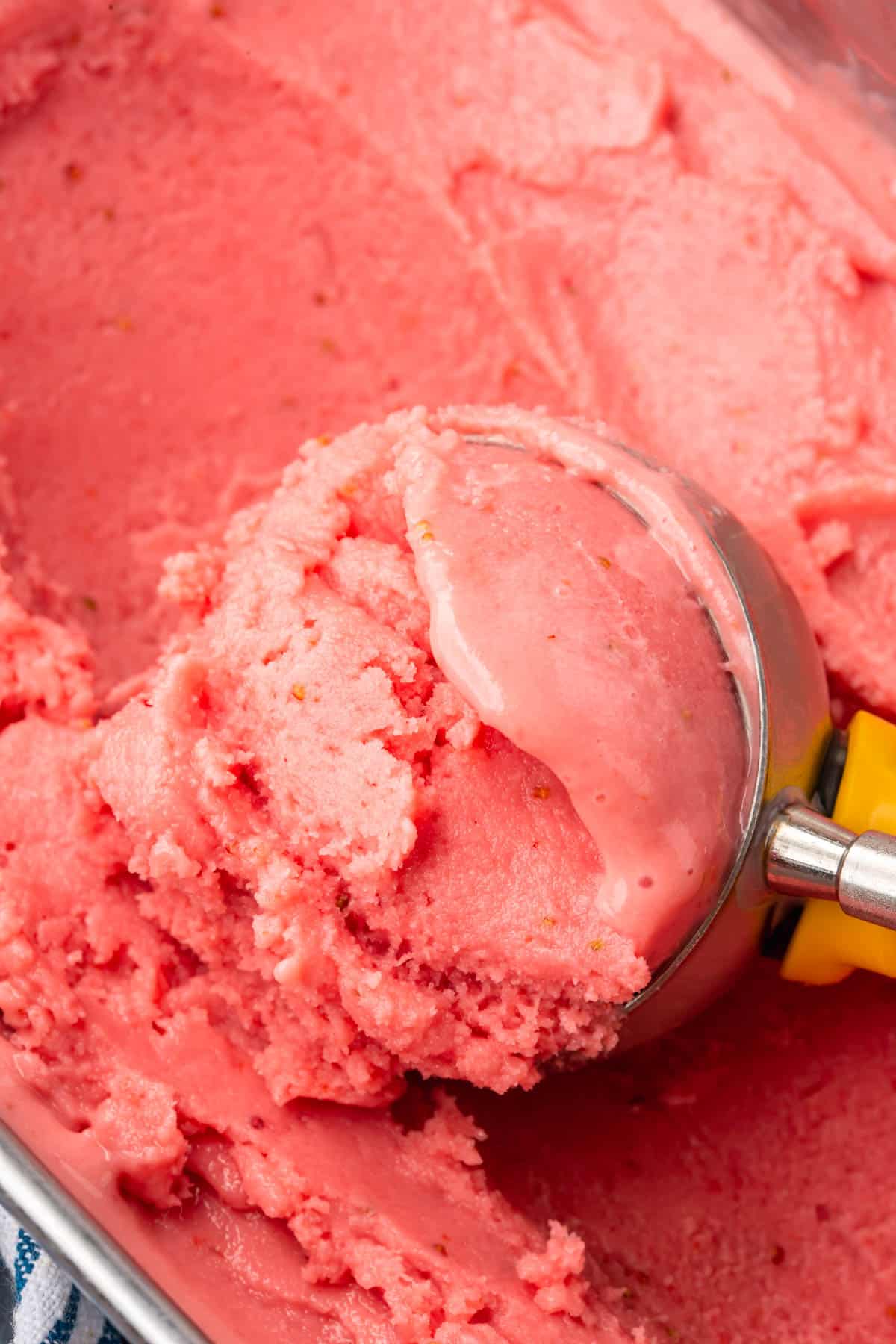 Recipe FAQs
Can I use frozen strawberries instead of fresh strawberries?
You can use either fresh or frozen strawberries depending on the time of year. If fresh strawberries are available to you in the summer, use those as they will have more flavor. If they are unavailable or out of season, use frozen strawberries instead. Let the thaw to room temperature and drain before using in this recipe as written.
Is frozen yogurt the same as ice cream?
The dairy base is the main thing that differentiates frozen yogurt from ice cream. Ice cream is made using a base of heavy cream and whole milk and often involves a custard made with eggs. Frozen yogurt is typically egg-free and uses Greek yogurt as its dairy base.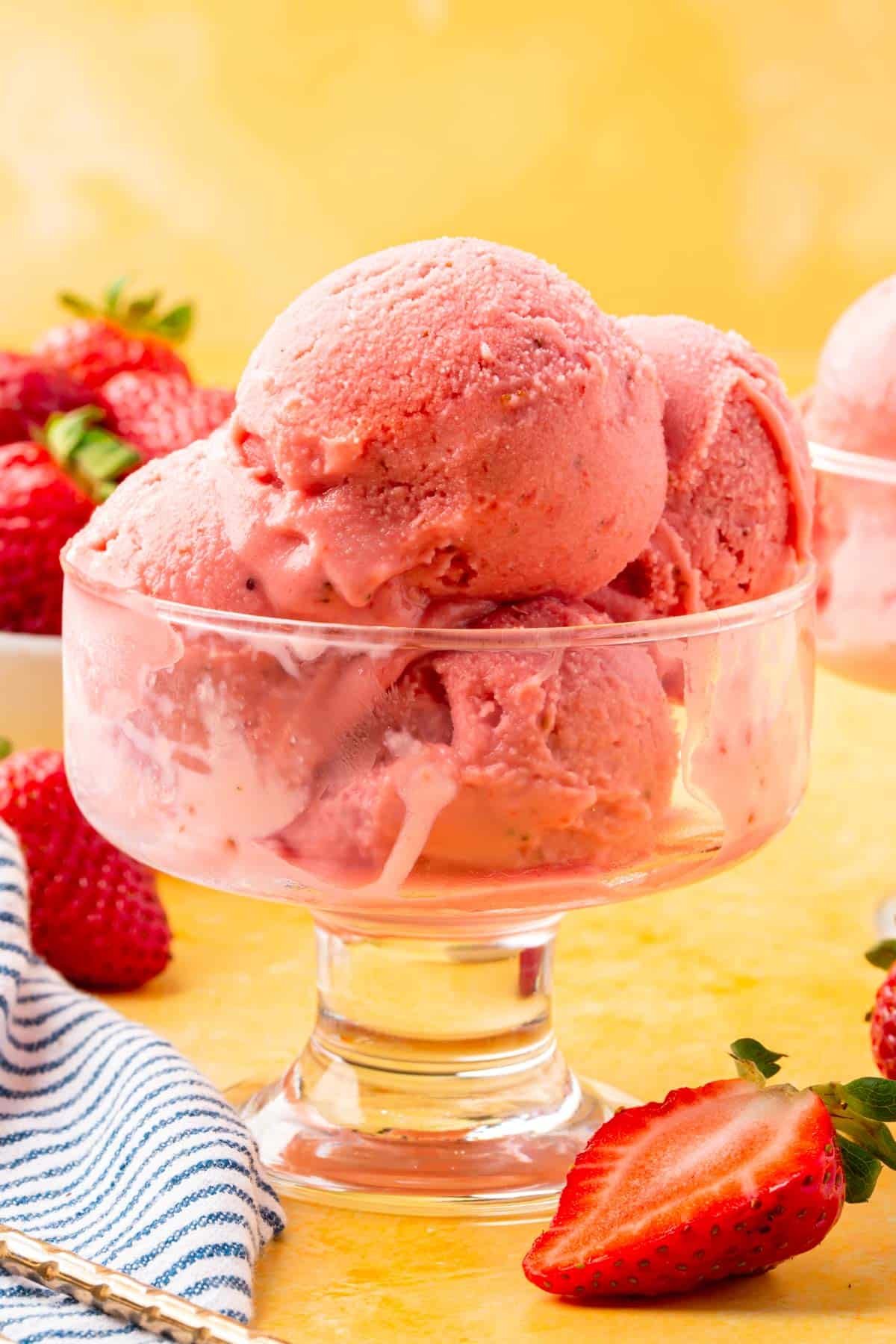 Leftover strawberries? Try these strawberry recipes!
More delicious frozen dessert recipes to try
Did you make this recipe?
I'd love to know! Please rate it and leave a comment below. You can also share your pictures and tag @adashofmegnut on Instagram.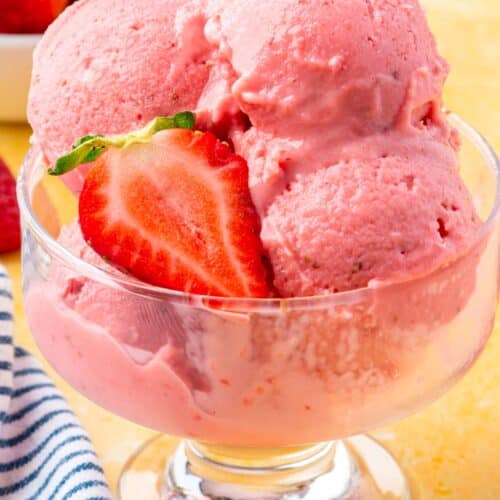 Strawberry Frozen Yogurt
Sweet, tangy, and SO refreshing, this homemade strawberry frozen yogurt is the perfect dessert to make this summer. Greek yogurt gives this creamy strawberry froyo its classic tang and flavor. With just a few ingredients, you can have this easy frozen yogurt for dessert!
Print
Pin
Rate
Ingredients
1

lb

strawberries

(quartered or sliced (4 cups / 450g))

2

tablespoons

granulated sugar

(25g)

1

teaspoon

lemon juice

1

cup

plain full-fat Greek yogurt

(230g)

1/2

cup

honey

(168g)

1

teaspoon

vanilla extract
Instructions
Toss strawberries in a bowl with the sugar and lemon juice.

Stir with a spoon until the sugar begins to dissolve. Let sit for at least 30 minutes.

Transfer the strawberry mixture to a blender or food processor. Add the yogurt, honey, and vanilla.

Process until smooth.

Pour the mixture into a bowl and chill in the refrigerator for one hour.

Churn frozen yogurt in an ice cream machine according to the manufacturer's instructions, until it achieves a soft serve texture. Mine took about 30 minutes.

You can serve as is, or pour into a freezer-safe container and freeze for at least 2 hours, or until firm.

Let sit at room temperature for a few minutes before scooping with an ice cream scoop. Serve immediately.
Notes
You can use fresh strawberries or frozen strawberries. If you are going to use frozen strawberries, let them thaw at room temperature. Drain them and then proceed with the recipe as written.

Use a full-fat Greek yogurt for this recipe for best results.

This recipe makes one pint as written, which serves about 4 people.

The nutritional information in the recipe card is an estimation and may vary depending on which type of greek yogurt you use.

If you have celiac disease or are on a gluten-free diet, be sure to double check all ingredients to ensure they are gluten-free.
Nutrition
Calories:
222
kcal
|
Carbohydrates:
52
g
|
Protein:
6
g
|
Fat:
1
g
|
Saturated Fat:
0.1
g
|
Polyunsaturated Fat:
0.2
g
|
Monounsaturated Fat:
0.1
g
|
Trans Fat:
0.003
g
|
Cholesterol:
3
mg
|
Sodium:
21
mg
|
Potassium:
269
mg
|
Fiber:
2
g
|
Sugar:
48
g
|
Vitamin A:
16
IU
|
Vitamin C:
67
mg
|
Calcium:
76
mg
|
Iron:
1
mg