This simple tutorial shows how to macerate strawberries. All you need are 3 ingredients to make this easy recipe! They're perfect for topping strawberry shortcake, serving over angel food cake, drizzling over ice cream and so much more! This process completely transforms strawberries to make any dessert extra special.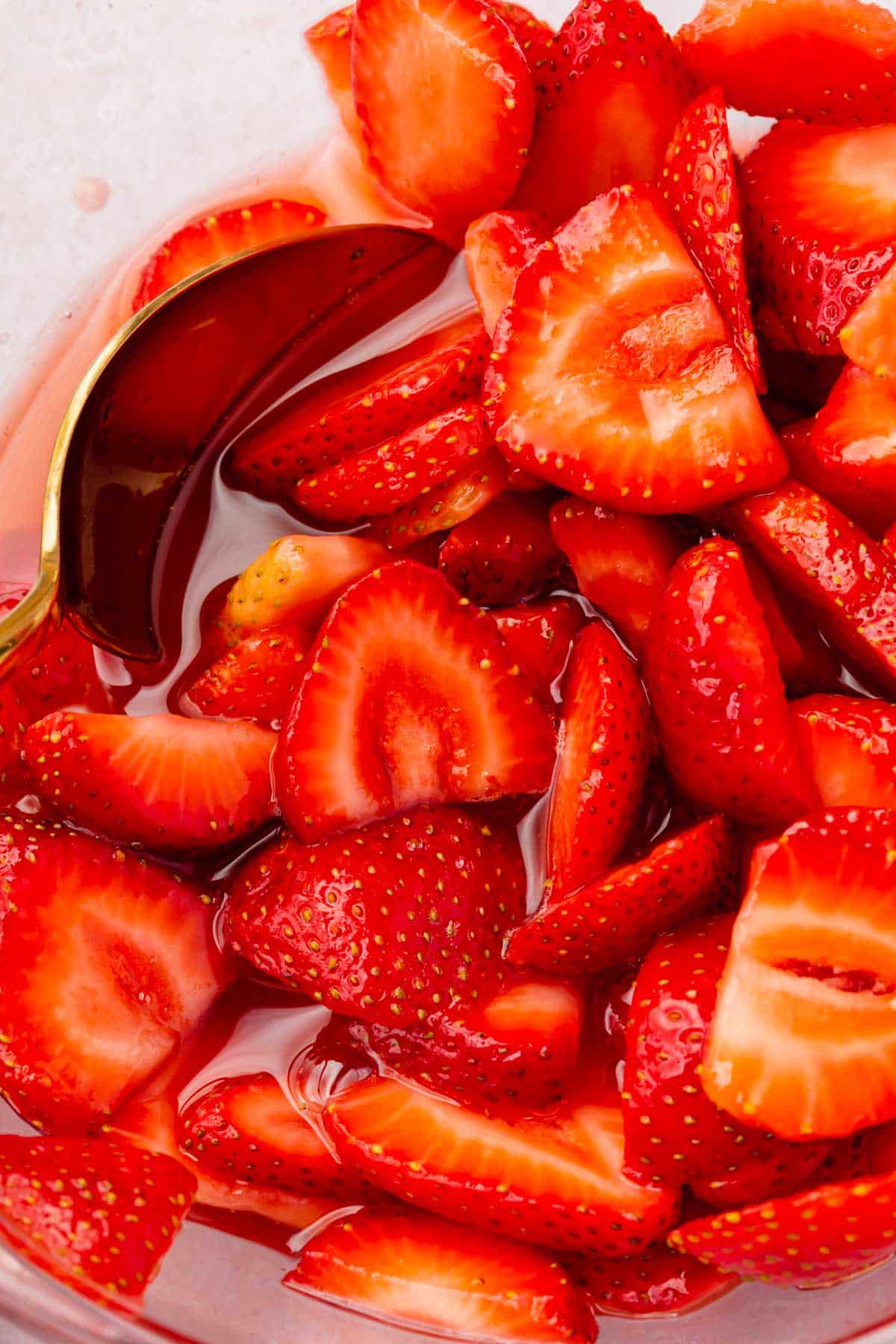 Why this recipe works
Macerated strawberries is one of those cooking terms that sounds scarier than it is. Macerated strawberries are strawberries that have been mixed with sugar, syrup, or some kind of liquid so that they sit, release their natural juices, and get sweeter. It results in tender, sweet strawberries with a luscious strawberry syrup. No cooking required!
Sweetened strawberries, sugared strawberries, dessert strawberries, macerated strawberries – they're all the same thing! And incredibly easy to make, too! Just toss together all of your ingredients and then patiently wait while the strawberries and sugar meld together.
While technically you only need two ingredients to make this macerated strawberries recipe – strawberries and sugar – I love to add some lemon juice to add a bit of tang and citrus kick to my macerated strawberries. The brightness of the lemon juice pairs so well with the sweetness of the strawberries.
Ingredients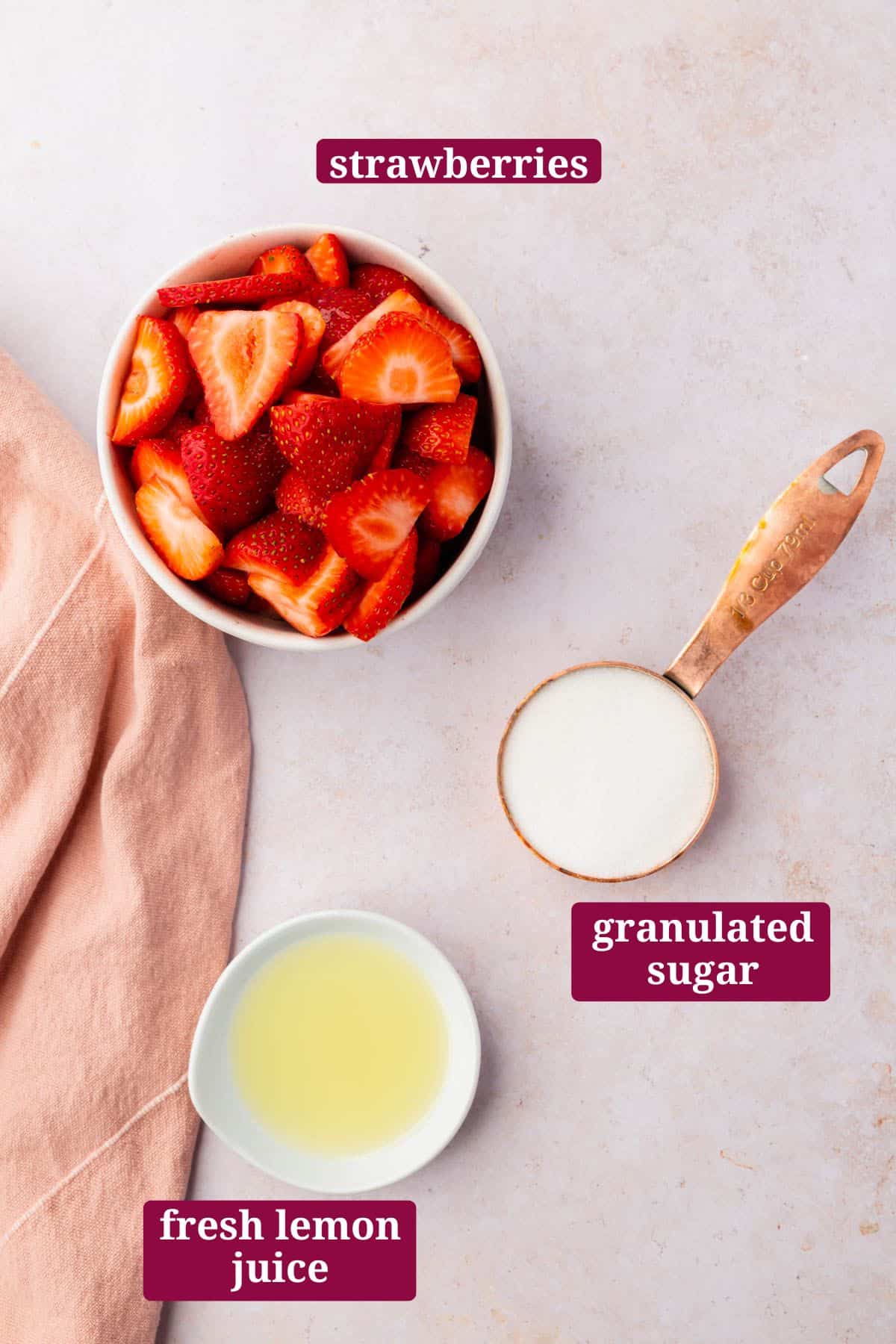 Ingredient Notes
Strawberries – Use 1 lb of strawberries for this recipe, which is 450g or about 4 cups of sliced strawberries. You can slice or quarter the strawberries, whichever you prefer.
Granulated sugar – Just a few tablespoons of granulated sugar is enough to sweeten the strawberries. You can also use brown sugar or powdered sugar if you like. I find that brown sugar changes the color a bit and powdered sugar makes a more syrupy sauce, but it is slightly cloudy. For the reddest and more clear syrup, opt for granulated sugar.
Lemon juice – You can omit the lemon juice if you prefer as all you really need is granulated sugar and strawberries to make macerated strawberries, but I like the flavor that fresh lemon juice brings. Use fresh lemon juice, not bottled, for best results.
Step-by-Step instructions
You won't believe how easy it is to macerate strawberries with just a few simple ingredients. Follow these step-by-step images to help you make macerated strawberries perfectly every time.
For ingredient measurements, detailed steps, tips, tricks, and the printable recipe, please scroll down to the recipe card.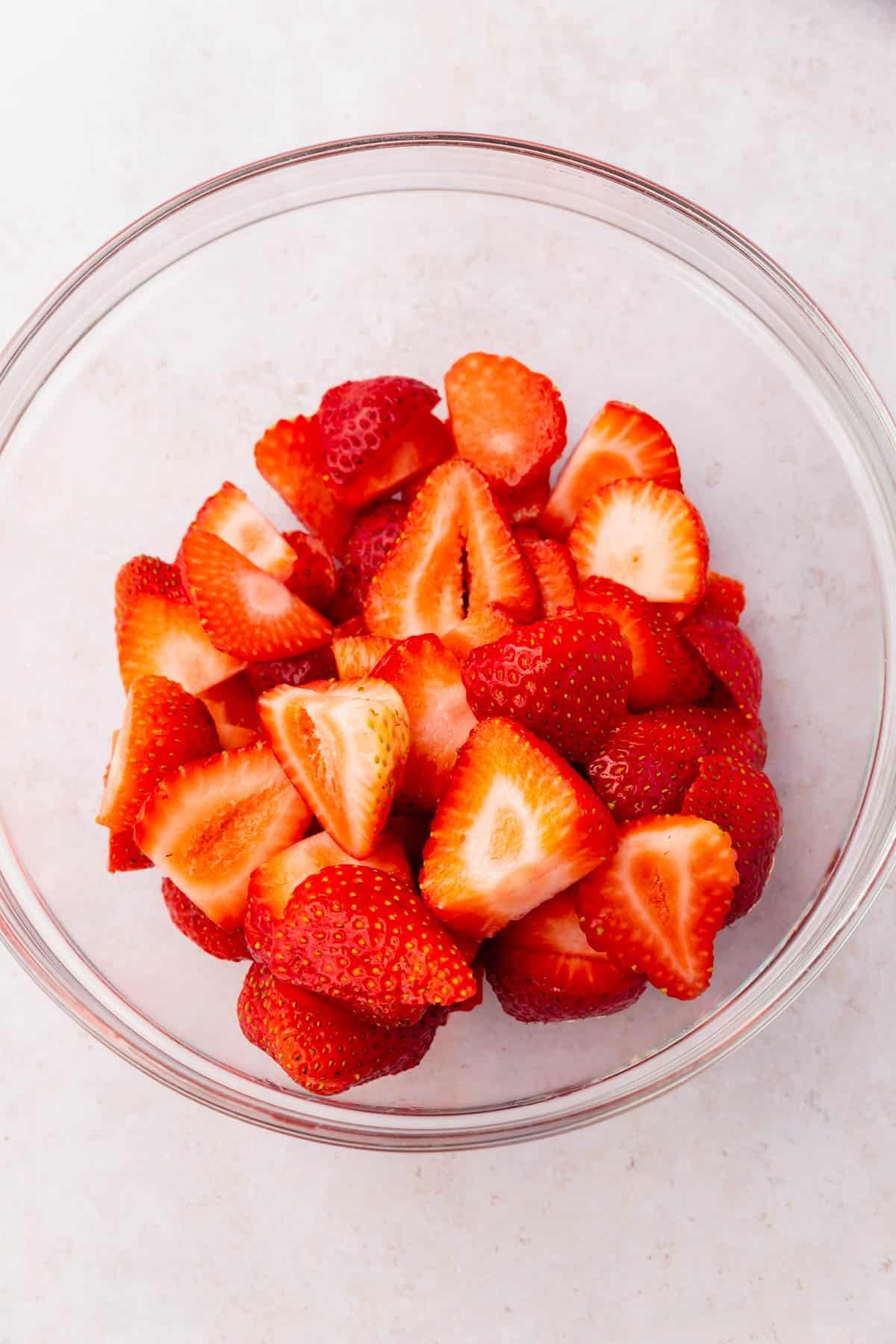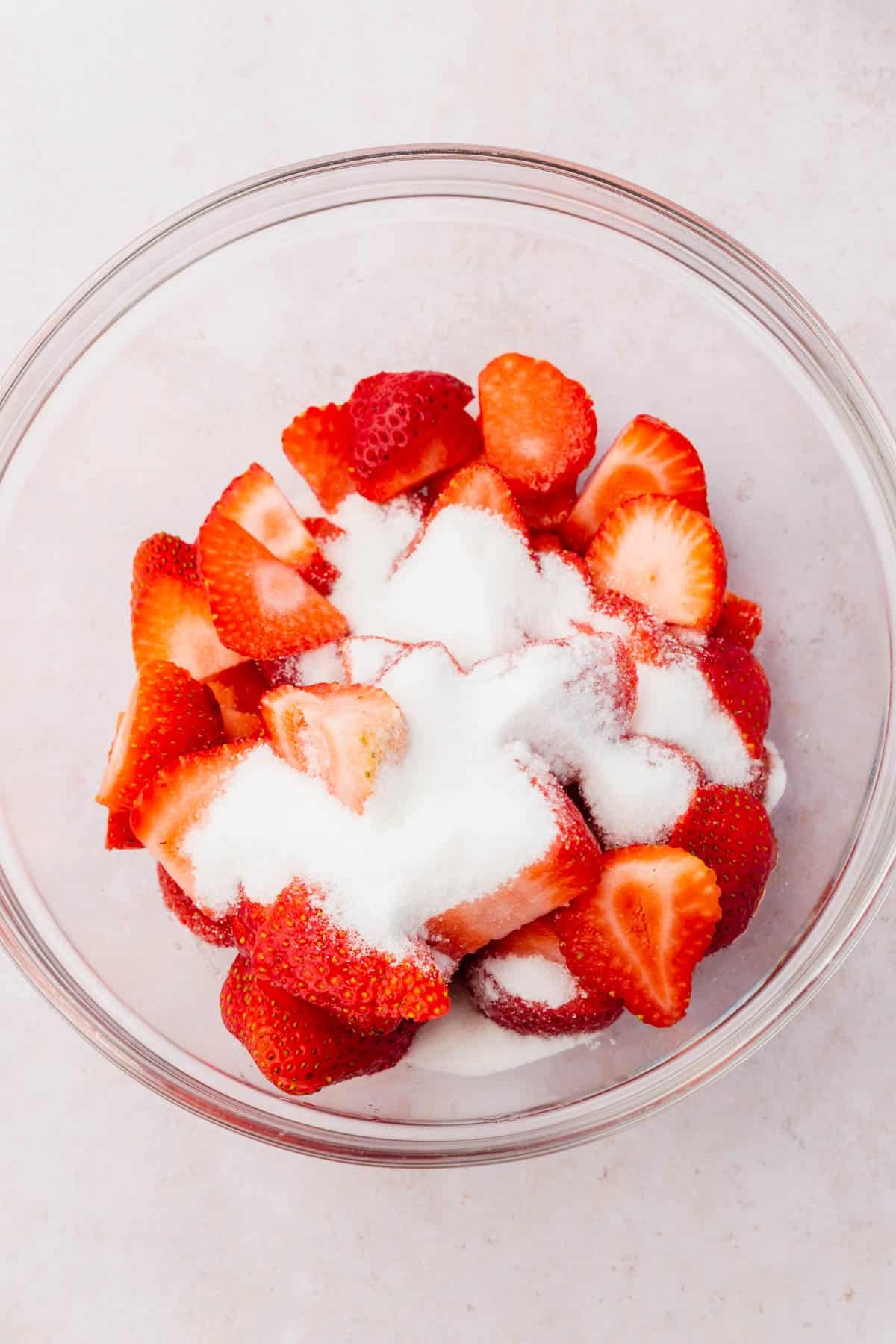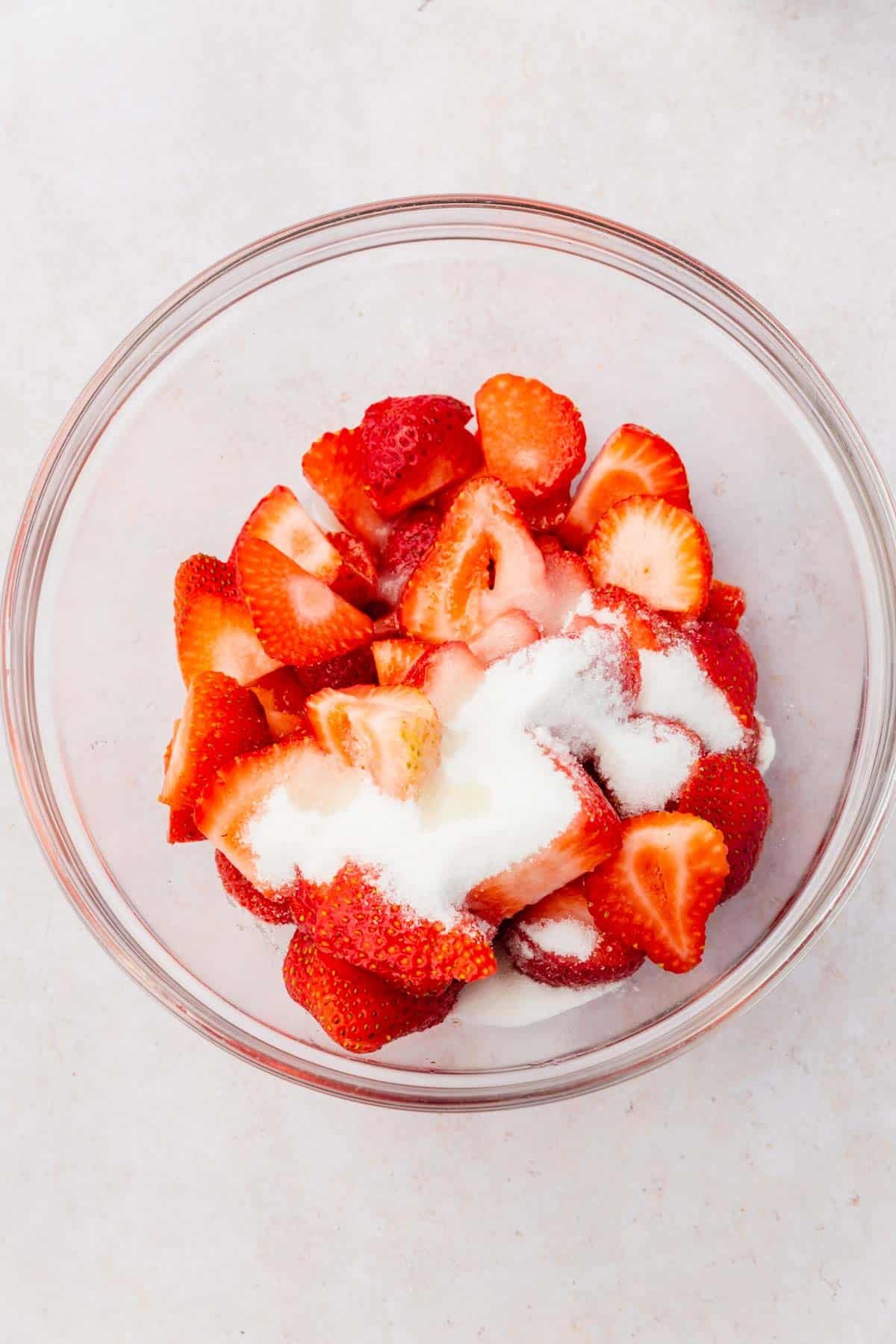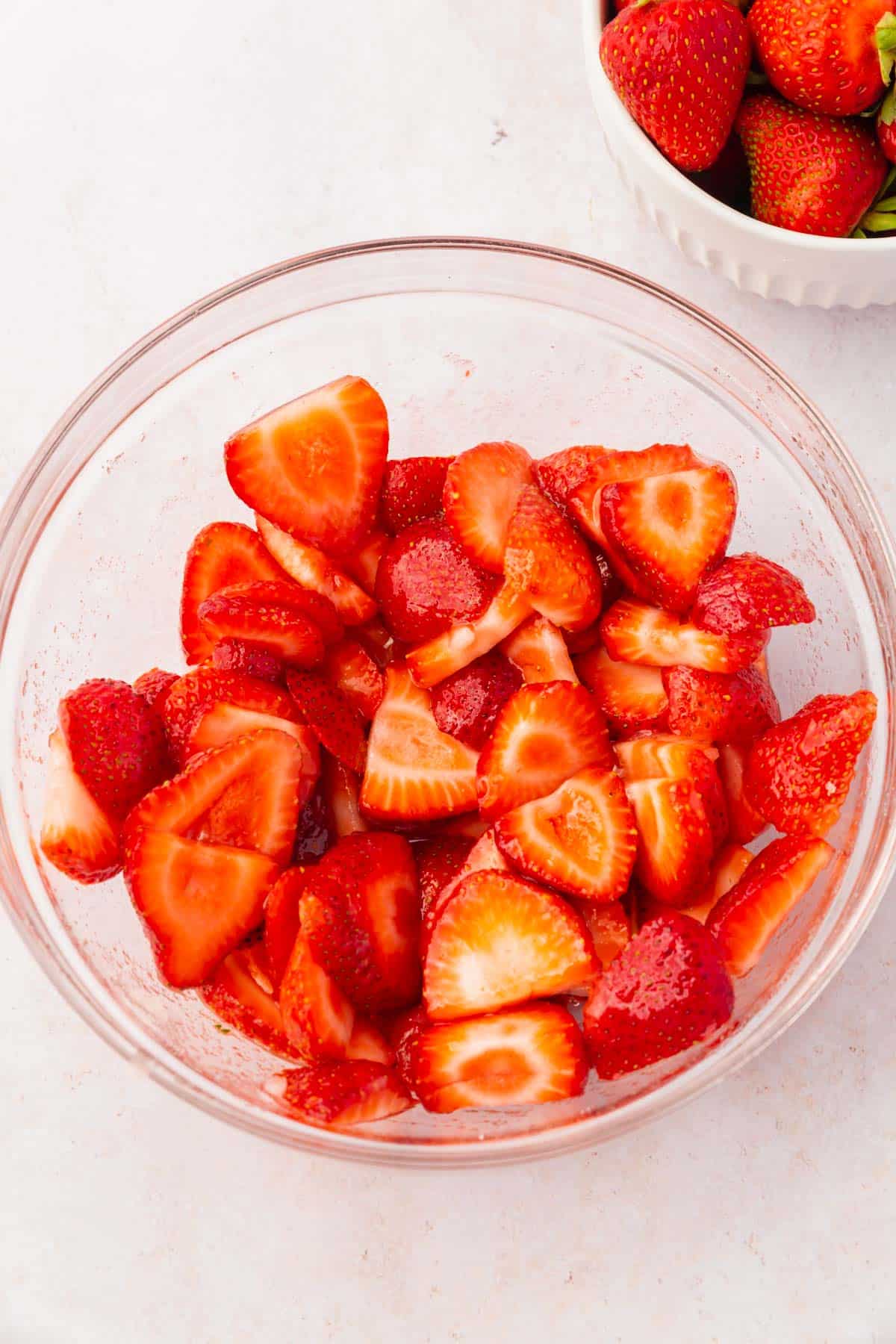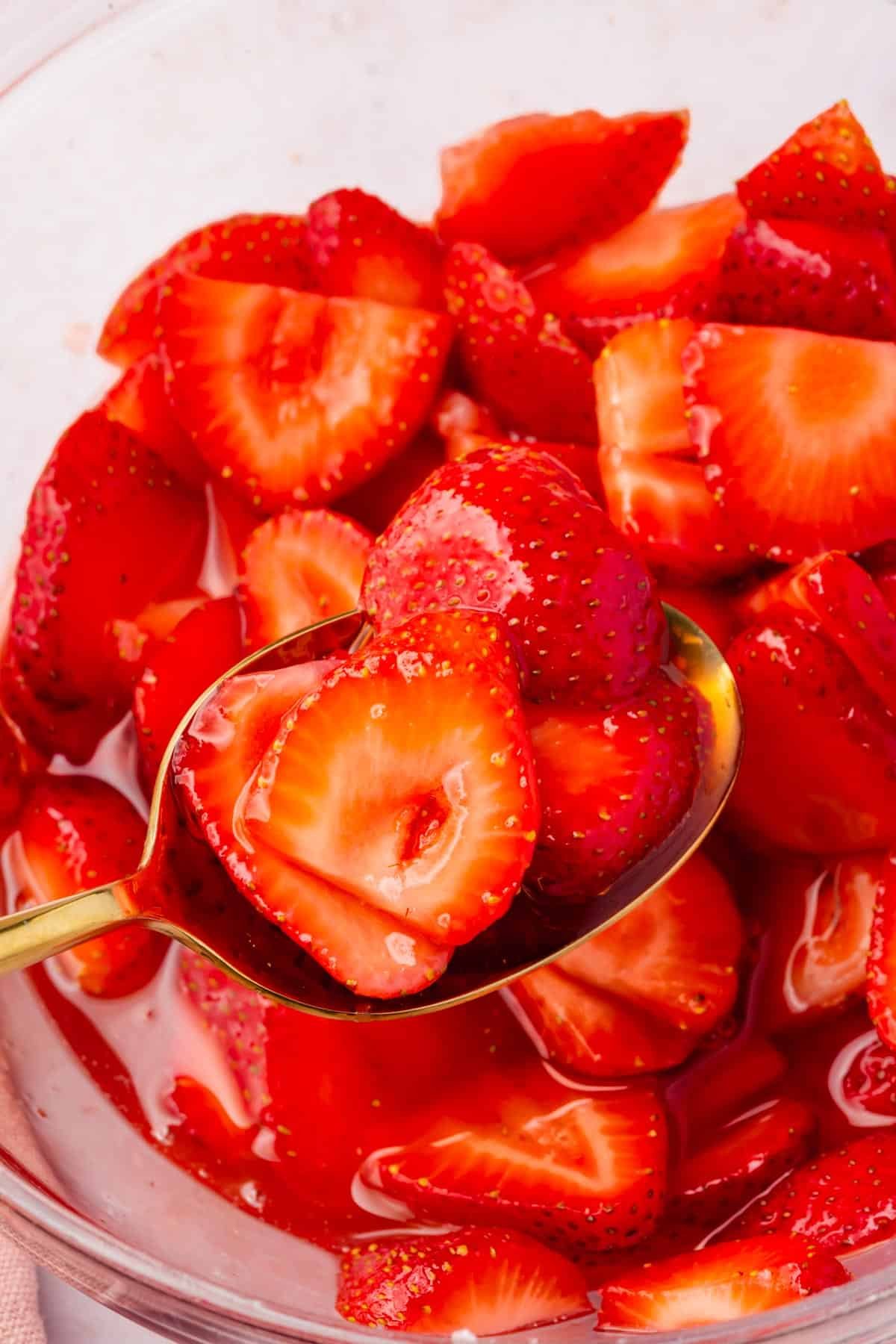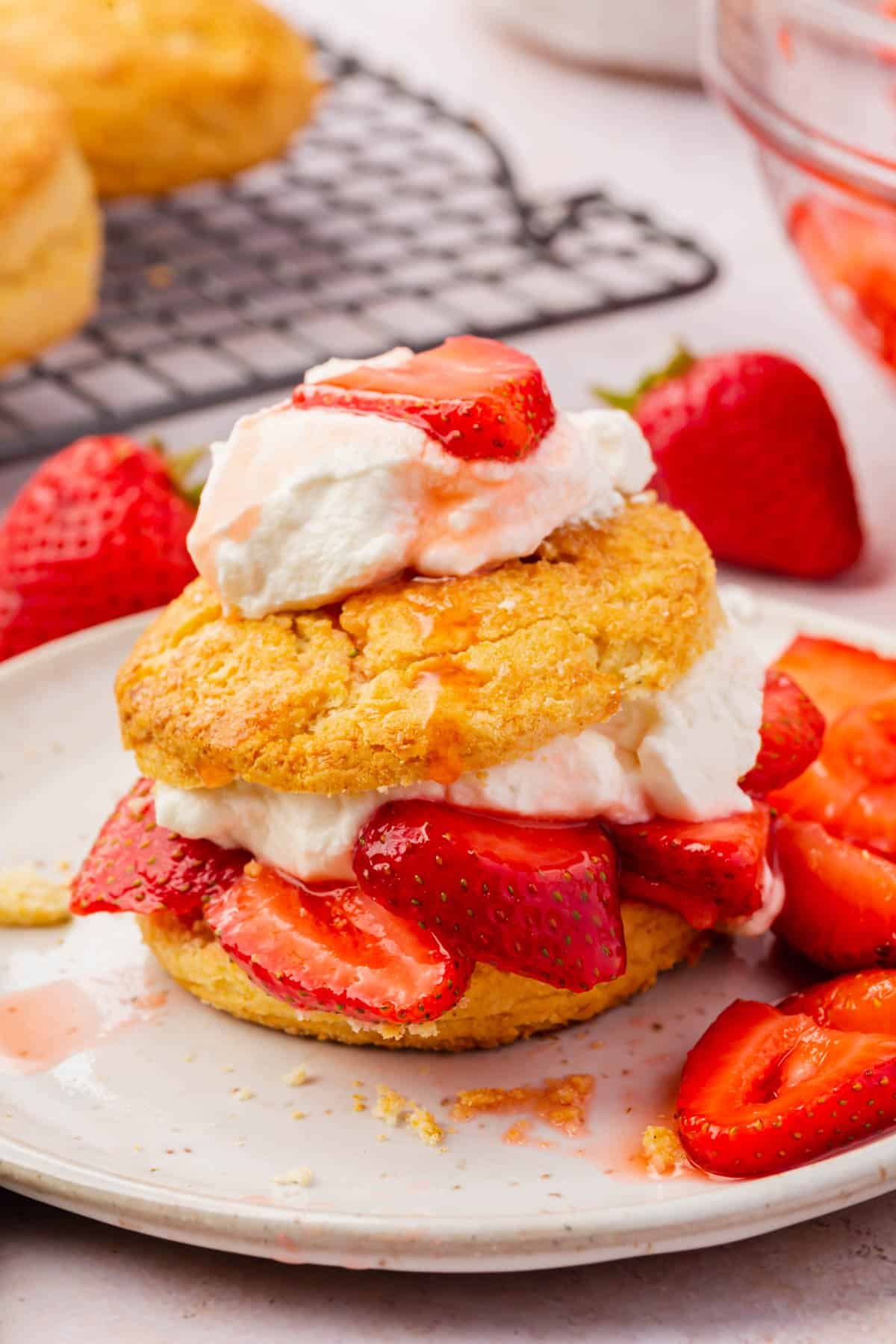 Expert Tips
Use fresh strawberries for best results.
Thick slices or quarters are best for macerating strawberries. If the strawberries are too thin they can get mushy quickly.
For best flavor, let the strawberries sit for at least an hour.
Recipe FAQs
Can you macerate frozen strawberries?
You can use frozen strawberries if fresh strawberries are not available to you or not in season. First, you'll need to defrost the strawberries and then drain the juices from the defrosted strawberries as frozen strawberries have a lot of liquid. Then, proceed with the recipe as written.
How far in advance can you macerate strawberries?
I like to macerate my strawberries at least an hour and find after 24 hours there is not much benefit to macerating them. So for best results, I would macerate the strawberries up to a day in advance and keep them in the refrigerator in an airtight container until ready to use. Leftover macerated strawberries will keep for 2-3 days in the refrigerator.
Can you macerate other fruits?
Yes, blackberries, raspberries, cherries, peaches, and marionberries are all great options for macerating.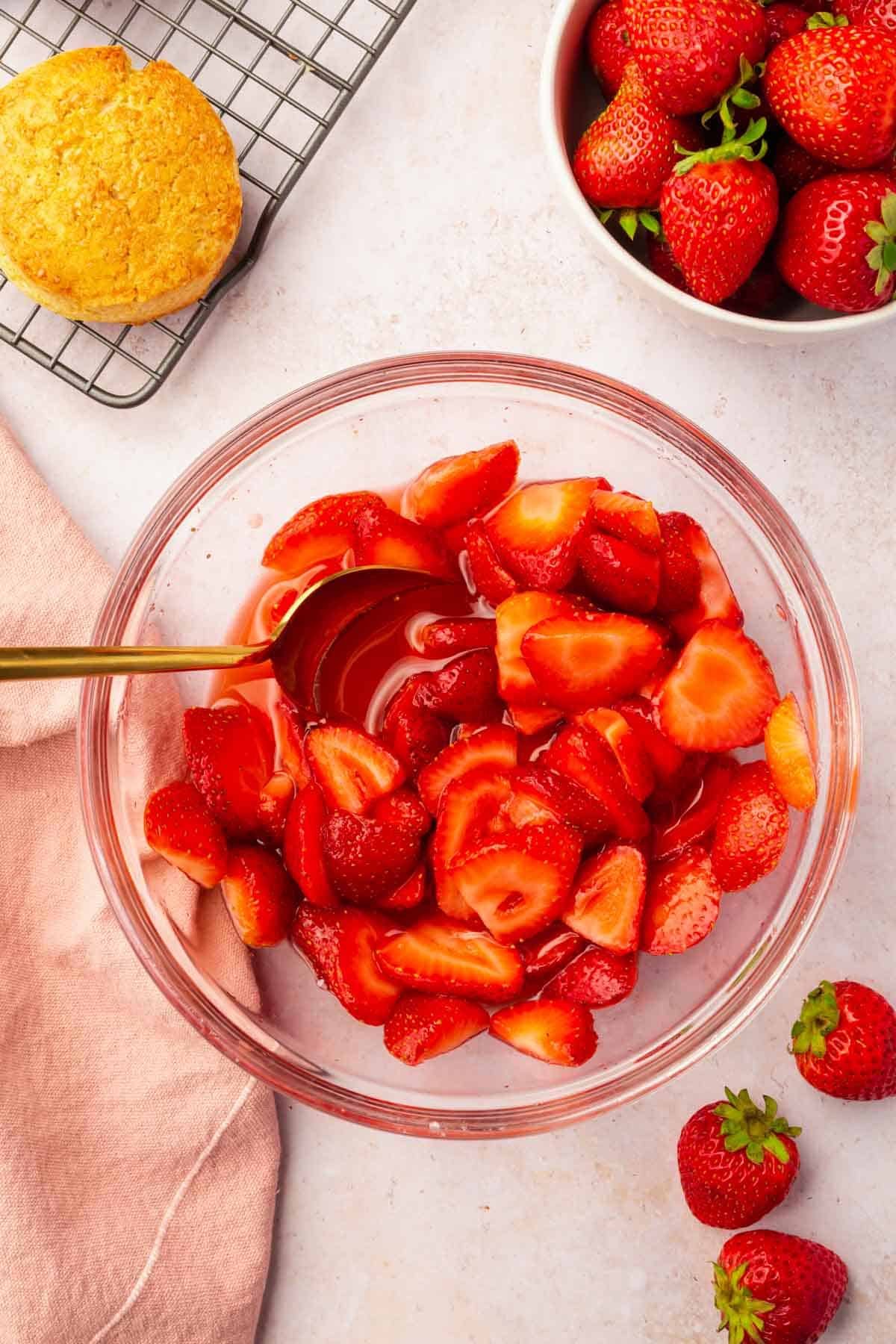 Variations
Add alcohol
Make your easy macerated strawberries boozy. Add grand marnier or framboise to your strawberries instead of lemon juice.
Additional Flavors
Add more flavor to your strawberries with vanilla extract or vanilla beans. Grated lemon zest or whole black pepper can take your strawberries in a new direction.
No lemon juice? Try orange juice instead!
Fruit variations
Change up the flavor by substituting the strawberries for other fruits. This tutorial is a great way to learn how to macerate berries, such as blackberries or raspberries, or even stone fruits, like cherries or peaches.
Herbs
Add a touch of savory with fresh herbs, like fresh mint, rosemary, basil or thyme.
Balsamic
A dash of balsamic vinegar will add a deep flavor and sophistication to this simple recipe.
How to use macerated berries
Macerated strawberries are probably most well known for being used in strawberry shortcakes, but there are so many uses for them!
Make dessert that much sweeter by drizzling sweetened strawberries over vanilla ice cream, pound cake, gluten-free cheesecake or gluten-free angel food cake.
Macerated strawberries aren't only for dessert, though. They're perfect for breakfast, too! A scoop of sugared strawberries is the perfect accompaniment to gluten-free pancakes, waffles, crepes, french toast casserole, or even a bowl of greek yogurt. Don't forget to drizzle the strawberry syrup on top!
Leftover syrup from your strawberries? Use it to sweeten and flavor cocktails or homemade soda. Just toss with some club soda and a few muddled macerated strawberries for a flavorful strawberry soda.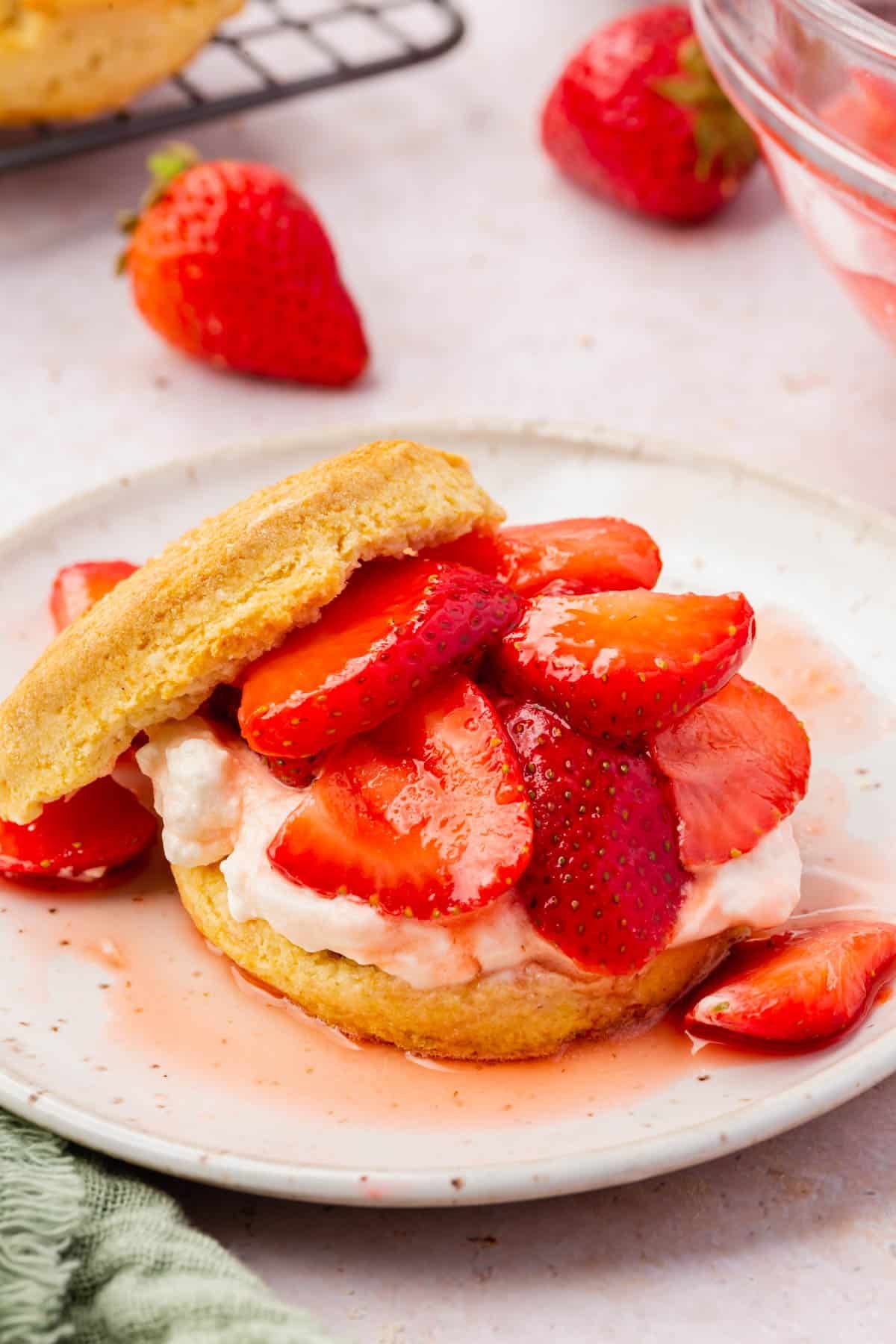 Did you make this recipe?
I'd love to know! Please rate it and leave a comment below. You can also share your pictures and tag @adashofmegnut on Instagram.
Macerated Strawberries
This simple tutorial shows how to macerate strawberries. All you need are 3 ingredients to make this easy recipe! They're perfect for topping strawberry shortcake, serving over angel food cake, drizzling over ice cream and so much more! This process completely transforms strawberries to make any dessert extra special.
Print
Pin
Rate
Ingredients
4

cups

fresh strawberries

(hulled and sliced or quartered (450g / 1 lb of strawberries))

1/3

cup

sugar

(67g)

1

tablespoons

fresh lemon juice

(15g)
Instructions
Wash strawberries, hull (remove green stems), and slice or quarter.

Add the strawberries, granulated sugar, and lemon juice to a large bowl. Stir to combine.

Let the mixture sit at room temperature for at least 1 hour (or up to overnight in the refrigerator) to let the strawberries release their natural juices and get juicy.
Notes
Use fresh strawberries for optimal results. If you only have frozen strawberries, first let the strawberries thaw and then drain them of the juices. Then you can proceed with the recipe as written.

For best results, macerate the strawberries for at least an hour. If I am macerating for 1 hour or less, I'll leave the strawberries out at room temperature for optimal results. If I'm macerating for longer than 1 hour, I'll cover the bowl of strawberries and place in the refrigerator.

The longer you leave the strawberries, the more they will release their juices and soften. I find that after 24 hours, the strawberries begin to deteriorate and I don't see much benefit after this point.
Nutrition
Calories:
56
kcal
|
Carbohydrates:
14
g
|
Protein:
0.5
g
|
Fat:
0.2
g
|
Saturated Fat:
0.01
g
|
Polyunsaturated Fat:
0.1
g
|
Monounsaturated Fat:
0.03
g
|
Sodium:
1
mg
|
Potassium:
112
mg
|
Fiber:
1
g
|
Sugar:
12
g
|
Vitamin A:
9
IU
|
Vitamin C:
43
mg
|
Calcium:
12
mg
|
Iron:
0.3
mg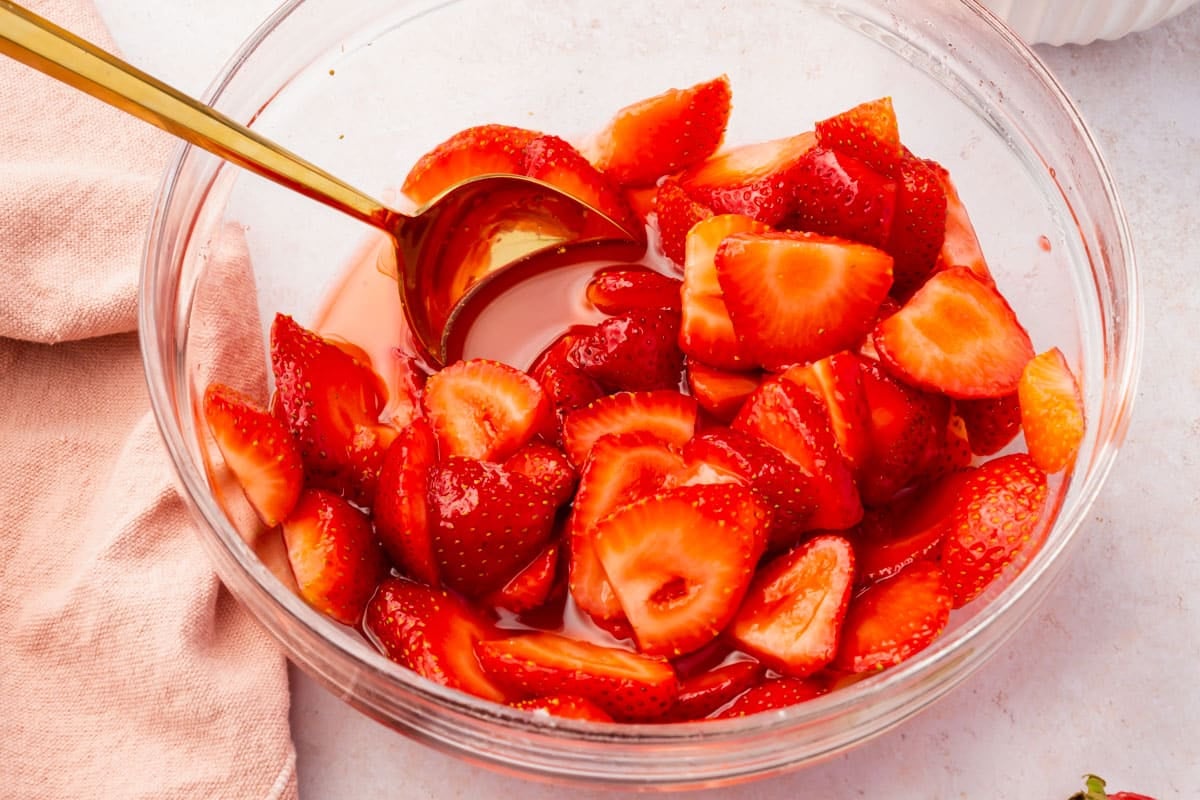 I'm Megan
A gluten-free food blogger from Chicago and lover of all things food, showing you gluten-free can be easy and delicious, too. Let's make gluten-free stress free together! Read more…