Last Updated on
Chocolate peanut butter covered frozen banana pops are a great summer treat that are gluten-free and dairy-free and only FIVE ingredients! Frozen bananas get dipped in creamy peanut butter, and then rich chocolate and topped with roasted salted peanuts for a creamy, sweet treat. They're seriously addictive, but a fun dessert to have on warm days. Kids will love dipping the bananas in the peanut butter and chocolate, too!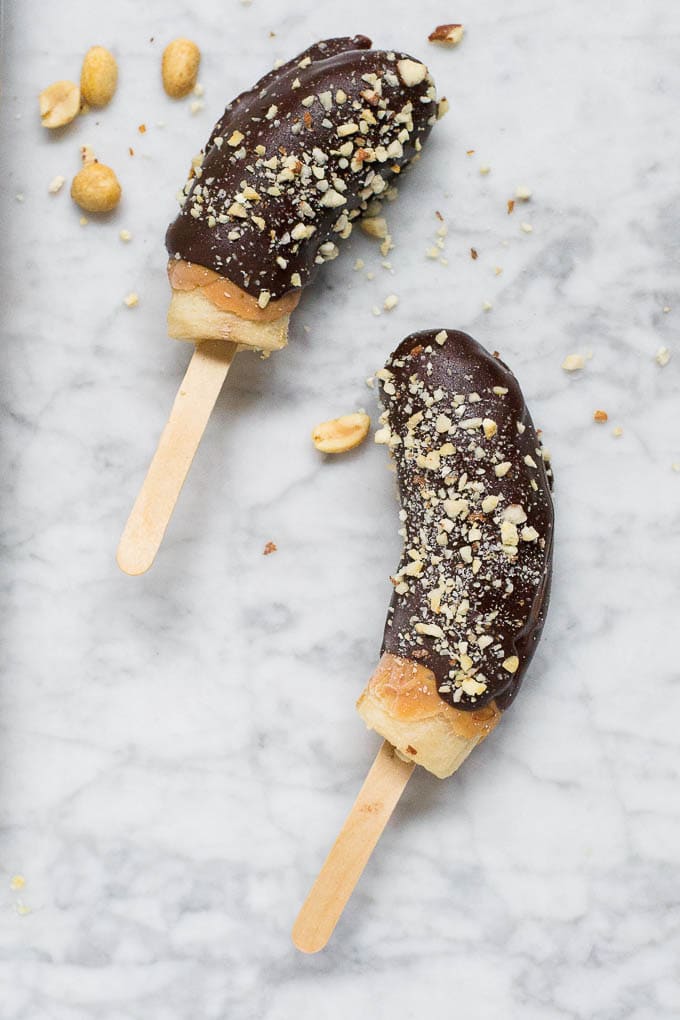 Now that the weather is warmer, I'm all about the frozen treats! I know you all have seen chocolate covered bananas before. They even sell them at the grocery store! But have you seen frozen bananas that are first dipped in peanut butter AND THEN also dipped in a chocolate peanut butter sauce? I think not. Once you try them like this, you won't want to go back to a regular chocolate covered banana, I promise.
Apparently chocolate covered frozen bananas, or monkey tails, are a thing at Disney World. Maybe it's Disney Land. One of the Disney places. I haven't been there since I was eight years old, so really I have no idea. But this is what people think of when they see chocolate covered frozen bananas. However, I always think of the TV show, Arrested Development. They had a frozen banana stand in the show and while this chocolate peanut butter version didn't grace their menu, I'm sure it would do them proud. There's always money in the banana stand!
My dog, Nova, is OBSESSED with frozen bananas. Like can't live without frozen bananas. So we're always pretty much stocked up on bananas 24/7 in our house. I was noticing I had bought way too many bananas last week and started to think up ways to use up the extras. My go-to's are typically
chocolate chunk banana nice cream
or my
vegan chocolate banana peanut butter muffins
. But this time I decided to try something a little different with these chocolate peanut butter covered banana pops.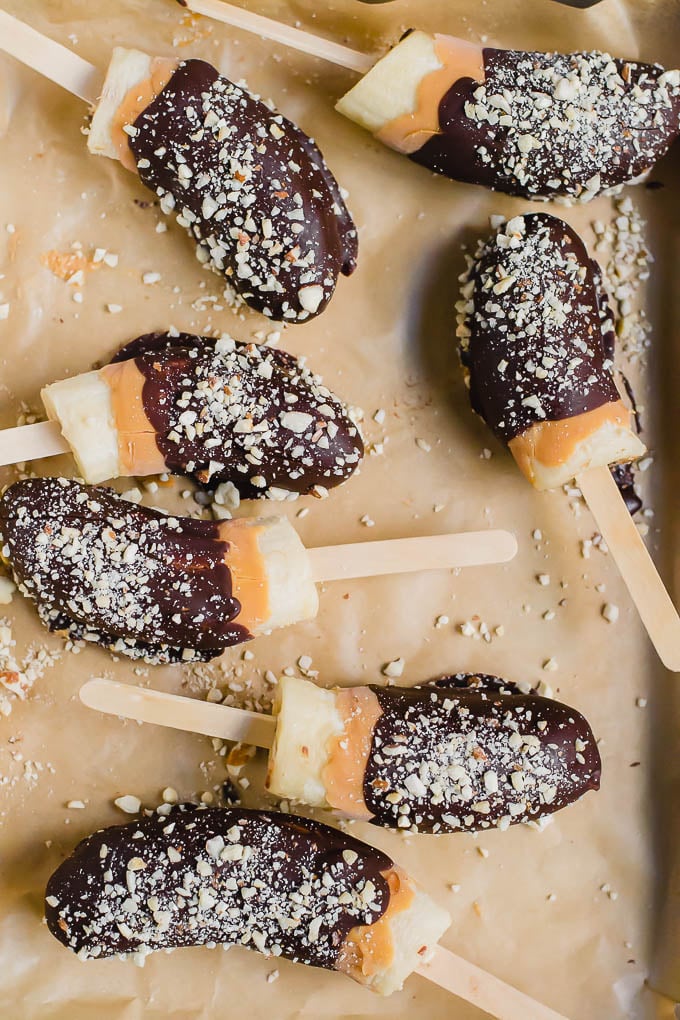 The idea is simple – a chocolate covered banana on a stick. However, chocolate and bananas aren't complete without peanut butter in my world, so a layer of peanut butter was definitely necessary. Because chocolate + peanut butter + bananas = the best flavor trio EVER! What resulted was a rich and tasty sweet treat that did not disappoint! When the bananas are frozen, they take on a creamy texture – it seriously tastes like a popsicle or frozen yogurt. I really love the sweetness that the peanut butter brings to the chocolate covered bananas. The peanut butter also helps cut some of the richness from the chocolate. The chopped peanuts add some texture and their saltiness also brings out the chocolate flavor even more. SO good you guys! It's a treat you won't feel too guilty about eating.
While these chocolate peanut butter covered frozen banana pops do take a bit of time to make, it's mostly just waiting for the different components to freeze. The hands on time is super quick, which is why it's one of my favorite dessert recipes! I also always have the ingredients on hand, too. I think kids would really enjoy making these sweet treats. You could even customize the toppings if you aren't a fan of peanuts. The possibilities are endless!
Other Toppings Ideas Besides Peanuts
Rainbow sprinkles
Shredded coconut or coconut flakes
Peanut butter chips
Toffee bits
Gluten-free graham crackers
Toasted pistachios
Sea Salt
Mini Marshmallows
I like to make my chocolate peanut butter covered banana pops dairy-free by using a dairy-free chocolate, like Enjoy Life chocolate chips or Guittard extra dark chocolate chips. Just use your favorite chocolate chips in this recipe!
Tips for Making Chocolate Peanut Butter Frozen Banana Pops
Make sure your bananas are completely frozen before dipping in the peanut butter mixture. The frozen banana will help the peanut butter firm up quickly.
Coconut oil is used to thin out the peanut butter and chocolate mixtures, but also because it is solid at room temperature so it will help create a solid coating around the banana.
There's a trick to getting a flawless chocolate coating on your bananas. Place the chocolate mixture in narrow glass and dip the bananas in the glass.
Wooden popsicle sticks are used in this recipe to make our banana pops, but you can also use skinnier lollipop sticks which you find at a craft store. If you don't want to use sticks at all, that's okay, too! You'll still have delicious frozen bananas.
If for any reason you have leftover peanut butter mixture after dipping the bananas, add it in with the chocolate chips to use it up!
You May Also Like…

Chocolate Peanut Butter Covered Banana Pops Recipe
If you're looking for a sweet treat that is gluten-free and dairy-free (if you use dairy-free chocolate chips!) then look no further! These chocolate peanut butter covered bananas pops are super simple to prepare and only require a few basic ingredients. They taste so good, you'll always want some in your freezer!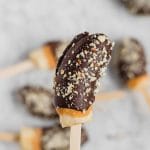 Print Recipe
Megan
Chocolate peanut butter covered banana pops are a great summer treat that are gluten-free and dairy-free and only FIVE ingredients!
Ingredients
4

bananas

cut in half

3/4

cup

peanut butter

divided

2

tbsp

coconut oil

divided

3/4

cup

chocolate chips

dairy-free if need be

1/4

cup

salted roasted peanuts

chopped
Instructions
Cut bananas in half horizontally. Stick a popsicle stick into the end of each banana half. Freeze on a baking sheet lined with parchment paper for at least an hour.

In a microwave safe bowl, melt 1/2 cup of the peanut butter with 1 tablespoon of the coconut oil in 30 second increments, until melted completely. Stir to combine.

Dip or spoon the peanut butter mixture over the bananas. Place back on the parchment paper and freeze for 20-30 minutes.

In a microwave safe bowl, melt chocolate chips, the remaining 1/4 cup of peanut butter and remaining 1 tablespoon of coconut oil in 30 second increments, stirring in between, being sure not to burn the chocolate.

It should take about a minute total. Dip the bananas in the chocolate mixture, tapping off the excess chocolate.

Immediately sprinkle chopped roasted salted peanuts over the chocolate covered bananas before the chocolate hardens. Place back on the baking sheet and freeze for 20-30 minutes. Serve.
Nutrition
Calories:
336
kcal
|
Carbohydrates:
30
g
|
Protein:
8
g
|
Fat:
22
g
|
Saturated Fat:
8
g
|
Cholesterol:
2
mg
|
Sodium:
154
mg
|
Potassium:
399
mg
|
Fiber:
3
g
|
Sugar:
20
g
|
Vitamin A:
75
IU
|
Vitamin C:
5.1
mg
|
Calcium:
35
mg
|
Iron:
0.9
mg