This pineapple salsa is made from simple ingredients, tastes bright and fresh, and is served in a pineapple boat! Gluten-free, dairy-free and vegan.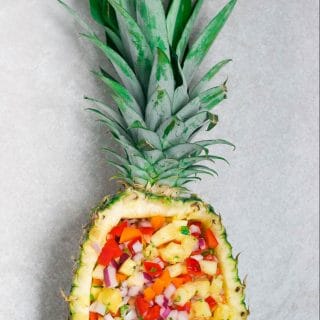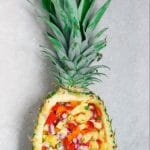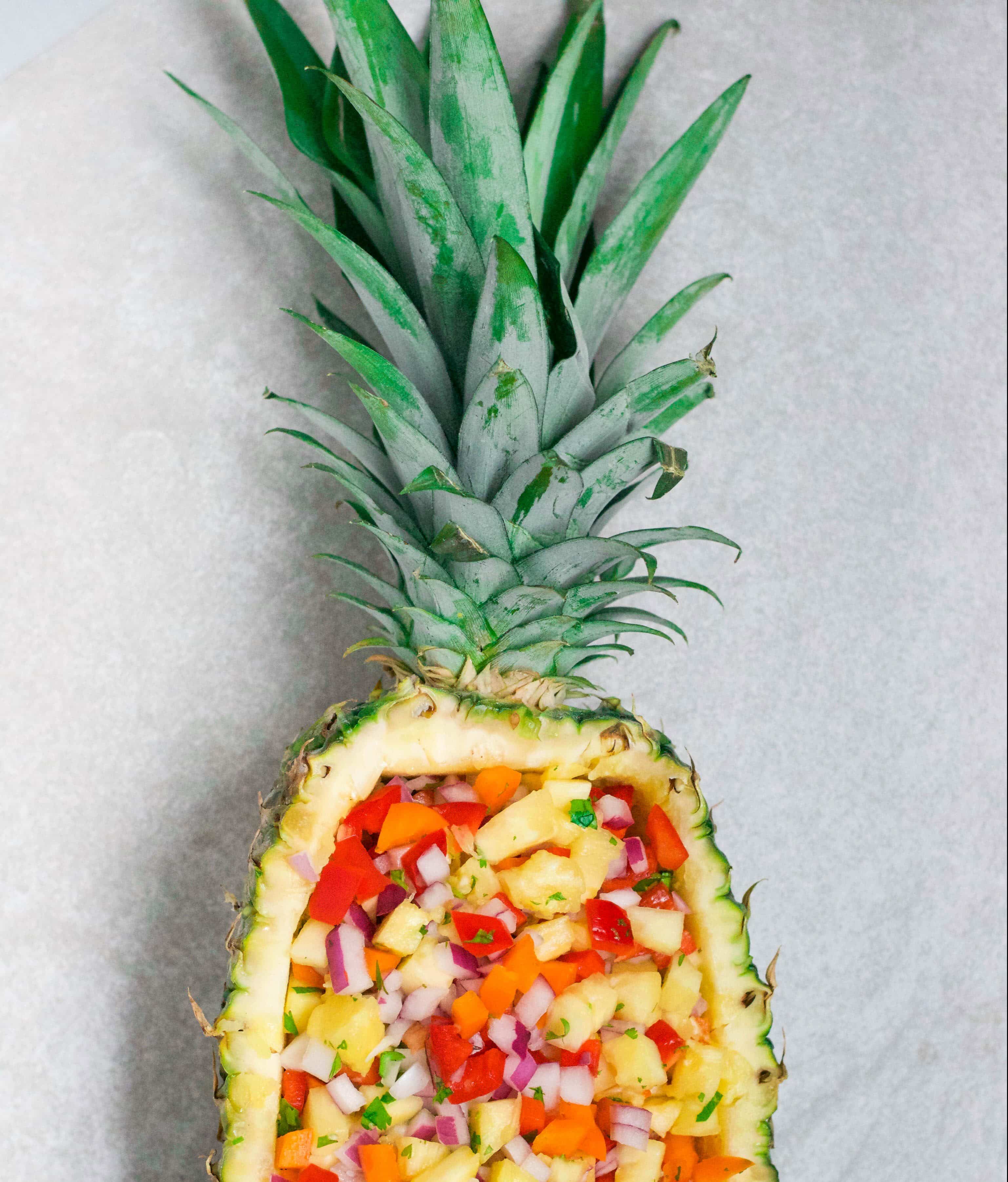 This pineapple salsa served in a pineapple bowl is sure to wow your guests at your next party! It's easy to prepare and tastes delicious, too!
I'm having a moment with pineapple lately. Not only in food, but in decor, cookie decorating (obviously), and colors. But, today we're talking about my pineapple food obsession. Nothing says summer to me like pineapple does.
The sweet and juicy taste of a perfectly ripe pineapple, the vibrant colors, need I say more? And they've been on super sale lately at the grocery store so I've been buying them up and using them in all sorts of recipes lately.
Like this vegan pineapple coconut ice cream, honey lime pineapple chicken kabobs, and let's not forget this crock pot pineapple pork burrito bowl! With this pineapple obsession I have going on, I'm beginning to think I might need this pineapple corer? Who has one?!?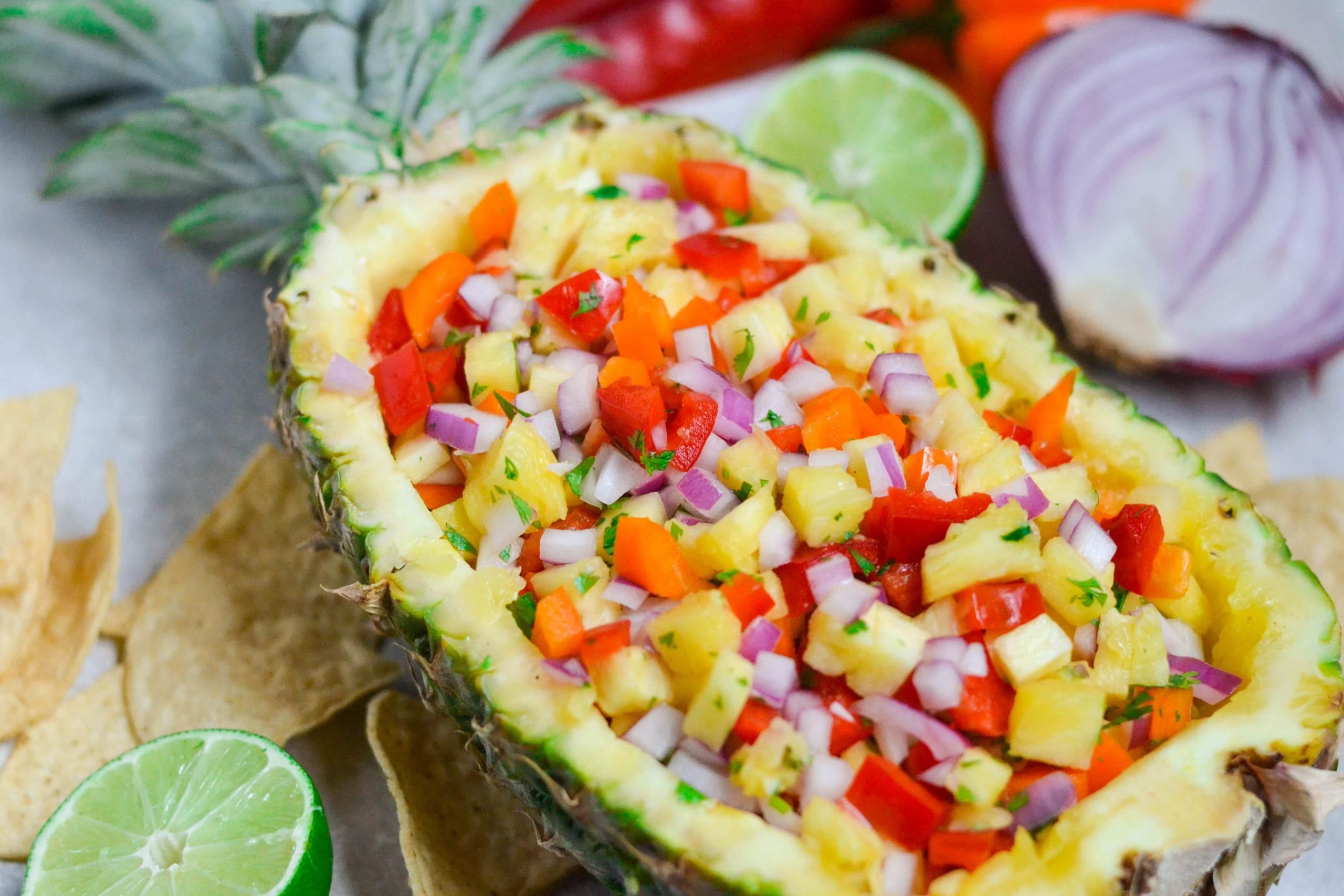 But, back to the recipe. Today, we're making this super delicious pineapple salsa. This salsa itself is fairly simple to throw together. Combine pineapple, bell peppers, red onion, jalapeno, cilantro, and salt. Easy peasy, right?
This pineapple salsa is great served with some tortilla chips, on chicken tacos, or even spooned over salmon or cod. It's a great versatile dish to have on hand during the week.
I love making this salsa as part of my meal plan and serve it with different meals throughout the week, like topped on my steak and quinoa burrito bowls, or as part of of a snack (Can you say pineapple salsa stuffed avocado? So good!)
If you want to take it to the next level though, read on. Because we're making this pineapple salsa the ULTIMATE party/bbq/gathering appetizer. Because, not only are we making a great pineapple salsa, we're also putting it in a pineapple boat!
The presentation says it all. Something about seeing a full half of a pineapple with its crown and all its glory filled to brim with bright and colorful pineapple salsa just makes me happy. And it will make everyone who eats it happy, too!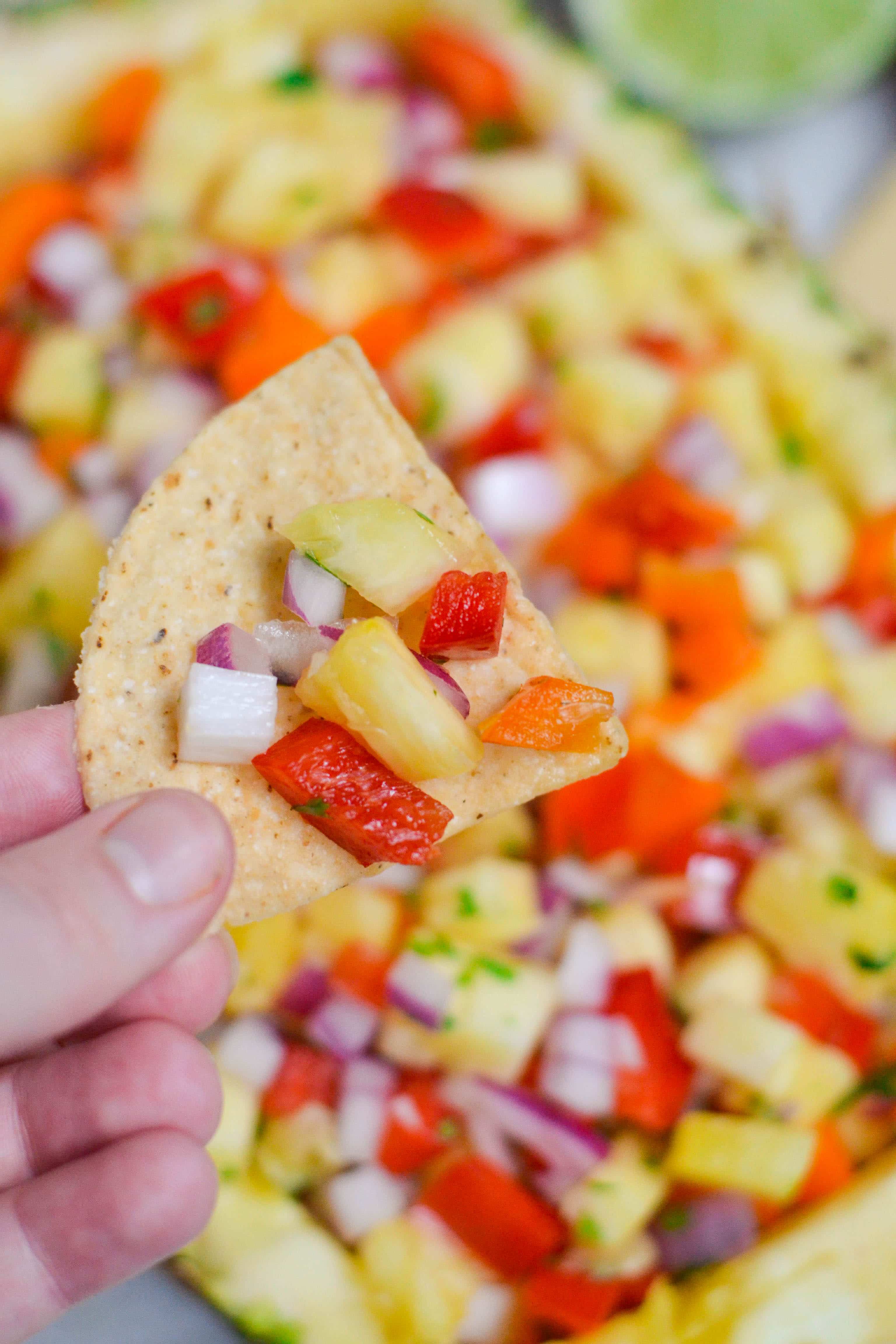 Making a pineapple boat for your pineapple salsa is super easy, but I do have a few tips to share with you that I learned while creating my own boat (I should say boats because you all know I messed this up on the first try right?).
First, try to find the best side of the pineapple for the boat – if there's a slightly flat side to the pineapple that will make a great bottom so the pineapple doesn't roll all over the place. If not, try cutting it a little bit to create a stable bottom.
Also, I wanted the whole crown of the pineapple to be showing for presentation purposes so I didn't really cut the pineapple exactly in half. I cut the boat portion just above where the crown hits so that I would have a deeper bowl and a pretty crown visual (so think 60%/40% if you're a number person like me).
I've found the easiest way to scoop out the pineapple is to first carve around the edges of the pineapple skin and then cut a grid being careful not to cut completely through the skin – this is key!
Then, you can scoop them out with a spoon. I swear it's really easy to do! Once you start making pineapple boats, I promise you won't want to serve your pineapple salsa any other way! Who knew a pineapple could make such a statement?
*This post contains affiliate links for products that I use and love. I may receive a small commission from any purchases you make through that link. There will be no additional cost to you. Thanks for supporting A Dash of Megnut!**


Need more salsa ideas? Try these easy recipes!
More pineapple recipes that you're sure to love!
Pineapple Salsa Recipe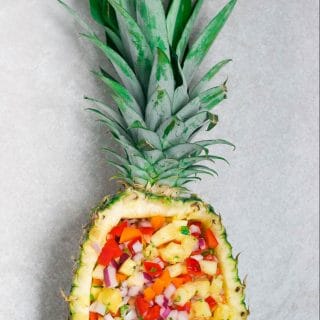 Pineapple Salsa
This pineapple salsa is made from simple ingredients, tastes bright and fresh, and is served in a pineapple boat! Gluten-free, dairy-free and vegan.
Print
Pin
Rate
Ingredients
3

cups

pineapple

(from 1 pineapple to make the bowl, diced)

2

cup

diced bell pepper

(about 1 large bell pepper - I used half orange and half red for color)

1/4

cup

red onion

(small dice)

1/2

jalapeño

(seeds removed, small dice)

2

tbsp

chopped cilantro

3

tbsp

lime juice

1/2

tsp

salt
Instructions
To make the pineapple bowl, cut the pineapple lengthwise in half. I like to cut just above the crown so more like 60/40 so I have a deeper bowl for the salsa and a full crown for visual purposes.

Using the deeper half with the full crown in tact, carve around the pineapple close to the skin. Then make vertical and horizontal cuts (like a grid) into the flesh of the pineapple, making sure not to cut through the bottom.

With a large spoon, scoop out the pineapple flesh. Scrape the sides of the pineapple with the spoon to make a well for the salsa.

Use the pineapple flesh for the 3 cups of diced pineapple needed in the recipe, reserve the rest for another recipe or healthy snacks for the week.

Combine the diced pineapple, bell pepper, red onion, jalapeno, cilantro, lime juice and salt. Place in the pineapple bowl and serve with tortilla chips.
Notes
Double or triple this recipe as needed to fill your pineapple bowl. Mine was fairly small so I was able to fill it up with this recipe as written.
Nutrition
Calories:
354
kcal
|
Carbohydrates:
87
g
|
Protein:
5
g
|
Fat:
1
g
|
Sodium:
1181
mg
|
Potassium:
1220
mg
|
Fiber:
13
g
|
Sugar:
62
g
|
Vitamin A:
9745
IU
|
Vitamin C:
639
mg
|
Calcium:
85
mg
|
Iron:
2.7
mg