Packed with fresh corn, tomatoes, cilantro, and hearty black beans, this black bean corn recipe is perfect for entertaining or a quick weeknight meal. Scoop it up with tortilla chips or pair it with your favorite protein for a flavorful weeknight meal. It's delicious with fish, steak, chicken, or even tofu!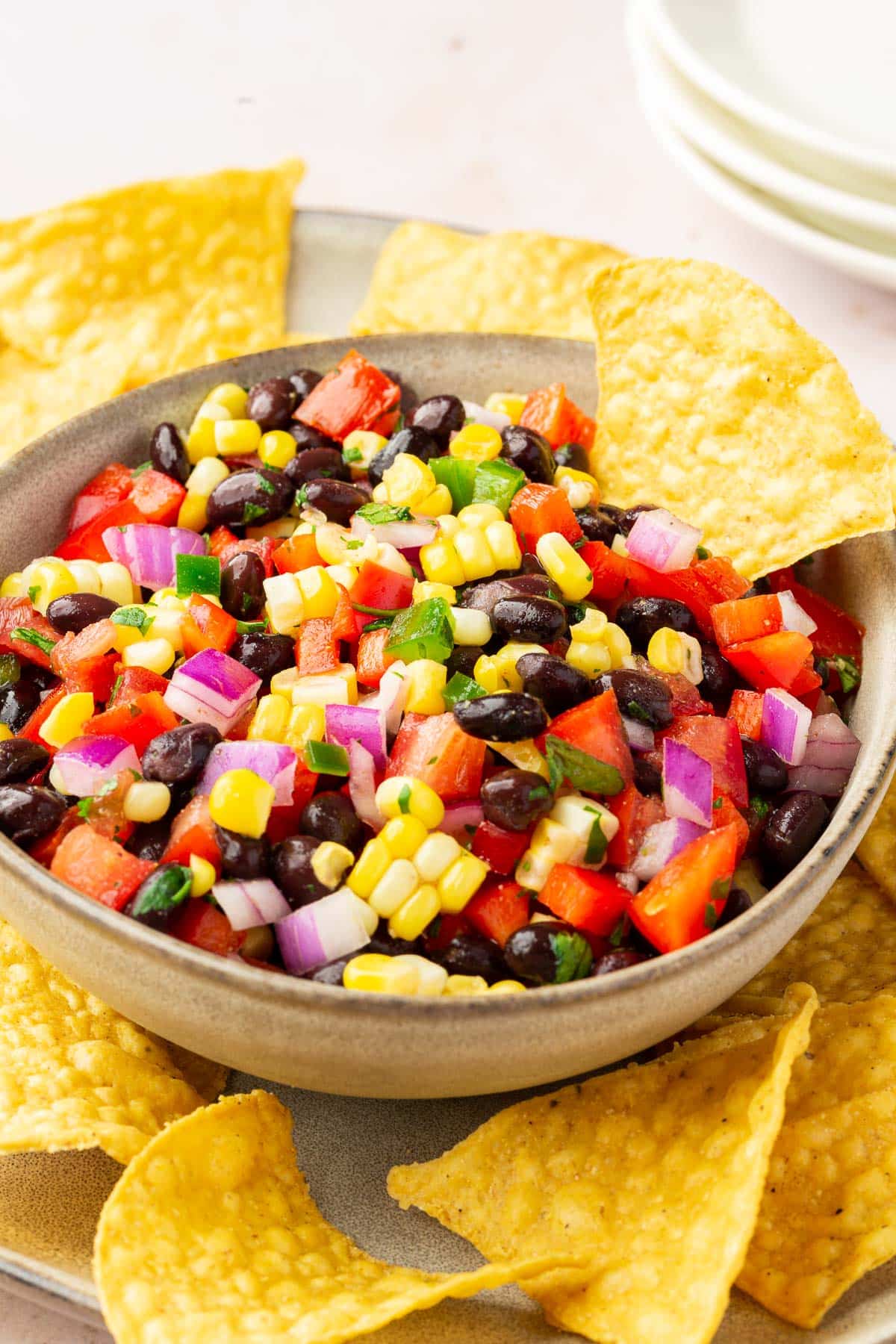 If you're looking for a colorful, flavorful dish that is as versatile as it is easy to make, you need this black bean corn salsa recipe. This salsa combines the earthy, hearty flavor of black beans and the fresh crunch of corn with vibrant tomatoes, red onion, fresh cilantro, and tangy lime.
It's so colorful and delicious! Whether you're hosting a backyard barbecue or preparing for a relaxed movie night at home, this salsa appetizer is perfect when serve with tortilla chips.
Better yet, this versatile salsa is perfect for pairing with your favorite proteins for dinner. I love it over grilled meats, such as steak, pork or chicken. It's also great as a fresh topping to seafood, like salmon or cod. You can use it on your taco recipes, too. If you're vegetarian, try it spooned over some grilled or sautéed tofu. It's so delicious!
You'll love this recipe because:
Ingredients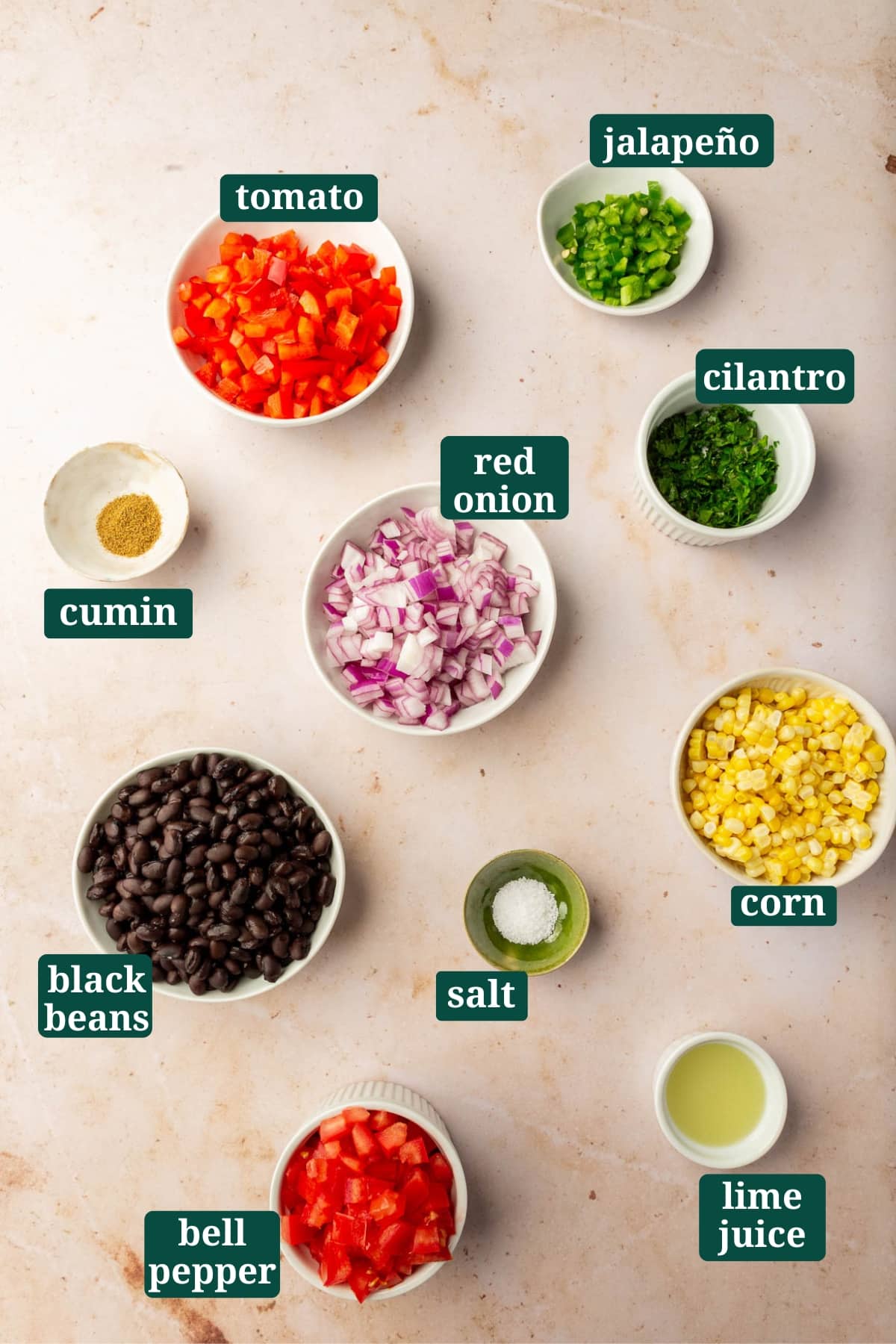 Ingredient Notes
Black beans – Use canned black beans for this recipe that have been drained and rinsed. If you want to use dry beans, remember to soak and cook them ahead of time.
Corn – Fresh, canned, or frozen corn all work in this recipe. Fresh corn is usually sweeter and crisper and I love that you can get larger chunks this way. Steam, pan fry or grill the fresh corn before using. If you use canned corn or frozen corn, make sure to drain and defrost it first.
Diced tomatoes – Look for ripe, firm tomatoes for the best flavor. I like to use celebrity tomatoes, beefsteak or roma tomatoes. Deseed the tomatoes so that your salsa doesn't get too watery.
Bell pepper – I used red bell pepper, but feel free to use another color, such as red, yellow or orange instead.
Jalapeño pepper – Adding diced jalapeño will give your salsa a kick. Remember to remove the seeds and finely chop it to distribute the heat evenly throughout the salsa. Use gloves when working with the jalapeño and be sure to wash your hands and knife thoroughly. Do not touch your face or eyes.
Red onion – Red onions add a bit of sharpness which helps balance out the sweet corn and tomatoes. A half of a small red onion should suffice, but you can adjust the amount based on your preference. If you want a milder flavor, you could swap it for green onions or shallots.
Cilantro – This adds an aromatic freshness to the salsa. Finely chopped, it blends well with other ingredients without overwhelming the overall flavor. If you are someone who thinks cilantro tastes like soap, you can omit it from the recipe.
Lime juice – Fresh lime juice brightens up the salsa, adding some acidity. I just added the juice of the lime, but you can also add the zest if you'd like. Use fresh limes instead of bottled lime juice for best results.
Cumin – This spice adds a warm flavor. If you don't have cumin, chili powder can be a good alternative.
Salt – Use sea salt or kosher salt for the best flavor. Add a little bit at a time, ensuring that you don't oversalt the salsa. Test the salsa with whatever chips you are using to serve the salsa with. If your tortilla chips are salty, you may need less salt than you think in the corn salsa recipe.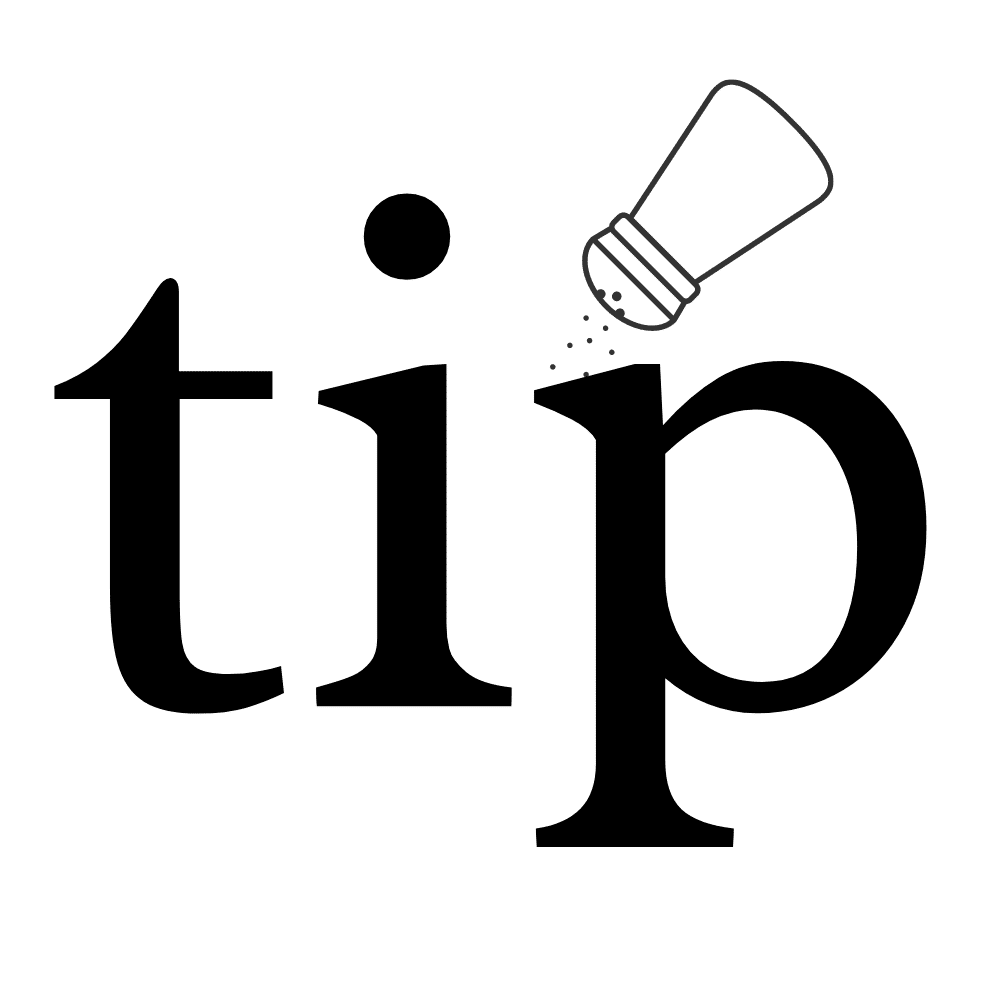 Use a variety of tomatoes in different shapes and colors for added flavor and texture. For a different flavor, add stones fruits, like ripe peaches or plums. Bonus: It will make for a pretty presentation!

Step-by-Step instructions
This black bean salsa with corn is so easy to make and always a crowd-pleaser at parties. The below steps with matching photos are not the complete recipe, but are meant to show you the recipe made at various stages.
Pay special attention to the size of the tomatoes, onion, bell pepper and jalapeños when diced.
For the ingredient list with measurements, full instructions, printable recipe, and additional notes, please scroll down to the recipe card.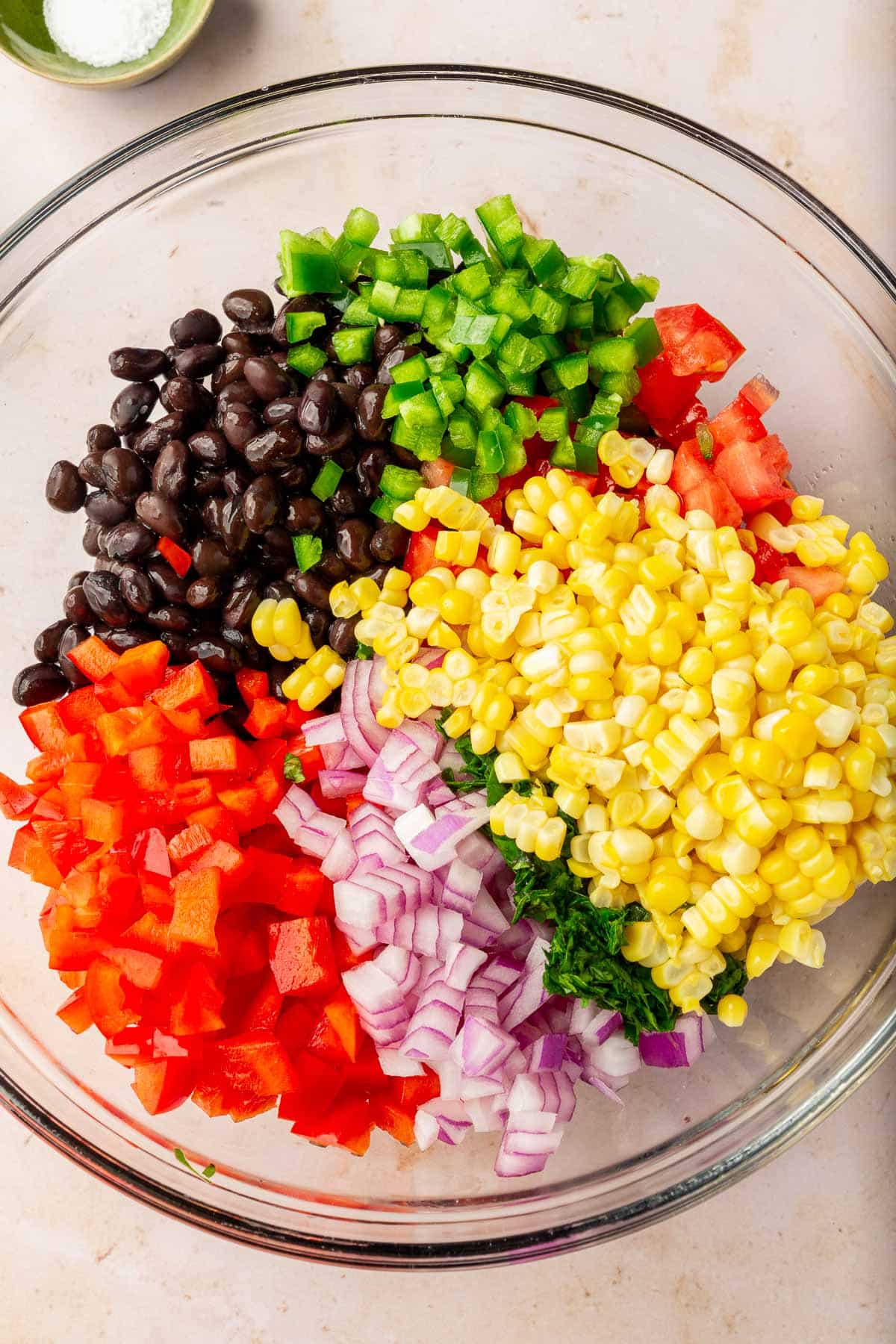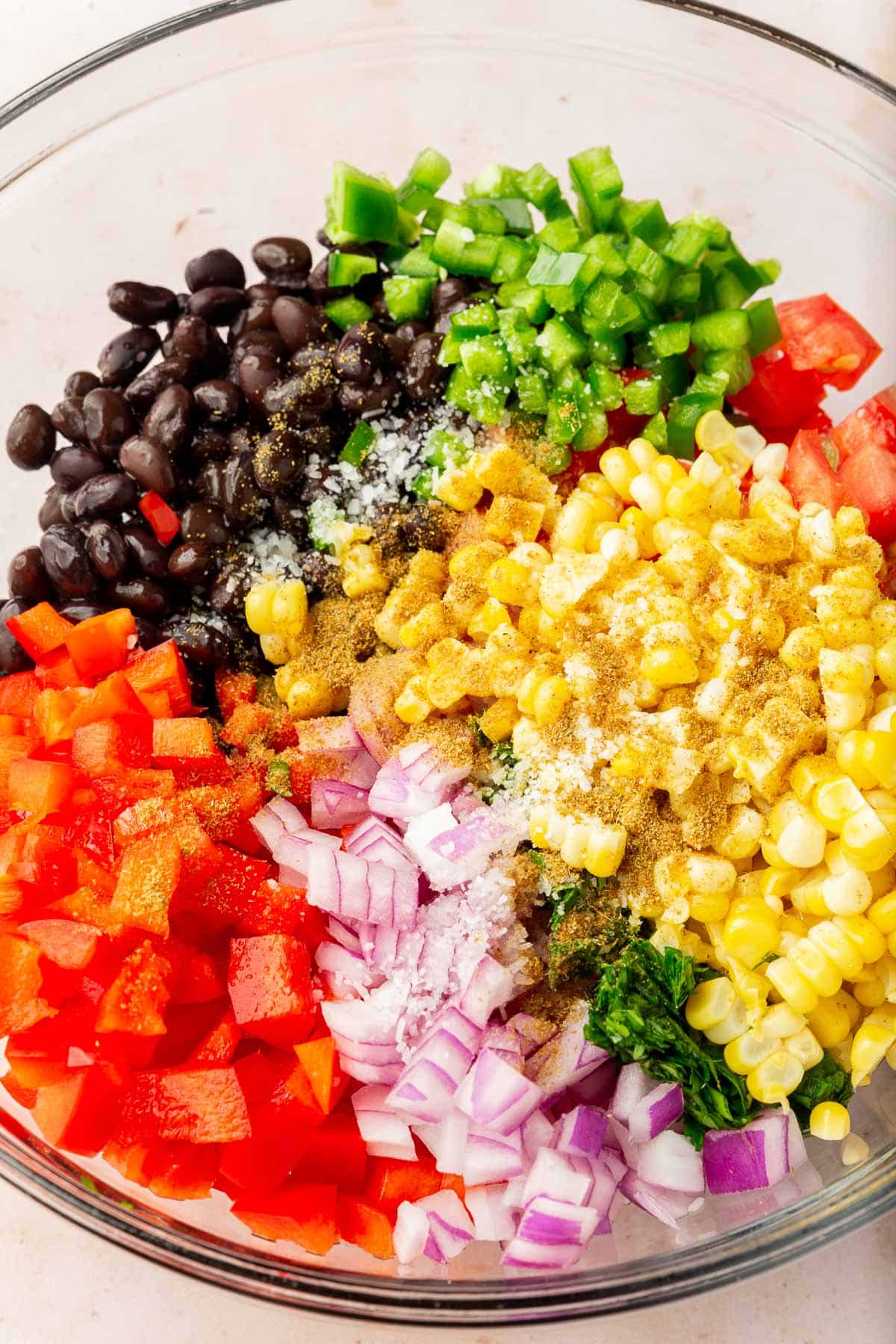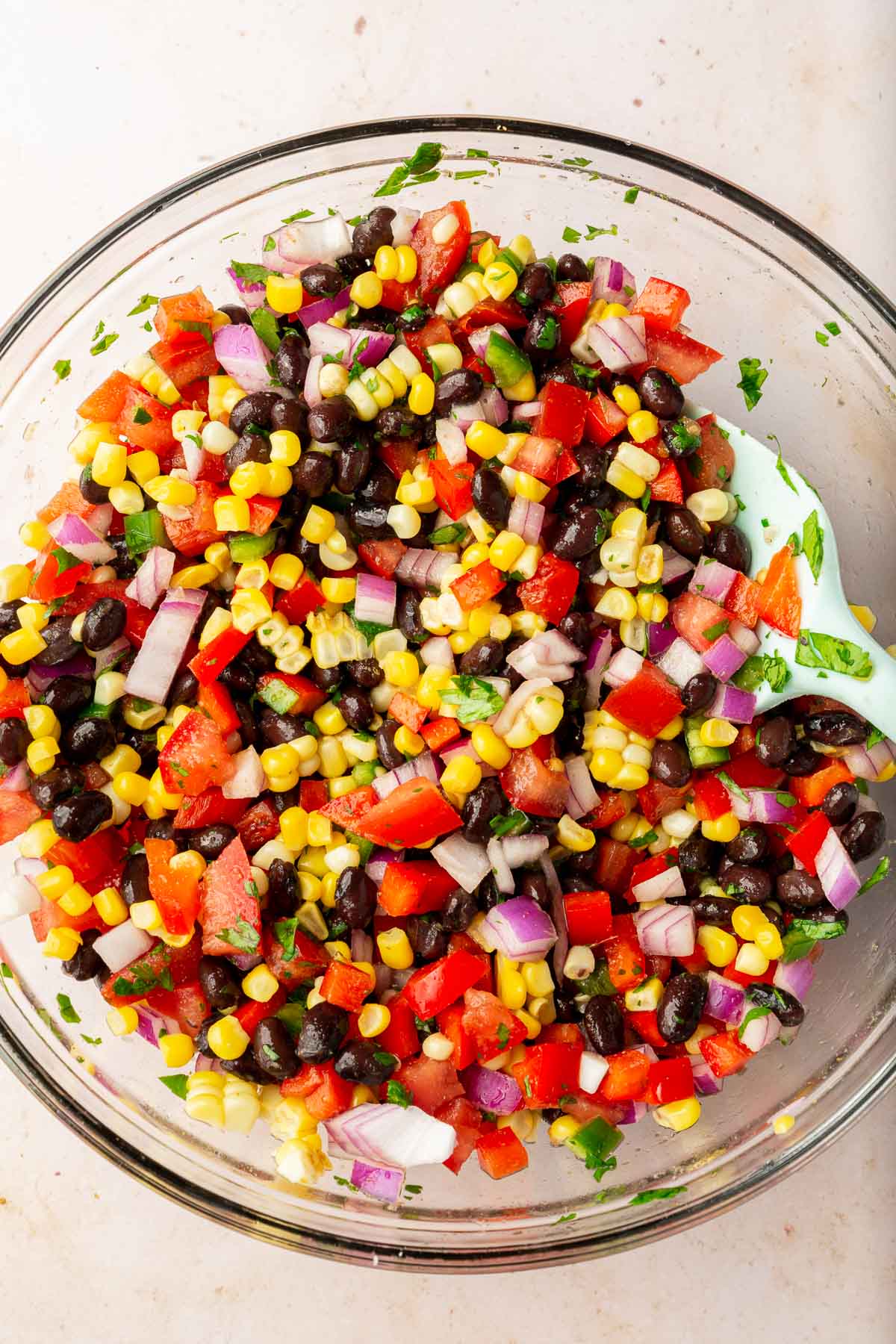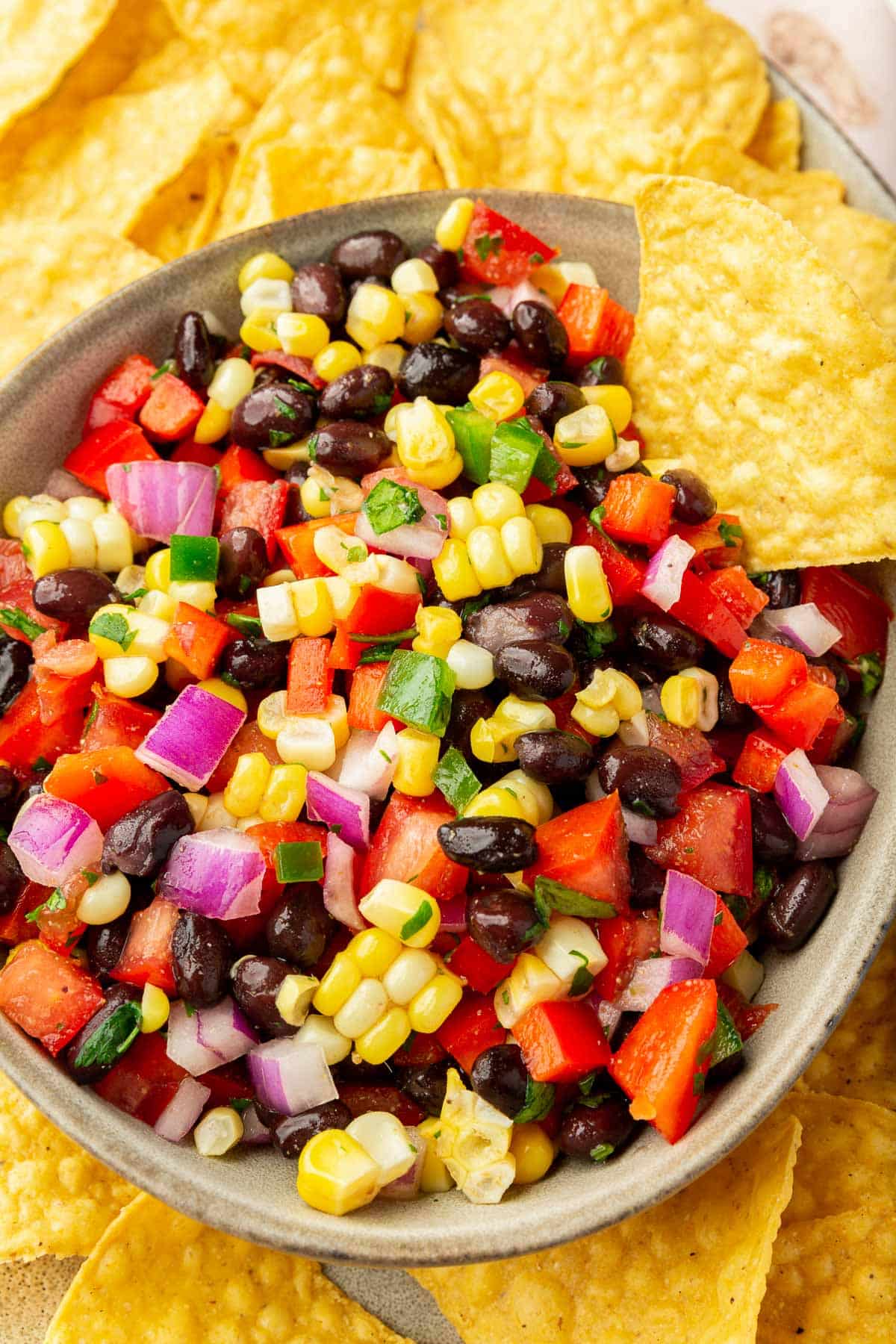 Recipe FAQs
Can I make this salsa in advance?
Absolutely! In fact, the flavors meld together beautifully when the salsa marinates in the refrigerator. While the salsa tastes delicious right after making it, it gets even better with time.
Can I use canned corn instead of fresh corn?
Absolutely! Canned or frozen corn can be used if fresh corn isn't available. Just make sure to drain and rinse canned corn, or defrost frozen corn before adding it to the salsa.
Is black bean corn salsa gluten-free?
Yes, this salsa recipe is naturally gluten-free. It's also naturally dairy-free and vegan, too!
Is black bean salsa spicy?
The spice level depends on whether you choose to add the jalapeño pepper and how much you use. For a milder salsa, remove the seeds and membrane from the jalapeño. If you prefer a non-spicy salsa, you can omit the jalapeño altogether.
Storage instructions
Storage: Store the salsa in an airtight container in the refrigerator for up to 3-4 days.
Freezer Option: I prefer this corn and black bean salsa fresh or refrigerated, but you can freeze it for longer storage. Keep in mind that the texture of the salsa will change after freezing. Place the salsa into a freezer safe bag or container and freeze for up to 3 months.
Thawing Process: To thaw frozen corn salsa with black beans, thaw in the refrigerator for 1-2 days, until no longer frozen.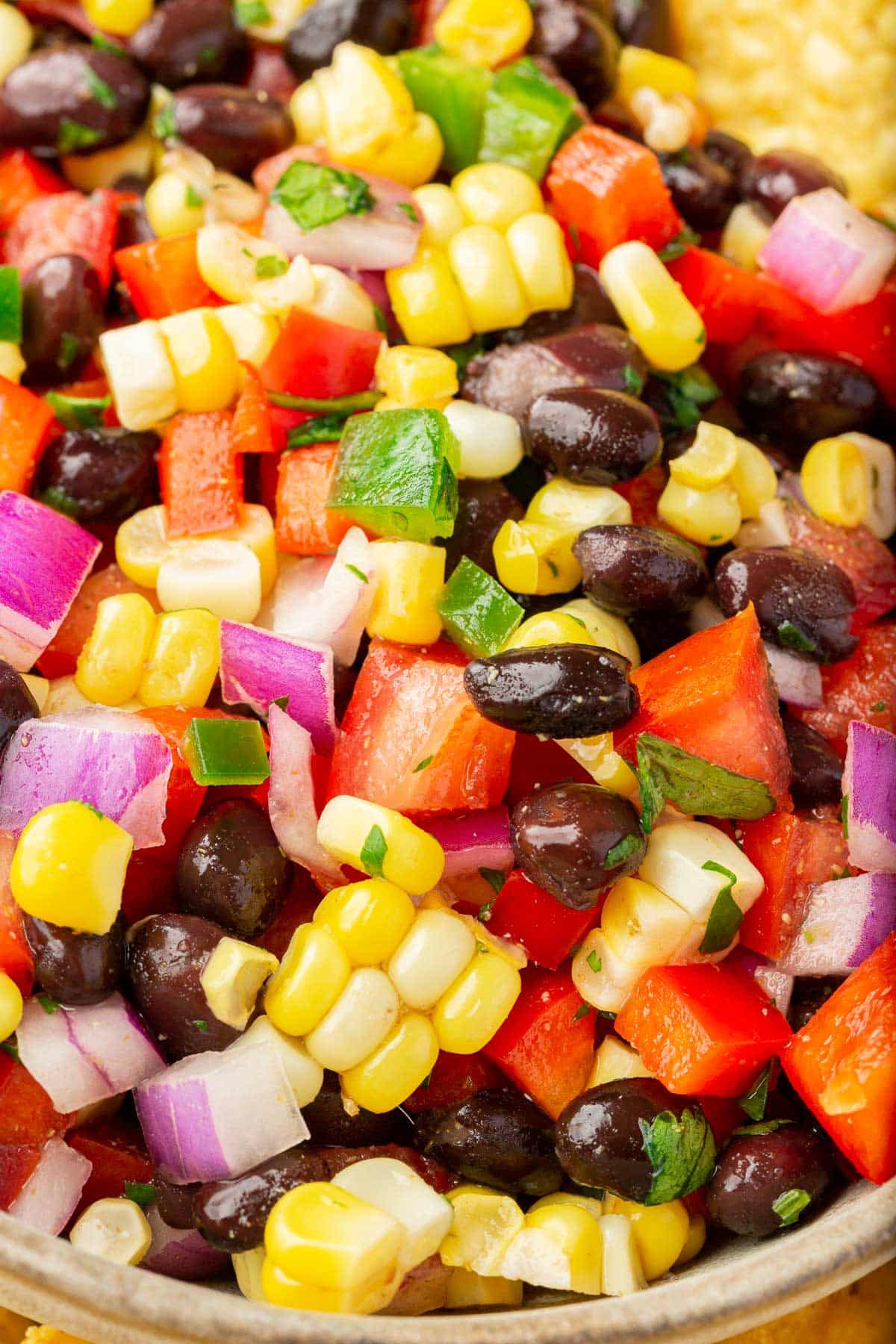 Serving suggestions
This corn salsa with black beans is so versatile and there are so many ways to serve it! Here are some of my favorites:
More delicious salsas and dips to try
Did you make this recipe?
I'd love to know! Please rate it and leave a comment below. You can also share your pictures and tag @adashofmegnut on Instagram.
Black Bean Corn Salsa
Packed with fresh corn, tomatoes, cilantro, and hearty black beans, this black bean corn recipe is perfect for entertaining or a quick weeknight meal. Scoop it up with tortilla chips or pair it with your favorite protein for a flavorful weeknight meal. It's delicious with fish, steak, chicken, or even tofu!
Print
Pin
Rate
Ingredients
1

can

(15 oz black beans, rinsed and drained)

2

cups

fresh corn

(from 4 ears of corn, or 1 (15 oz) can or frozen*)

1

cup

diced tomatoes

(from 1-2 tomatoes)

1/2

cup

red onion

(diced (from 1/2 small red onion))

1

cup

red bell pepper

(diced (from 1 bell pepper))

1

jalapeño pepper

(seeded and finely chopped)

1/4

cup

cilantro

(chopped)

2

tablespoons

lime juice

1/2

teaspoon

salt

1/2

teaspoon

cumin
Instructions
In a medium-sized bowl, combine the rinsed and drained black beans, corn, diced tomatoes, red onion, red bell pepper, and finely chopped jalapeño.

Pour in the lime juice, then sprinkle the salt and cumin over the mixture. Give everything a good stir to combine all the ingredients evenly.

Give your salsa a taste and adjust the salt according to your preference. You can also add more lime juice or cumin if needed.

Cover the bowl with plastic wrap or a lid and let it chill in the refrigerator for at least 30 minutes to let all the flavors meld together.

Before serving, stir the salsa again to redistribute the ingredients and their flavors.

Serve this black bean corn salsa as a dip with tortilla chips, a topping for tacos, or even a refreshing side for grilled meats. Enjoy!
Notes
For reference, if you are using fresh corn on the cob, 1 ear of corn typically has 1/2 cup of corn kernels. You can boil the corn, grill it, or pan fry it. Fresh corn will have the best flavor, but you can also use canned corn (one 15 oz can) or frozen corn. One can of corn will be about 1 3/4 cups total, but that's close enough in my book.

Nutritional information is an approximation. This recipe makes about 4 cups of salsa, so I used 1/4 cup of salsa as 1 serving to get 16 servings total.
Cut your jalapeños smaller than the other vegetables.
If you like your salsa spicy, you can leave some of the seeds in the jalapeño for an extra kick.
Nutrition
Calories:
24
kcal
|
Carbohydrates:
5
g
|
Protein:
1
g
|
Fat:
0.4
g
|
Saturated Fat:
0.1
g
|
Polyunsaturated Fat:
0.1
g
|
Monounsaturated Fat:
0.1
g
|
Trans Fat:
0.001
g
|
Sodium:
78
mg
|
Potassium:
111
mg
|
Fiber:
1
g
|
Sugar:
2
g
|
Vitamin A:
371
IU
|
Vitamin C:
17
mg
|
Calcium:
8
mg
|
Iron:
0.3
mg