Last Updated on
Easy ground beef tacos make a delicious and quick gluten-free dinner perfect for weeknight dinners. Taco Tuesday is a favorite in our house for a reason… these ground beef tacos are often the star of the night! So simple and so full of flavor.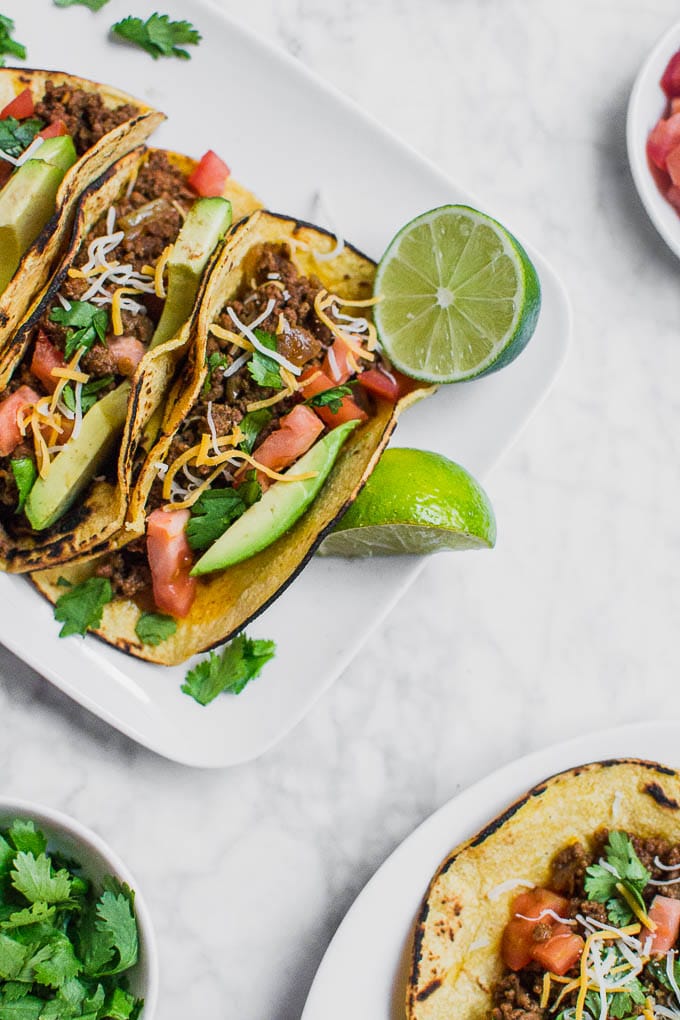 You all know how much I love tacos. I really don't know what took me so long to make these easy ground beef tacos. We've seriously been making them for YEARS so naturally I thought this recipes was already on my site. I don't know what made me realize they weren't already on here, but as soon as I did I knew we had to fix that situation!
We love these easy ground beef tacos in our house because they are as the name says… EASY!! They take about 20 minutes from start to finish, which makes them perfect for easy weeknight gluten-free dinners.
For all of those who like to use taco spice packets from the grocery store, you may want to think twice. For starters, those taco spice packets are typically not gluten-free. Gluten is used as a thickener in the spice packets. So for you gluten-free folk like myself, those are a no-go.
But also, you really don't need a ton of spices to make a taco spice mix. You can make your own spice mix at home so quickly and probably for less money, too.

Homemade Taco Spice Mix Ingredients
chili powder
cumin
garlic powder
red pepper flakes
salt
ground black pepper
Seriously – I only use 6 ingredients in my taco spice mix and that's it! No questionable ingredients in there (look at the back of some of the seasoning packets at the grocery store next time you're there and you'll see what I mean) and it only takes an extra minute to mix up. Just as easy as ripping open that spice packet, right?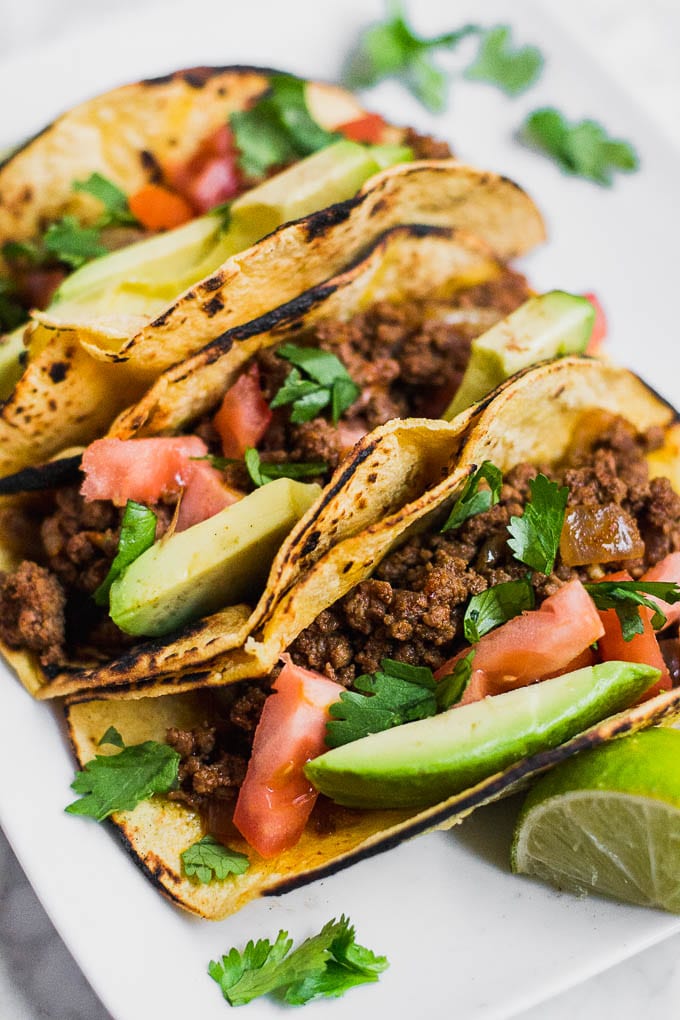 I think these ground beef tacos would be so great served for a taco party. I'm kind of in love with the idea of a taco bar. Different meats, vegetables, and toppings galore. From diced tomatoes to shredded lettuce to fruit salsa to avocado.
Because there should always be avocado. Always. Everyone would pick and choose how they want to top their tacos. Wouldn't that be so much fun? I also don't think it would be a ton of work as far as party themes go either. Tacos are so quick to make, which is one of the reasons I love them SO much!
We served our ground beef tacos with diced tomatoes, sliced avocado, cilantro, shredded cheese and a squeeze of lime juice. If you haven't squeezed lime over your tacos before, you must. It gives the tacos a little bit of pizazz and zest. So simple, but so effective.
To make our tacos gluten-free, we also serve with corn tortillas. That's the problem with corn tortillas typically. They fall apart so much easier than flour tortillas. But if you warm them up, they get sturdier and can hold the filling better.
I normally put my corn tortillas in the oven for a few minutes to crisp them up so they don't fall apart. BUT, recently I've started putting my corn tortillas on top of the stove directly over the flame of the gas burner and charring the edges.
It only takes about 30 seconds per side. It has resulted in the best tacos ever! The char just gives more flavor and the tortillas don't fall apart either. Simply AMAZING!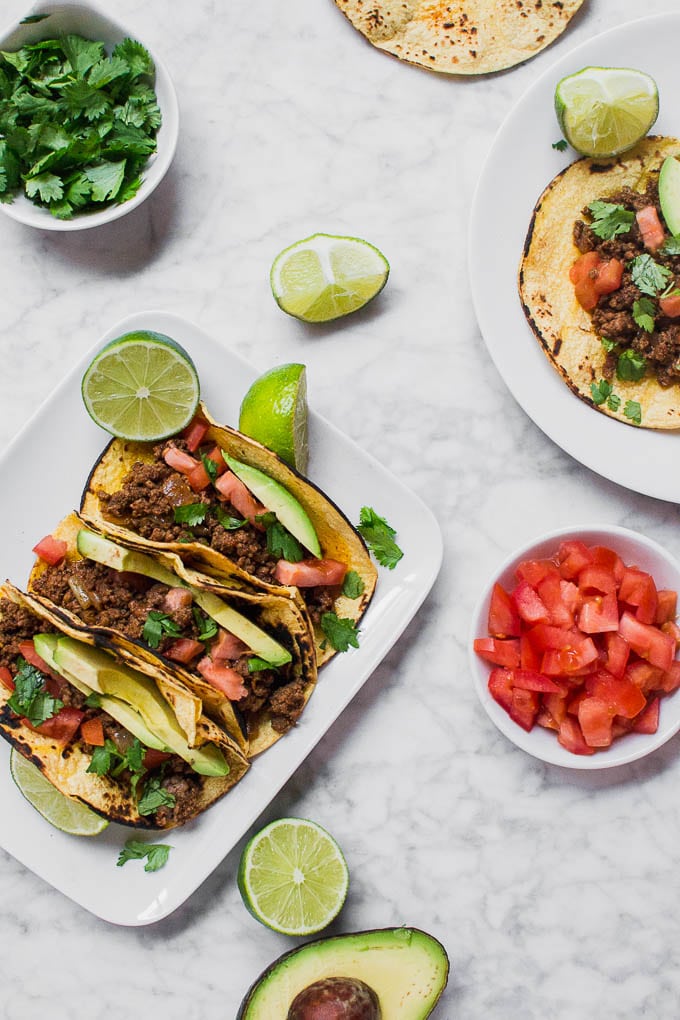 More Filling Ideas for these Easy Beef Tacos
Easy Ground Beef Tacos Recipe
Whether you're making an easy weeknight dinner or serving 10 of your favorite people to a delicious taco bar, these easy ground beef tacos need to be on your table! Made with a homemade spice mix, they're completely gluten-free and ready in under 20 minutes.
Top with diced tomatoes, avocados, cilantro and a squeeze of lime juice or whatever your favorite toppings may be! Pico de gallo, sour cream, and roasted corn also make great toppings, too!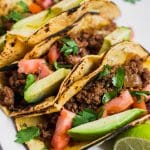 Print Recipe
Easy Ground Beef Tacos
Easy ground beef tacos make a delicious and quick gluten-free dinner perfect for weeknight dinners. Taco Tuesday is a favorite in our house for a reason... these ground beef tacos are often the star of the night! So simple and so full of flavor.
Ingredients
For the Beef:
1

lb

ground beef

1/2

onion

diced

1/2

cup

water

2

tsp

chili powder

1

tsp

ground cumin

1

tsp

garlic powder

1

tsp

salt

1/2

tsp

ground black pepper

1/4-1/2

tsp

red pepper flakes
For Serving:
12

corn tortillas

make sure they're gluten-free

1

avocado

diced

1

tomato

diced

1/4

cup

cilantro

chopped

1/2

cup

shredded cheddar cheese

optional
Instructions
Preheat large skillet over medium heat for a few minutes.

Add beef and onions and cook over medium heat, breaking up the beef as it cooks. Cook for 8-10 minutes, until beef is browned and no pink remains. Drain extra fat.

Add water and spices to the skillet and stir to combine. Cook for 2-3 minutes, until water is absorbed by the meat. Remove from heat and set aside.

Carefully heat corn tortillas over gas burner flame for 20-30 seconds to char the edges of the tortilla. Remove with a spatula and repeat with remaining tortillas. Alternatively, you can place corn tortillas in an oven at 350F for about 3-4 minutes in order to heat them up.

Serve with diced avocado, tomato, cilantro, and shredded cheese.
Nutrition
Calories:
205
kcal
|
Carbohydrates:
14
g
|
Protein:
9
g
|
Fat:
12
g
|
Saturated Fat:
4
g
|
Cholesterol:
31
mg
|
Sodium:
271
mg
|
Potassium:
282
mg
|
Fiber:
3
g
|
Vitamin A:
325
IU
|
Vitamin C:
3.5
mg
|
Calcium:
69
mg
|
Iron:
1.4
mg