Vegan pineapple coconut ice cream is filled with pineapple puree and chunks for extra pineapple flavor and topped with toasted coconut for the ultimate summer recipe. Gluten-free, dairy-free and egg free. Oh and delicious.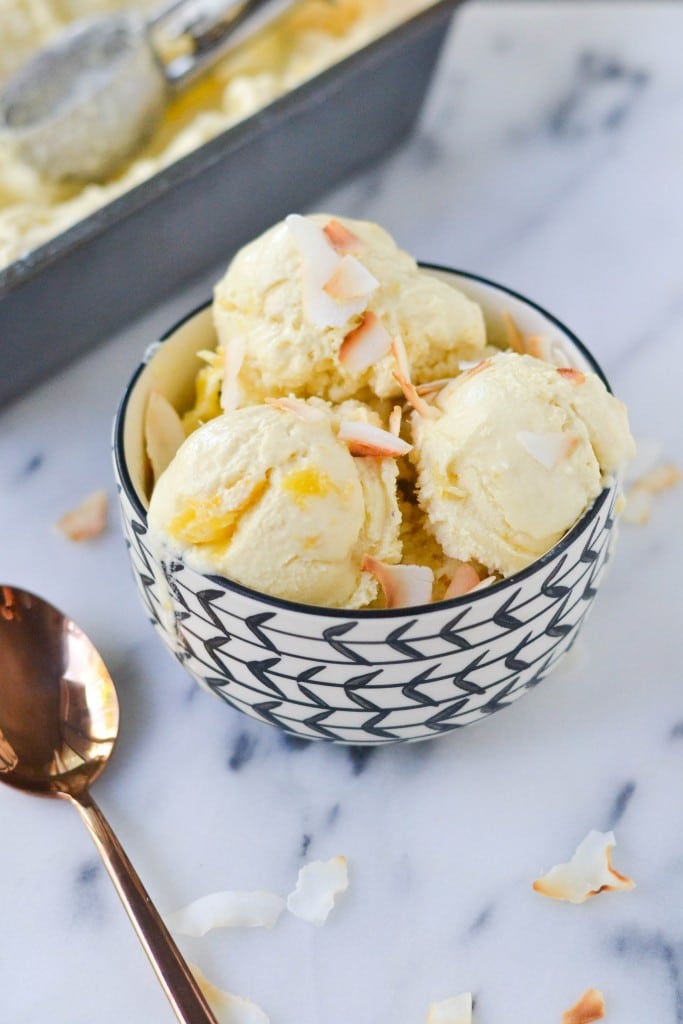 I have a ridiculous amount of kitchen gadgets. Too many to count really. There are meat grinders, vegetable spiralizers, a waffle maker, pasta maker, fondue pot.. I even just realized only yesterday that I have a juicer attachment for my stand mixer. Definitely need to put that one to good use soon. But my favorite kitchen appliance of all has to be my ice cream maker. Beyond my stand mixer, I'd say my ice cream maker gets the most use in my kitchen each summer.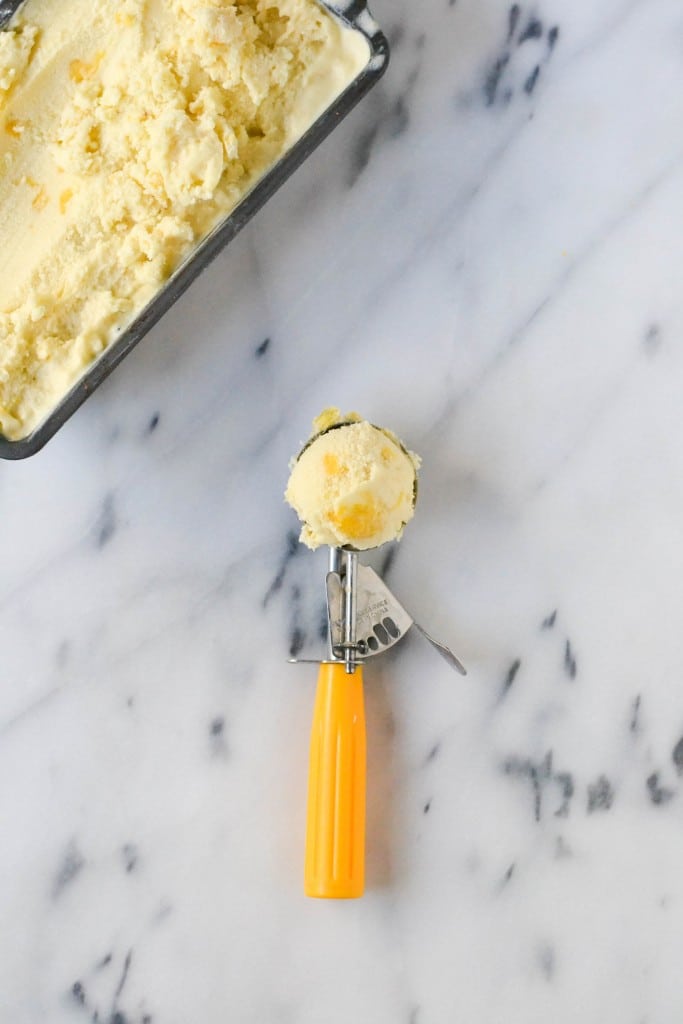 Imagine my sheer horror* when I found out I couldn't eat dairy anymore. No more beloved ice cream creations? What's a girl to do? Well thank goodness vegan ice cream is a thing – no dairy, no eggs, happy tummy. The crazy thing is that vegan ice cream is also way easier to make than custard based ice creams, too! For this recipe, you literally throw creamy coconut milk, fresh pineapple, and a few other ingredients into a blender to get it really smooth and then put it in your ice cream machine. Easy peasy pineapple squeezy (that's how that goes right?)
*horror quickly turned to delight because vegan ice cream is so dang good!
I will say, this particular recipe is somewhat of a cross between a sorbet and an ice cream. Don't get me wrong, it's definitely still creamier than sorbet. But the fact is.. there's a whole lot of pineapple goodness in here. And pineapple goodness makes it a bit icier than a normal vanilla ice cream. And you know what? I am MORE than okay with that because it is still luscious and delicious and everything you could want in an ice cream and MORE! Do you want to take your pineapple ice cream over the top? Toasted coconut! Just before serving, I love to toast some unsweetened coconut flakes in a pan over the stove and sprinkle them on top. They just add the perfect amount of texture and flavor to this ice cream that takes it from a 10 to an 11. 
What's your favorite kitchen gadget or appliance to use during the summer? Tell me in the comments!
*This post contains affiliate links for products that I use and love. I may receive a small commission from any purchases you make through that link. There will be no additional cost to you. Thanks for supporting A Dash of Megnut!**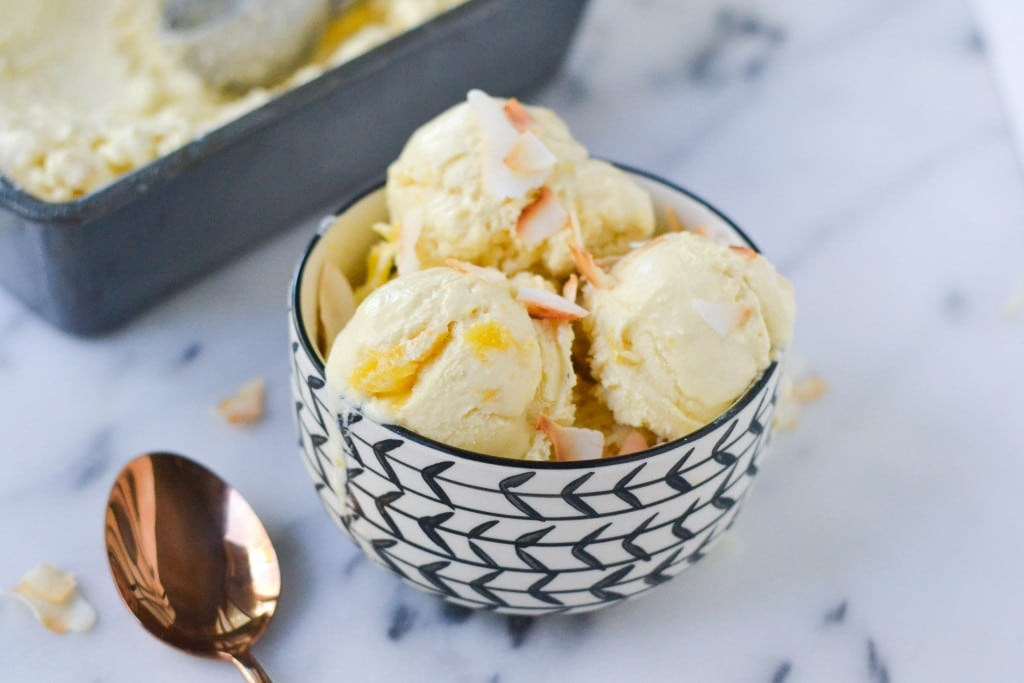 Vegan Pineapple Coconut Ice Cream
Prep time:
Cook time:
Total time:
Ingredients
2 cans full fat coconut milk
2 cups pineapple, diced (divided)
¼ cup pure maple syrup (you can also use honey if you're not vegan)
1 tsp pure vanilla extract
pinch of salt
1 tbsp vodka (optional - keeps the ice cream from freezing too hard. Tito's vodka is gluten-free)
¼ cup unsweetened coconut flakes (for topping)
**I use this ice cream maker**
Instructions
At least 24 hours before you start making the ice cream, freeze the bowl of your ice cream maker. When you shake the bowl, there should be no water sloshing around.
In a blender, add coconut milk, 1½ cups of the pineapple, pure maple syrup, vanilla, vodka (if using) and salt. Blend until smooth. Place in a metal bowl and refrigerate for an hour or more until cold.
Remove the ice cream base from the refrigerator and stir in the remaining ½ cup of pineapple chunks. Freeze according to the instructions on your ice cream machine.
Place in a freezer safe container (I used a loaf pan) and freeze until solid. Let sit at room temperature for 5-10 minutes before serving.
To toast coconut flakes, add them to a small pan over medium low heat. Let heat, stirring occasionally until they are a light toasted brown color. Don't walk away from the pan as they toast rather quickly. Sprinkle over ice cream before serving.
If you love my recipes, check out my meal plans at Eat Love!