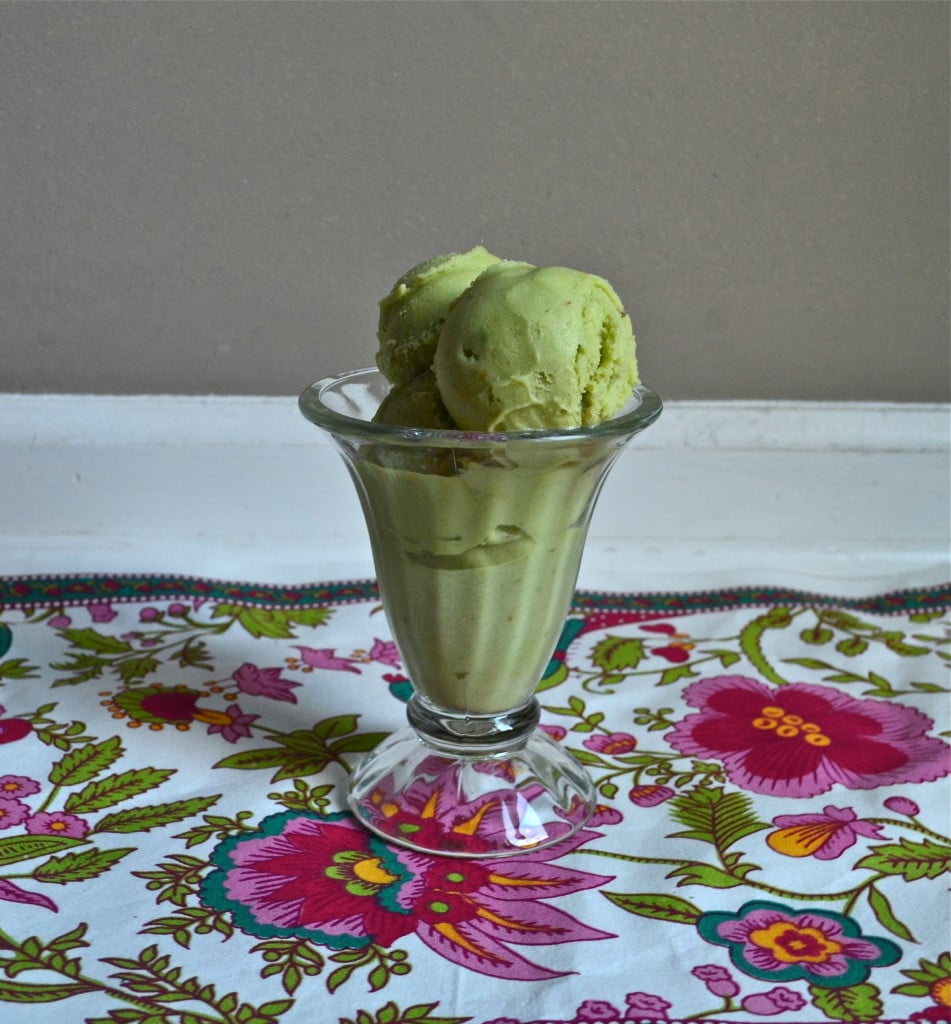 Avocado what? That's right. Ice cream. I've never had avocado ice cream in my entire life so why I was inspired to make it, I have no idea. I started perusing the internet for an avocado ice cream and none of them were exactly what I wanted. I know what you're thinking… Megan you just said you've never had avocado ice cream before, what makes you think you know what you want in a recipe? The answer to that, my friends, is my refrigerator. What really spurred this avocado ice cream idea was I had 2 extremely ripe avocados in my possession that needed to be used fast, and I had already eaten dinner that night, so dessert seemed like the only viable solution. And let's be serious, who doesn't like dessert? The rest of the recipe kind of just came together with what I had left in the refrigerator, which is why I used a combination of whole milk and skim milk. Obviously if you have a cup and a half of whole milk, go for it. I normally use some heavy cream in my ice cream recipes but didn't use end up using it in this recipe because 1) I didn't have any. 2) I figured that avocados are creamy enough that it wasn't extremely necessary. And boy was I right. The ice cream was so creamy and delicious, even without the heavy cream! I don't know why, but the avocado flavoring makes this dessert feel so sophisticated and exotic, I almost felt like I should be wearing something a little better than my sweatpants to be enjoying such a luxurious ice cream. There's just enough avocado flavor so that it doesn't overpower your taste buds and just a hint of vanilla flavoring which complements the avocado quite well. My roommate and I lovvveeddd it. I'm honestly surprised we still have some left!
Ingredients:
2 ripe avocados
1 cup whole milk
1/2 cup skim milk (feel free to do use whole milk, 1%, or 2% instead of the skim)
1 1/2 tsp vanilla
3/4 cup sugar
1 tbsp vodka (optional, as always, just helps the ice cream stay softer)
Directions:
Cut through the avocado lengthwise until your knife comes into contact with the pit. Then, without removing the knife, run the knife all the way around the pit in one, continuous motion until you go all the way around the avocado. Put the knife down and take the avocado in both hands and twist the two halves to separate the avocado. You should see the pit in one half. Take your knife and strike the avocado pit so that the knife gets lodged into the pit; This doesn't take a lot of force, just a short little strike on the avocado should do the trick. Holding the avocado in one hand, twist the knife with your other hand and pull away, the pit should come out of the avocado. Scoop out the avocado flesh with a spoon (it doesn't have to look pretty, we're going to put it in the food processor anyways).
Put the avocado flesh, milk, sugar, vanilla and vodka in the food processor. Pulse until the avocado is smooth and the ingredients are combined. Pour the ice cream mixture into an ice cream machine and freeze according to the manufacturer's instructions. It should take about 25 minutes to freeze. Sccop ice cream into a freezer safe container and place in the freezer for 2 hours, or until ready to serve.
Thaw at room temperature for about 5 or so minutes before serving.
Makes about 1 quart.
Source: An A Dash of Megnut original recipe.