Gluten-Free Cactus Sugar Cookies
Try this gluten-free cactus sugar cookie tutorial and recipe. It's so cute for summer gatherings and would be great as a party favor! Learn how to decorate this cookie by following the video.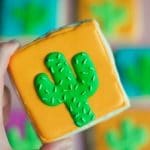 Try this gluten-free cactus sugar cookie tutorial and recipe. It's so cute for summer gatherings and would be great as a party favor! Learn how to decorate this cookie by following the video.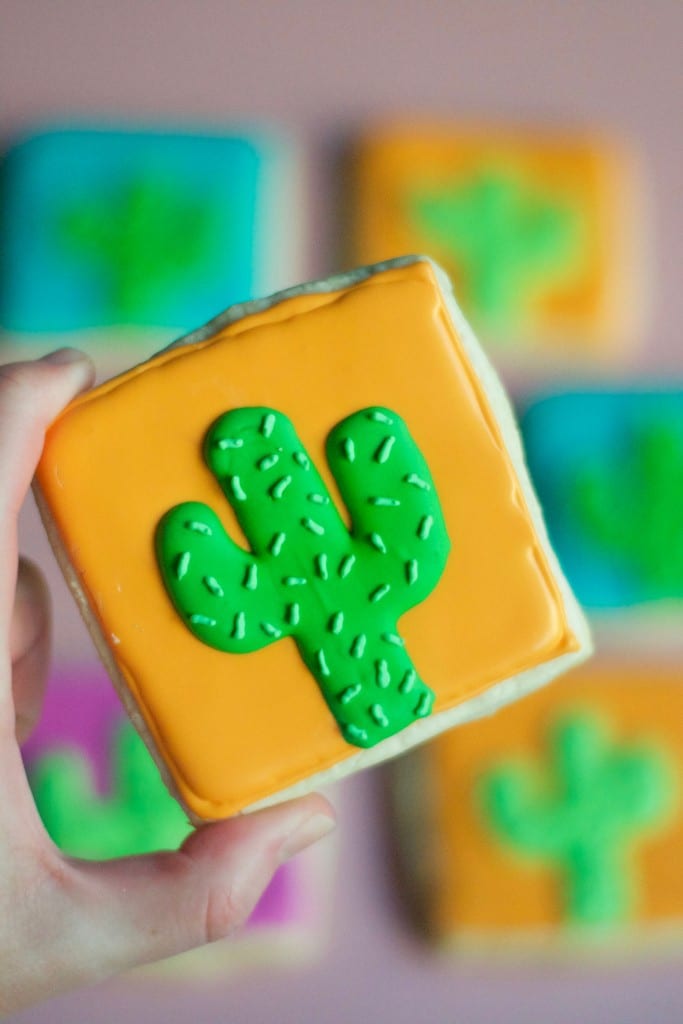 Decorating sugar cookies doesn't have to be hard! These easy gluten-free cactus sugar cookies are so fun for summer and would be great for any get together with friends! A class gluten-free sugar cookie is topped with vibrant royal icing for a treat that is perfect for gift giving or parties.
I've discovered I have a small obsession with cacti lately. So naturally I had to put them on a cookie! This is my first video of me cookie decorating and man was I nervous (which you can totally tell my hands are shaking in this video). I hope you all enjoy this quick tutorial and make your own cactus cookies too!
What is Royal Icing?
Royal icing is an icing that is used for decorating cookies and other confections. It's easy to work with and dries hard allowing you to create intricate and beautiful designs. Once the royal icing is hardened, you're able to stack cookies without ruining the design!
Royal icing is a typically made from a combination of confectioners' sugar, water and egg whites. Instead of egg whites, I prefer to use meringue powder in my royal icing recipe. Meringue powder is made from dehydrated egg whites and some other stabilizers, allowing it to set up quickly.
If you haven't worked with royal icing before, don't be intimidated. It does take some time for the royal icing to whip up (about 7-10 minutes), so I suggest a stand mixer for the process fitted with the whisk attachment if you have one.
Tips for Making Sugar Cookies
Use powdered sugar instead of gluten-free flour to roll out the dough on a flat surface. It just adds some sweetness to the dough instead of more flour, which will make the dough really dry and stiff. You'll want to check the dough periodically while rolling to make sure that it's not sticking to your surface.
I also like to roll out my sugar cookie dough on a piece of parchment paper for easy clean up.
After cutting out your shapes with a cookie cutter, freeze them for at least 30 minutes. This helps them keep their shape in the oven.
When making royal icing, I always start with a thick icing and then add water as needed. It's easier to add more water to thin the icing out than to add powdered sugar, which can result in clumps.
Pop any air bubbles with the royal icing as soon as possible with a toothpick.
It's very important to let the royal icing dry adequately before moving onto the next decoration layer and especially before stacking or serving. I give them at least 8 hours to dry completely before stacking.
What Makes These Sugar Cookies Gluten-Free?
To make these sugar cookies gluten-free, it's as easy as swapping out all-purpose flour for a gluten-free flour blend such as Bob's Red Mill 1-to-1 Gluten-Free Baking Flour. Admittedly, when I was first diagnosed with celiac disease, I tried making gluten-free sugar cookies the following week with a gluten-free flour blend and was not happy with the results. The cookies tasted so gritty and I just thought that gluten-free sugar cookies couldn't be done.
I'm happy to say that I always use Bob's Red Mill 1-to-1 Gluten-Free Baking Flour (blue bag, not the red bag) with fantastic results. I do make my own blend occasionally, but majority of the time this is the flour that I have used. I have not successfully tried other gluten-free flour blends with this recipe and cannot vouch for them.
As always, check all of your other ingredients (especially the meringue powder) to make sure they are gluten-free!
Can I Make These Sugar Cookies Dairy-Free?
You sure can! Just use a dairy-free butter substitute, such as Earth Balance buttery spread. I will note, I do not like the Earth Balance buttery sticks. They have a weird smell and taste that I do not enjoy for baking, but that might just be me. Instead, I measure straight out of the tub, a tablespoon at a time, and the cookies come out perfectly.
If you're on a Keto diet, you may want to check out these Cut-Out Keto Sugar Cookies from my friend Cassidy! And if you are looking to use almond flour, try out these Almond Flour Sugar Cookies!
More Gluten Free Decorated Sugar Cookie Designs
The Bachelor Final Rose Gluten-Free Sugar Cookies
Wisconsin Badgers Sugar Cookies
Chips and Guacamole Sugar Cookies
Chicago Blackhawks Sugar Cookies
Harry Potter Sugar Cookies
Gluten-Free Cactus Sugar Cookies
Try this gluten-free cactus sugar cookie tutorial and recipe. It's so cute for summer gatherings and would be great as a party favor! Learn how to decorate this cookie by following the video.
Print
Pin
Rate
Ingredients
Sugar Cookie
1

cup

butter

(softened)

1

cup

powdered sugar

2

tsp

almond extract

1

tsp

pure vanilla extract

1

tsp

salt

1

egg

2½

cups

gluten-free flour blend
Royal Icing:
4

cups

powdered sugar

(sifted)

2

tbsp

meringue powder

5

tbsp

water

1

tsp

vanilla or almond extract

(optional)
Instructions
To Make Cookies
In a medium bowl, whisk together brown rice flour, white rice flour, potato starch, tapioca flour, cornstarch and xanthan gum. Set aside.

Cream butter and powdered sugar in a large bowl with an electric mixer.

Mix in egg, vanilla, almond extract and salt and beat until mixed well.

Gradually add in flour (1/2 cup at a time) and mix after each addition. Be sure not to over mix. I use the electric mixer for the first 2 cups of flour and then hand mix the last 1/2 cup.

Put dough in the refrigerator for about 20 minutes, or until the dough firms up slightly and is easier to roll out. You can also put it in the freezer but I would only do that for 10 minutes otherwise it's very difficult to roll out. Sprinkle your work surface and rolling pin with powdered sugar.

Roll the dough out to a 1/4 inch thickness. Cut with cookie cutters. Place on a greased cookie sheet and put back in the freezer for 10-15 minutes.

Then, bake in the oven at 375 degrees Fahrenheit for 8-10 minutes or until cookie all the way through. The cookie should not brown, but the edges can be slightly browned (that's a good indication it's done). Cool on a wire rack.
To Make Royal Icing
In a bowl of an electric mixer fitted with the whisk attachment, combine the powdered sugar, meringue powder and water.

Mix for 7-10 minutes, until the ingredients are well blended and the icing has a matte finish. This is the base consistency. I usually add about 1 tsp more of water for a good icing consistency (I use a 15 second rule) This means that when you drizzle icing over the bowl of royal icing then the icing will flow back in with the rest of the icing in 15 seconds. If you need to thin it out more then add more water. If you need to thicken it add more powdered sugar.
To Decorate Cookies
To decorate the cookie, I used a square cookie cutter.

Outline the cookie using pink icing (15 second icing) in a pastry bag fitted with a number 2 or number 3 tip.

Flood the cookies with pink icing (15 second icing) and allow to dry completely.

Once dry, make the cactus shape with 15 second green icing. Allow to dry and then add cactus needles with green icing in a pastry bag using a number 2 tip (I used number 3 in the video and number 2 in the photos and decided I like the number 2 tip better for this).

Allow to dry.
Notes
**You can use 2 1/2 cups of all purpose flour instead of the gluten-free flour blend.
***Follow the video to see how to decorate the cookie!
Nutrition
Calories:
338
kcal
|
Carbohydrates:
54
g
|
Protein:
2
g
|
Fat:
13
g
|
Saturated Fat:
7
g
|
Cholesterol:
43
mg
|
Sodium:
268
mg
|
Potassium:
7
mg
|
Fiber:
2
g
|
Sugar:
39
g
|
Vitamin A:
395
IU
|
Calcium:
19
mg
|
Iron:
0.8
mg
I'm Megan
A gluten-free food blogger from Chicago and lover of all things food, showing you gluten-free can be easy and delicious, too. Let's make gluten-free stress free together! Read more…