Try this gluten-free cactus sugar cookie tutorial and recipe. It's so cute for summer gatherings and would be great as a party favor! Learn how to decorate this cookie by following the video.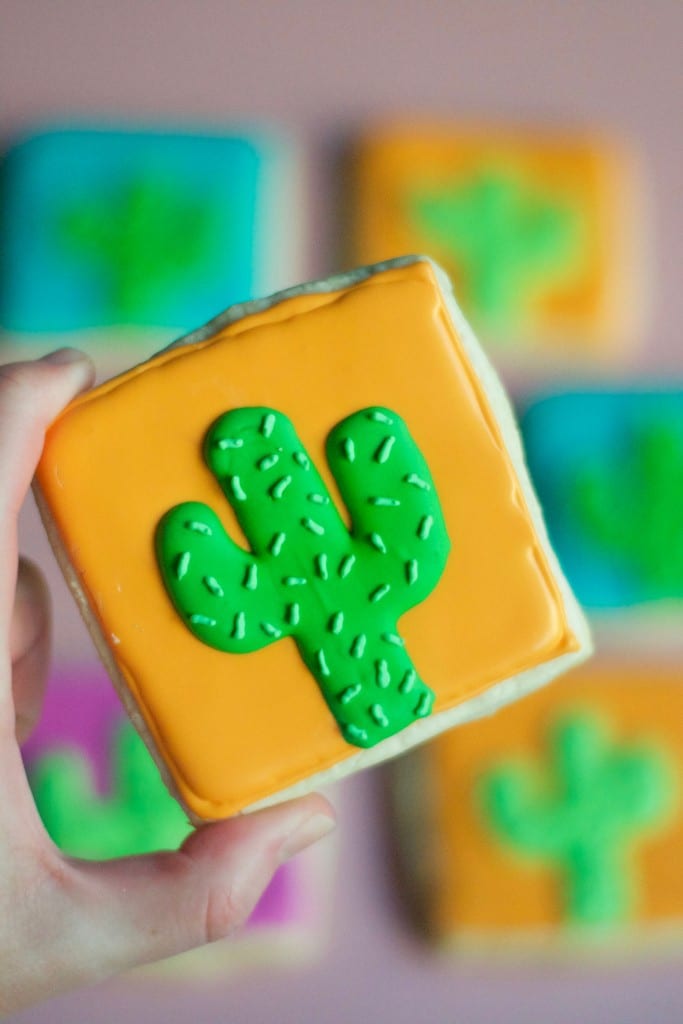 For those of you who don't know, I recently started a gluten-free cookie subscription box, called Lush Bites. I love decorating sugar cookies and I equally love creating crazy cookie flavors. I remember when I first got diagnosed with celiac disease I subscribed to a few gluten-free subscription boxes and it made my diagnosis a little more bearable. The element of surprise with each box and exploring the different foods I could eat made me excited to explore my new diet. 
Over the past few years I have realized, though, that there is not much in the way of cookies. Often times when you can find gluten-free cookies at a grocery store or bakery, there is only a basic flavor like chocolate chip (I'm not knocking chocolate chip because I love it but you get what I'm saying). Why can't us gluten-free eaters have a little fun too and eat the crazy gourmet confections we see on Instagram? Why can't gluten-free be luxurious too? Well I decided it can be! So I started Lush Bites. I have a passion for decorating cookies and creating unique flavors that you won't find anywhere else. That's exactly what you'll find in this box. Each month you'll get six gluten-free cookies delivered to your door. You'll receive a mix of gourmet cookies in unique flavors and my hand decorated gluten-free sugar cookies all baked in a gluten-free dedicated facility.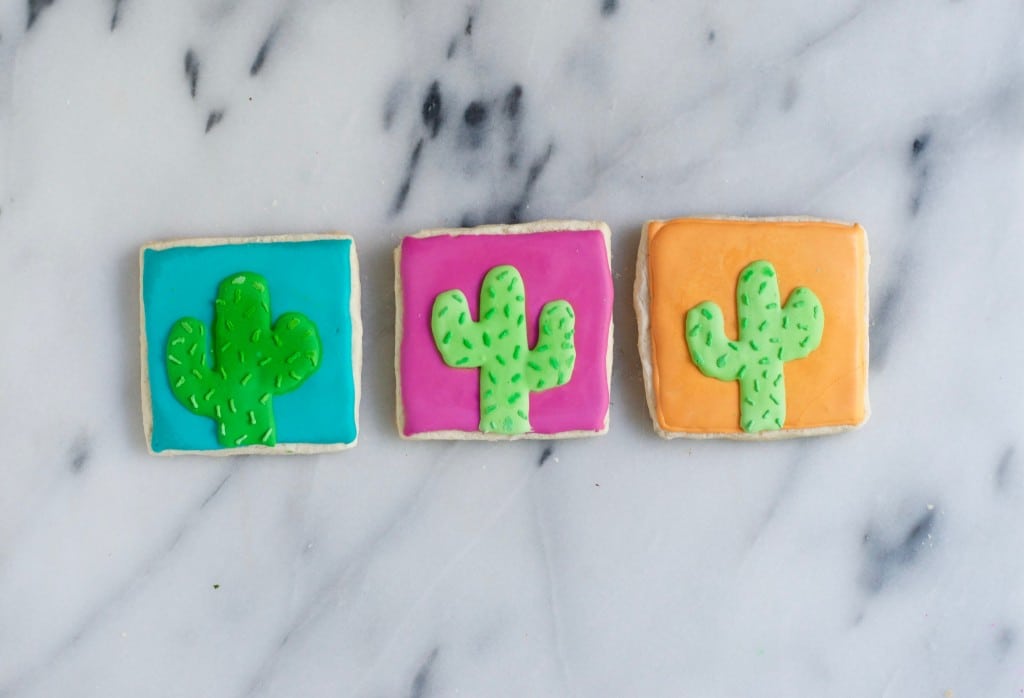 If you would like to try Lush Bites, our first shipment is going out July 17th and we're closed orders in just a few days. You can get 10% off your first purchase using code MEGNUT at checkout. I'm so excited to finally bring gluten-free cookie deliciousness to you all and I'm working hard to create some awesome new flavors each month! Starting this small business has been a whirlwind and I'm so grateful for this opportunity to do what I love and share it with all of you!
Now to these cactus cookies. I've discovered I have a small obsession with cacti lately. So naturally I had to put them on a cookie! This cookie is so fun for summer and would be great for any get together with friends! This is my first video of me cookie decorating and man was I nervous (which you can totally tell my hands are shaking in this video). I hope you all enjoy this quick tutorial and make your own cactus cookies too! *Don't mind the basil that flew in from the open door while I was creating this video.. oops!
More Gluten Free Decorated Sugar Cookie Designs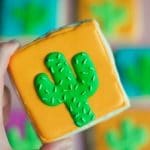 Print Recipe
Gluten-Free Cactus Sugar Cookies
Try this gluten-free cactus sugar cookie tutorial and recipe. It's so cute for summer gatherings and would be great as a party favor! Learn how to decorate this cookie by following the video.
Ingredients
Sugar Cookie
1

cup

butter

softened

1

cup

powdered sugar

2

tsp

almond extract

1

tsp

pure vanilla extract

1

tsp

salt

1

egg

2½

cups

gluten-free flour blend
Royal Icing:
4

cups

powdered sugar

sifted

2

tbsp

meringue powder

5

tbsp

water

1

tsp

vanilla or almond extract

optional
Instructions
To Make Cookies
In a medium bowl, whisk together brown rice flour, white rice flour, potato starch, tapioca flour, cornstarch and xanthan gum. Set aside.

Cream butter and powdered sugar in a large bowl with an electric mixer.

Mix in egg, vanilla, almond extract and salt and beat until mixed well.

Gradually add in flour (1/2 cup at a time) and mix after each addition. Be sure not to over mix. I use the electric mixer for the first 2 cups of flour and then hand mix the last 1/2 cup.

Put dough in the refrigerator for about 20 minutes, or until the dough firms up slightly and is easier to roll out. You can also put it in the freezer but I would only do that for 10 minutes otherwise it's very difficult to roll out. Sprinkle your work surface and rolling pin with powdered sugar.

Roll the dough out to a 1/4 inch thickness. Cut with cookie cutters. Place on a greased cookie sheet and put back in the freezer for 10-15 minutes.

Then, bake in the oven at 375 degrees Fahrenheit for 8-10 minutes or until cookie all the way through. The cookie should not brown, but the edges can be slightly browned (that's a good indication it's done). Cool on a wire rack.
To Make Royal Icing
In a bowl of an electric mixer fitted with the whisk attachment, combine the powdered sugar, meringue powder and water.

Mix for 7-10 minutes, until the ingredients are well blended and the icing has a matte finish. This is the base consistency. I usually add about 1 tsp more of water for a good icing consistency (I use a 15 second rule) This means that when you drizzle icing over the bowl of royal icing then the icing will flow back in with the rest of the icing in 15 seconds. If you need to thin it out more then add more water. If you need to thicken it add more powdered sugar.
To Decorate Cookies
To decorate the cookie, I used a square cookie cutter.

Outline the cookie using pink icing (15 second icing) in a pastry bag fitted with a number 2 or number 3 tip.

Flood the cookies with pink icing (15 second icing) and allow to dry completely.

Once dry, make the cactus shape with 15 second green icing. Allow to dry and then add cactus needles with green icing in a pastry bag using a number 2 tip (I used number 3 in the video and number 2 in the photos and decided I like the number 2 tip better for this).

Allow to dry.
Notes
**You can use 2 1/2 cups of all purpose flour instead of the gluten-free flour blend.
***Follow the video to see how to decorate the cookie!
Nutrition
Calories:
338
kcal
|
Carbohydrates:
54
g
|
Protein:
2
g
|
Fat:
13
g
|
Saturated Fat:
7
g
|
Cholesterol:
43
mg
|
Sodium:
268
mg
|
Potassium:
7
mg
|
Fiber:
2
g
|
Sugar:
39
g
|
Vitamin A:
395
IU
|
Calcium:
19
mg
|
Iron:
0.8
mg