Birthday Cake Sugar Cookies
These birthday cake sugar cookies are made gluten free and are so perfect for birthday parties! The colors are easily customizable!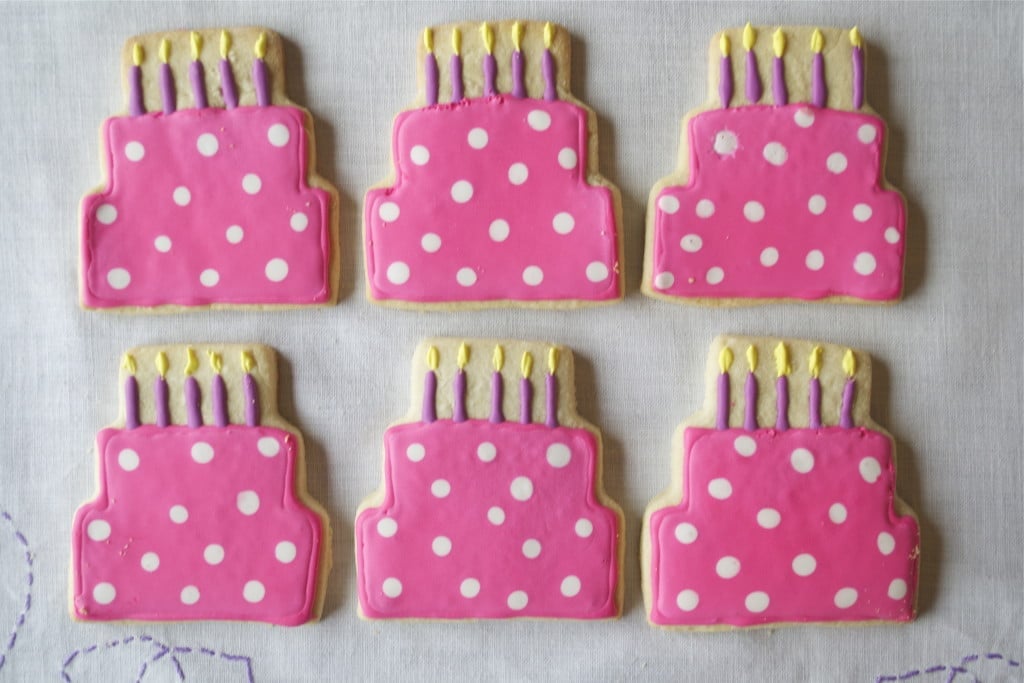 As a lover of all things food, I really do enjoy baking new things and trying to come up with recipes. But sometimes, it just doesn't always work out so well. I have had my fair share of kitchen fails, more in the past month than I care to admit. My latest botch was black bean brownies that were gluten-free, vegan, and sugar-free. Baking with stevia just is sooo difficult. I have yet to get something to come out perfectly. These brownies were just so bitter I couldn't bear to eat another bite. But, the texture was just so perfect! Ah, one day I'll get it right my friends, one day.
So if you can't bake something new, stick with the tried and true! (I'm a rhyming machine!) Like my gluten-free sugar cookie recipe! My cousin Alana's 5th birthday was a few weeks ago and we attended her princess party birthday celebration. I thought these birthday cake sugar cookies would be a great way to celebrate! They're girly and fun – yet such a simple design! I also love switching up the colors of this design to cater to whoever's birthday it is. It just makes it so much more fun that way when the cookies are the recipient's favorite colors!
More Gluten Free Decorated Sugar Cookie Designs
Gluten Free Birthday Cake Sugar Cookies
These birthday cake sugar cookies are made gluten free and are so perfect for birthday parties! The colors are easily customizable!
Print
Pin
Rate
Ingredients
For the Sugar Cookies:
2 1/2

cups

gluten free flour blend

1 1/2

tsp

xanthan gum

(if your blend doesn't already contain it)

1

cup

butter

(softened)

1

cup

powdered sugar

2

tsp

almond extract

1

tsp

vanilla

1

tsp

salt

1

egg
For the Royal Icing:
4

cups

powdered sugar

(sifted)

2

tbsp

meringue powder

5

tbsp

water

1

tsp

vanilla

(or almond extract)
Instructions
For the Cookies:
In a medium bowl, whisk together gluten free flour blend and xanthan gum (if using). Set aside.

Cream butter and powdered sugar in a large bowl with an electric mixer.

Mix in egg, vanilla, almond extract and salt and beat until mixed well.

Gradually add in flour blend (1/2 cup at a time) and mix after each addition. Be sure not to over mix. I use the electric mixer for the first 2 cups of flour and then hand mix the last 1/2 cup.

Put dough in the refrigerator for an hour or so, or until the dough firms up. You can also put it in the freezer but I would only do that for 20-30 minutes otherwise it's very difficult to roll out.

Sprinkle your work surface and rolling pin with powdered sugar.

Roll the dough out to a 1/4 inch thickness.

Cut with cookie cutters.

Place on a greased cookie sheet and put back in the freezer for 10-15 minutes.

Then, bake in the oven at 375 degrees Fahrenheit for 8-10 minutes or until cookie all the way through. The cookie should not brown, but the edges can be slightly browned (that's a good indication it's done). Cool on a wire rack.
For the Royal Icing:
In a bowl of an electric mixer fitted with the whisk attachment, combine the powdered sugar, meringue powder and water.

Mix for 7-10 minutes, until the ingredients are well blended and the icing has a matte finish. This is the base consistency. I usually add about 1 tsp more of water for a good outline icing (I use a 10 second rule) and add more water until I reach a 4-second icing for flood icing. This means that when you drizzle icing over the bowl of royal icing then the icing will flow back in with the rest of the icing in 4 seconds (10 second icing is the same but it will sink back in with the rest of the icing in 10 seconds). If you need to thin it out more then add more water. If you need to thicken it add more powdered sugar.
To Decorate:
To decorate the cookie, I used a 3-tier wedding cake cookie cutter.

Outline the cookie using pink icing (10 second icing).

Flood with thinned out pink icing (4 second icing). Immediately after flooding with the pink, using the white icing (4 second icing) in pastry bags fitted with a number 3 tip (or squeeze bottles – they work wonders), make small dots by squeezing the bag gently and quickly. Note: You don't want to squeeze the bag for too long, otherwise you will get very large dots. I generally end up using a squeeze bottle for that process as I feel it lets me get more consistent sized dots.

To make the candles, pipe 4-5 lines of purple icing (10 second icing - in a pastry bag fitted with a number 2 tip) above the cake. I normally do 4 candles, but 5 was perfect for my cousin's 5th birthday.

Then, to make the flames, dip a toothpick in stiff yellow icing, and starting at the tip of the purple line, drag the toothpick so it makes an upside down tear-drop above the line. Basically, you want to create a dot of yellow and then drag a small line outs that it makes a flame shape.

Allow to dry completely.
Nutrition
Calories:
282
kcal
|
Carbohydrates:
45
g
|
Protein:
2
g
|
Fat:
11
g
|
Saturated Fat:
6
g
|
Cholesterol:
36
mg
|
Sodium:
230
mg
|
Potassium:
6
mg
|
Fiber:
1
g
|
Sugar:
33
g
|
Vitamin A:
330
IU
|
Calcium:
15
mg
|
Iron:
0.7
mg