Creamy mashed potatoes stuffed with taco seasoned ground beef, fried to crisp perfection and topped with a creamy avocado lime sauce.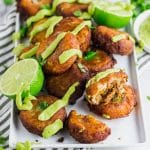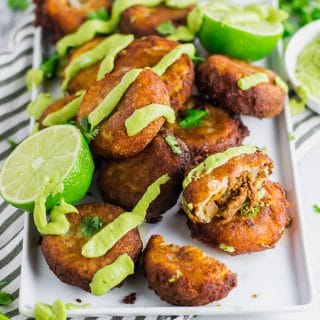 Thank you Potatoes USA for sponsoring this post. Make a delicious and convenient meal for your family tonight with potatoes!
These beef taco croquettes are a great dinner recipe or appetizer. Creamy mashed potatoes stuffed with taco seasoned ground beef, fried to crisp perfection and topped with a dairy-free avocado crema, this is a great gluten-free recipe for any occasion!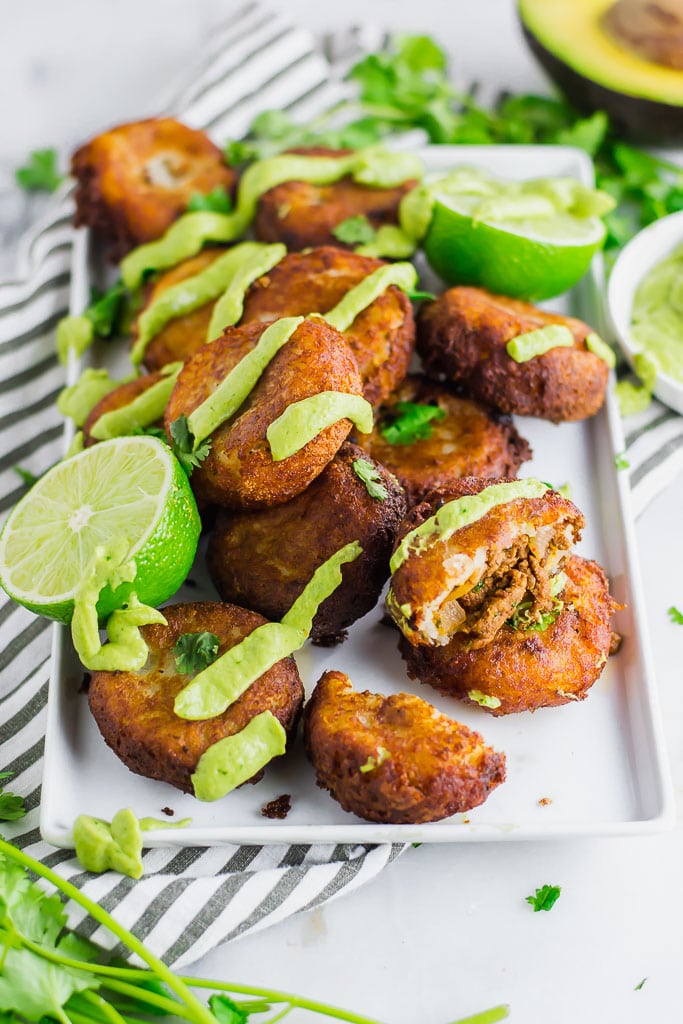 Don't you just love when you hear about different recipes from friends that you have never heard of or tried before? In case you can't tell… I really love it! My friend, Jessica, and I love to swap recipes. Her family is Assyrian so I love learning about the authentic dishes her mom always makes (middle eastern food is legit my favorite). Her mom is so sweet and always sends along recipes so I can make them at home, too. Jess recently told me about a potato chop recipe and as soon as she described it I found myself salivating instantly. I knew I had to make it. If you've never heard of a potato chop, it's essentially a middle eastern fried potato dumpling stuffed with meat. I mean, fried mashed potato balls stuffed with meat? Sign me up!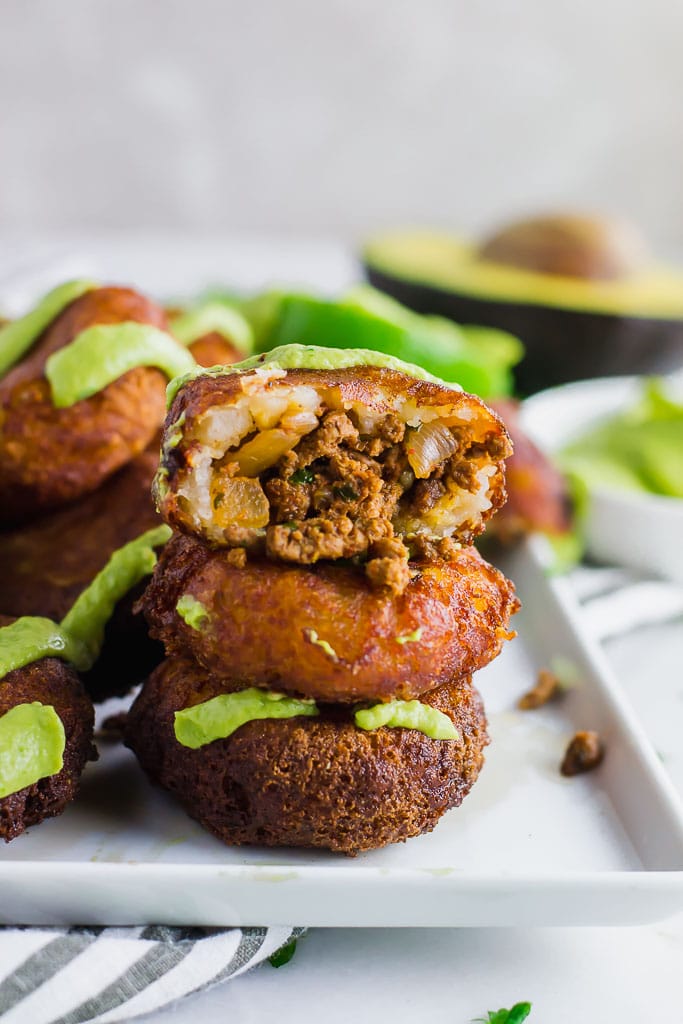 I love using potatoes because they're naturally gluten-free (yay!), easily go with any type of meal, and I always have them in my kitchen! Potatoes are a staple in so many cuisines that you'll always have a meal you can make with potatoes. There are countless ways to use potatoes in different types of recipes, from breakfast to lunch to dinner! To find out more about potatoes, check out Potatoes USA or the Potatoes Goodness Facebook page. I specifically chose white potatoes for this recipe, because white potatoes are great for both mashing and frying, but of which we're doing here! I also love how they are mildly starchy which provides great texture for our croquettes. They're a really versatile potato so I always have some of this variety on hand.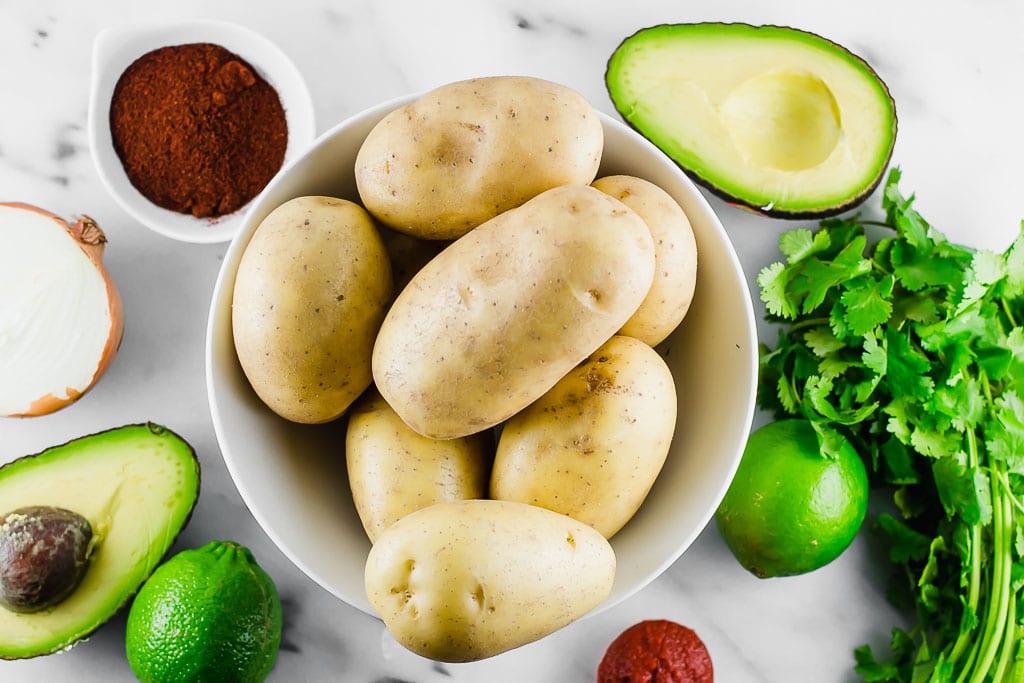 These beef taco potato croquettes are a play on the Assyrian potato chop with taco spices mixed in the beef and topped with an avocado crema. Because, avocados forever, duh! I went about this recipe creation two different ways. Baked and fried. While baked can certainly be done, fried is definitely the way to go for the best result. I used to think you needed a deep fryer in order to get that perfectly golden fried texture. But you really don't. For this recipe, all you need to do is add about 1/2 inch of oil in a skillet and fry away. It's really that easy. I like this method because it uses less oil and anyone can do it.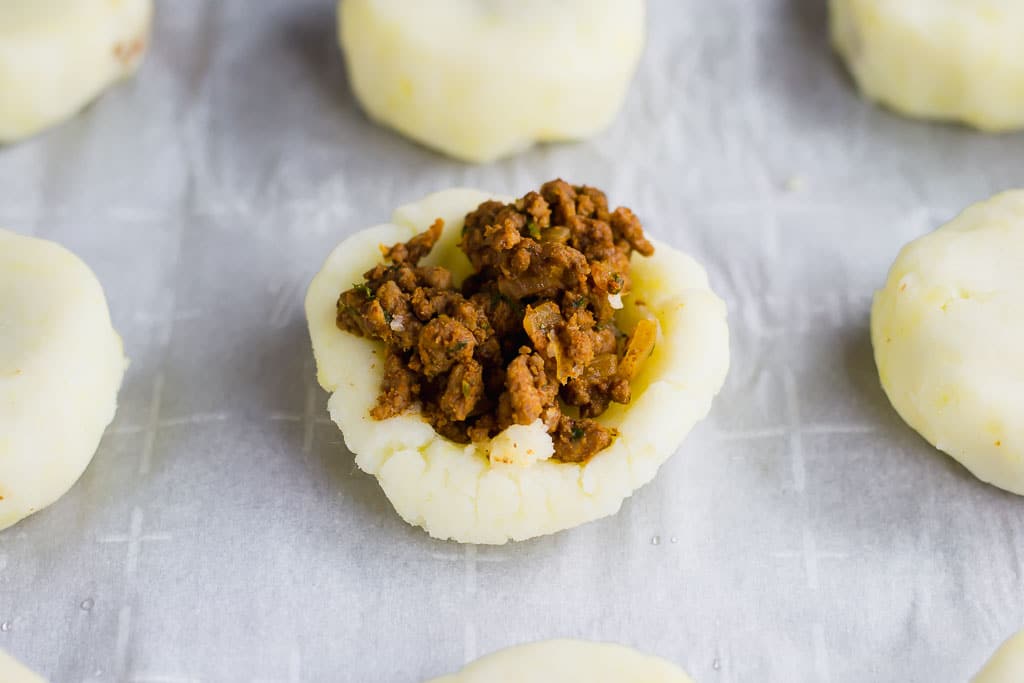 You want the mashed potato mixture to be a bit stiffer than you would a normal mashed potato mixture so we aren't adding any butter or cream to it, which also helps this recipe be dairy-free. For double hold assurance, we also add cornstarch to the mashed potato mixture which really helps it hold it's shape around the ground beef. I found the best way to shape the mashed potatoes around the ground beef was to flatted out the mashed potato and create a little divot in the middle and add the cooked ground beef to the center. Then wrap the mashed potato around the ground beef. If there is any ground beef poking through, just patch that baby up with more mashed potato. Simple as that. Once you get through the first few you'll be a beef taco potato croquette rolling machine, so don't fret! This recipe is actually super simple and everything up to the frying can be done ahead of time making dinner or entertaining that much easier, too.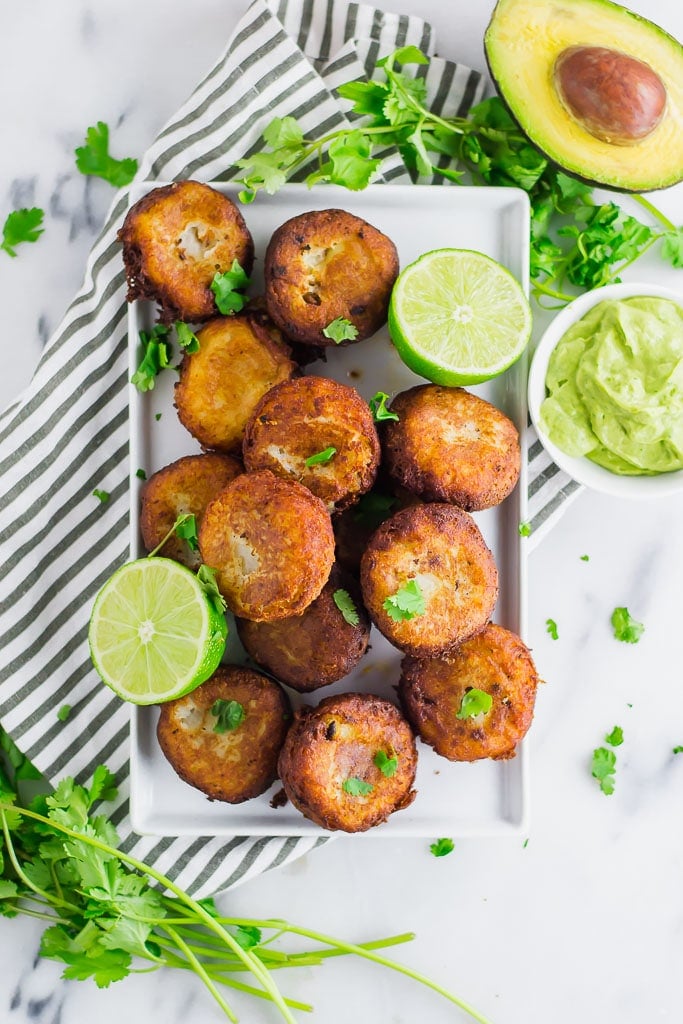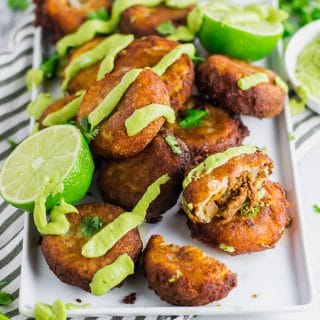 Beef Taco Potato Croquettes
Creamy mashed potatoes stuffed with taco seasoned ground beef, fried to crisp perfection and topped with a creamy avocado lime sauce.
Print
Pin
Rate
Ingredients
Potato Dough:
2

lbs

white potatoes

(about 5 medium potatoes, peeled and cut into 1 inch cubes)

2

tablespoons

corn starch

1

teaspoon

salt
Ground Beef Filling:
1

lb

ground beef

2

tablespoons

tomato paste

1

cup

yellow onion

(chopped (about 1/2 medium onion))

2

teaspoons

chili powder

1

teaspoon

ground cumin

1/2

teaspoon

garlic powder

1/2

teaspoon

salt

1/4

teaspoon

cayenne pepper

1/2

cup

water

2

tablespoons

fresh cilantro

(chopped)
Avocado Crema:
1

avocado

(skinned and pit removed)

1/2

cup

fresh cilantro

(loosely packed)

2

tablespoons

lime juice

1/2

teaspoon

ground cumin

1/2

teaspoon

garlic powder

1/2

teaspoon

salt

1/4

cup

water

(may need up to 1/2 cup water)
For the Croquettes
2

cups

oil

(for frying)

1/4

cup

chopped cilantro

(for serving)

1

tsp

fresh lime juice

(for serving)
Instructions
Put the cubed potatoes into a large pot, and cover with cold water. Bring to a boil over medium-high heat and cook until the potatoes are tender, about 20 minutes. Drain and allow to cool. Once cooled, mash the potatoes with a fork and combine with salt and cornstarch and mix thoroughly. Set aside while ground beef is prepared.

While potatoes are cooking, make the ground beef. Heat a large skillet over medium high heat. Add the ground beef and break up into small pieces with a wooden spoon or spatula as it cooks. Cook, stirring occasionally, for 7-10 minutes, until beef is browned and cooked through. Drain and discard any excess grease/fat. Add tomato paste, spices and water and stir to combine. Allow to simmer for about 5 minutes, until beef has absorbed the moisture from the water. Set aside to cool.

To make avocado crema, combine avocado, cilantro, lime juice, cumin, garlic, salt and water in a high powdered blender or food processor. Blend to combine. Add more water to thin out the sauce if needed.

To assemble the croquettes, scoop out a golf ball size piece of potato dough, about 2 tablespoons worth, and flatten with the palms of your hands. Make a well in the center and add one tablespoon of the ground beef. Wrap the dough around the beef and lightly flatten it into a disk shaped patty. Set aside on a baking sheet. Repeat with remaining potato dough and ground beef.

Add 1-2 cups of oil to a heavy bottomed pot or high sided skillet. You'll want there to be about 1/2 inch of oil in the pan so adjust the amount of oil accordingly. Heat the oil to 350F. Add 3-4 potato croquettes to the skillet at a time, being sure not to crowd the skillet. Fry for 2 minutes on each side and carefully remove with a slotted spoon or spider skimmer (my fave!)

Serve warm with the avocado crema, some chopped cilantro and a squeeze of lime juice.
Nutrition
Calories:
172
kcal
|
Carbohydrates:
11
g
|
Protein:
7
g
|
Fat:
11
g
|
Saturated Fat:
2
g
|
Cholesterol:
21
mg
|
Sodium:
360
mg
|
Potassium:
443
mg
|
Fiber:
2
g
|
Vitamin A:
205
IU
|
Vitamin C:
10.4
mg
|
Calcium:
31
mg
|
Iron:
2.9
mg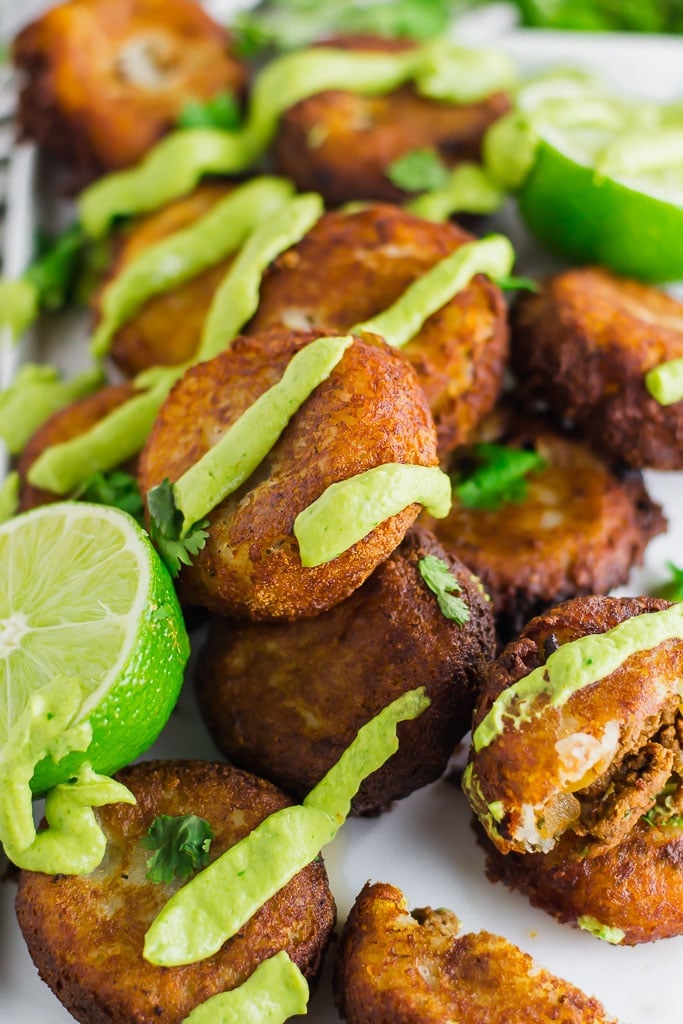 I was selected for this opportunity as a member of CLEVER and the content and opinions expressed here are all my own.