Last Updated on
This apple guacamole recipe is perfect for fall potlucks or sitting in front of the TV on football game days. Apple adds a tart, crunchy element to your typical guacamole. Serve it with gluten-free tortilla chips or even some fresh veggies!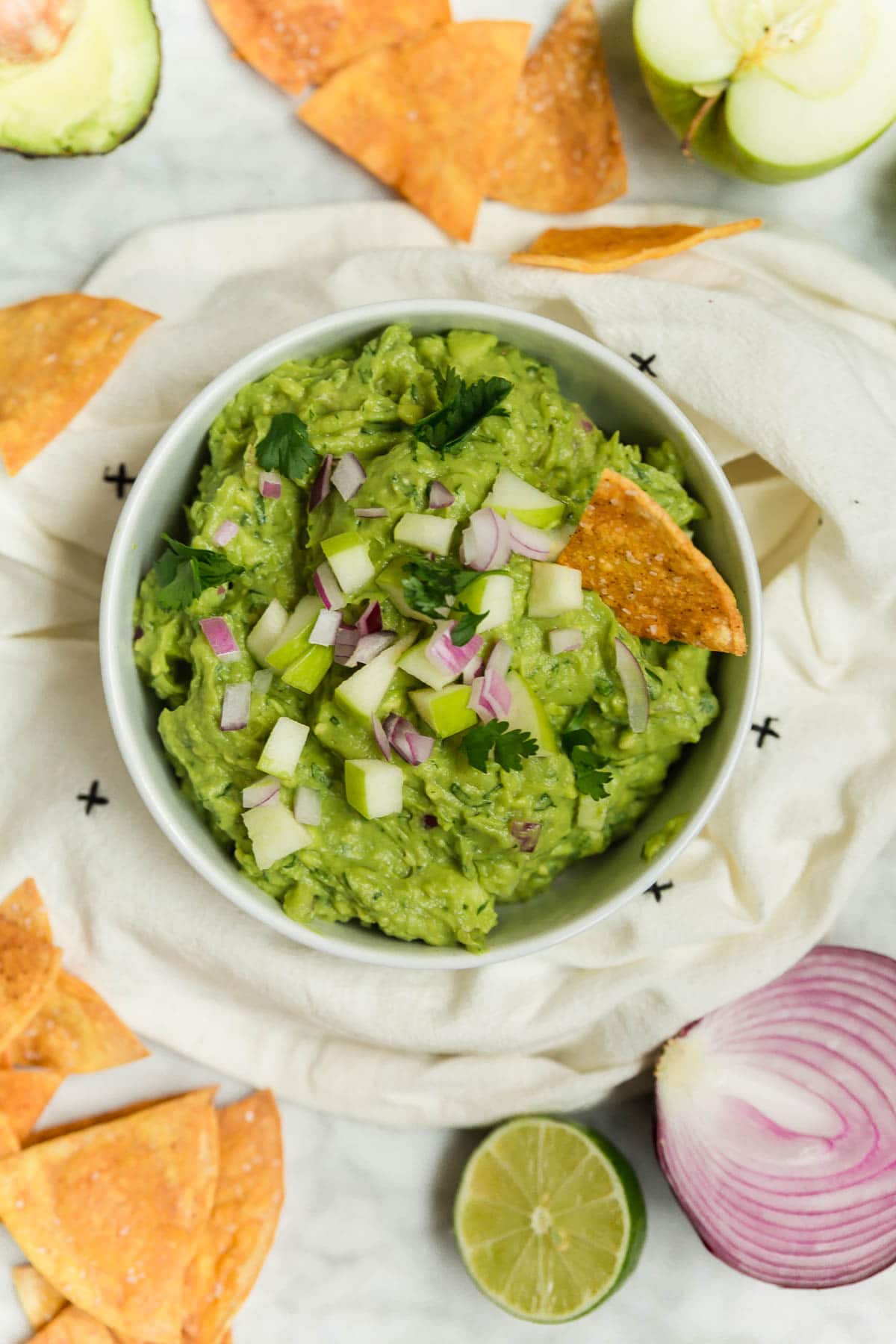 Happy National Guacamole Day everyone! Did you know there's a National holiday for seriously almost everything? Like really. National Felt Hat Day also is today. So is National Play-Doh Day and National Cinnamon Roll Day (now that I can get behind!) I'm not sure how it happened but we got to talking about all of the national days at work a few months ago and what stemmed from that conversation is that I ended up making a "National Day Calendar" for my coworkers so we would never have to miss a National Pantyhose Day again! (Seriously, what a bummer it was to miss that one!)
While I do find these days kind of silly, they are also kind of fun. The ones I tend to end up celebrating obviously involve food. So when, National Guacamole Day rolled around, there was no chance I was missing it! Since we're on the verge of summer and fall I am seriously craving some fall recipes but also don't want to go full blown pumpkin on you just yet. Apple, however, seemed like a safe bet! So I introduce to you the apple guacamole!
I got a few scrunched up faces when I was telling some people about my apple guacamole idea. But really, you shouldn't be nervous because you'll be surprised how good this guacamole is! You've heard of guacamole filled with fruits, such as mango, pineapple and pomegranate. You've heard of guacamole filled with crunchy, fresh jicama. The apple is basically a mix of those two ideas.
It's slightly sweet and a little tart like the fruits so often used in guacamole, and crunchy and refreshing just like jicama. Makes sense right? Do we feel better about apple guacamole now? Good. Because you should be making this all season long for get togethers and parties! People will be so surprised you put apple in your guacamole, you'll be the star of the show! See, I do these crazy things for you people! 😉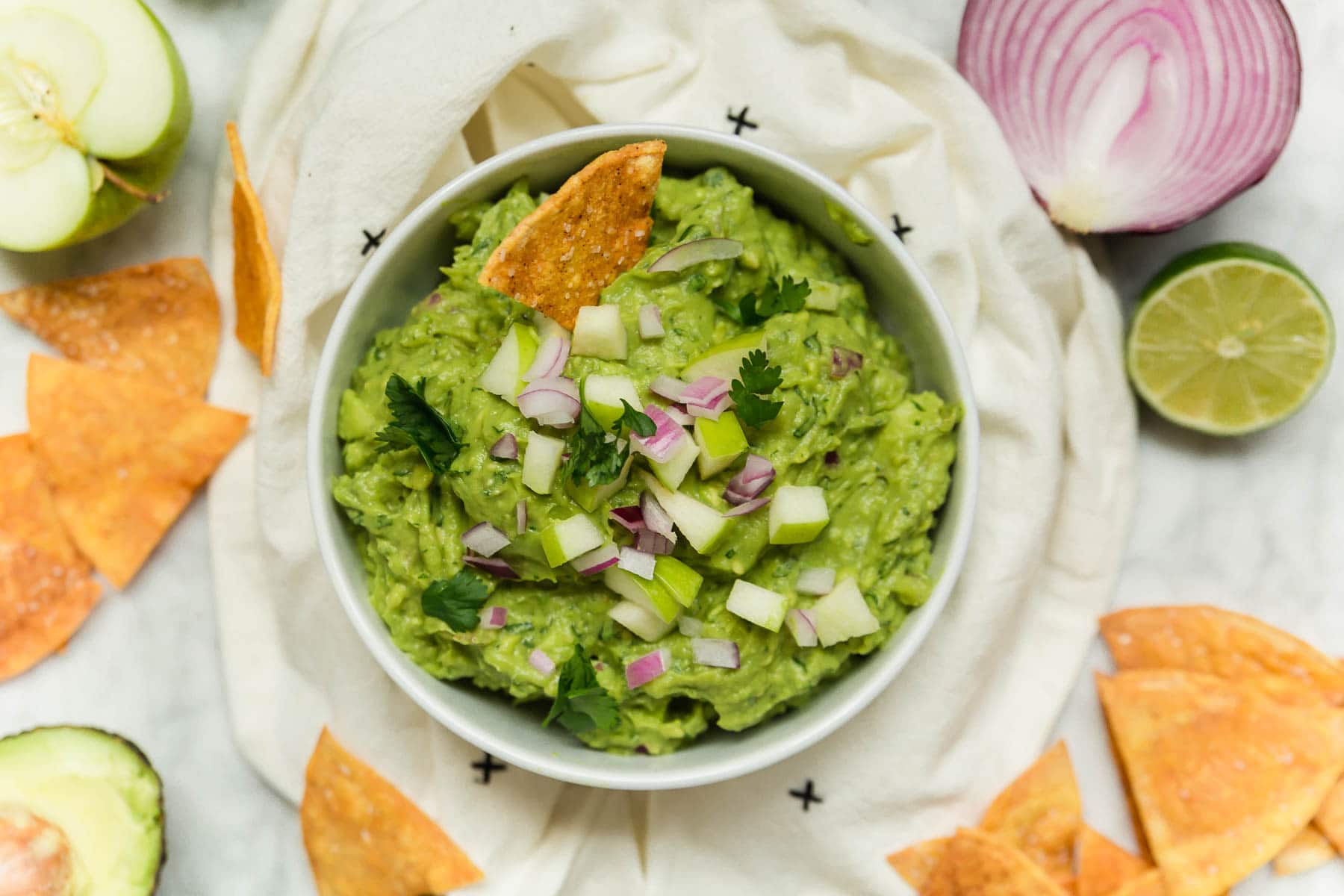 Tips for Making Apple Guacamole
Use a tart and crisp apple, like granny smith, for this recipe. You don't want to use an apple that's meant for baking, they'll be much too mushy.
Mash your avocados with the back of a fork or with a potato masher before adding in the rest of the ingredients.
Taste and add additional lime juice or salt if necessary.
Sprinkle some chopped granny smith apples on top of the guacamole before serving. It helps people know about the little surprise in the guacamole and it looks really pretty!
Serve this apple guacamole with baked tortilla chips or fresh vegetables, like carrots, snap peas, and cucumber!
Try These Other Guacamole Recipes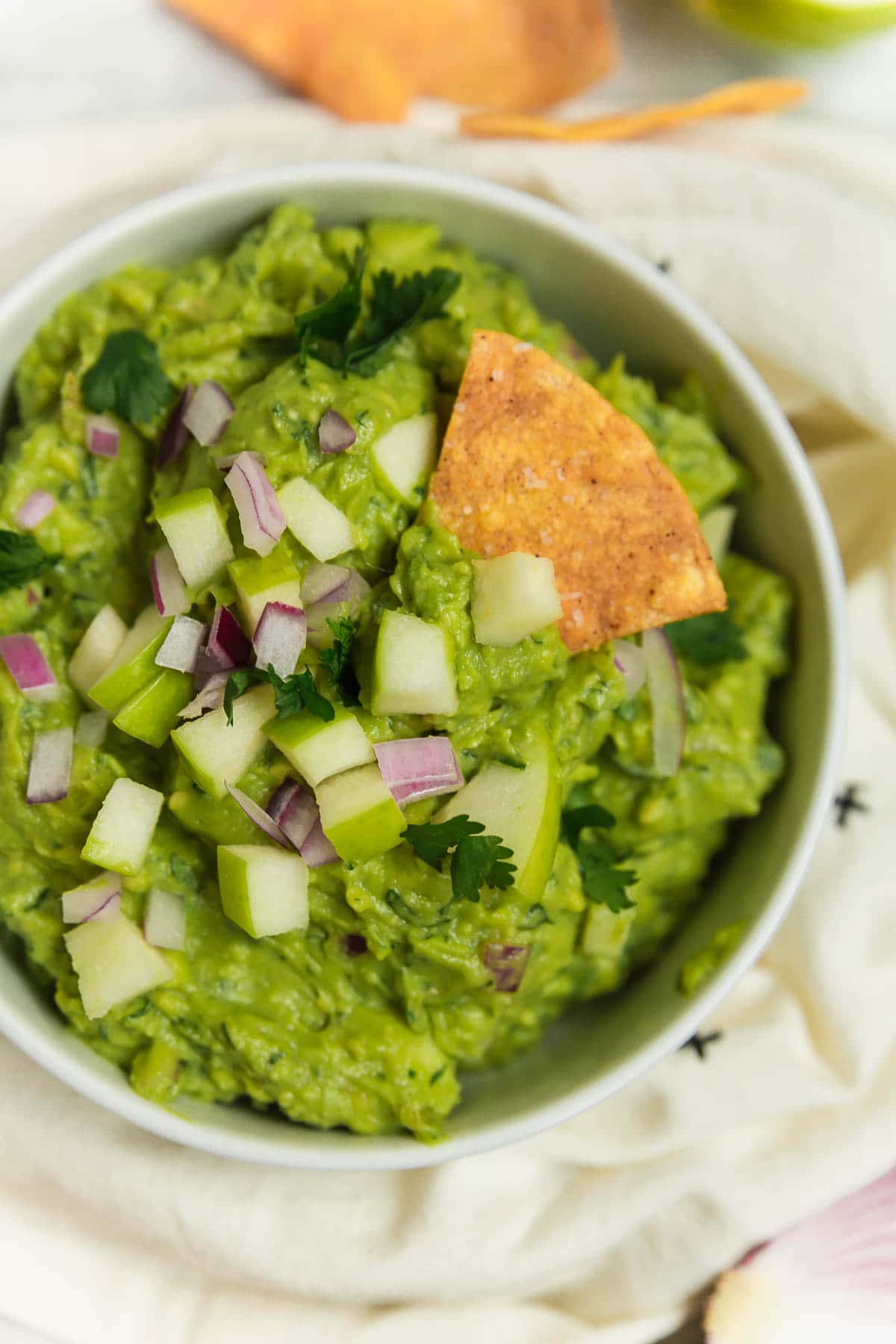 Apple Guacamole Recipe
Apple guacamole is a great Fall dip recipe perfect for potlucks and entertaining. Sweet, tart, crunchy granny smith apples pair so well with creamy guacamole. Serve with some baked tortilla chips or fresh veggies for an appetizer. You can also top this apple guacamole on some pulled pork tacos!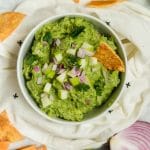 Print Recipe
Apple Guacamole
If you haven't tried apple in your guacamole before, you're in for a real treat! This apple guacamole is sweet, tart and crunchy from the apple. It's perfect for Fall potlucks and entertaining. Just serve this gluten-free, dairy-free, and vegan dip with your favorite tortilla chips or fresh vegetables for dipping!
Ingredients
3

ripe avocados

pitted and flesh removed

3/4

cup

green apple

diced (about 1/2 large green apple)

1/4

cup

cilantro

chopped

1/2

jalapeño

small dice

1

tbsp

lime juice

1/4

cup

red onion

small dice

1

tsp

kosher salt
Instructions
In a bowl, mash the avocados with the back of a fork.

Stir in the apple, cilantro, jalapeño, lime juice, red onion and salt.

Refrigerate until ready to serve.
Nutrition
Calories:
177
kcal
|
Carbohydrates:
13
g
|
Protein:
2
g
|
Fat:
14
g
|
Saturated Fat:
2
g
|
Sodium:
395
mg
|
Potassium:
519
mg
|
Fiber:
7
g
|
Sugar:
3
g
|
Vitamin A:
220
IU
|
Vitamin C:
13.7
mg
|
Calcium:
14
mg
|
Iron:
0.6
mg