Slow Cooker Sweet Potato Turkey Chili
This slow cooker sweet potato turkey chili is so comforting and hearty. It's filled with tender sweet potatoes, lean ground turkey, black beans and tons of flavor! It's naturally gluten-free and dairy-free, too!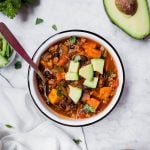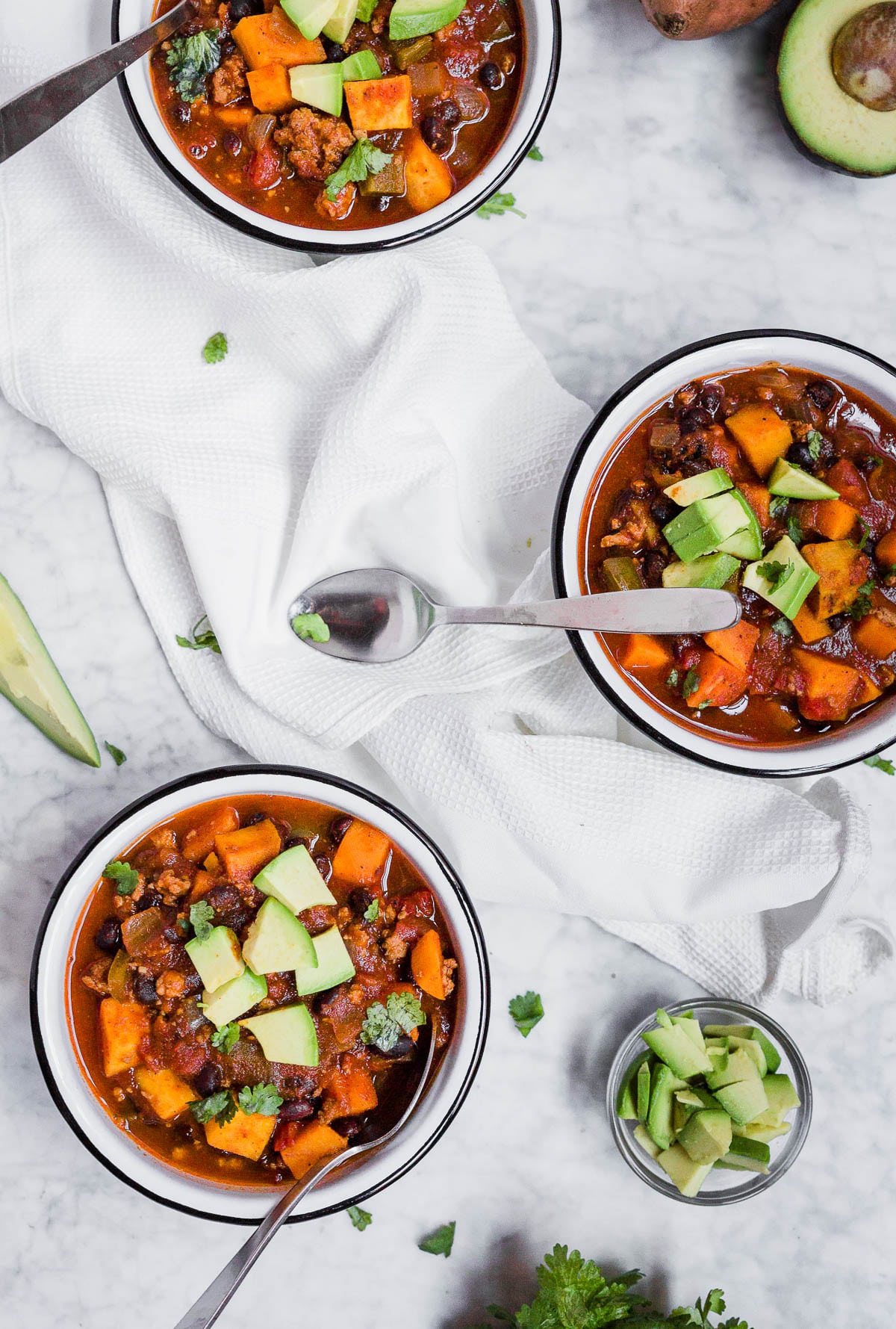 You'll want to grab a big bowl and spoon for this slow cooker sweet potato turkey chili. It's hearty and comforting and filled to the brim with sweet potatoes, turkey, black beans and tons of flavor.
Naturally gluten-free and dairy-free, you'll love making this simple turkey chili for meal preparation or easy weeknight dinners. Let it cook in the slow cooker all day and waft up the pleasant aromas as your chili cooks.
Can you believe Fall is just right around the corner? It's almost here!
If you know me, then you know Fall is my favorite season of all time. Is it the cool crisp air, the cozy sweaters, the abundance of pumpkin and apples? Well… yes. BUT even more so, it's the start of soup, stew and chili season!
Is there anything more comforting than a big bowl of warm chili? I didn't think so.
This slow cooker sweet potato turkey chili is all that and more. I know everyone is in love with their Instant Pots but I'm still giving my Crock Pot a whole lot of love. The smell of chili cooking all day long on a Sunday while I'm relaxing to get ready for the week? YES PLEASE!
I love making chili for the week for easy lunches and dinners – it's great for meal prep! Chili tastes great for leftovers… some would even say it tastes better the next day after it's gotten a chance to sit in the refrigerator a bit and let those flavors meld. Plus, pair this sweet potato chili with some of these Gluten Free Biscuits – they taste so good dunked in the chili!
I'm always trying different types of chili recipes from my quick and easy beef chili to my apple cider pumpkin turkey chili. I knew for this chili I wanted to use ground turkey instead of beef and make it slightly more healthy by adding in some sweet potatoes.
These sweet potatoes are great in this recipe for a few reasons. Sweet potatoes help bulk up the chili without being expensive. Ground meat is kind of expensive! So by adding beans and sweet potatoes, I can stretch my turkey chili into more meals without paying a pretty penny. Sweet potatoes are pretty inexpensive, especially this time of year, so I always like to keep them on hand.
Plus, the sweetness from the sweet potato pairs so well with the spices in this recipe. It still has a bit of a kick, but the sweet potato rounds it out perfectly!
Why You Should Brown Your Ground Turkey
So I'm on team brown your ground turkey meat before adding it to a slow cooker.
I know it feels like an extra step (well because it is), but I think it's an important one. Since we're using a leaner meat, like ground turkey, you want to give your chili the most flavor as possible. Browning the turkey does just that. It adds flavor!
I also like to precook my onions and garlic a bit which add even more flavor. Plus the aroma… nothing beats it!
Also, I'm a little crazy about meat and making sure it's safe and cooked properly. Due to my celiac disease and other autoimmune disorders, my immune system is compromised which makes me overly cautious at times about sanitation and food safety. Plus, it was heavily stressed during my time in culinary school… so I have to use that knowledge right?
A slow cooker is just that… a slow cooker. If you put the turkey into the Crock Pot raw, there's a chance it will not get up to the correct temperature within 1-2 hours of setting your slow cooker, resulting in meat that is not safe for consuming.
Now… is this likely? No. But, if you've overloaded your slow cooker, it may take longer for the cooking process to begin. So I like to play it on the safe side.
Recap for the skimmers: Do you technically need to brown your turkey? Probably not. Would I? YES.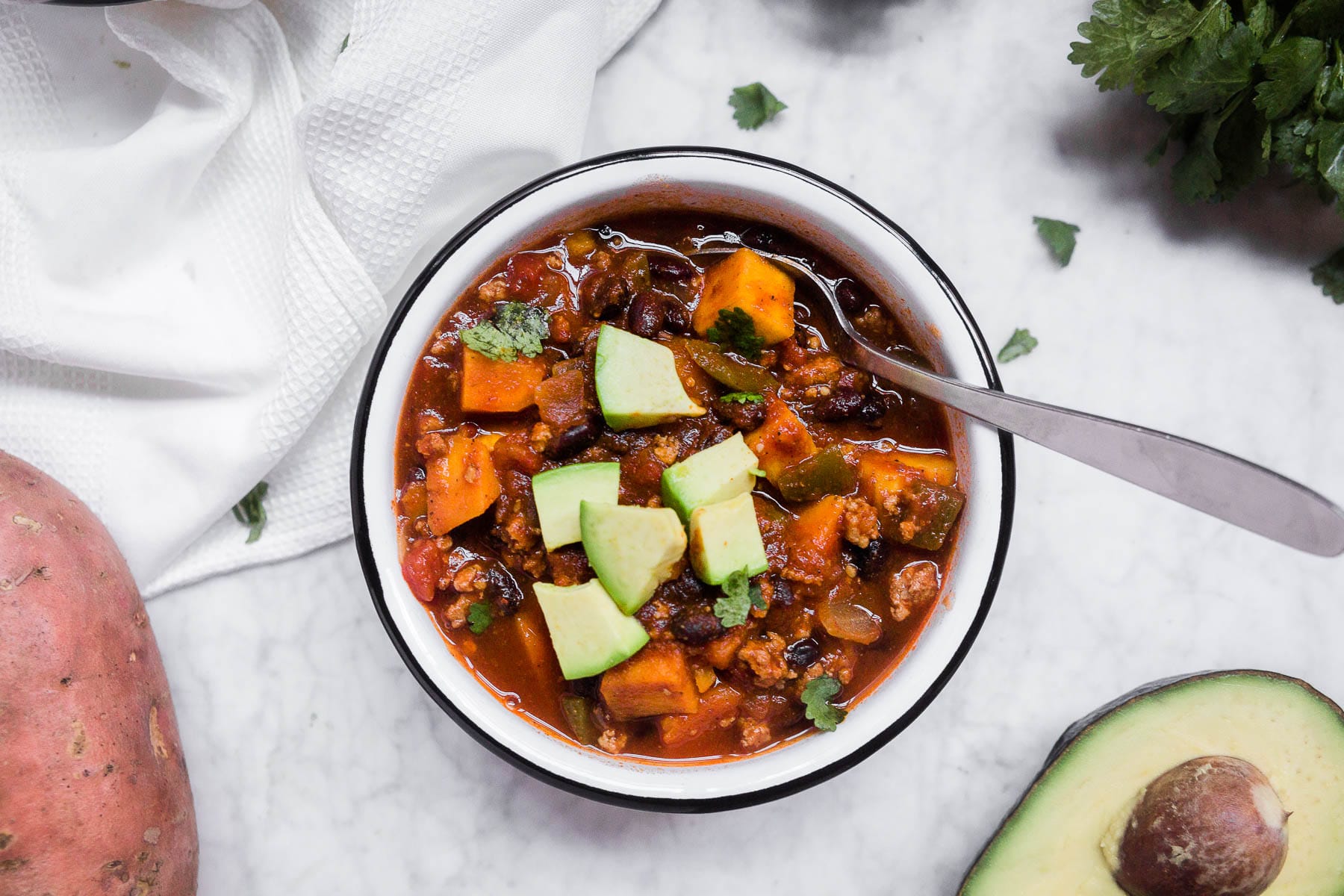 Tips for Making Slow Cooker Sweet Potato Turkey Chili
You want to make sure that the sweet potatoes are tender by the time your chili has finished cooking in the slow cooker. Cut your sweet potatoes in bite sized pieces, about 1/2 inch cubes, to ensure they are cooked through.
You can easily swap in ground beef for the ground turkey in this recipe.
If you aren't up for a little kick from the spices, omit the cayenne pepper.
No Crock Pot? Make this recipe on the stove top. Continue using a large pot on the stove after browning the meat and cooking the onions and garlic. Add the sweet potato and cook for 5-10 minutes. Add the rest of the ingredients and let simmer on the stove for at least an hour to develop flavors and until the sweet potatoes are tender.
What To Serve with Chili
What's the second best part about chili? The toppings! I love topping my sweet potato turkey chili with green onion, guacamole or avocado, and my favorite… Fritos. Yes, I said Fritos. They're salty, crunchy, and gluten-free! Sour cream or greek yogurt and shredded cheddar cheese also make terrific toppers.
If you're wanting some cornbread to soak up that chili, try my Gluten-Free Vegan Sweet Potato Cornbread Muffins to keep the sweet potato party going. It's a great way to use up extra sweet potatoes, too. For a more traditional cornbread, try My Gluten Free Kitchen's sweet cornbread!
I have a bit of a secret when it comes to guacamole. Sometimes I'm a bit lazy and I make this Lazy Girl Guacamole because it only requires two ingredients. It's a bit of a cheat, but it gets the job done and I'm okay with that!
If tortilla chips are more your thing… my baked chili lime tortilla chips are the bomb dot com and so simple to make with leftover corn tortillas (which make them naturally gluten-free!). Potatoes and chili go hand in hand (clearly since we have sweet potatoes IN this chilli), but throw some of What The Fork's homemade gluten-free tater tots on top of this sweet potato turkey chili.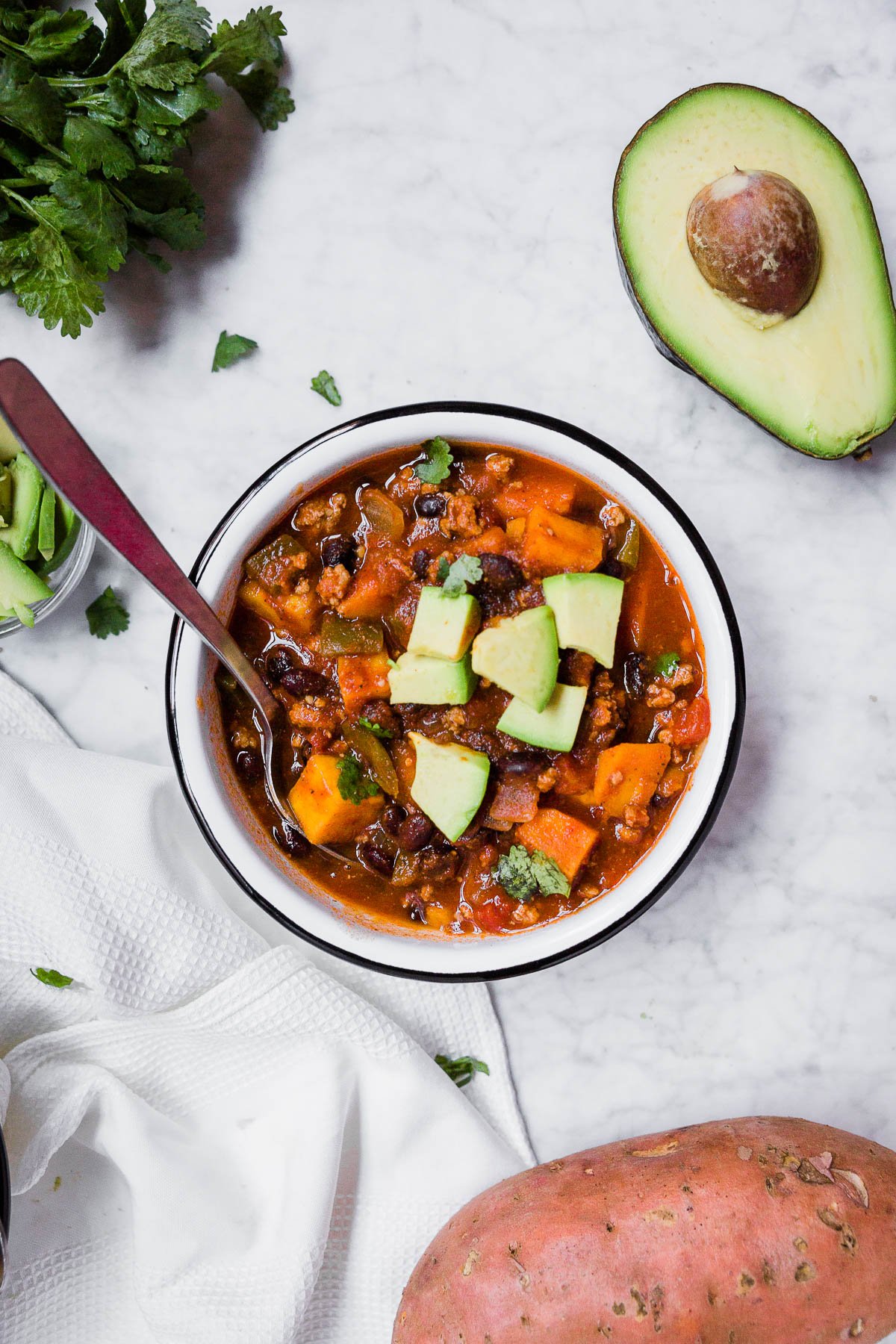 Have leftover ground turkey? Use it up in these gluten free turkey recipes!
Crazy for crock pot? Try these gluten free slow cooker recipes!
Slow Cooker Pineapple Pork Lettuce Wraps
Slow Cooker Vegetable Minestrone Soup
How to Make Slow Cooker Sweet Potato Turkey Chili
Let the Crock Pot do the work with this slow cooker sweet potato turkey chili. Just quickly brown your ground turkey, onions and garlic and toss it into the slow cooker with the rest of your ingredients – bell peppers, sweet potatoes, tomatoes, blacks beans, and spices. Set it and forget it until you have a tender sweet potato and a flavorful chili. It's that simple! Plus, it's naturally gluten-free and dairy-free, too.
Slow Cooker Sweet Potato Turkey Chili
This slow cooker sweet potato turkey chili is so comforting and hearty. It's filled with tender sweet potatoes, lean ground turkey, black beans and tons of flavor! It's naturally gluten-free and dairy-free, too!
Print
Pin
Rate
Ingredients
1

lb

ground turkey

1

tablespoon

olive oil or avocado oil

1 + 1/2

cups

onion

(diced (about 1 onion))

2

cloves

garlic

(minced)

1

cup

green bell pepper

(diced (about 1 bell pepper))

5

cups

sweet potatoes

(peeled and cubed (about 2 large sweet potatoes))

30

oz

canned tomato sauce

16

oz

canned diced tomatoes

30

oz

(2 cans) black beans

(drained and rinsed)

1

tablespoon

chili powder

1

tablespoon

cumin

1

teaspoon

salt

1

teaspoon

ground black pepper

1/2

teaspoon

cayenne pepper

1/2

teaspoon

paprika
Instructions
In a skillet over medium high, heat oil. Add ground turkey and cook unill browned, about 5-7 minutes.

Add the diced onion to the skillet and cook for 3-5 minutes, until softened. Stir in minced garlic and cook an additional minute.

Add turkey, onion and garlic to the slow cooker. Then add remaining ingredients. Stir to combine.

Cook in the slow cooker on low for 4-6 hours, stirring occasionally until the chili is hot and the sweet potato is tender. Taste and adjust any seasonings as needed.
Nutrition
Calories:
350
kcal
|
Carbohydrates:
55
g
|
Protein:
27
g
|
Fat:
4
g
|
Saturated Fat:
1
g
|
Cholesterol:
31
mg
|
Sodium:
1024
mg
|
Potassium:
1393
mg
|
Fiber:
15
g
|
Sugar:
11
g
|
Vitamin A:
12829
IU
|
Vitamin C:
32
mg
|
Calcium:
107
mg
|
Iron:
6
mg
I'm Megan
A gluten-free food blogger from Chicago and lover of all things food, showing you gluten-free can be easy and delicious, too. Let's make gluten-free stress free together! Read more…