Two of fall's greatest flavors come together for this pumpkin apple cider turkey chili. A little touch of sweetness makes this chili super delicious. You'll love how quickly this meal comes together in under an hour and that it's gluten-free and dairy-free!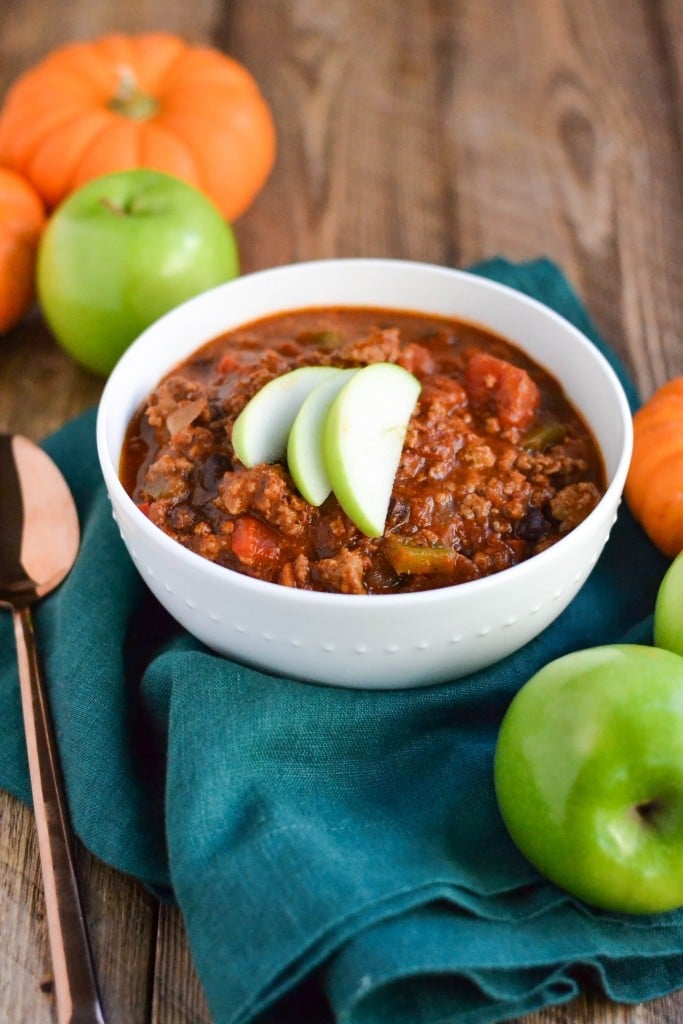 So… I may have gone a little pumpkin and apple crazy lately. Just a little. Ok, maybe a lot.
Literally EVERYTHING I've made this month has pumpkin or apple in it for breakfast, lunch and dinner. No joke. I've been having a great time making homemade vegan caramel at home and adding various spices and then topping my frozen gluten-free cinnamon apple waffles with sauteed apples, pumpkin spice candied almonds and the lovely caramel drizzle almost on the daily and posting them to Instagram of course. Then, I've made apple turkey breakfast sausage patties (recipe coming soon!) and I've added apple cider to literally anything in the crockpot (hellloooo pork and apples am i right?). I've pumpkin-ed up my oatmeal in the morning with pumpkin puree and pumpkin pie spice and then added diced granny smith apples just to keep the pumpkin and apple dynamic going. Let's just say, I've been doing fall recipes right this season!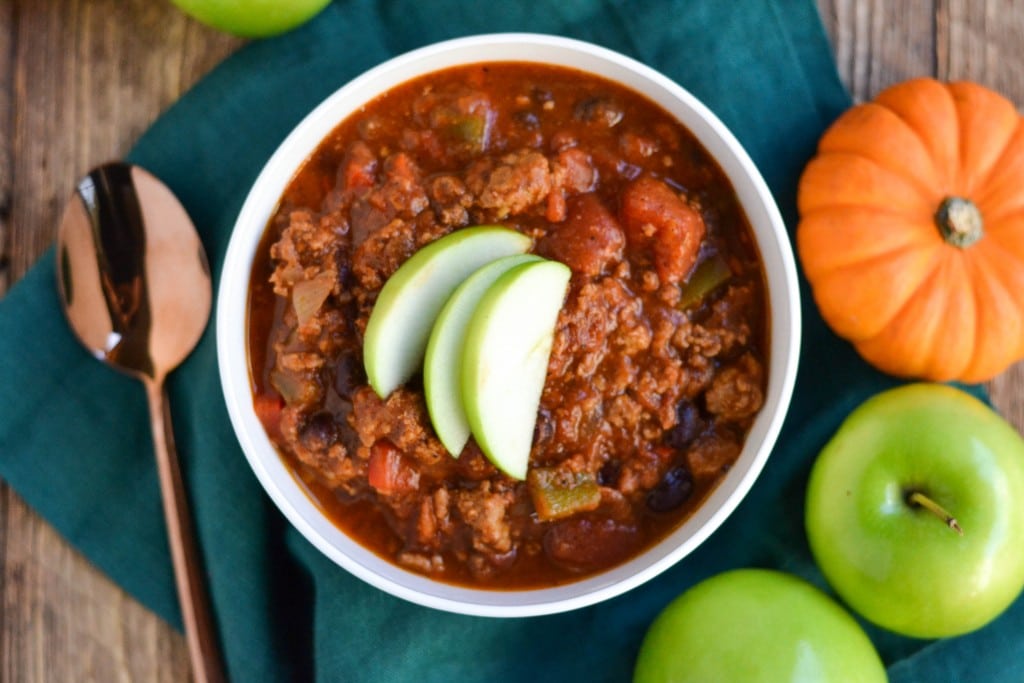 Well the pumpkin and apple train isn't stopping anytime soon so hop on board. Because today, I'm sharing with you this super delicious pumpkin apple cider turkey chili. The pumpkin and apple cider give this turkey chili a little touch of sweetness and a whole lot of coziness. The apple cider just gives this chili an extra flavor that you won't necessarily know how to place but it really just works with the turkey and pumpkin in this recipe. There's definitely still some heat in the chili from all the spices so don't go around thinking this is a dessert chili – far from it! This pumpkin apple cider turkey chili is hearty, just like I like it. I love adding some tortilla chips or Frito's (I'm a bit obsessed with Frito's) over the top for some added saltiness and crunch. This chili also is great over a baked sweet potato or on some sweet potato toast. The serving possibilities are endless!
If you aren't as huge of an apple or pumpkin fan as I am, bare with me the next few weeks. I do have some non-pumpkin and apple recipes coming for you! In the meantime, give this pumpkin apple cider turkey chili a try! I think you'll love it!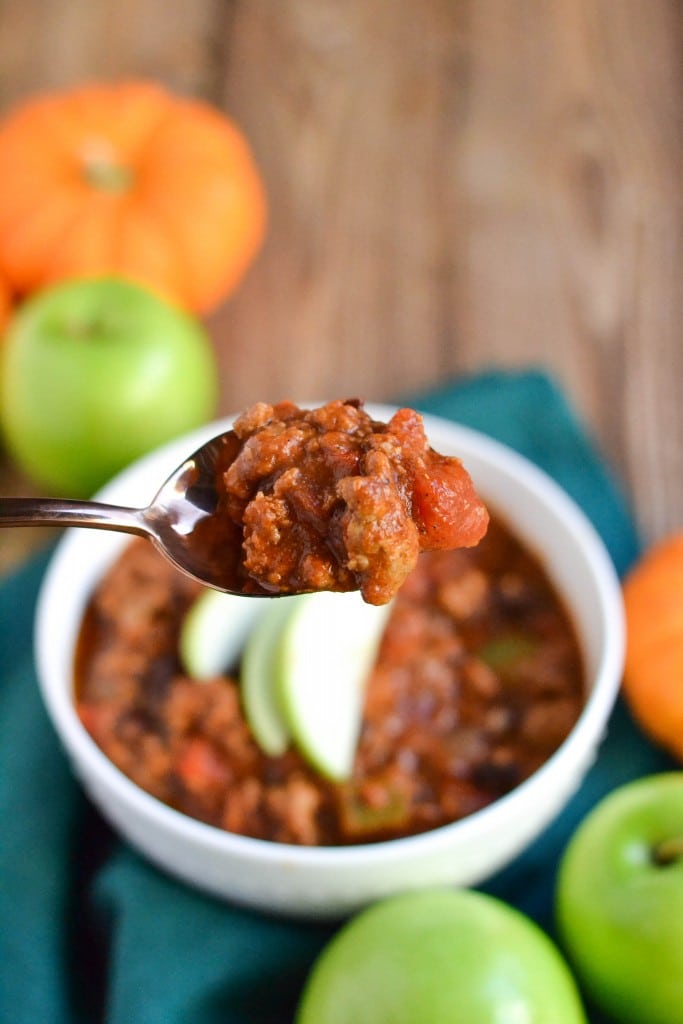 Pumpkin Apple Cider Turkey Chili
Prep time:
Cook time:
Total time:
Ingredients
1 tbsp oil
1 onion, chopped
2 cloves garlic, minced
1 green bell pepper
1 red bell pepper
2 lbs ground turkey
1 cup apple cider
1 15 oz black beans
1 16 oz can pumpkin puree
16 oz. diced tomatoes
1 16 oz can crushed tomatoes
1 tbsp chili powder
1 tbsp cinnamon
1 tbsp cumin
½ tsp cayenne
1 tsp salt
1 tsp ground pepper
½ tsp paprika
green apple slices, for serving (optional)
Instructions
In a large pot over medium high heat, add the oil to the pan. Cook the onions and bell peppers for 5-7 minutes, until translucent. Add the garlic and cook for an additional minute, stirring often to not burn the garlic.
Add the turkey and cook until the turkey crumbles and no pink remains.
Add the apple cider, beans, pumpkin puree, diced tomatoes, crushed tomatoes, and spices Stir to combine.
Cover with a lid and simmer for 30 minutes.
Serve with sliced green apples.