You'd never guess how easy it is to make your own breakfast sausage.These apple turkey breakfast sausage patties will make you excited for breakfast each morning. I love knowing exactly what is in my breakfast sausage and that they are gluten-free and dairy-free. I bet you'll love them too!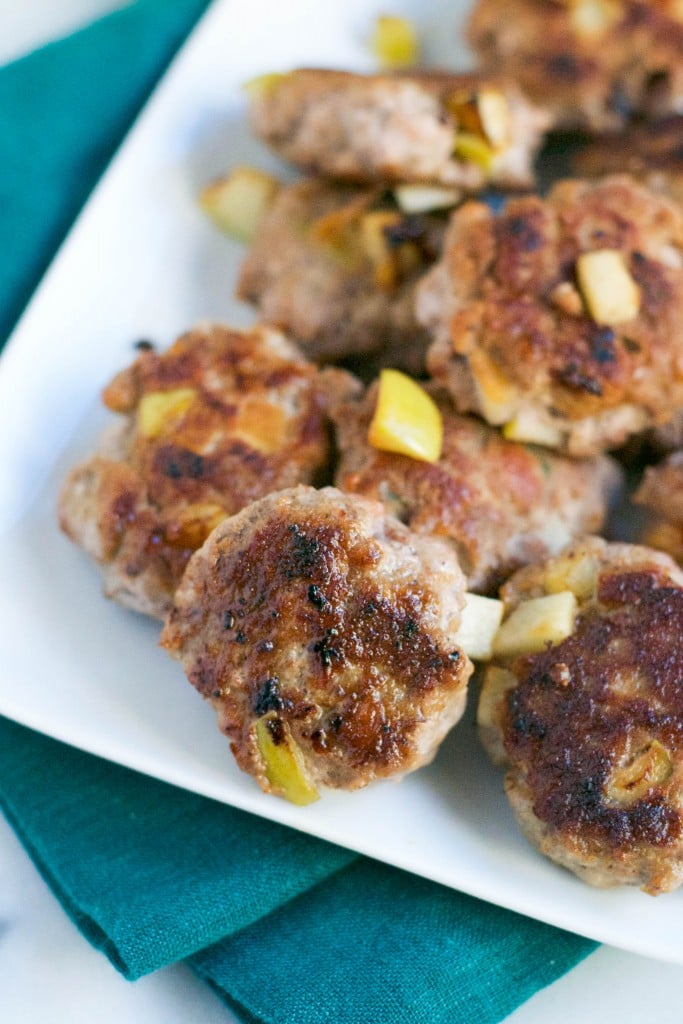 I'm a big fan of making my own sausage. I even have a meat grinder and sausage caser in my kitchen (what kitchen gadget don't I have?). But I don't always feel like going through the motions of making tons of sausage links – it takes time. Instead, sometimes – most of the time – I like quick and easy. Stir everything in a bowl and fry in a pan kind of easy. Difficult recipes aren't for mornings anyways, are they? Nope. I thought not.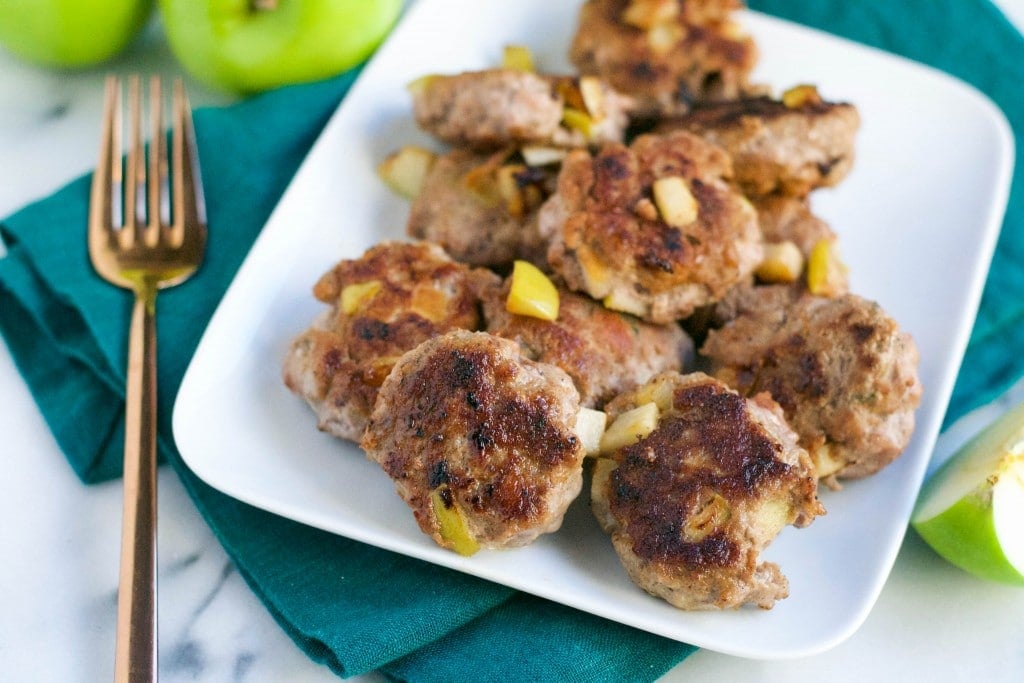 No, this apple turkey breakfast sausage recipe is really easy. We're going to make these little babies into patties for easy formation and cooking purposes. The process of grinding meat and stuffing them into sausage casing for the perfect links still has a time and place, don't get me wrong. But for easy fall mornings this is my go-to. We've done this once before with my blueberry turkey breakfast sausages which had the most delicious jam-like taste in every bite. So when I found myself with extra ground turkey from my pumpkin apple cider turkey chili, I figured why not do an apple version of those delicious blueberry ones? I changed up some spices and here we are! Perfect apple-y goodness in every bite.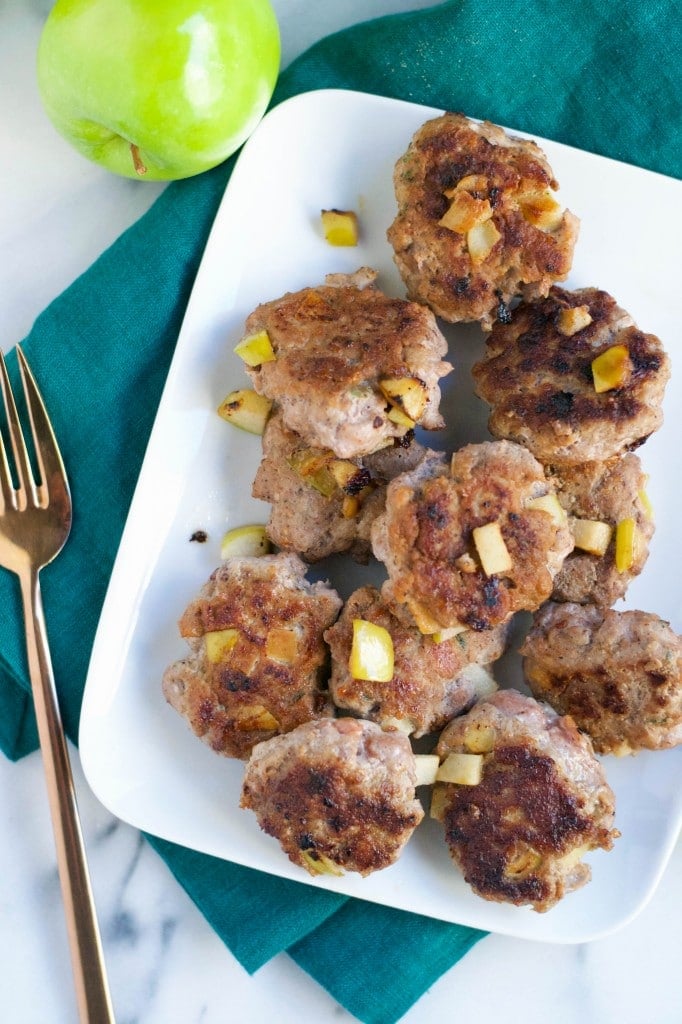 I cut the apples rather large because I LOVE big chunks of apple, but you can always cut them smaller if  you'd like. As written, the apples sometimes fall out of the sausage while they're cooking BUT that's okay! I kind of like that in fact. Continue letting the apples cook in the pan and then spoon that sauteed apple deliciousness right over your cooked sausage patties – or right into your mouth. I don't judge. You'll love having these apple turkey breakfast sausage patties in the house so you can warm them up all week before work or as part of a brunch on the weekend. I frequently paired mine with caramel apple waffles for the ultimate fall meal!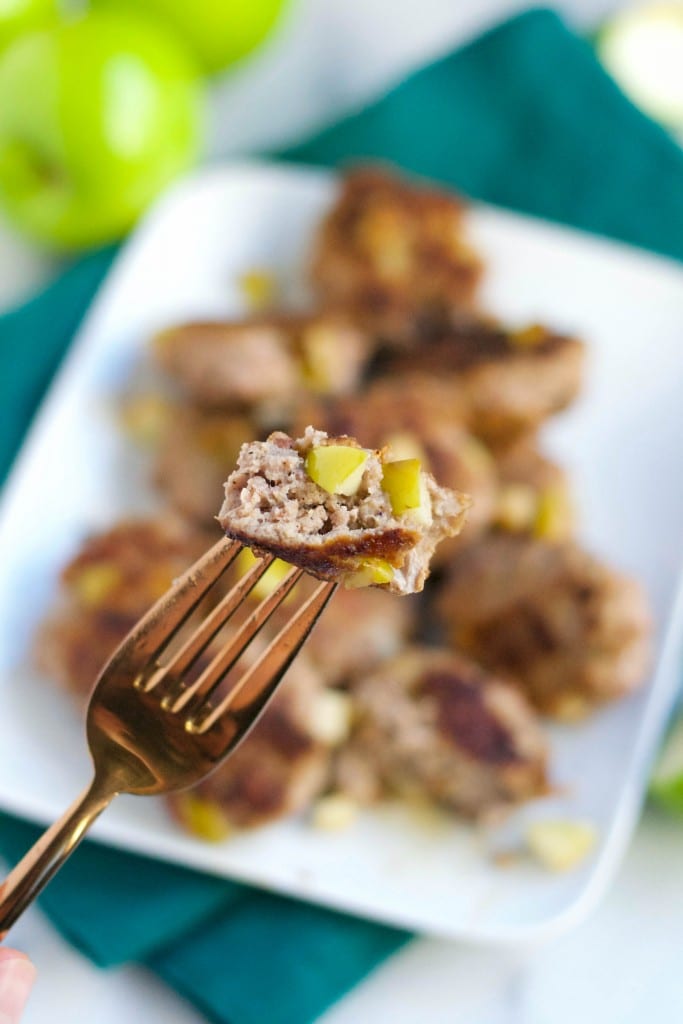 Apple Turkey Breakfast Sausage Patties
Prep time:
Cook time:
Total time:
Ingredients
1 lb ground turkey
1 granny smith apple, diced (1/2 cup)
1 tbsp fresh thyme
1 tsp salt
½ tsp pepper
½ tsp ground nutmeg
1 tsp ground cinnamon
1 tbsp maple syrup
1 tbsp oil
Instructions
In a large bowl, combine ground turkey, salt, pepper, thyme, cinnamon and nutmeg and mix until the spices are even dispersed throughout the turkey. Then stir in the maple syrup and granny smith apples.
Form into 8 to 10 patties.
Preheat a large skillet over medium high heat with the tablespoon of oil.
Place patties in the skillet in two batches, cooking for about 3-5 minutes on each side, until the patties are browned on each side, the center is cooked through and reaches an internal temperature of 165F.