Last Updated on
Are you looking for ways to make the middle of your week easier? This meal prep sheet pan roasted rainbow vegetables recipe is for you! These veggies make a great side dish for any meal and are a breeze to put together. Plus, it's a healthy way to get your veggies into your diet! Paleo, gluten-free, dairy-free, vegetarian and vegan!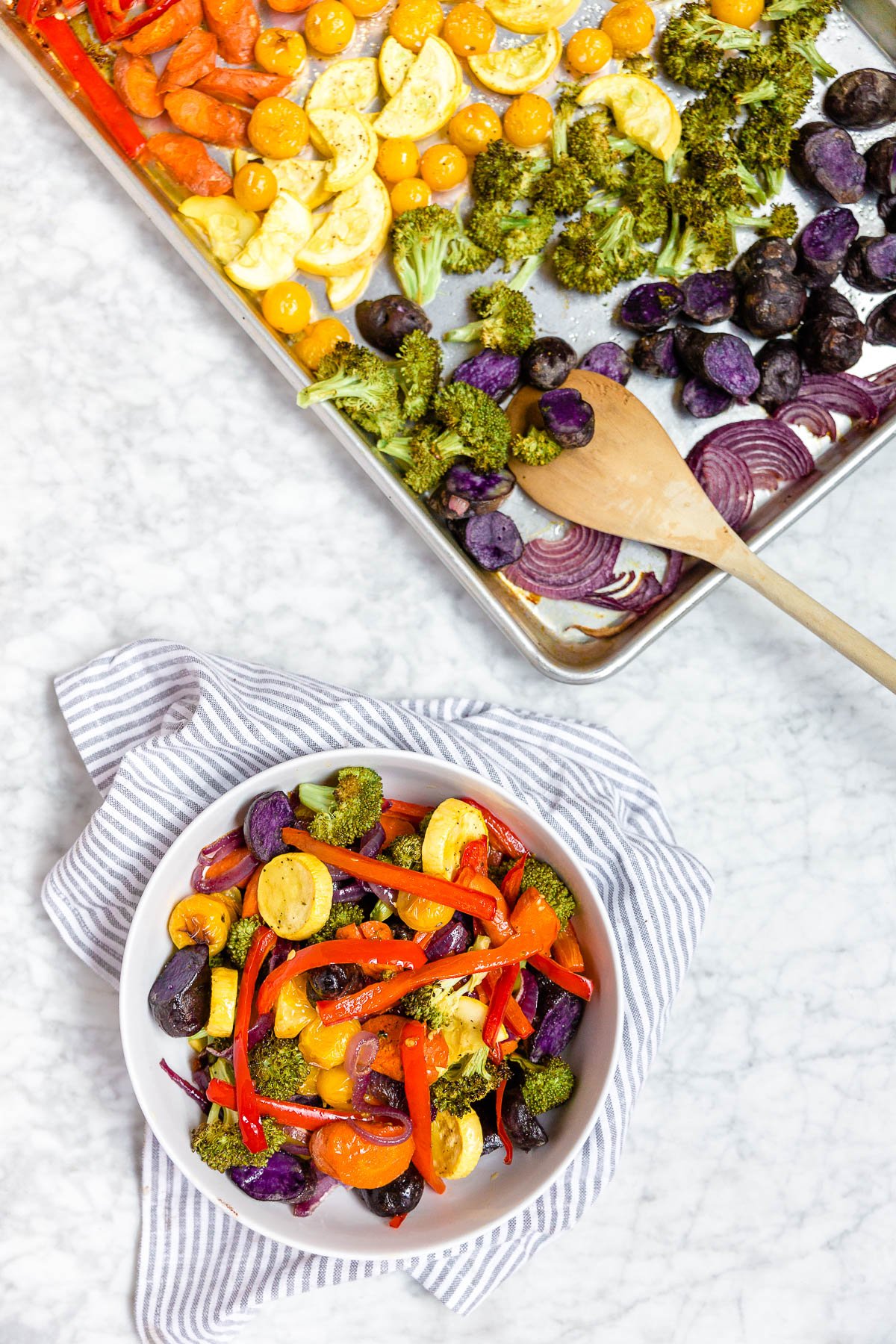 Do you meal prep? I'm a meal prepper. Always have been.
You see, I worked in accounting for the last six years and meal preparation was kind of a necessity. Long hours at work coupled with a celiac disease diagnosis meant I needed to make sure I had gluten-free food to eat on the ready.
Granted, when we were working crazy hours during tax season the company fed us dinner since we tended to be there until 9 or 10pm most days. Once I found out about my celiac disease and other food intolerances I always felt safer bringing along my own food.
Still, to this day, we meal prep in our house every Sunday. Though there are only two of us, prepping a few meals to bring along during the week for lunch or have at home for dinner makes the week so much easier. We just reheat and eat!
Especially on days where we get home from work after 6 or 7pm it makes dinner a breeze so we can have that time to unwind and relax instead.
I always get questions from friends about how to meal prep and my number one tip is to roast a bunch of veggies on a sheet pan for the week. Use whatever vegetables you want or have on hand. Just cut into bite sized pieces, toss in oil and seasonings and roast in the oven. Pair with your favorite protein – chicken sausage, fish, turkey burger, etc. and you have a healthy meal ready to go!
While this isn't as much of a recipe and instead is more of a how-to or method sharing for you all… I felt it was important to finally share it with you here!
I love this rainbow variety because it's so beautiful you can't help but eat your veggies! You always hear that you eat with your eyes and that statement could not be more TRUE!
If something is aesthetically pleasing I really think you will enjoy it so much more. When I cook, I try to add a mix of colors to my dishes to make them more appealing to the eye and the stomach. Plus, there are so many great vegetables in different colors to eat… so why not eat them all! In my mix I used bell peppers, carrots, squash, tomatoes, broccoli, purple potatoes and red onion. I tried to go for a mix of textures and flavors to create an optimal mix.
What Other Vegetables Can I Use for a Rainbow?
There are so many different colored vegetables that it was hard to pick for my meal prep sheet pan roasted rainbow vegetables. So pick your favorites!
Red – Red bell pepper, tomatoes, red potatoes
Orange – Carrots, sweet potatoes, orange bell pepper, butternut squash
Yellow -Squash, Yellow tomatoes, yellow bell pepper, corn, yellow onoin
Green – Broccoli, Brussels Sprouts, Kale, Green Beans, Asparagus, green bell pepper
Purple – purple potatoes, eggplant, purple carrots, purple cauliflower, purple cabbage, purple asparagus
Pink/Fushia – red onion, beets, radish, watermelon radish
Which vegetables would you choose for each color?
Meal prepping is one of my favorite ways to spend a Sunday morning to make sure I have easy and healthy meals throughout the week. This sheet pan roasted vegetable recipe is such a great way to eat your veggies!
Tips for Sheet Pan Roasted Vegetables
I've been making these meal prep sheet pan roasted rainbow vegetables for as long as I can remember. I've learned a few tips and tricks along the way that might help you out.
You can use whatever vegetables you prefer or have on hand, you can even add in some fruits, like apples, into the mix!
Always cut vegetables that take a little longer to cook, like carrots or sweet potatoes, smaller so that they cook in the same amount of time as the other vegetables. Vegetables like kale should be added towards the end of the cooking so they don't burn.
The cooking time shared below is a guideline. Start checking the vegetables at about 20 minutes in the oven and poke with a fork to see if they are tender.
Don't overcrowd the sheet pan, otherwise the vegetables won't get crispy. If need be, use two sheet pans.
Use aluminum foil or parchment paper for easy clean-up.
Other Gluten-Free Sheet Pan Meals You'll Love
Meal Prep Sheet Pan Roasted Rainbow Vegetables Recipe
Meal prep just got a whole lot easier and tastier with these roasted rainbow vegetables cooked right on a sheet pan! Aluminum foil or parchment paper make for easy clean-up! Just chop your favorite vegetables, toss in oil and spices, and roast. Pair with your favorite protein for a complete meal.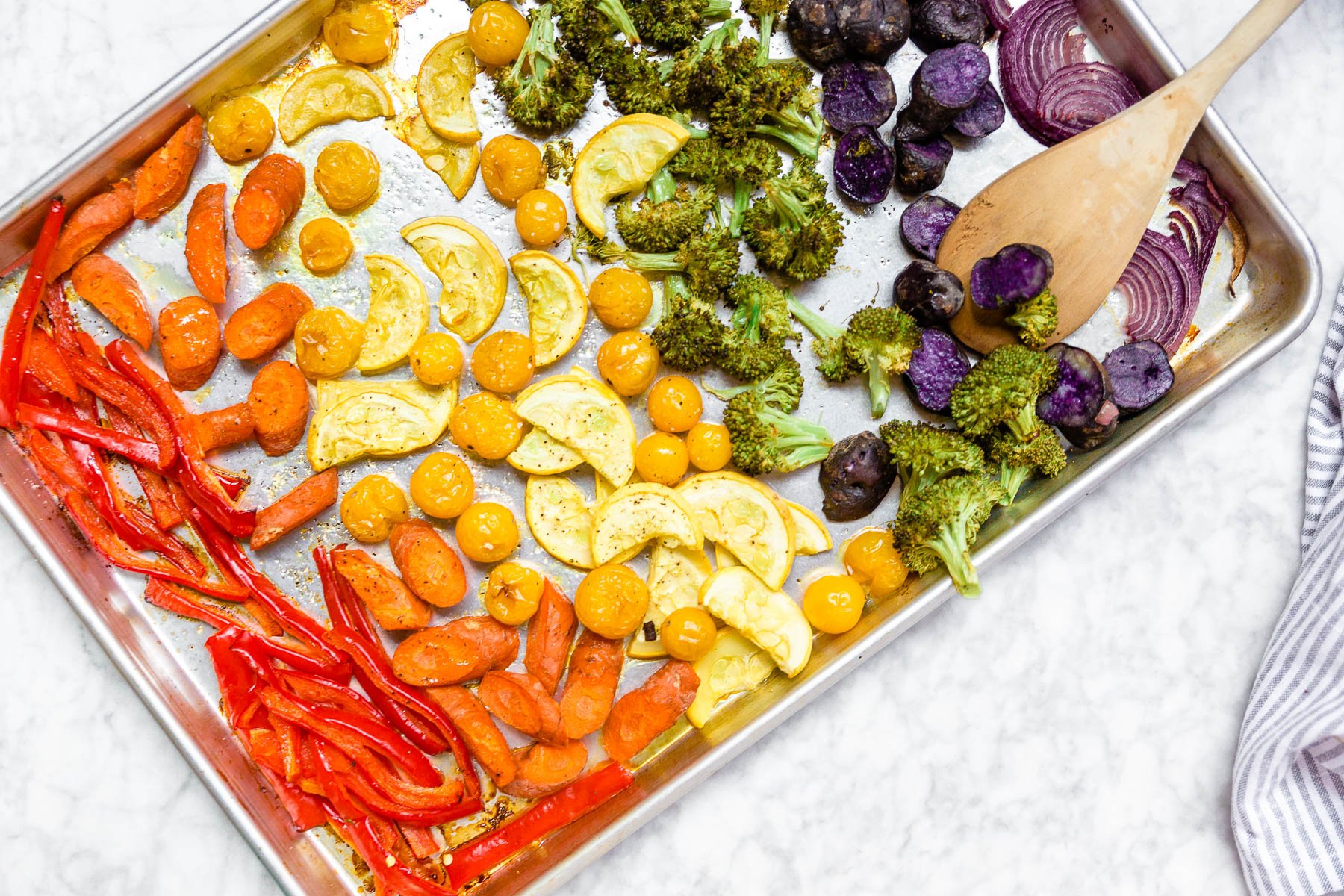 Print Recipe
Meal Prep Sheet Pan Roasted Rainbow Vegetables
Make meal preparation easy, healthy and delicious with these meal prep sheet pan roasted rainbow vegetables. They're ready in under an hour, making for an easy vegetable side for any meal. Gluten-Free, Dairy-Free, Paleo, Vegan and Healthy.
Ingredients
1

head

broccoli

cut into florets

1

red bell pepper

sliced

2

carrots

cut into coins

1

yellow squash

cut into coins

5

oz

yellow cherry tomatoes

8

oz

purple potatoes

sliced in half or quarters

1/2

red onion

sliced

2

tablespoons

avocado oil

or coconut oil

1

teaspoon

salt

1/2

teaspoon

black pepper
Instructions
Preheat oven to 350F. Line a large baking sheet with aluminum foil or parchment paper.

Cut all of your vegetables.

Place vegetables in a large mixing bowl. Mix with oil making sure all of the vegetables are covered. Add additional oil if necessary.

Spread out vegetables on your baking sheet so that they are in a single layer. Some overlapping is okay.

Sprinkle with salt and pepper before cooking.

Bake for 35-45 minutes, mixing every 15 minutes or so, until all of the vegetables are cooked through.
Notes
You want to cut vegetables like carrots or potatoes small enough that they cook in the same amount of time as other vegetables. 
Nutrition
Calories:
99
kcal
|
Carbohydrates:
14
g
|
Protein:
3
g
|
Fat:
3
g
|
Sodium:
333
mg
|
Potassium:
559
mg
|
Fiber:
3
g
|
Sugar:
3
g
|
Vitamin A:
3535
IU
|
Vitamin C:
99.6
mg
|
Calcium:
51
mg
|
Iron:
1.1
mg