Did you know you can bake meatballs in the oven? It's simple! These baked gluten free turkey meatballs are full of spinach and garlic flavor. They're gluten free, dairy free and contain no eggs!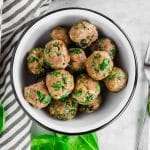 Did you know you can bake meatballs in the oven? It's so simple! These baked gluten free turkey meatballs are full of spinach and garlic flavor. They're a great weeknight meal recipe the whole family will love!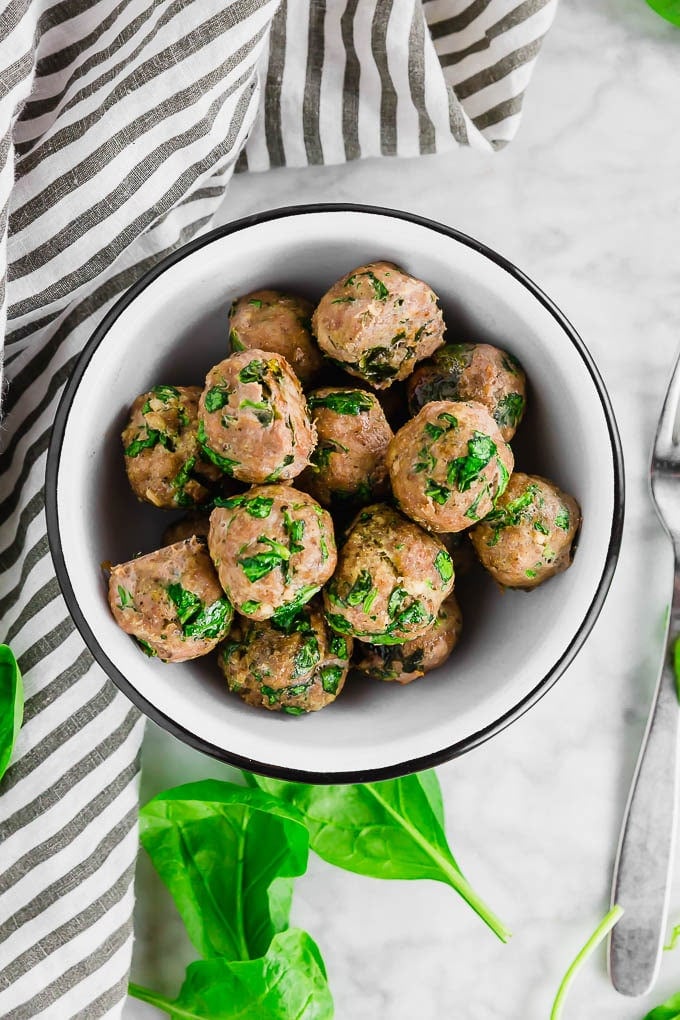 Baked turkey meatballs are a staple in our house. These turkey spinach meatballs are gluten free, dairy free and contain no eggs!
Traditionally meatballs are made with breadcrumbs and eggs as binders, but I'll show you how to make tasty, moist meatballs without them.
Whether you have food allergies or just are out of eggs and breadcrumbs, you'll love these turkey meatballs. Plus, we've loaded up these turkey meatballs with spinach for a healthy twist on a classic.
Why You Should Bake Your Meatballs
I much prefer to bake my turkey meatballs rather than pan frying them on the stove.
Why? So many reasons.
I'm lazy. If I'm trying to get dinner on the table quickly I don't want to have to stand over the stove and flip meatballs. Instead, just roll them into balls, place them on a baking sheet and bake while you relax or prepare the rest of the meal.

It uses less oil. I typically place my turkey meatballs on parchment paper and bake. No oil in a pan needed to cook these meatballs!

It's splatter free! The number of times I've been burned by oil splattering from cooking meatballs on the stove is just one too many. Baked meatballs for the win.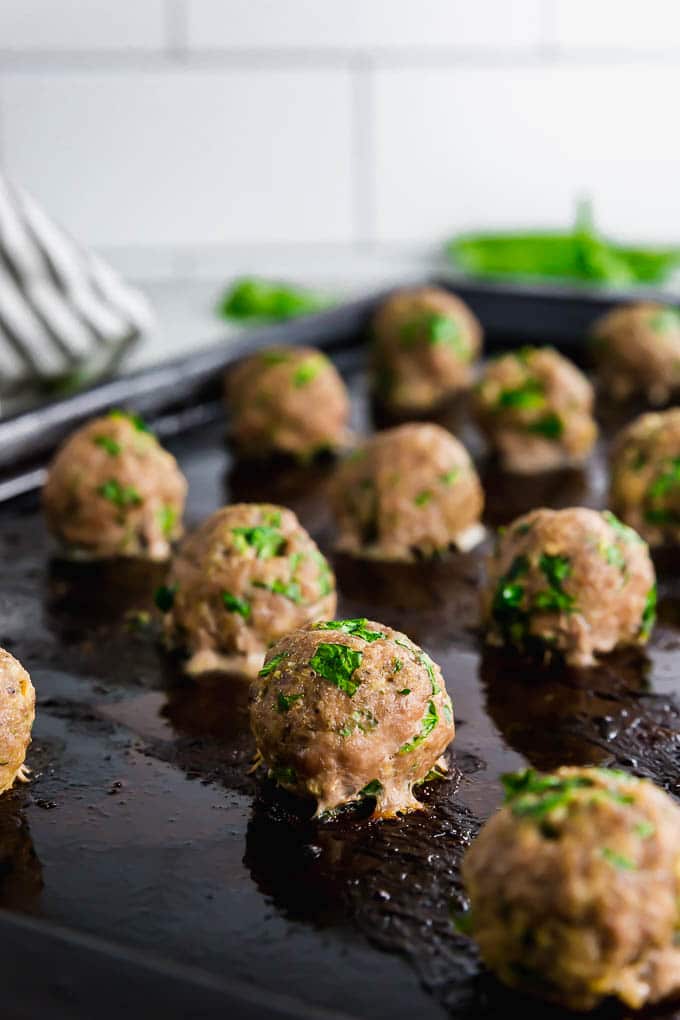 How do you know when turkey meatballs are done?
The amount of time that the turkey meatballs will take to bake will depend on how big you make your turkey meatballs.
I like to make mine rather small, especially since there are no eggs or breadcrumbs in the recipe, so they only take about 13 to 15 minutes total in the oven.
There should be no pink in the center of the meatball and the internal temperature should be 165F. Always go off of the temperature of the meat. A good meat thermometer is essential in the kitchen and rather inexpensive.
Also keep in mind that you do not want to overcook the meatballs. No one likes dry meatballs.
Do you have to put breadcrumbs in meatballs?
Breadcrumbs are typically used in meatballs as a binder and a way to stretch out the meatballs so you have more to serve.
But if you can't have gluten, is there a way to make meatballs without breadcrumbs? While you could use gluten free breadcrumbs to make turkey meatballs, I never tend to have that on hand!
Instead, I use some coconut flour to help bind the meatballs together. When you're working with coconut flour, you don't need a lot of it. A little goes a long way.
If you don't have coconut flour, you can also use gluten free certified oats or almond flour instead. Just note, you'll probably need about 1/2 cup of either of those to replace the coconut flour.
Turkey Meatballs Without Eggs
In addition to being gluten free, this baked turkey meatball recipe also contains no dairy or eggs.
Eggs are frequently used as a binder and a way to add moisture to meatballs. Instead, I've found that adding just a tablespoon of olive oil or avocado oil does the trick!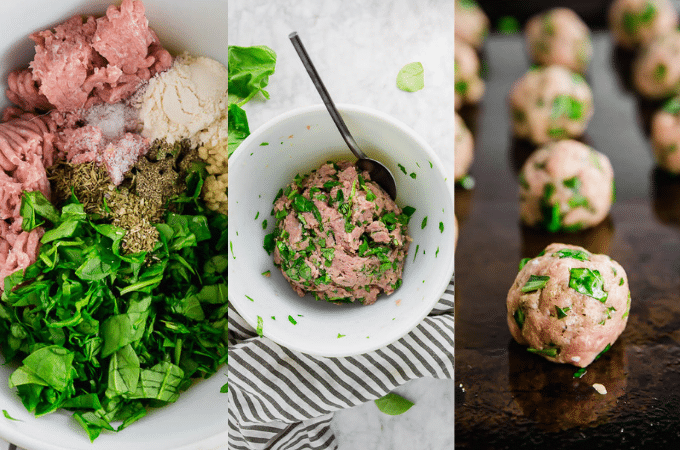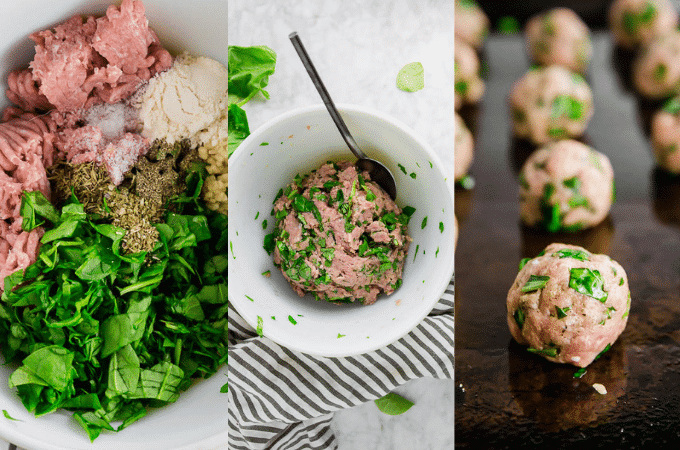 How to Make Ahead Baked Turkey Meatballs
Turkey spinach meatballs are one of my favorite make ahead meals for meal prep. They pair perfectly with gluten free pasta or zoodles.
I like to make a batch of these baked turkey meatballs in the beginning of the week and portion them out for easy reheating.
When reheating turkey meatballs, I find it important to heat them with some kind of sauce
Sometimes, I even double the recipe to freeze some for later! Double the food with minimal effort.
Tips for Freezing Baked Meatballs
Making more of a recipe to freeze for later is one of my favorite meal prep hacks. It saves so much time as long as you have the freezer space!
To freeze these baked turkey meatballs for later, first prepare the recipe as written.
Then, let the turkey meatballs cool completely. This is KEY!
Once completely cooled, you can place them in an airtight container, large Ziploc bag, or my new favorite Stasher Bags, for easy storage.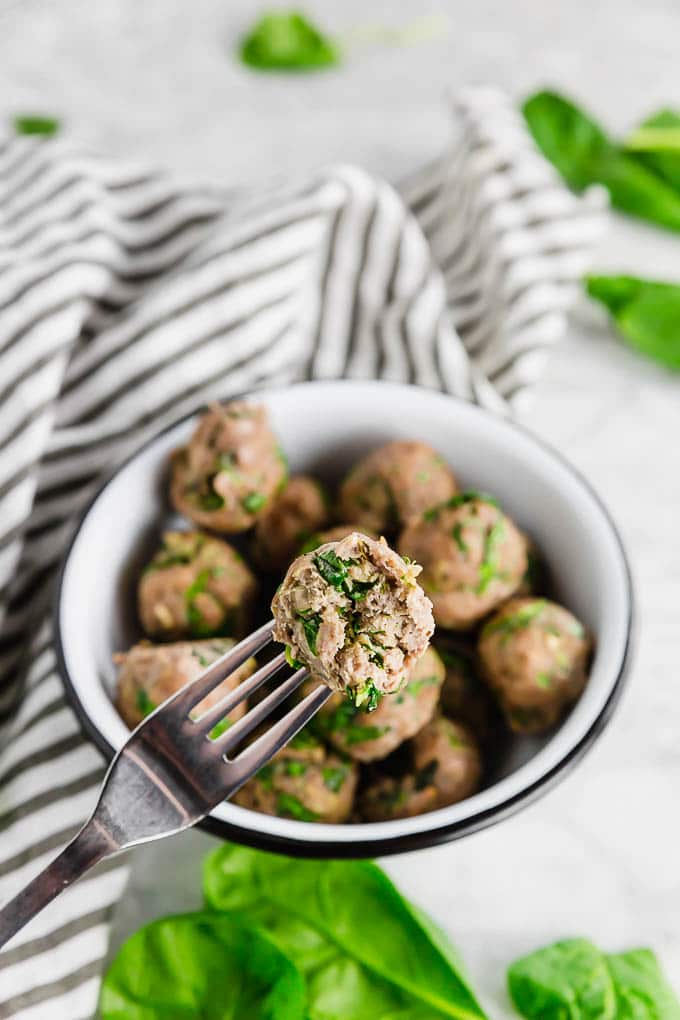 My Favorite Tips and Tricks for Making Baked Meatballs (without Eggs and Breadcrumbs!)
Lightly wet or oil your hands before rolling into balls. It will go so much quicker and the meat mixture will not stick to your hands.

Make sure you don't pack the balls too tight. You'll end up with dense meatballs.

If you'd like, line your baking sheet with parchment paper for easy clean up.

If you want your meatballs to be lightly browned on top. Bake for 10 minutes at 400F and then turn on the broiler for the last minute or so. You don't want to dry out the meatballs so be careful.
More Gluten Free Turkey Recipes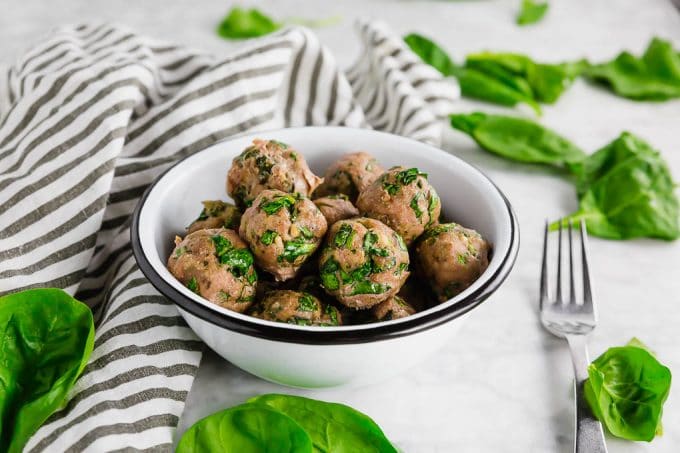 Baked Turkey Spinach Meatballs Recipe
Whether you're looking for an easy weeknight meal or a gluten free appetizer recipe, these baked turkey spinach meatballs are exactly what you need! It's so easy to make turkey meatballs in the oven with this simple recipe that is made without eggs and breadcrumbs. They're gluten free, dairy free and egg free!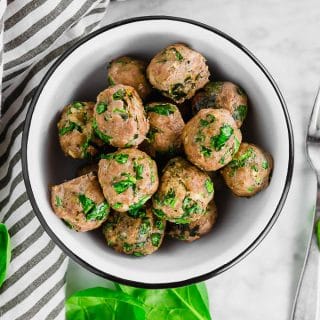 Baked Turkey Spinach Meatballs
Did you know you can bake meatballs in the oven? It's simple! These baked gluten free turkey meatballs are full of spinach and garlic flavor. They're gluten free, dairy free and contain no eggs!

Print
Pin
Rate
Ingredients
1

lb

ground turkey

1/2

cup

packed fresh spinach

(chopped)

2

tablespoons

coconut flour

1/2

teaspoon

salt

1/2

teaspoon

dried thyme

1/2

teaspoon

dried oregano

1

cloves

garlic

(minced)

1

tablespoon

olive oil

(or avocado oil)

1/2

teaspoon

ground black pepper
Instructions
n a large bowl combine ground turkey, spinach, coconut flour, salt, thyme, oregano, garlic, oil and black pepper.

Mix until combined well.

Wet your hands with water or with oil and roll mixture into small 1-inch balls. You should get about 15 in total.

Lightly grease a baking sheet or line with foil or parchment paper and place meatballs on the sheet pan.

Bake at 400F for 13-15 minutes, until baked through and internal temperature reaches 165F.
Notes
You can broil 1-2 minutes to get a nice browned top if you'd like. Turn the oven to broil at the 10-11 minute mark to ensure you do not over bake the meatballs.