Last Updated on
These beef and quinoa stuffed bell peppers are a great dinner recipe that is naturally gluten free and dairy free. Top with avocado and fresh cilantro to serve. Colorful bell peppers make this dish visually stunning and so delicious, too!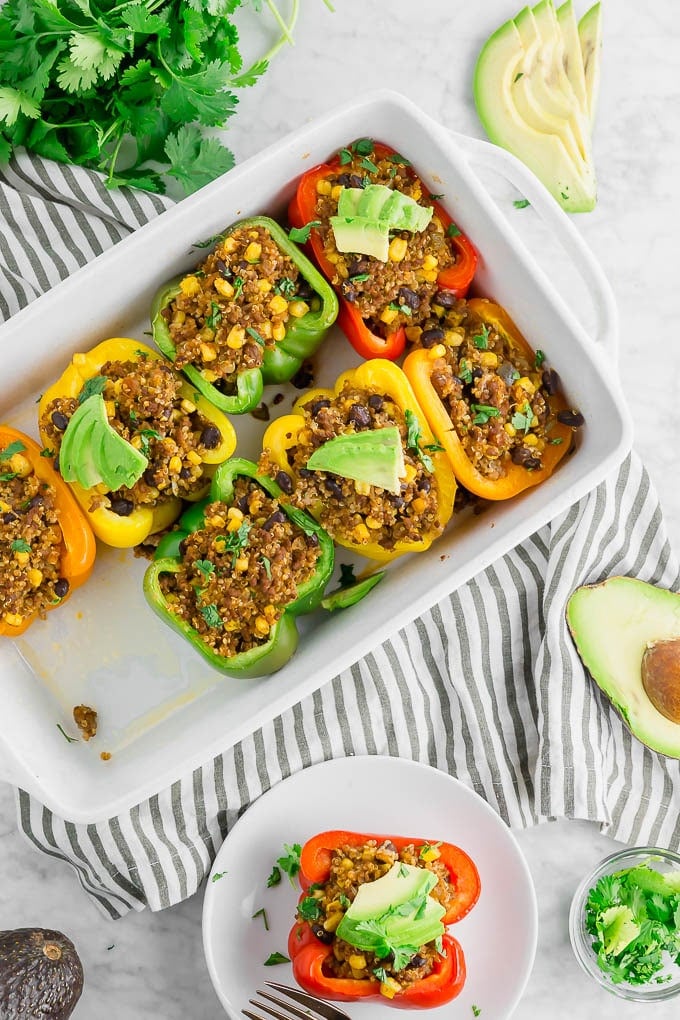 Note: This recipe was originally posted on September 18, 2015 and updated on May 26, 2019 with new photos and more tips and tricks to make this recipe turn out perfectly every time!
I'm really not sure how it took me this long to make stuffed bell peppers. I had originally started creating this beef and quinoa stuffed bell pepper recipe a few years back and remember being like "Okay these are alright, but they probably need more tweaking" and then I filed the recipe in my "drafts" folder for more testing. It wasn't until a few weeks ago when I was cleaning up all of my drafts to see what I had started and never finished when I saw the original beef and quinoa stuffed bell peppers recipe just sitting there. Half finished and lonely. Looking for a little love and revival.
So here we are! A new, improved and tested beef and quinoa stuffed bell peppers recipe!
These stuffed bell peppers are great for a weeknight meal or for serving company. I personally love to make them on Sunday nights and eat the leftovers for lunches over the next day or so, since it's just the two of us here.
These stuffed bell peppers are seriously so flavorful! It only takes a few ingredients too! Full of hearty beef, quinoa, beans, and vegetables, these peppers make an incredibly filling and satisfying dinner.
Are Stuffed Peppers Gluten Free?
These beef and quinoa bell peppers are gluten free! There are a few considerations to make when shopping for ingredients to ensure that your stuffed peppers are also gluten free.
Quinoa is a seed and naturally gluten free, which makes it a great option for these stuffed peppers.
You'll want to make sure that the chicken broth that you use is gluten free. There are some varieties at the grocery store that do contain gluten, so be sure to check ingredients.
Generally salsa is made with non-gluten ingredients, but can sometimes contain soy sauce or worcestershire sauce, so again check ingredients. Salsa can also be subject to cross contamination with gluten depending on the company.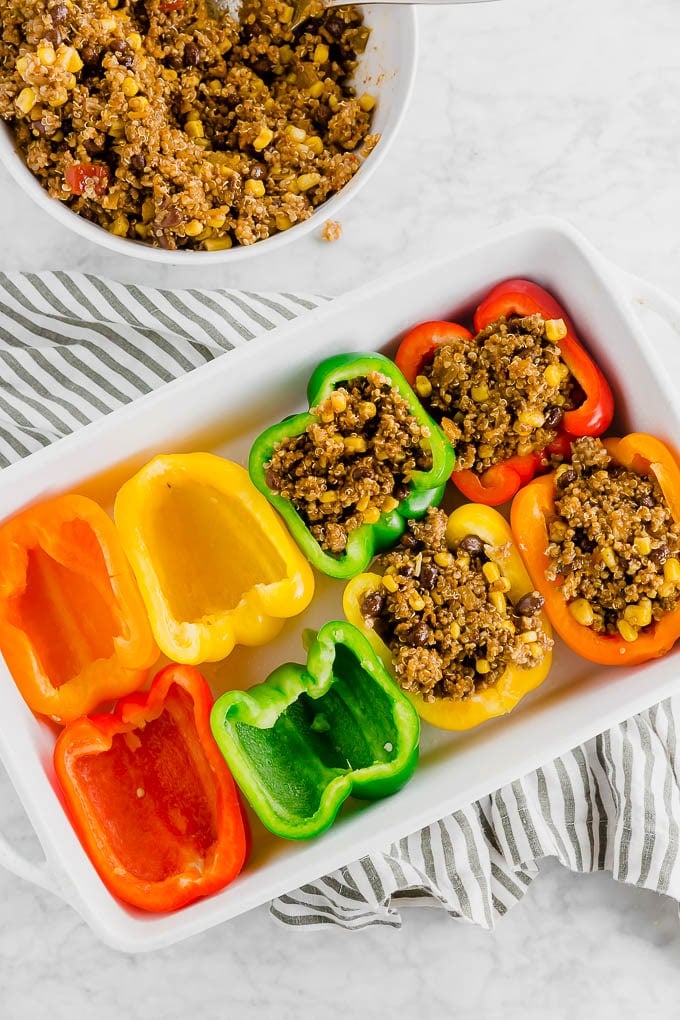 How to Make Stuffed Bell Peppers
It's fairly simple to make stuffed bell peppers, though it does require a few steps.
First, you'll need to cook the quinoa in a pot with liquid, such as water or chicken stock.
While the quinoa is simmering, you can start cooking the ground beef mixture in a skillet. Sauté the onions in a skillet until translucent. Add the minced garlic and let cook for an additional minute.
Then, add in the ground beef, breaking it up into smaller pieces. Cook until no longer pink, about 10 minutes total. Turn off the heat and add in the spices, corn, salsa and beans.
Once the quinoa is fully cooked, stir that into the beef mixture.
Cut the bell peppers in half and scrape out the seeds, membranes and ribs so that the pepper is completely clean.
Spoon the beef quinoa mixture into each bell pepper and place in a large casserole dish. Cover the entire dish with aluminum foil.
Bake at 350F for 30 minutes with the foil. Remove the foil and bake an additional 15 minutes.
Not Dairy Free? Top these taco stuffed peppers with cheese!
They are gluten-free and dairy-free as written, but if you wanted to add cheese you could!
Although, I found that the chicken stock in this recipe makes the filling super creamy and I didn't find the addition of cheese necessary. However, if you are able to eat dairy, they are so easy to alter.
Just add some shredded cheese on top of each bell pepper in the last 5 minutes of baking. Continue baking until the cheese is completely melted.
With or without cheese, these beef and quinoa stuffed peppers are so creamy and delicious!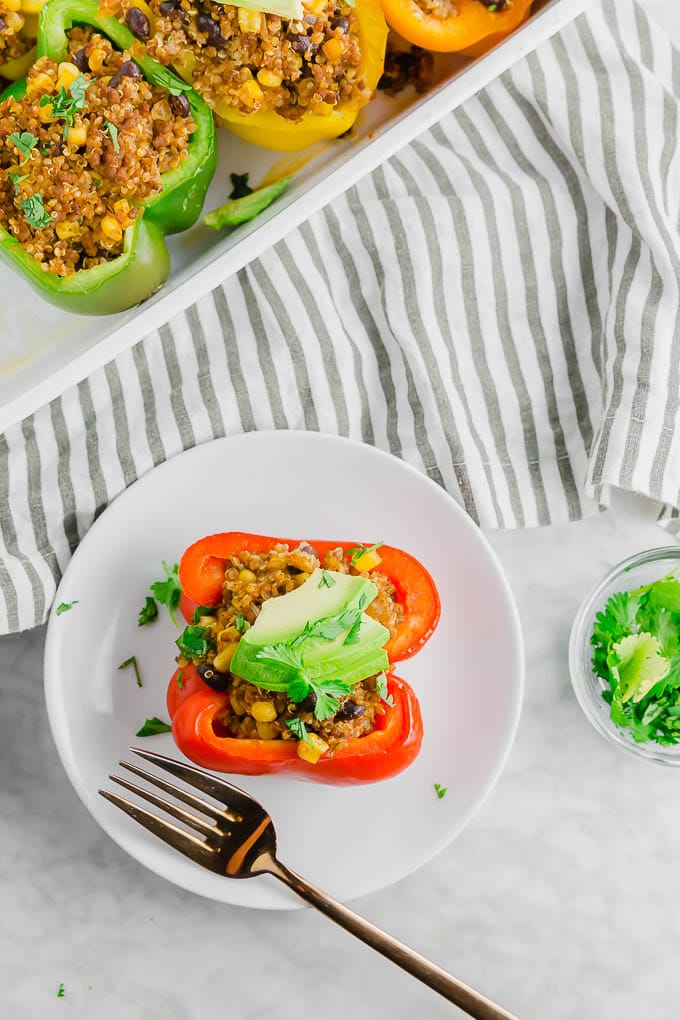 Does it matter what color peppers I use for stuffed bell peppers?
You can use whatever color bell pepper you'd like for these stuffed peppers. The different colored bell peppers all come from the same plant.
Green bell peppers are the least mature, while red are the most mature, and yellow and orange peppers fall in between.
As the bell peppers stay on the vine longer, the color changes. The red peppers are the sweetest of the colors and have the most nutritional value.
However, any color of bell pepper will work in this recipe. So, use whatever you have on hand or are able to find at the grocery store. Often times for this recipe, I'll use whatever color is on sale.
Can I use ground turkey instead of beef?
Yes! You can certainly use ground turkey instead of ground beef in these stuffed peppers if you're looking for a leaner meat.
You can swap the ground turkey for the ground beef in a 1:1 ratio very easily. Just remember, that turkey doesn't have as much fat or flavor as ground beef if you ask me.
Personally, I would taste the meat mixture after it's cooked in the pan before stuffing the peppers to see if any additional spices are needed.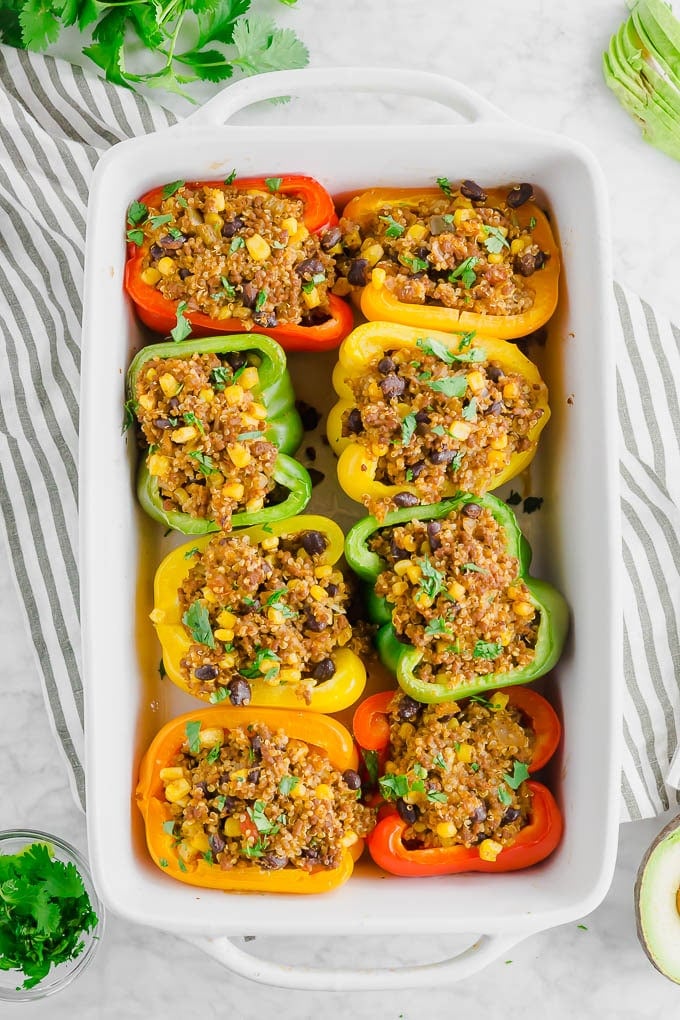 Can I use rice instead of quinoa to stuff bell peppers?
If you have rice on hand instead of quinoa, you can stuff your peppers with rice!
Remember, rice has a different cooking time and liquid to rice ratio depending on what variety you are using.
Follow the directions on the bag of rice for whatever variety you choose. You'll want about 3/4 cup of cooked grain or seed total, so work backwards to see how much uncooked rice you'll need.
Looking for more gluten free beef recipes? Try these!
Print Recipe
Beef and Quinoa Stuffed Bell Peppers
These beef and quinoa stuffed bell peppers are so easy and flavorful you'll want to make them all of the time! With beef, quinoa, corn, beans and taco spices, the whole family will love these stuffed peppers. They're naturally gluten-free with a dairy-free option.
Ingredients
4

bell peppers

of any color, cut in half with seeds and ribs removed

1/4

cup

uncooked quinoa

rinsed and drained

1/2

cup

chicken broth

make sure it is gluten-free if need be

1

tbsp

olive oil or avocado oil

1/2

large yellow onion

diced (about 1 cup)

1

clove

garlic

minced

1/2

lb

ground beef

15

oz

black beans

canned, rinsed and drained

1

cup

corn

canned, frozen or fresh

1

cup

salsa

use your favorite gluten free brand or homemade

1

teaspoon

cumin

1

teaspoon

chili powder

1/2

teaspoon

ground paprika

1

teaspoon

salt

1/2

teaspoon

ground black pepper

1

avocado

sliced (for serving)
Instructions
For the Quinoa:
In a medium pot, combine quinoa and chicken stock. Bring to a boil.

Once boiling, cover pot with a lid and reduce heat to low.

Cook for 15-20 minutes, until quinoa is fluffy and has absorbed chicken stock. Remove from heat, fluff quinoa with a fork and set aside.
For the Beef Mixture:
In a large skillet, heat oil over medium. Add diced onions and cook for 5 minutes or so, until onion is translucent.

Add garlic and cook for an additional minute, stirring to ensure garlic does not burn.

Add beef to the skillet and cook 8-10 minutes, until beef is cooked through, stirring occasionally.

Add spices and stir to combine.

Turn off heat. Add beans, salsa, corn, and quinoa and mix until combined.
For the Peppers:
Preheat oven to 350F.

Lay out bell pepper halves in a casserole dish.

Spoon beef quinoa mixture equally into the bell peppers. Cover casserole dish with foil.

Bake at 350F for 30 minutes. Remove foil and bake for an additional 15 minutes, until the peppers are soft and the topping is lightly browned.


Top with avocados to serve.
Nutrition
Calories:
270
kcal
|
Carbohydrates:
29
g
|
Protein:
12
g
|
Fat:
12
g
|
Saturated Fat:
3
g
|
Cholesterol:
20
mg
|
Sodium:
602
mg
|
Potassium:
708
mg
|
Fiber:
9
g
|
Sugar:
5
g
|
Vitamin A:
2240
IU
|
Vitamin C:
81.8
mg
|
Calcium:
43
mg
|
Iron:
2.8
mg