A Whole30 compliant beef stew that is gluten-free and dairy-free and can be made in your crock pot or slow cooker!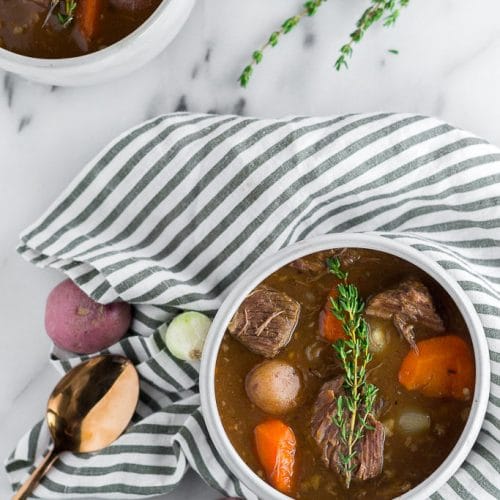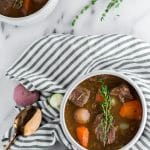 This Whole30 slow cooker beef stew is made right in your crock pot and could not be easier! Made for chilly days and busy weeks, this gluten-free stew does not get easier or more delicious than this!
When life gets crazy, sometimes you need a bit of a break. This past week I had soooo many recipes I wanted to share with you guys, but put it on the back burner until this week. You see, my younger sister got MARRIED over the weekend! How exciting is that?
Between practicing my speech, making sure she was ready for her big day, and getting packed for the trek up to Wisconsin in the middle of a snow storm, it didn't feel like the time to share a recipe for Whole30 slow cooker beef stew.
No matter how good it is. Instead I focused on family and celebrating. The wedding was perfect and beautiful with a dusting of snow outside – the photos will be seriously stunning. I only cried like 10 times which is better than I thought I would do, too!
Now that Kate is married and celebrating with her new husband in Madison, WI for a mini moon before they head off to Australia and New Zealand in a few months for their official honeymoon, I can get back to sharing the gluten-free goods back here with you!
I did mention the snow we've had in Chicago right? Yes. SO MUCH SNOW. It's only appropriate to be currently cuddled up in a blanket on my couch with a big bowl of this Whole30 slow cooker beef stew.
I've made beef stews in the past, don't get me wrong. But this was the first time that I actually fell in love with a beef stew. Normally, I feel like beef has the tendency to get tough, but this one was so different. It just was tender and delightful in every way possible.
Cooking the beef in the slow cooker really helped create that texture I was looking for. I seared my beef in a skillet before putting it in the crock pot, but you certainly don't have to if you want to skip that step. I like to do it because it gives the beef a nice golden color and gives it more flavor, in my opinion.
Speaking of flavor, this beef stew is FULL. OF. IT. Did I mention that this is a Whole30 slow cooker beef stew? Yes. Whole30 doesn't have to be complicated. I haven't done a Whole30 yet in 2018, but we eat decently close to a Whole30 diet anyways in our house, well…. except for all the corn tortillas for tacos.
But, I know a lot of you are doing a Whole30 right now so I thought I'd make this one Whole30 compliant for you all. Plus, I'm thinking of doing another Whole30 in April or May before summer hits and making it a fun challenge on the blog. If you're interested, definitely let me know so I can prepare some awesome recipes for that!
If you're looking for a big bowl of something gluten-free and cozy, this is it. Whole30 just got a whole lot more delicious! What do you do when it gets cold and snowy outside, do you start craving warm stews? Tell me in the comments!
As always, if you make this recipe, tag me on Instagram or send me a photo! I would LOVE to see your creations!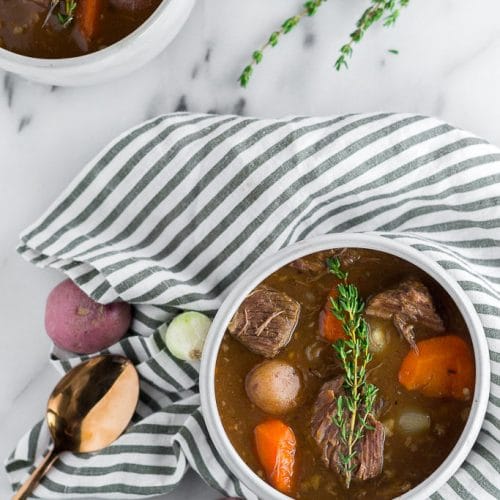 Whole30 Slow Cooker Beef Stew
A Whole30 compliant beef stew that is gluten-free and dairy-free and can be made in your crock pot or slow cooker!
Print
Pin
Rate
Ingredients
2

lbs

beef chuck

(cut into 2 inch pieces)

1

tablespoon

oil

(avocado oil, olive oil)

1

tablespoon

lemon juice

1/2

lb

pearl onions

(or 1/2 large white or yellow onion, diced)

1/2

lb

baby red potatoes

(skins on and cut in half or quarters)

1/2

lb

carrots

(about 3 large carrots, cut in 1/2 inch pieces)

32

oz

beef broth

(make sure gluten-free)

1/2

teaspoon

salt

3

tablespoon

tomato paste

2

cloves

garlic

(minced)

2

whole

bay leaves

(dried)

1

tablespoon

fresh thyme

(or 1 tsp dried thyme)

2

tablespoon

tapioca starch

(or cornstarch if not doing Whole30)

1/2

cup

water or beef broth
Instructions
Preheat a large skillet over medium high heat. Add one tablespoon of oil. Working in batches, add beef to the pan and brown on all sides, about 30 seconds per side. Don't crowd the pan. Add the beef to the slow cooker as it gets browned. Repeat with remaining pieces of beef.

Once you have finished browning the beef, add lemon juice to the pan to help deglaze the pan. Using a wooden spoon, scrape up all the browned bits on the pan and add to the slow cooker. This is the flavor.

Add the pearl onions, red potatoes, and carrots to the slow cooker with the beef. Give a quick stir to combine and evenly distribute.

Pour the beef broth over the beef and vegetables.

Stir in the salt, tomato paste, minced garlic, bay leaves, and fresh thyme.

Cook on the low setting for 6-7 hours or high for 3-4 hours. You want the beef to be tender and easily shredded. Lightly shred the beef with two forks in the slow cooker. I don't like mine completely shredded and like to make sure there are still big chunks.

In a small bowl, combine tapioca starch (or cornstarch) with water or beef broth. Whisk until there are no clumps. Pour into the slow cooker and stir to combine. Let cook an additional 30 minutes to thicken the soup.

Serve with a sprig of fresh thyme or over mashed potatoes for a complete meal.
Notes
Whole30 compliant, gluten-free, dairy-free
*Always check your labels to make sure your ingredients are gluten-free! This is key for the beef broth in this recipe!
**Check tomato paste ingredients to ensure that the only ingredients are tomato and salt for Whole30 compliance. 
Nutrition
Calories:
381
kcal
|
Carbohydrates:
18
g
|
Protein:
33
g
|
Fat:
20
g
|
Saturated Fat:
8
g
|
Cholesterol:
104
mg
|
Sodium:
1013
mg
|
Potassium:
1059
mg
|
Fiber:
2
g
|
Sugar:
4
g
|
Vitamin A:
6530
IU
|
Vitamin C:
13.3
mg
|
Calcium:
72
mg
|
Iron:
4.5
mg