Last Updated on
Did you know you can make your own apple cider vinaigrette at home? It's so easy! With just eight simple ingredients, you can have your own homemade vinaigrette that tastes delicious on your salad. Step up your salad game with this easy recipe!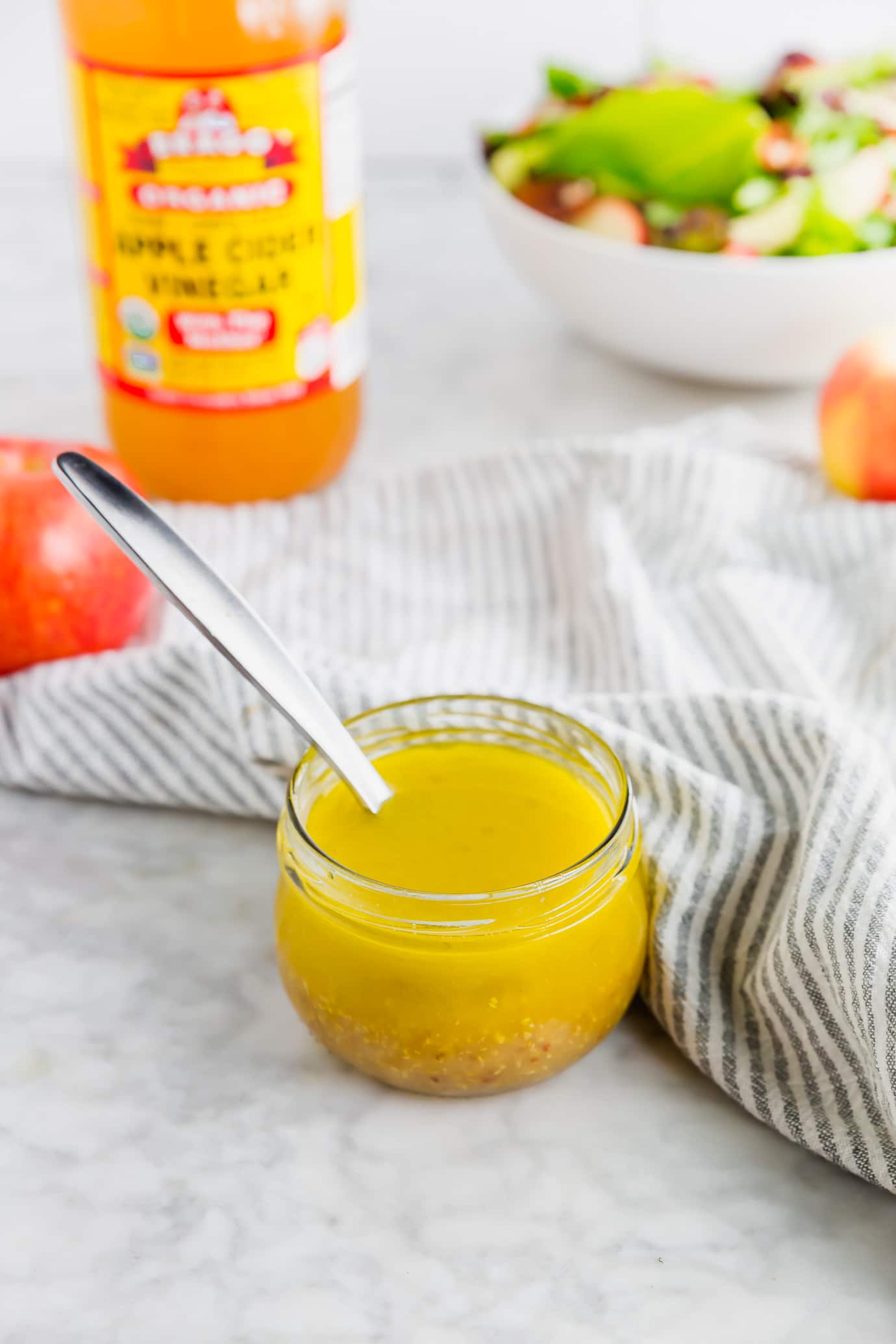 There is nothing better than a fresh salad with a flavorful salad dressing. Salads are a great grab-and-go option for easy lunches throughout the week and a simple dish that rounds out any menu for entertaining.
There are so many different combinations of ingredients that I never get sick of a salad. I love to use season ingredients in both my salad and my salad dressing, which is why this apple cider vinaigrette is an absolute favorite of mine during the fall months.
It's adds a fresh apple flavor to any salad and it's so easy to make, too!
Why you Should Make Your Own Vinaigrettes at Home
We typically have a bottle or two of store-bought salad dressing in the refrigerator at home. But, for the most part I love to make my own salad dressings at home for a number of reasons.
First, it's cost effective. It only takes a few simple ingredients to make your own vinaigrette with ingredients you probably already have in your pantry. You can make as little or as much as you need for a few days without wasting extras.
I also love that I know exactly what ingredients go into my salad dressing since I'm making it myself! If you look at the back of most bottles of salad dressings at the store, you'll most likely find some questionable ingredients.
By making your own vinaigrettes and salad dressings at home, you can tailor the flavors of your dressing to exactly what you're looking for. Just change up the ingredients to match the flavors to your salad!
If you haven't made your own salad dressing at home before, vinaigrettes are a great place to start because they can be ready in a matter of minutes and truly only take a few ingredients!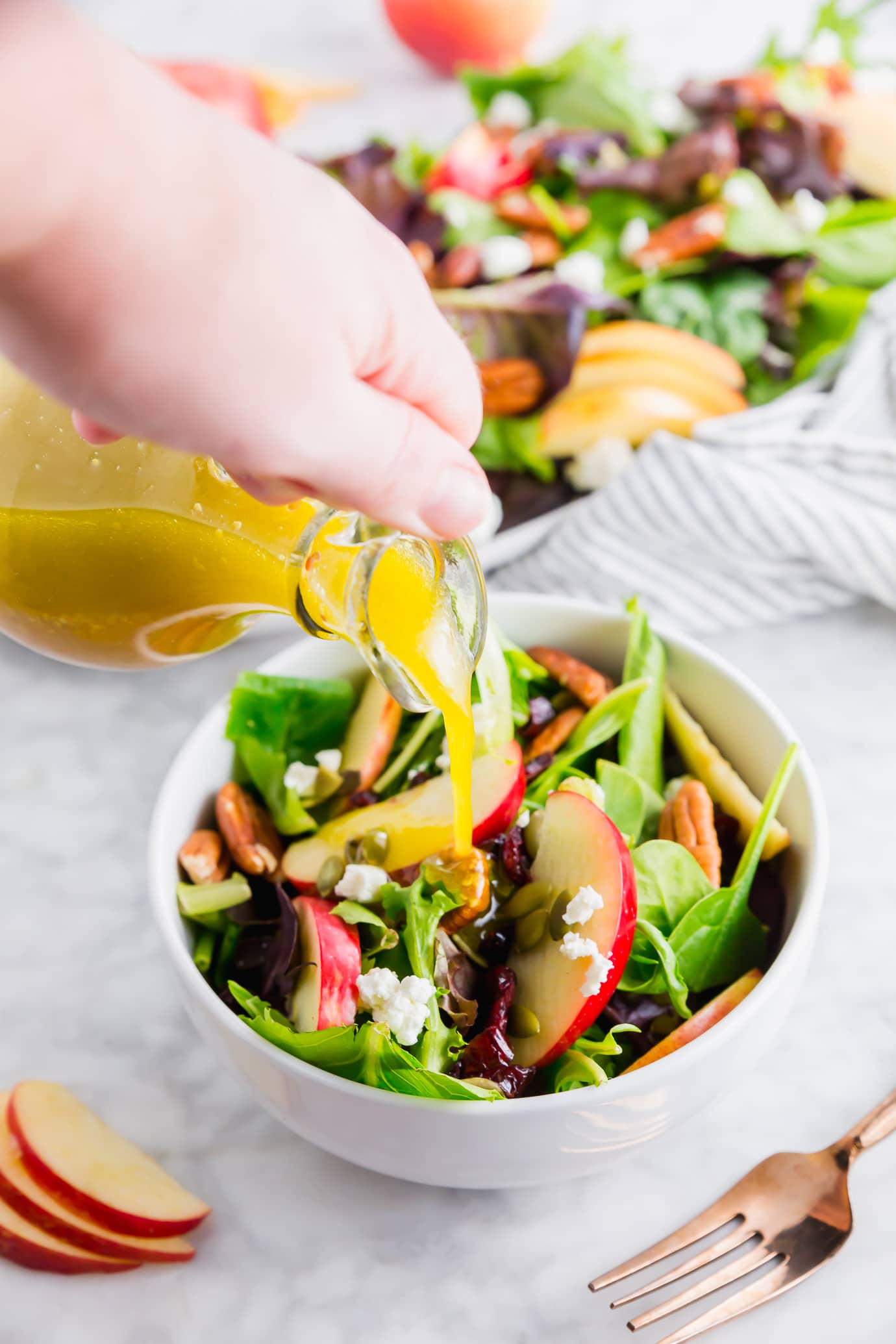 What is the Basic Vinaigrette Ratio?
The basic ratio for a vinaigrette is 3:1 – meaning 3 parts of oil to 1 part of vinegar. I like to use this as a starting point for my vinaigrettes, but I've adjusted it slightly here in this apple cider vinaigrette recipe.
Remember, when we're talking vinaigrette ratios, we're not including any emulsifiers, like maple syrup, honey or mustard.
While an emulsifier isn't 100% necessary, I like to include it in most of my vinaigrette recipes. Dijon mustard is one of my favorites because it adds so much flavor and keeps the oil and vinegar from separating as easily.
How to Make Apple Cider Vinaigrette
All you need is 8 simple ingredients to make this tasty apple cider vinaigrette at home:
Apple cider vinegar. This ingredient is probably the most important of the bunch. It can't be apple cider vinaigrette without the apple cider vinegar after all! I like to use an apple cider vinegar with the mother, such as Bragg's.

Oil. I typically use extra virgin olive oil for my vinaigrette, but you can also use other oils, such as avocado oil or safflower oil, in this recipe.

Maple syrup. Apple cider vinegar is very pungent and a little harsh tasting if it isn't balanced with some sweetener. I like maple syrup for a vegan option, plus it just tastes like fall! You can also use honey if you'd like!

Minced garlic. You want to make sure your garlic is finely minced because no one wants a big chunk of garlic in their salad dressing.

Fresh lemon juice. Fresh is key! Lemon juice really brightens up this salad dressing and balances the vinegar.

Apple cider. We always have apple cider on hand during the fall, but apple juice would work, too. It just gives this apple cider vinaigrette some extra apple flavor and sweetness. You can certainly leave it out, but you may have to increase the maple syrup if you do!

Dijon mustard. Mustard is a great emulsifier in vinaigrettes. Stone ground mustard is another great option. Just stay away from the yellow mustard – the flavor is too harsh and it won't taste good.

Salt. A little salt goes a long way in this apple cider vinaigrette! Don't leave it out!
These eight simple ingredients combine to make a delicious salad dressing. It's so easy to do, too! Just combine all of these ingredients into a small jar and cover with the lid. Then shake, shake, shake until it's all combined!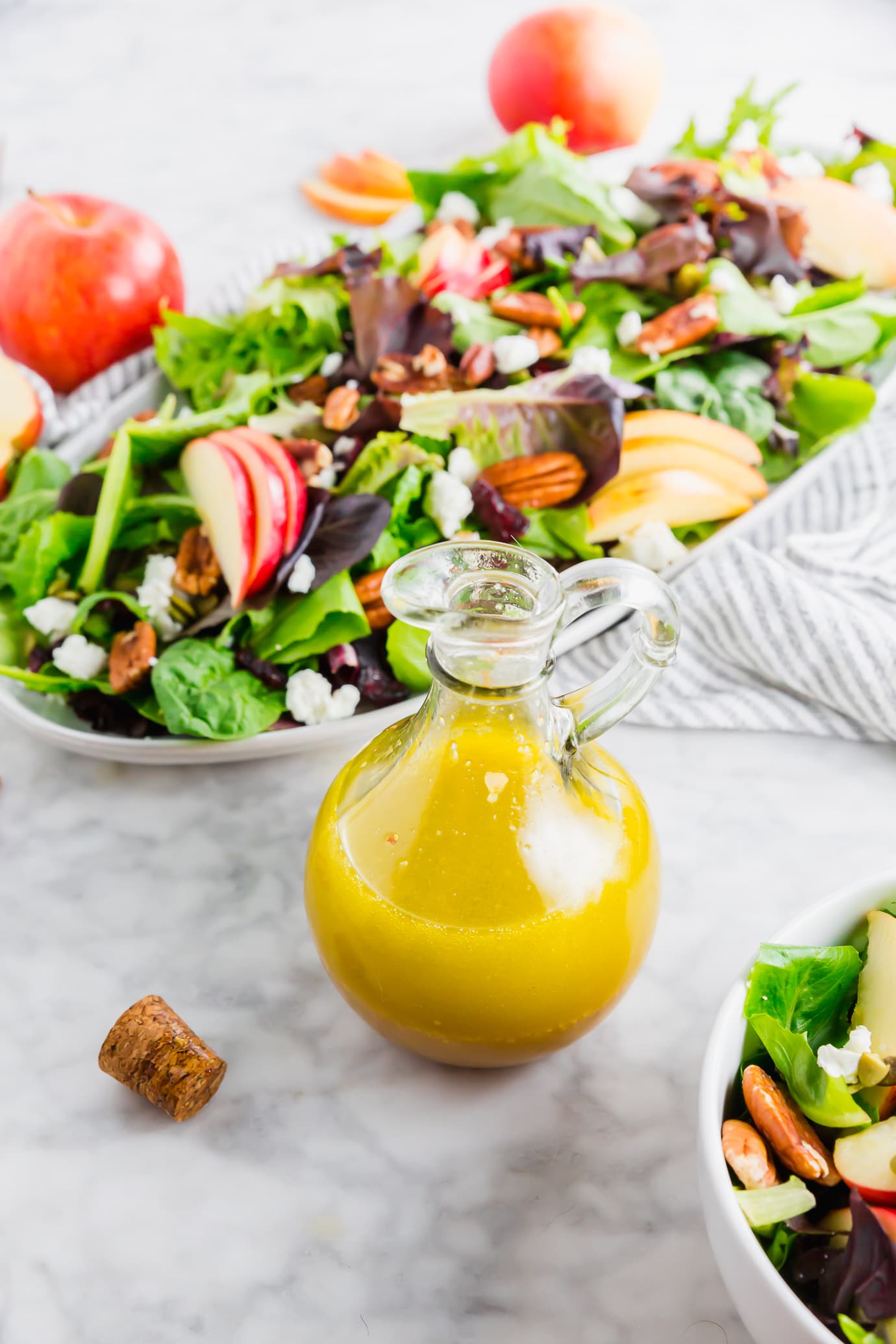 How to Store Homemade Apple Cider Vinaigrette
I normally store my apple cider vinegar dressing in the refrigerator for up to a week. You can keep your vinaigrette in any container with a lid in the refrigerator.
The vinaigrette will separate while in the refrigerator, but just give it a good stir before serving.
Salads to Serve With This Apple Cider Vinegar Salad Dressing
Looking for more homemade salad dressings? Try these gluten-free recipes!

Apple Cider Vinaigrette Recipe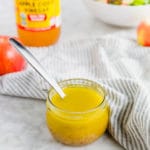 Print Recipe
Apple Cider Vinaigrette
Did you know you can make your own apple cider vinaigrette at home? It's so easy! With just eight simple ingredients, you can have your own homemade vinaigrette that tastes delicious on your salad. Step up your salad game with this easy recipe!
Ingredients
1/4

cup

apple cider vinegar

2/3

cup

olive oil

2

tbsp

pure maple syrup

1

clove

garlic

minced

1

tbsp

fresh lemon juice

2

tbsp

apple cider

or apple juice

1

tbsp

dijon mustard

1/8

tsp

salt
Instructions
Add apple cider vinegar, olive oil, maple syrup, garlic, lemon juice, apple cider, dijon mustard, and salt to a jar and close with a lid (mason jars work great for this).

Shake the jar vigorously until all of the ingredients are thoroughly combined.

Taste and adjust maple syrup or salt based on your preferences.

You can also make the vinaigrette in a bowl if you prefer.
Nutrition
Serving:
8
servings
|
Calories:
178
kcal
|
Carbohydrates:
4
g
|
Protein:
1
g
|
Saturated Fat:
2
g
|
Sodium:
59
mg
|
Fiber:
1
g
|
Sugar:
3
g