This big mac casserole is a one-dish recipe that replicates the taste of a classic Big Mac, without the bun. With seasoned beef, creamy dressing, tangy pickles, crispy tater tots, and creamy cheddar cheese, this is a dinner recipe that the whole family will love. It's on the table in under an hour and can be assembled ahead of time, making meal prep a breeze!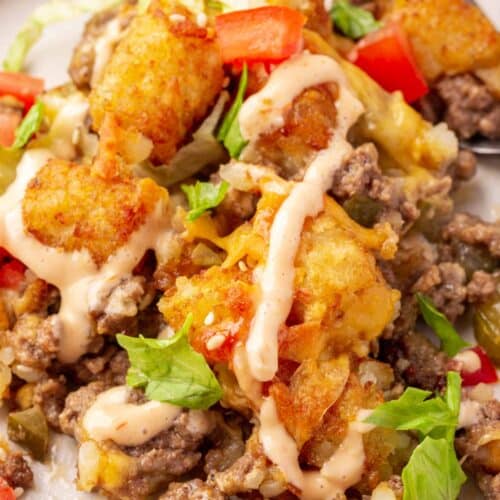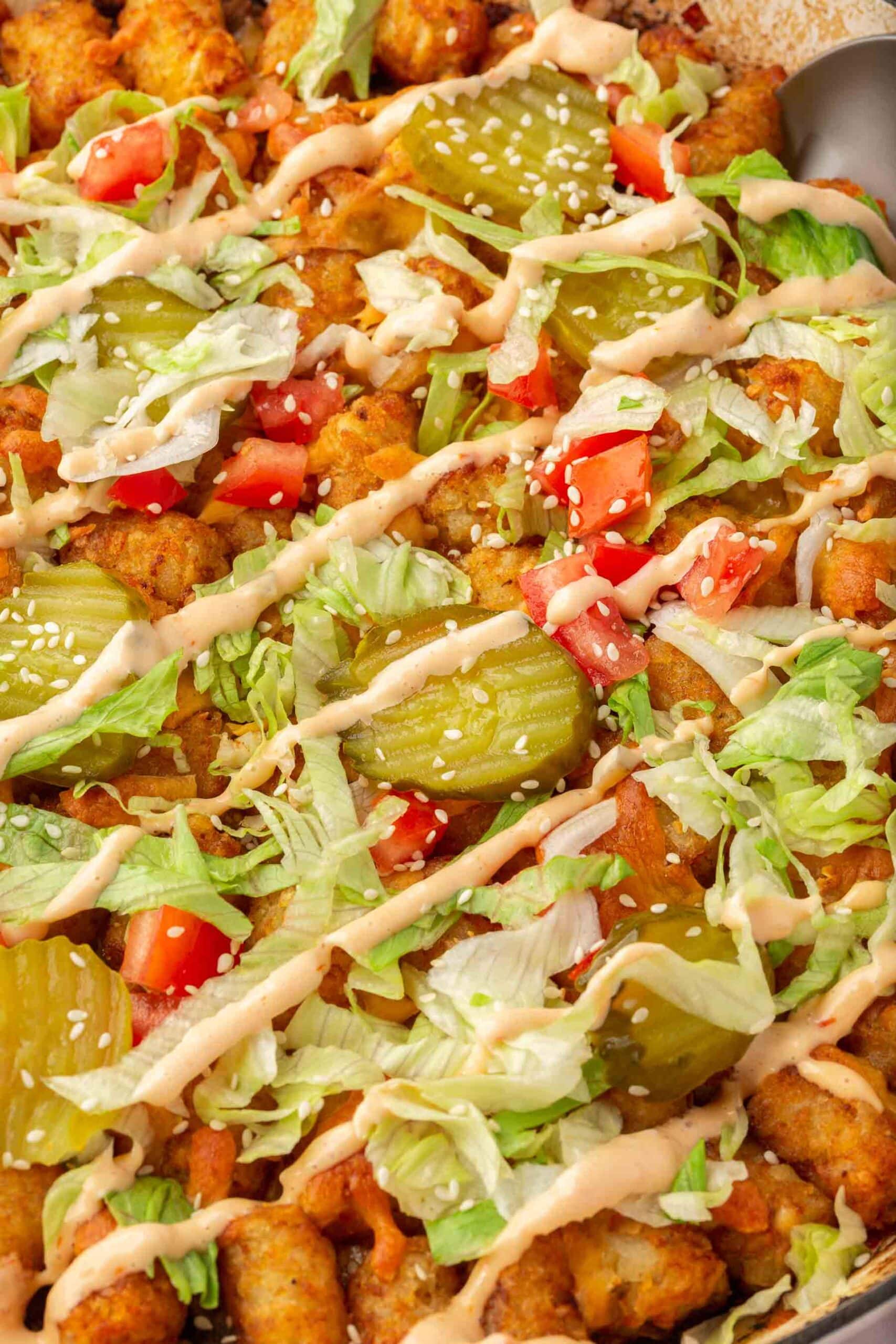 Do you love the taste of a Big Mac but want something you can share at home? This Big Mac Casserole recipe is just what you need. It has seasoned beef mixed with pickles and thousand island dressing to give it a tangy kick. The tater tops on top get really crispy when baked in the oven and then everything is topped with your favorite burger toppings, like tomatoes, lettuce, pickles and sesame seeds! Plus, can you believe this is all gluten-free?!
This big mac tater tot casserole is really easy to make, so it's great for any day of the week. It's perfect for when friends come over to watch football or for a family movie night. Everyone, kids and adults alike, will enjoy the burger-like flavors, all in a casserole form! Step-by-step photos, tips and tricks in the recipe ensure that even if you're new to cooking, you'll nail this recipe on your first try!
Whether it's a special occasion or just a regular Tuesday evening, this gluten-free casserole is hearty, flavorful, and SO easy to make!
You'll love this recipe because:
Ingredients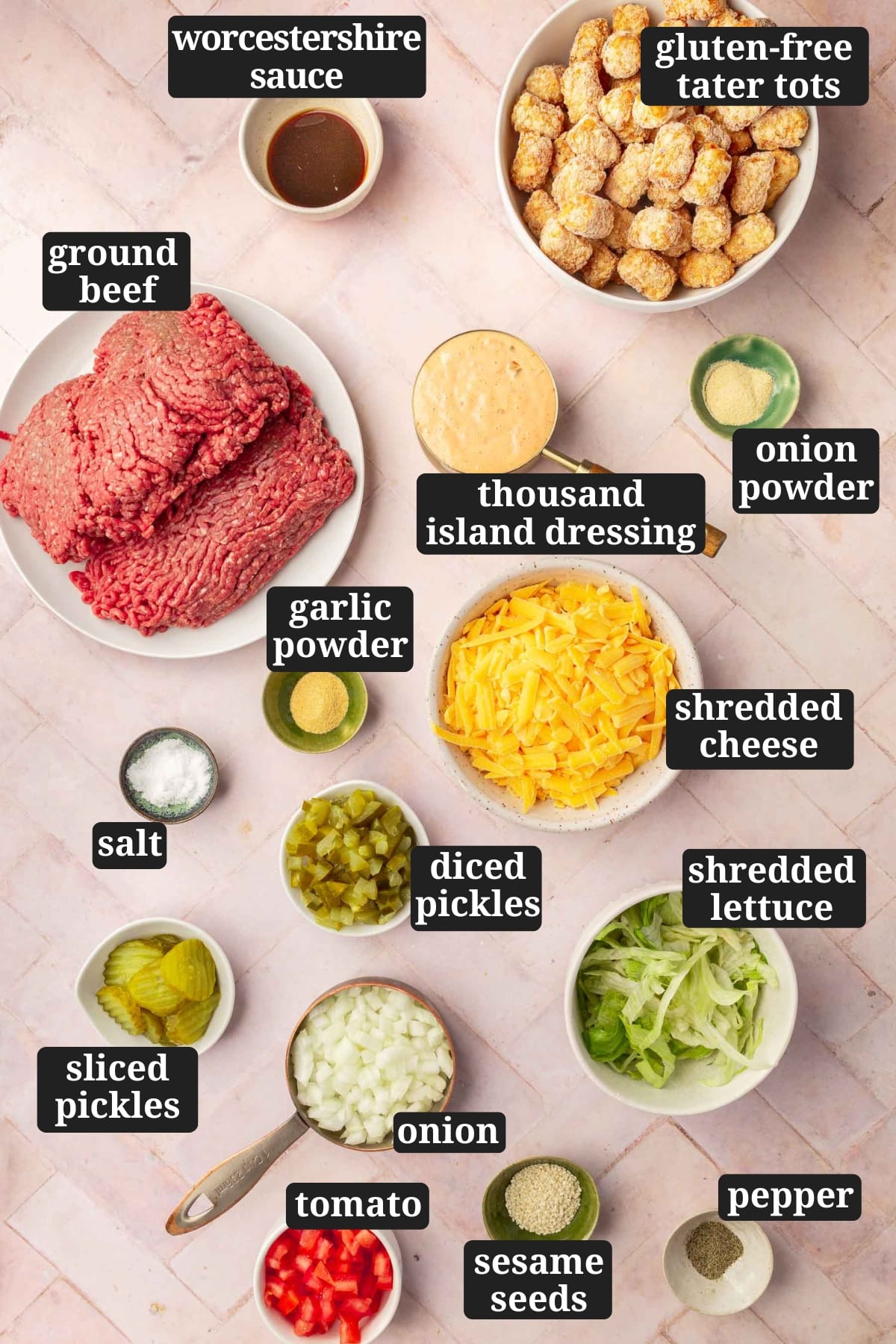 Ingredient Notes
Ground beef – Opt for lean ground beef to reduce excess fat in the dish. I used 90/10 ground beef which is 90% lean, 10% fat. If you prefer, ground turkey or chicken can also work as a lighter alternative, though ground beef will give you the most classic Big Mac flavor.
Onion – A yellow or white onion works best for its balance of sweetness and bite. Make sure the onion is fresh, with no soft spots or visible mold.
Garlic powder – Make sure that your garlic powder is fresh, so that it has plenty of flavor. If you prefer, 1-2 minced garlic cloves can replace the powder. Add it in after sautéing the onions and cook while stirring for 1 minute to ensure it does not burn.
Onion powder – Even though we're using diced onions in the recipe already, I like to add some onion powder in with the other seasoning for some extra onion flavor. I find this really helps you get that burger flavor we're looking for.
Salt – Standard table salt works fine, but if you prefer, kosher or sea salt can also be used. Just adjust to taste, as these salts can be less salty per volume.
Ground black pepper – Freshly ground black pepper offers the most flavor. Pre-ground works too, but the taste may be less potent. I prefer the kind that comes as whole black peppercorns and I grind myself.
Worcestershire sauce – Make sure to choose a gluten-free Worcestershire sauce as some worcestershire sauces use soy sauce and/or barley malt vinegar. I use Lea & Perrins, which is marked as gluten-free in the US on the label. Note, that I've read that this brand uses malt vinegar in Canada and the UK, so it is not gluten-free in those countries.
Thousand Island dressing – Always double-check that your Thousand Island dressing is gluten-free. Some brands may contain gluten, so read the label carefully. You can always make your own thousand island dressing from scratch, but for simplicity I like to use store-bought for this recipe.
Diced pickles – Opt for dill pickles for a tangy kick. I used Baby Dill pickles that I cut into small diced pieces. You don't want the pieces to be too big, you just want to be able to get the flavor of the pickles with a little bit of texture into the sauce. You can also use pickle relish if you have that on hand instead.
Shredded cheddar cheese – A medium or sharp cheddar works best for flavor. Feel free to mix with other cheeses like Gouda or Monterey Jack for a different twist.
Gluten-Free Tater Tots – Check the frozen aisle for gluten-free options. The packaging should clearly indicate if the tater tots are gluten-free. I used Ore Ida tater tots, which are marked gluten-free.
Diced tomatoes – Fresh, ripe tomatoes work best for topping. You can also use cherry tomatoes sliced in half.
Sliced pickles – Consistency is key; try to slice your pickles uniformly for even distribution as a topping. You can use store-bought sliced hamburger pickles if you want the look from the photos. You can also slice the dill pickles that you used for the diced pickles so you don't have to buy two different kinds of pickles.
Shredded lettuce – Iceberg or romaine lettuce offers a refreshing, crispy texture. Make sure it's washed and dried properly.
Sesame seeds – It wouldn't be a Big Mac without the sesame bun. Sesame seeds add a subtle nutty flavor and a little crunch. They give the casserole that Big Mac feel, without the bun!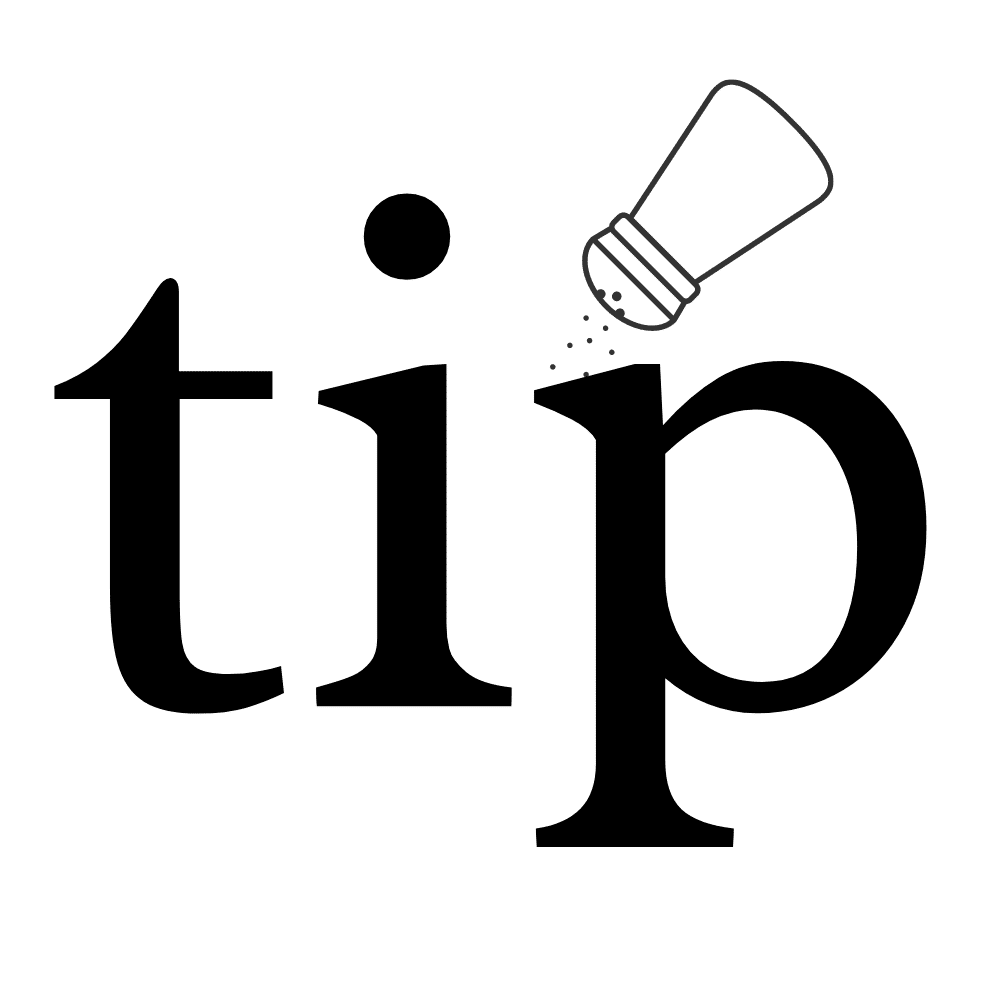 When choosing cheddar cheese, consider opting for a block of cheddar that you shred yourself rather than pre-shredded options. Freshly shredded cheese tends to melt better, giving you a smoother, creamier texture in the final dish.

Step-by-Step instructions
This big mac casserole with tater tots is a really easy meal to make any day of the week. The below steps with matching photos are not meant to be the full recipe, but instead to help you see the recipe made at various stages so you can make this casserole perfectly every time.
For the ingredient list with measurements, full instructions, printable recipe, and additional notes, please scroll down to the recipe card.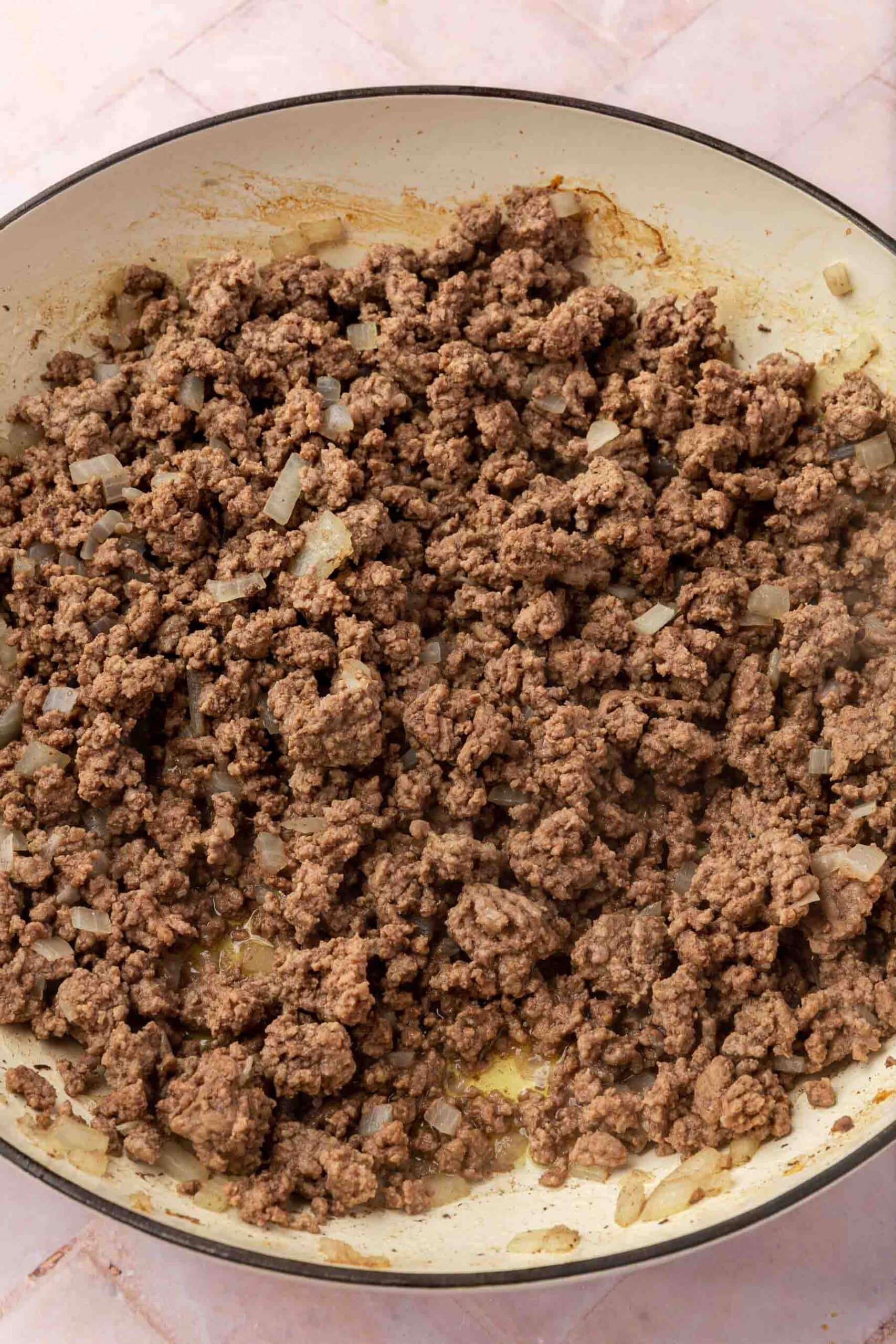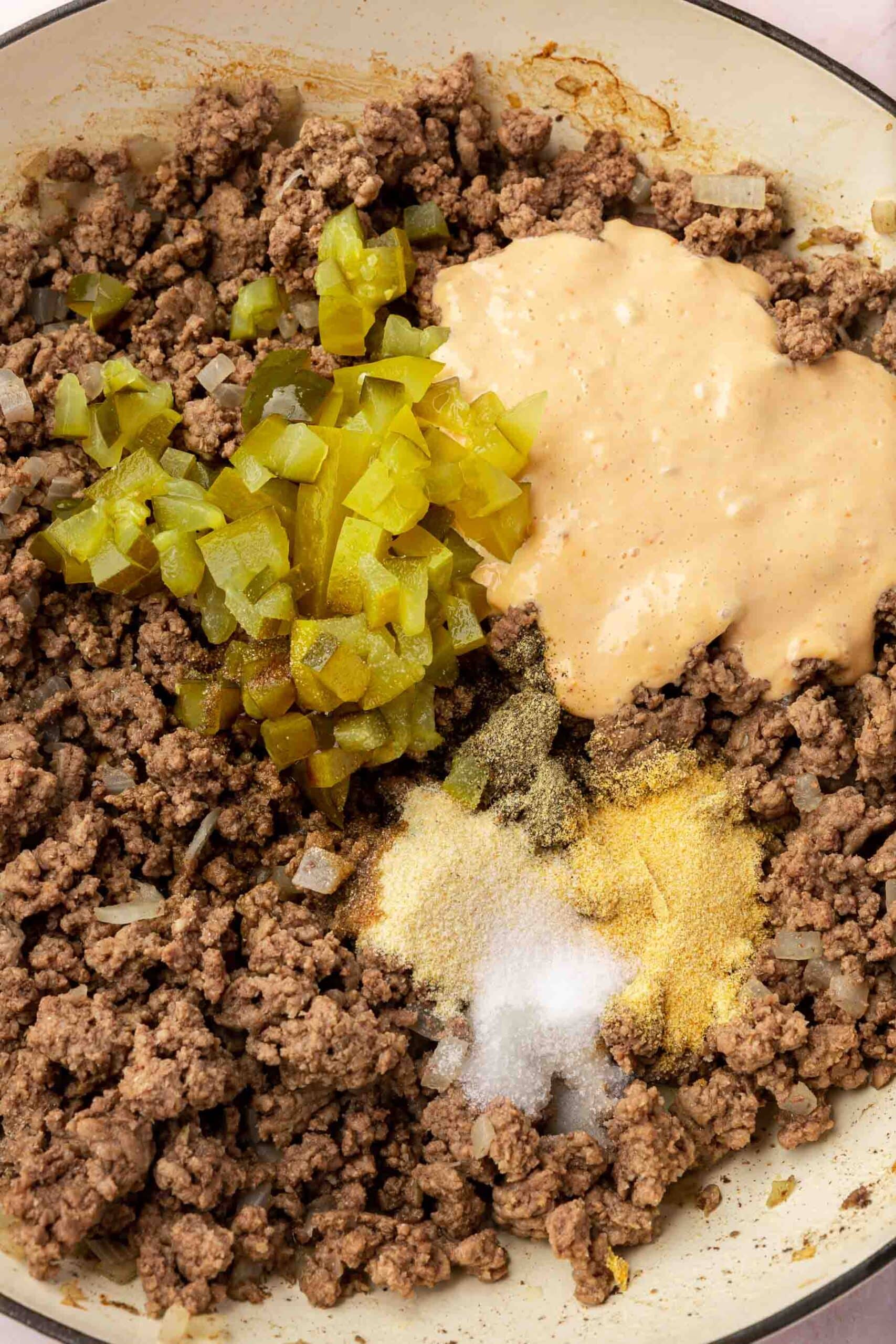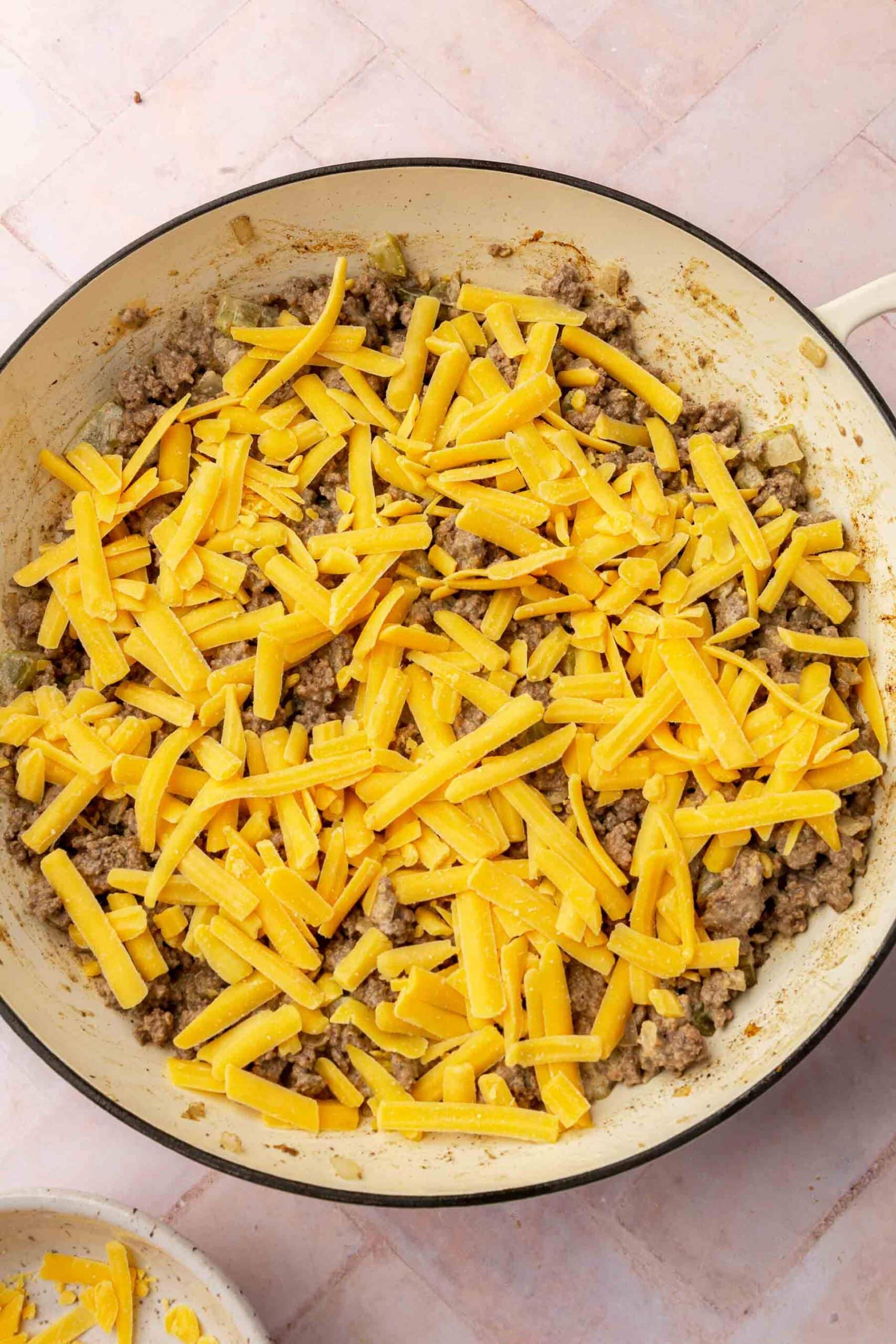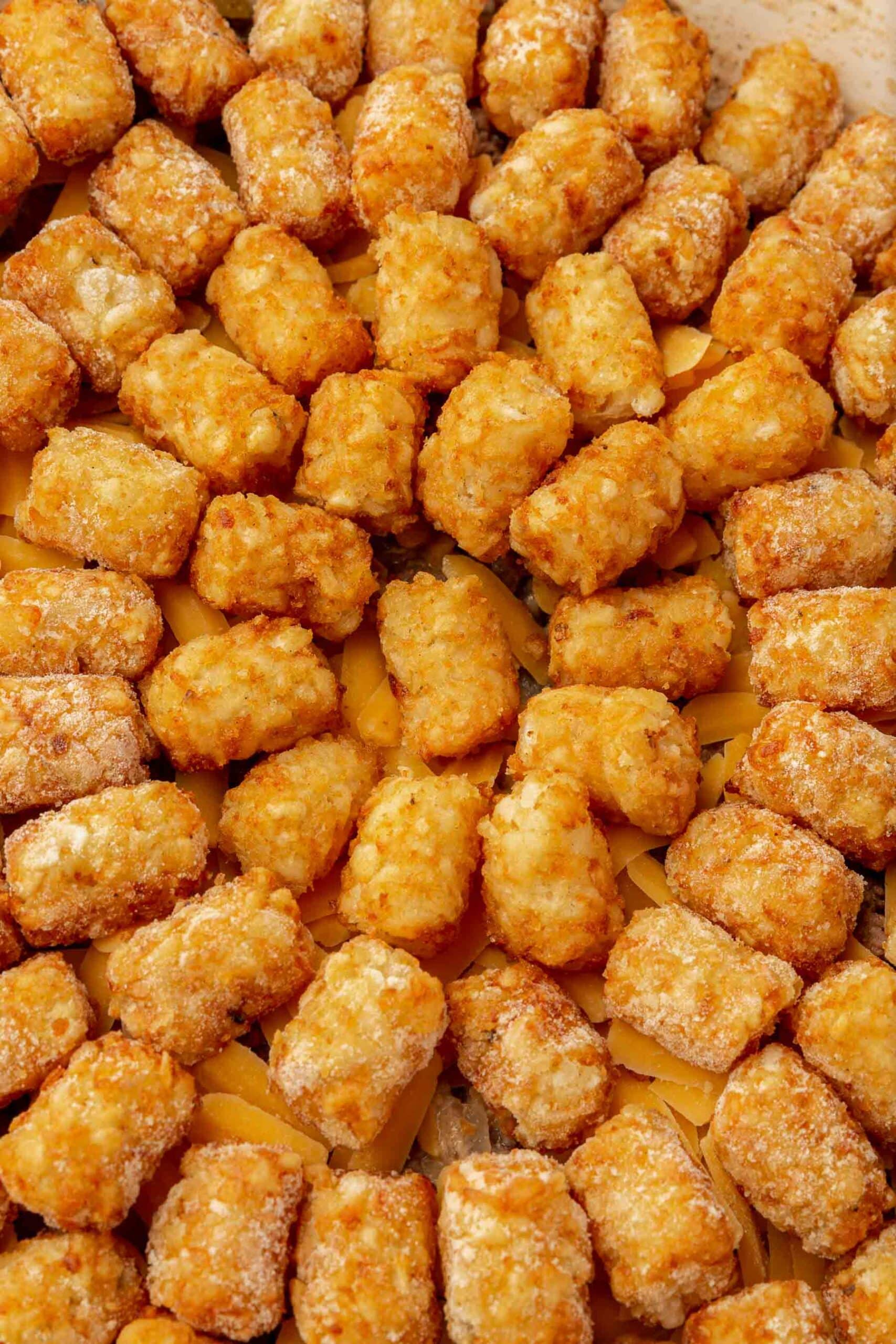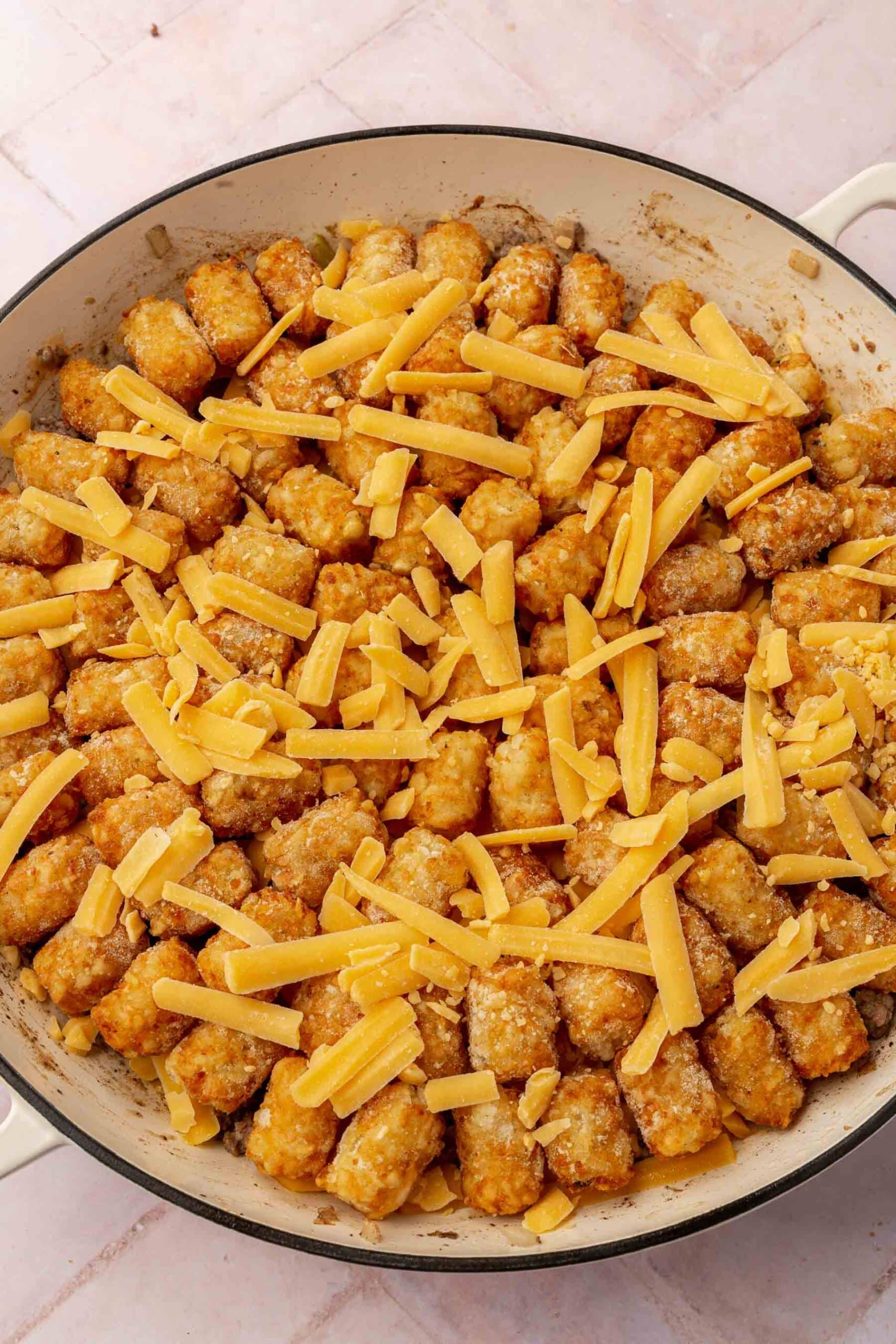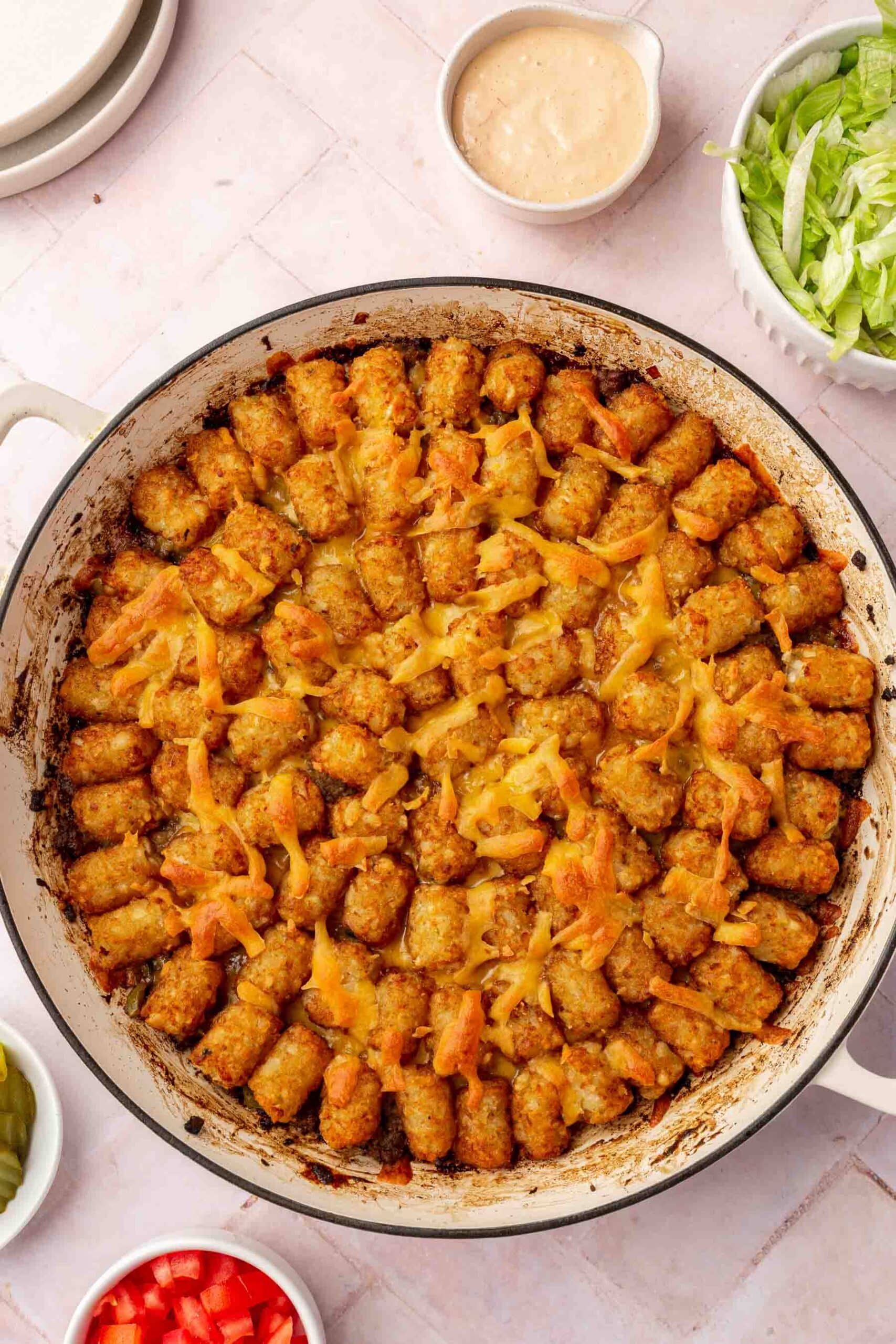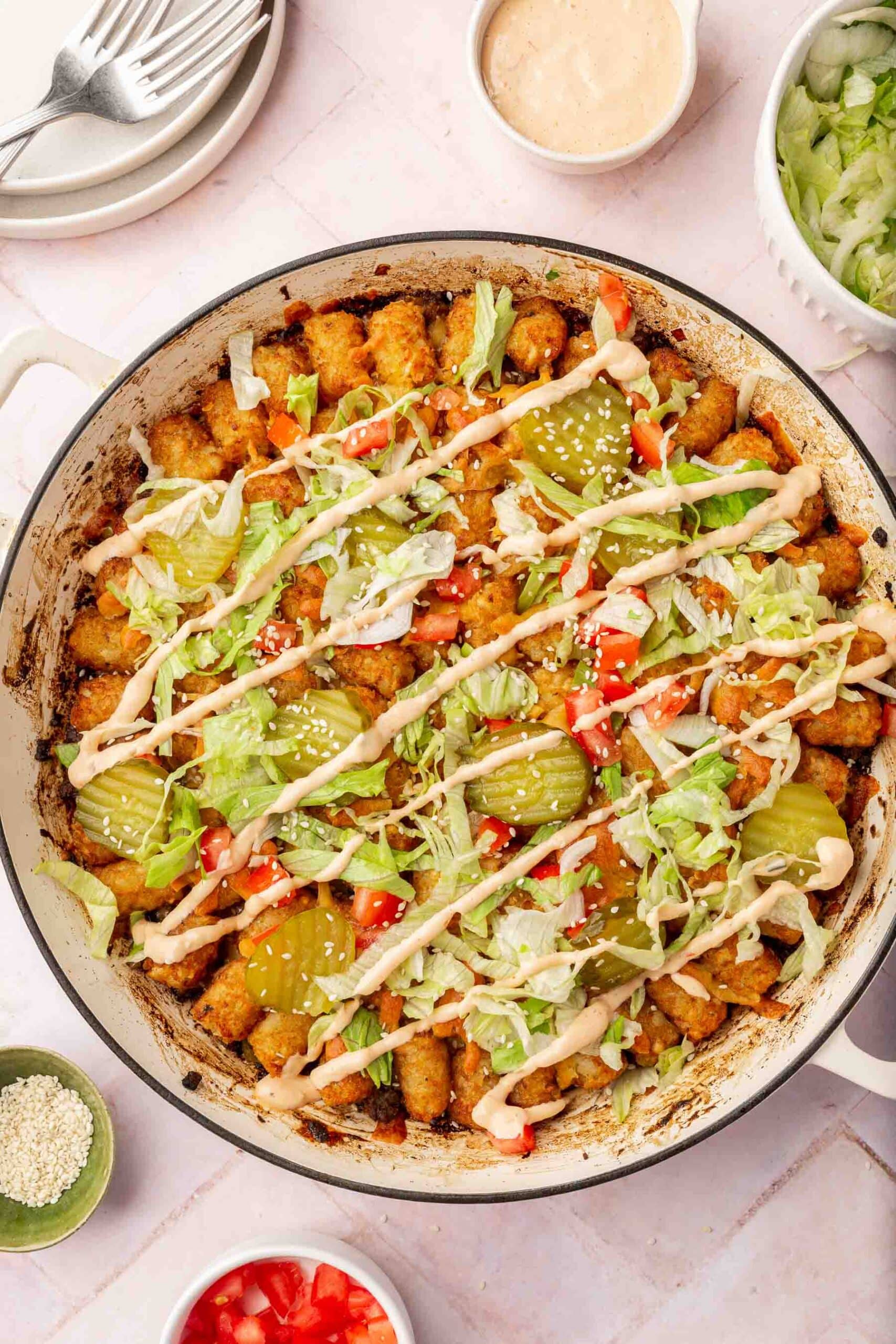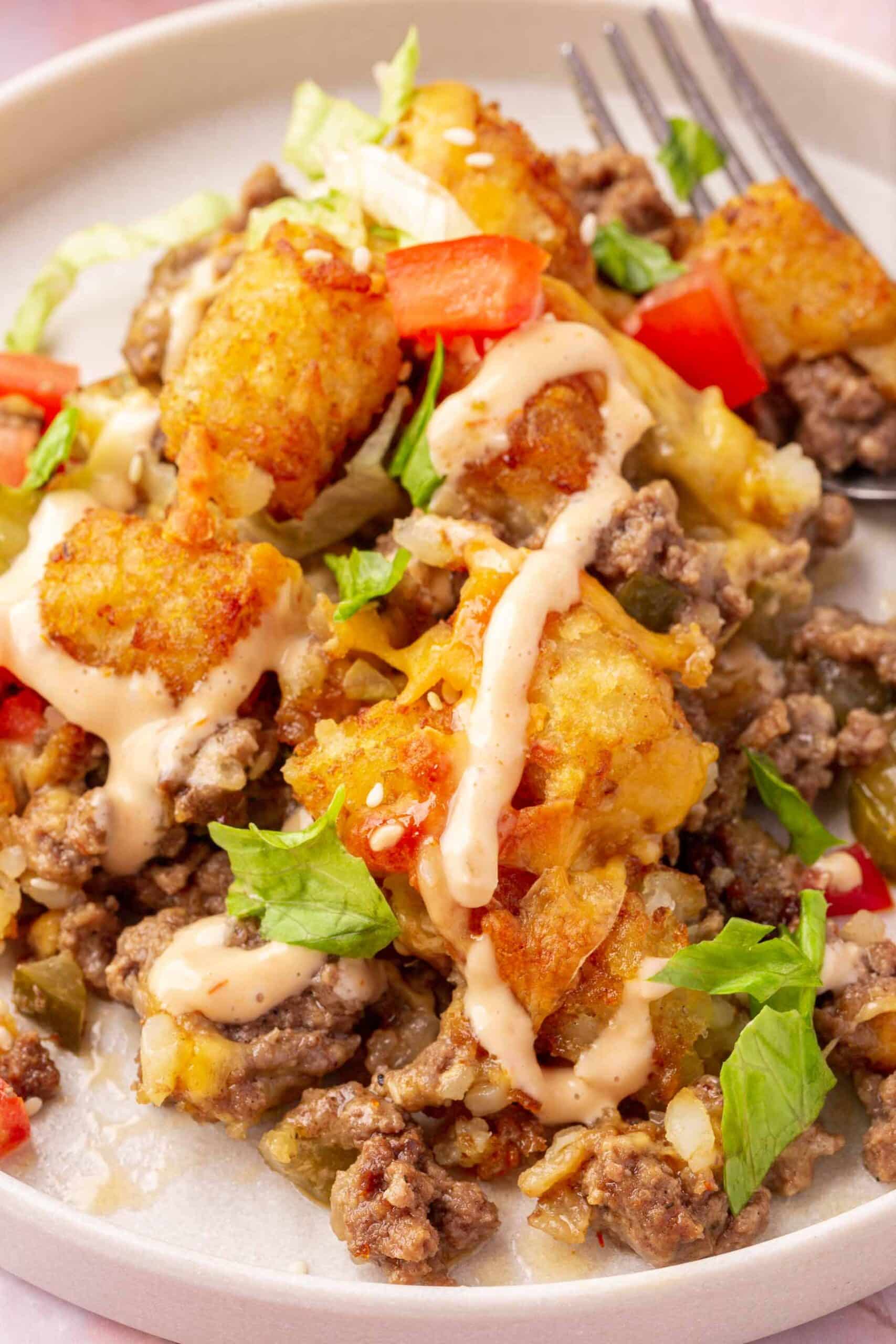 Recipe FAQs
Can I make this casserole ahead of time?
To assemble the Big Mac Casserole ahead of time, prepare the meat and sauce layers as directed and store the mixture in the fridge, covered, for up to 24 hours. Wait to add the shredded cheese and tater tots until just before baking. You may need to add an extra 5-10 minutes to the baking time since the casserole will start off cold.
Can I use a meat alternative?
You can use ground turkey or chicken instead of ground beef, though I find ground beef will make this casserole taste most like a Big Mac. Plant-based meat alternatives can also be used for a vegetarian version, but make sure to check that they are gluten-free if needed.
Can I freeze this casserole?
Yes, the casserole can be frozen. It's best to freeze it before baking in the oven. When you're ready to eat, let it thaw overnight in the fridge and then bake as directed, adding a few extra minutes to the cooking time.
Is big mac casserole gluten-free?
Yes, this big mac casserole is gluten-free as long as you double check ingredients like worcestershire sauce, thousand island dressing and tater tots to ensure they are gluten-free. I've included which brands I've used in the ingredients notes to help you find gluten-free options at your local grocery store.
Is Thousand Island dressing the same as Big Mac sauce?
While they are similar, they are not exactly the same. Thousand Island dressing normally has ketchup, while Big Mac sauce tends to be made with French dressing. Obviously, Big Mac sauce also has pickles in it, which is why we add that in our casserole. In this recipe, I think Thousand Island dressing will get you pretty close to the real deal without the extra fuss of making the sauce from scratch.
Storage instructions
Storage: Store the cooled casserole in an airtight container in the refrigerator for up to 3-4 days. For best quality, separate the fresh toppings like lettuce and pickles before storing.
Freezer Option: For best results, freeze the casserole prior to baking it. When it's time to cook the casserole, defrost it in the refrigerator overnight and proceed with the oven-baking steps. You'll likely need to extend the original baking time by a few minutes.
Reheat: To reheat, place the casserole in a preheated 350°F (175°C) oven for 15-20 minutes or until heated through. For quicker reheating, microwave individual portions for 2-3 minutes, though this may affect the texture of the tater tots.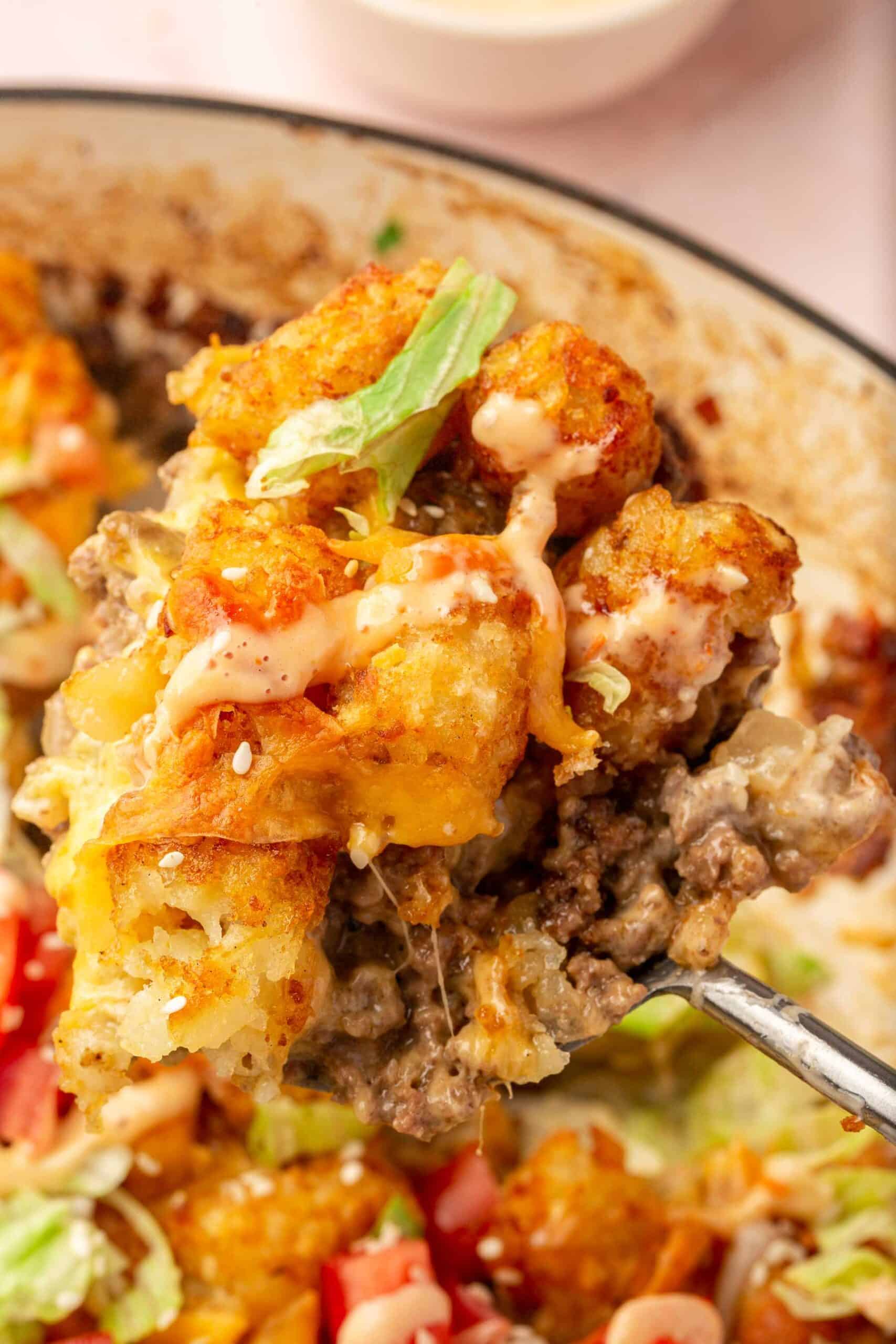 More delicious dinners to try
Did you make this recipe?
I'd love to know! Please rate it and leave a comment below. You can also share your pictures and tag @adashofmegnut on Instagram.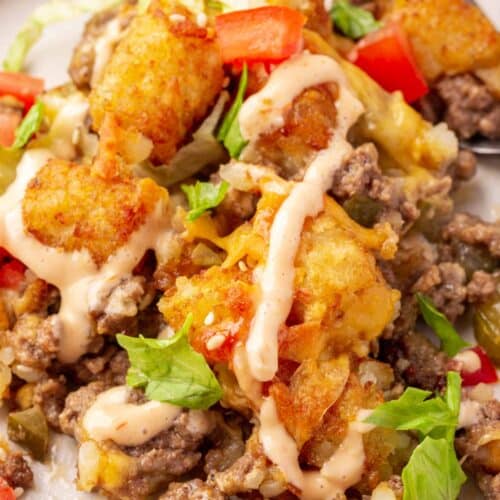 Big Mac Casserole
This big mac casserole is a one-dish recipe that replicates the taste of a classic Big Mac, without the bun. With seasoned beef, creamy dressing, tangy pickles, crispy tater tots, and creamy cheddar cheese, this is a dinner recipe that the whole family will love. It's on the table in under an hour and can be assembled ahead of time, making meal prep a breeze!
Print
Pin
Rate
Ingredients
2

pounds

ground beef

1

onion

(diced)

1

teaspoon

garlic powder

1

teaspoon

onion powder

1

teaspoon

salt

1/2

teaspoon

ground black pepper

1

tablespoon

Worcestershire sauce

(gluten-free)

3/4

cup

Thousand Island dressing

(180g, gluten-free if needed)

1/2

diced pickles

(100g)

2

cup

shredded cheddar cheese

(8 oz/227g, divided)

24

oz

tater tots

(gluten-free if needed )
For topping:
2

tablespoons

gluten-free Thousand Island dressing

1/2

cup

diced tomatoes

1/4

cup

sliced pickles

1/2

cup

shredded lettuce

1

tablespoon

sesame seeds
Instructions
Preheat your oven to 400°F (205°C).

Place a skillet or cast iron pan on the stove top over medium heat. Add the ground beef and onion and cook for 6-8 minutes, breaking up the beef with a spatula as it cooks.

Cook until no more pink remains and the onions are translucent. If there is a lot of fat in the skillet, drain most of it with a spoon.

Add the garlic powder, onion powder, salt, pepper, worcestershire sauce, dijon mustard, Thousand Island dressing and diced pickles to the ground beef mixture. Stir to combine.

Cook for an additional 2-3 minutes.

Sprinkle 1 1/2 cups of the shredded cheddar cheese evenly over the dressing layer.

Arrange the gluten-free tater tots on top of the cheese layer in a single layer. Sprinkle with the remaining 1/2 cup of shredded cheese.

Bake the casserole in the preheated oven for 35-40 minutes, or until the tater tots are golden brown and crispy, and the cheese is melted and bubbly.

Once cooked, remove the casserole from the oven and let it cool for a few minutes. Sprinkle sliced pickles, shredded lettuce, diced tomatoes, and sesame seeds on top, if desired.

Serve and enjoy!
Notes
If you have celiac disease like me or are on a gluten-free diet for any reason, be sure to double check your ingredients to ensure they are gluten-free. The worcestershire sauce, Thousand Island dressing and tater tots are 3 ingredients you will need to make sure are gluten-free when shopping at your local grocery store.
Opt for lean ground beef to minimize fat content. If you're using a higher-fat cut, make sure to drain the excess fat after cooking.
Pre-shredded cheddar saves time, but for better melt and flavor, shred your own block of cheddar.
Oven temps can vary; start checking at the 30-minute mark to avoid overcooking.