Last Updated on
Did you know it's so easy to make your own vinaigrette at home? All you need is a few ingredients to make this easy honey mustard vinaigrette. Just add to a jar, shake and toss with a few fresh ingredients for a simple salad great for dinner and entertaining, too!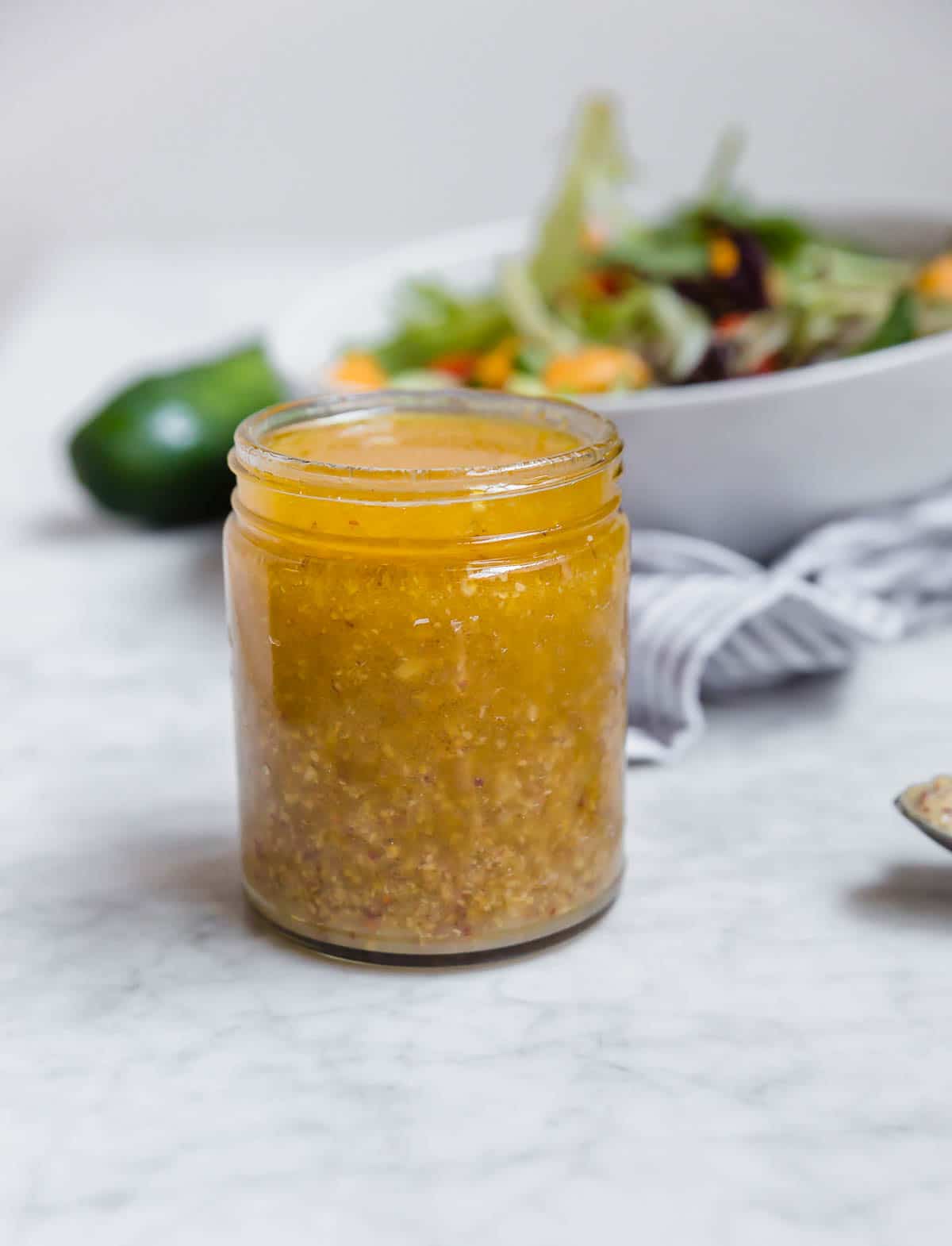 During the summer when it's just much too hot to turn the oven on, salads become my go-to for lunch time. They're just so easy to throw together and there are so many topping options. I like that as long as I have some lettuce, spinach or kale on hand, I can add whatever veggies and protein I have in my refrigerator and have a meal!
We like to keep a few salad dressings on hand in our refrigerator, but a lot of the time I love making mine own with some pantry staples. This way, I know exactly what is going into my salad dressing. A lot of store-bought salad dressings have gluten in them as a thickening agent. But, homemade vinaigrettes are a breeze to make and that way I know they're gluten-free!
This honey mustard vinaigrette is easy as can be and perfect on any summer salad. I made it a few years back on my farmers market salad with green beans, fingerling potatoes, corn and tomatoes. It was pure summer perfection!
The sweet and tangy honey mustard vinaigrette pairs so well with fresh veggies, it's become a family favorite. More recently I served this mustard vinaigrette over a salad with my crispy polenta croutons! SO GOOD! I've made this DIY honey mustard vinaigrette so many times and everyone raves about it when I bring it along to potlucks.
How to Make Honey Mustard Vinaigrette
No one can believe how simple it is to make, too! All you need are a few ingredients that you probably already have on hand – ground mustard, apple cider vinegar, olive oil, honey, shallot, garlic, and some salt and pepper.
Just combine into a mason jar with a lid, shake, and serve. If you don't have a mason jar with a lid, you can always give it a good whisk in a bowl. I just love the mason jar because it makes for easy storing in the refrigerator, too.
Use Shallots in your Homemade Vinaigrette
Can we talk about the flavors in this salad dressing a bit? In my opinion, the shallot is KEY to this honey mustard dressing. The shallot provides such great flavor to this tangy honey mustard salad dressing and is not to be skipped.
You can typically find shallots right by the onions in the produce section of your grocery store. If you haven't cooked with shallot before, you're in for a treat! They look a little bit like garlic bulbs, but they're part of the onion family.
They have a milder taste than yellow or red onions, which is why they're great served raw. You won't get that overpowering onion taste in this dressing from the shallot. So even if you dislike onions, I encourage you to try shallots in this recipe!
The Basic Vinaigrette Ratio
The basic ratio for a vinaigrette is 3:1 – so 3 parts of oil to 1 part of vinaigrette. I've adjusted my ratio here just ever so slightly, but still close to that classic 3-to-1 vinaigrette ratio. When we're talking vinaigrette ratios, we're not including any emulsifiers, like honey or mustard.
Not saying you really need to use an emulsifier in a vinaigrette recipe, but I did in this honey mustard vinaigrette recipe. Emulsifiers just add flavor and keep the oil and vinegar from separating.
But as long as you have this 3:1 vinaigrette ratio in your back pocket, you can make your own vinaigrettes at home! So get experimenting! But first, try this honey mustard vinaigrette recipe – you'll love it!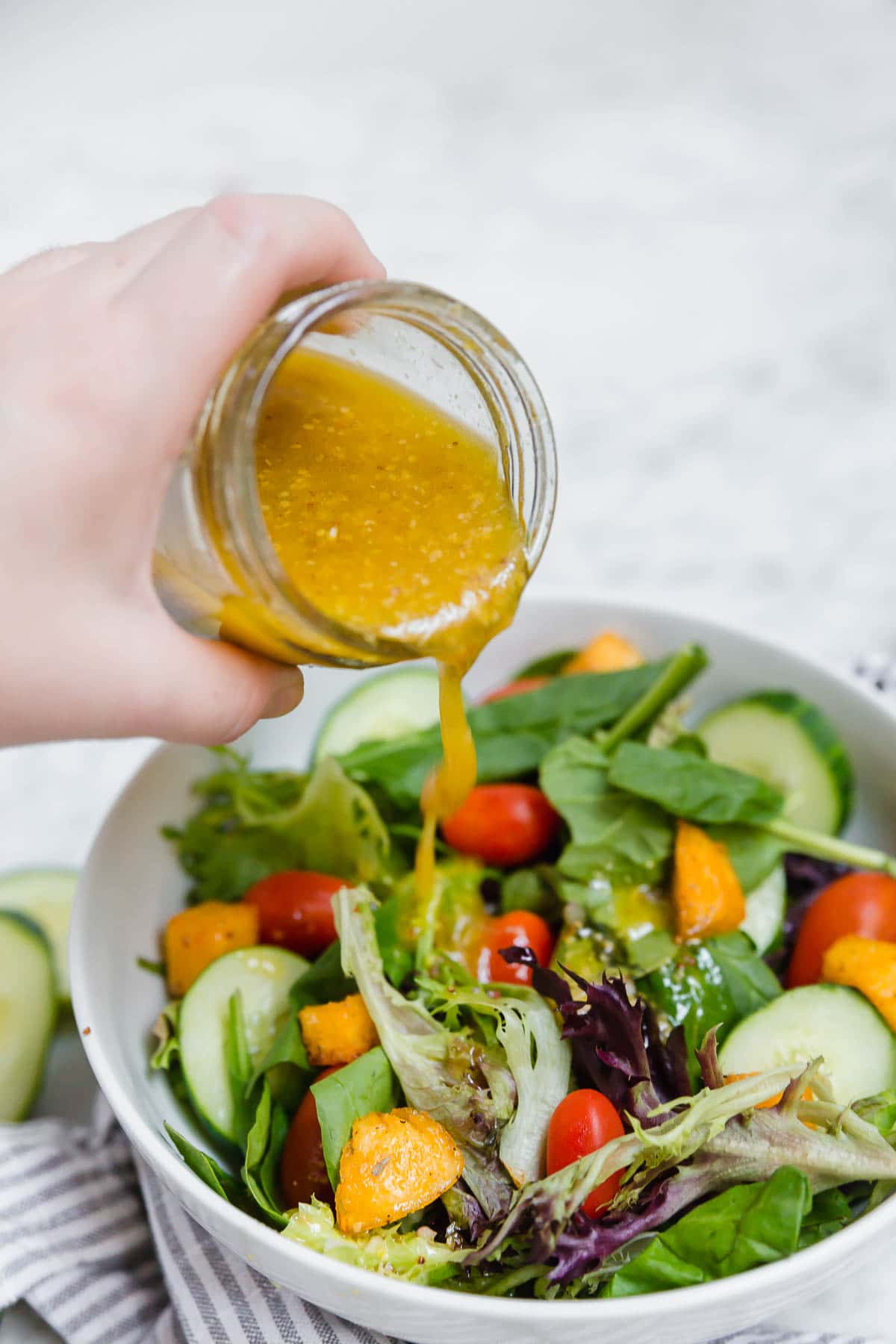 Tips and Tricks for Making Honey Mustard Vinaigrette
This recipe was written using a coarse stone ground mustard, but you can also use dijon mustard or honey mustard, too. Adjust the honey accordingly. I don't suggest using a regular yellow mustard, the taste is a little too sharp and harsh for my liking.
Instead of apple cider vinegar, you can also use white wine vinegar in it's place.
Other oils work in this recipe in place of olive oil, including avocado oil, safflower oil, and canola oil.
Taste the dressing before tossing with your salad and adjust the seasonings. If you want it more tangy, add more apple cider vinegar. If it's too tangy, add a little bit more stone ground mustard or olive oil.
When tasting the vinaigrette, remember it's supposed to be full of flavor because your salad is not yet seasoned. Don't taste it alone, instead taste it with a piece of lettuce, cucumber, tomato, etc. to see how it tastes!
Other Gluten-Free Salad Inspiration You'll Love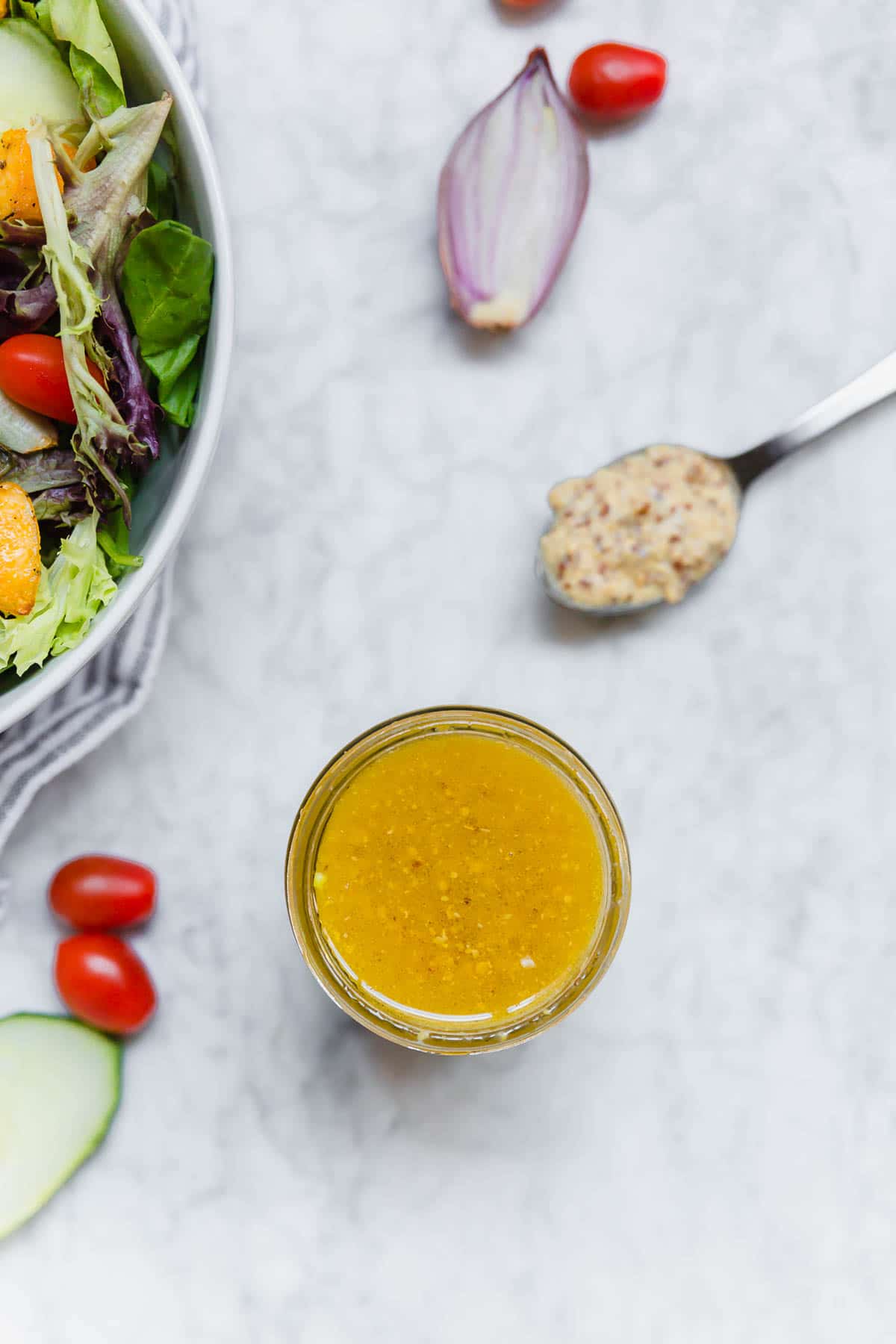 Honey Mustard Vinaigrette Recipe
All you need is a few simple ingredients to make this honey mustard vinaigrette! The sweet and tangy flavors pair so well with fresh salad greens and veggies. Take a few minutes to throw this salad dressing together and toss it with your favorite salad!
Add all of the ingredients to a glass jar with a lid and shake! Store extras in the same jar with the lid in the refrigerator – there's no extra bowls or whisks needed meaning no mess!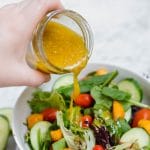 Print Recipe
Honey Mustard Vinaigrette
Making your own vinaigrette is so simple and tasty, too! With just a few ingredients from your pantry you can make a sweet and tangy honey mustard vinaigrette for your favorite salad!
Ingredients
1/4

cup

stone ground mustard

or dijon mustard

1/4

cup

apple cider vinegar

2/3

cup

olive oil

or other oil

3

tbsp

honey

1/2

shallot

finely minced

2

cloves

garlic

finely minced

1/8

tsp

salt

or to taste

1/8

tsp

ground black pepper

or to taste
Instructions
Add all ingredients (stone ground mustard, apple cider vinegar, olive oil, honey, shallot, garlic, salt and pepper) to a mason jar with a lid.

Close the lid and shake vigorously, until the vinaigrette is fully combined. If you don't have a mason jar, you can ask whisk the vinaigrette in a bowl.

Serve with your favorite salad. Keep leftovers in the refrigerator. Whisk or shake thoroughly before serving leftovers.
Nutrition
Calories:
192
kcal
|
Carbohydrates:
7
g
|
Fat:
18
g
|
Saturated Fat:
2
g
|
Sodium:
126
mg
|
Potassium:
21
mg
|
Sugar:
6
g
|
Vitamin C:
0.5
mg
|
Calcium:
6
mg
|
Iron:
0.3
mg