Last Updated on
Easy polenta croutons are the perfect gluten-free substitution for bread croutons. Use them on salads, soups or even just for snacking with some marinara sauce! They're so easy to make, too. Just a few simple ingredients is all it takes and you'll have flavorful croutons fresh from the oven!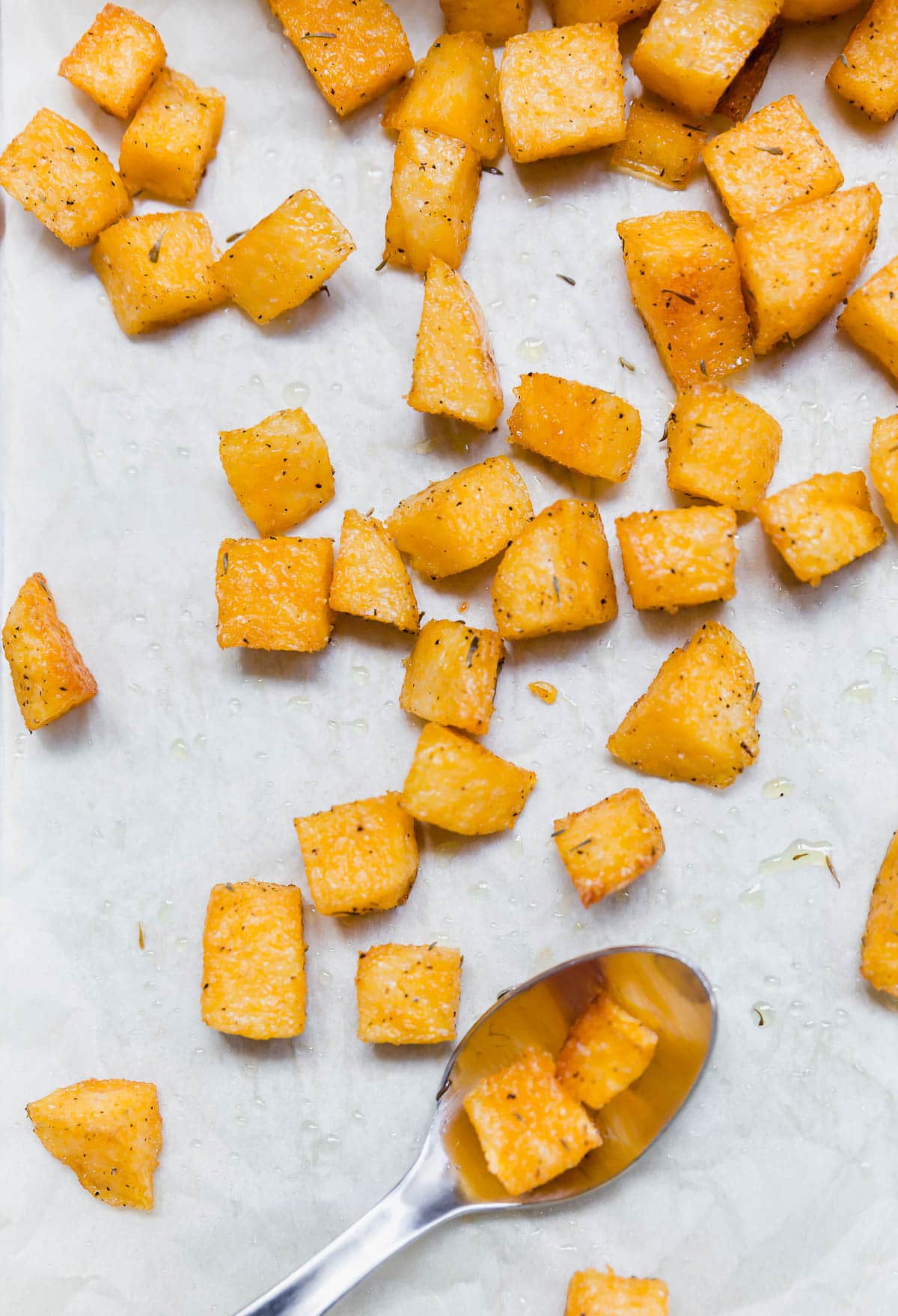 During the summer I crave big, hearty salads full of bright, beautiful colors and bursting with fresh veggies. Since I started my gluten-free journey after being diagnosed with celiac disease a few years ago, I've found myself missing an essential part of my favorite salads.. CROUTONS!
Sigh. Croutons. The flavor. The tasty carbs. The CRUNCH.
I thought my crouton days were over, but then I realized that polenta makes the BEST gluten-free croutons for salads, soups and stews! In the summer, top these easy polenta croutons on a big salad. In the winter, top your favorite tomato soup with these flavorful croutons. They're the perfect recipe all year round!
These easy polenta croutons could not be simpler to make, too. To make these polenta croutons you'll need a tube of precooked polenta, olive oil, and your favorite spices. That's it! Just cube the precooked polenta, toss with oil and spices, and bake until crispy. You, of course, could make polenta from scratch and let it firm up in the refrigerator, then bake into crunchy croutons. But, I always keep a tube of precooked polenta on hand in my pantry because it makes these polenta croutons SO EASY!
I typically purchase polenta that does not already have any flavorings in it since I use precooked polenta for multiple types of recipes from sweet to savory. However, there are varieties that have spices already in the polenta. If you use one of those, you don't actually need to toss your polenta cubes in spices before baking since they are already full of so much flavor. Play around with the herbs and spices you use. You can sprinkle with parmesan cheese even!
These polenta croutons are the perfect gluten-free substitute for bread croutons. They stay a little creamy on the inside and nice and crunchy on the outside. The flavor is slightly buttery and pairs perfectly against any salad or soup.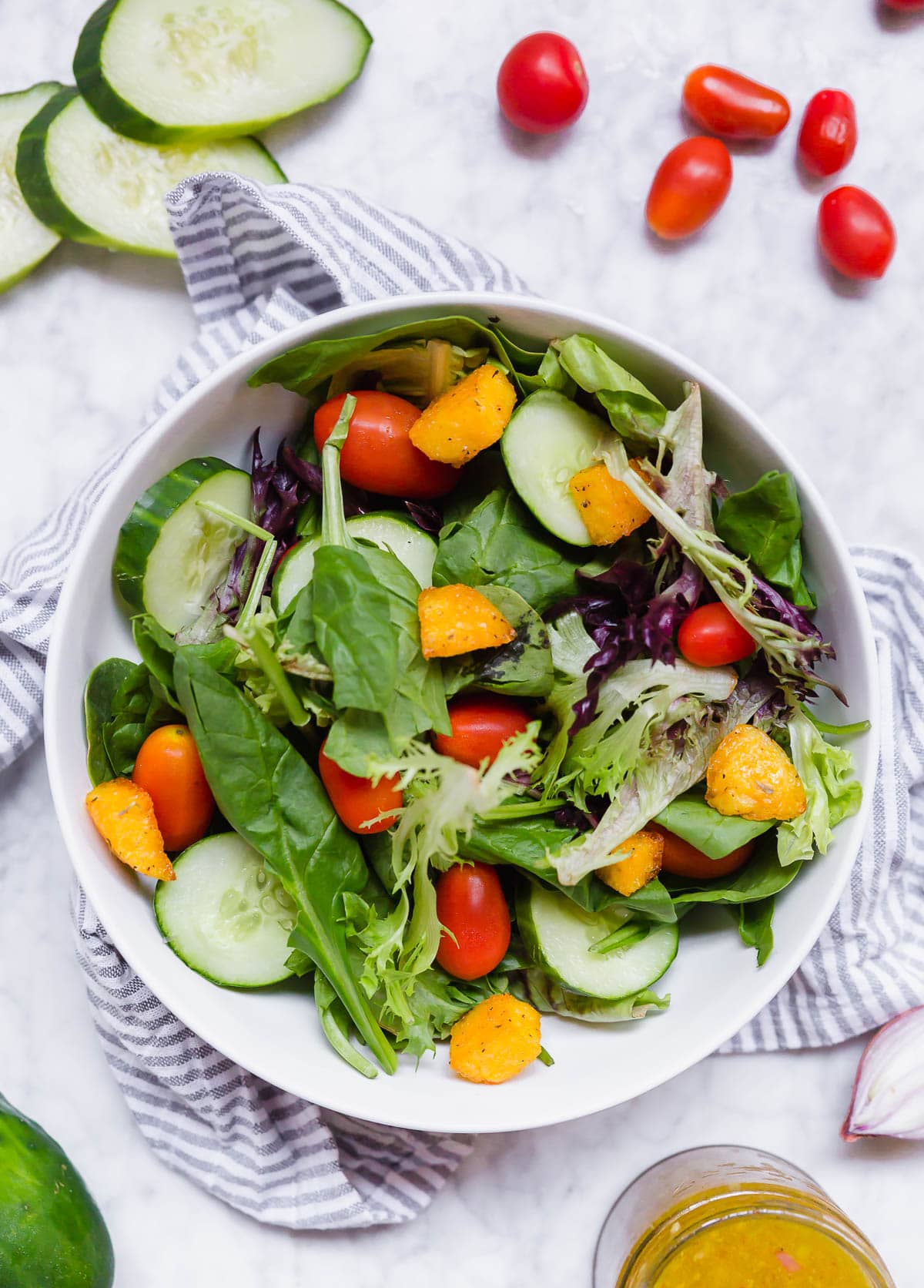 Tips and Tricks for Making Polenta Croutons
You want to make these polenta croutons just before serving. Since you'll refrigerate the leftovers, they get soggy when stored in the refrigerator. However, you can reheat refrigerated polenta croutons in the oven for 10-15 minutes until they're crispy again!
If you don't want to use precooked polenta in a tube, you can also make the polenta from scratch. You'll need to let the polenta firm up in the refrigerator before cubing and baking into crispy croutons!
The time needed to bake the polenta croutons may vary based on your oven, how big you cut your cubes of polenta and the amount of oil. Start checking the oven at about 30 minutes to ensure your polenta croutons do not burn. Keep baking until the croutons are lightly browned on each side. Mine consistently take about 50 minutes in the oven.
Ways to Use Gluten-Free Polenta Croutons
Try These Other Gluten-Free Polenta Recipes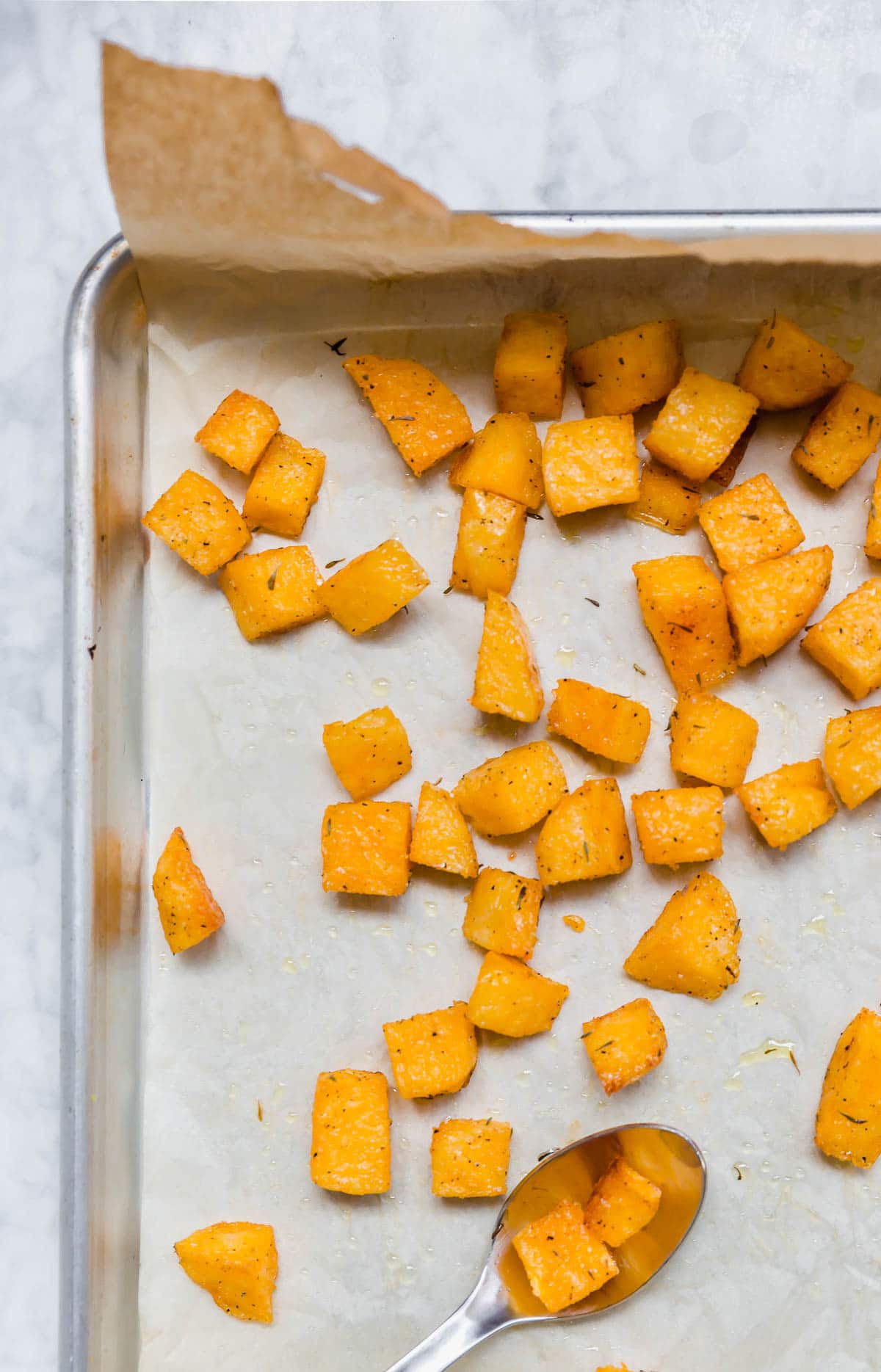 Easy Polenta Croutons Recipe
These easy polenta croutons are such a fun substitution for bread croutons if you can't eat gluten. You can use them any way you would use normal croutons, from salads to soups or just to snack on. They're great with a side of marinara sauce. You'll love how simple these are to make when you use precooked tubed polenta. Just toss with olive oil and herbs and pop them in the oven!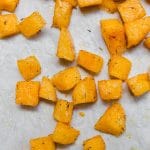 Print Recipe
Easy Polenta Croutons
These easy polenta croutons are gluten-free and delicious topped on your favorite salad or bowl of tomato soup! They take just a few minutes of preparation and then are baked in the oven until crispy.
Ingredients
16

oz

precooked tubed polenta

cut into 1/2 inch cubes

1

tbsp

olive oil

1/8

tsp

salt

1/8

tsp

ground black pepper

1/4

tsp

dried thyme
Instructions
Preheat oven to 425F. Line a baking sheet with parchment paper.

In a bowl, toss cubed polenta, olive oil, salt, pepper and dried thyme until completely covered.

Place polenta onto the baking sheet in a single layer. Bake at 425 for 45-50 minutes, flipping half way through, or until polenta cubes are browned on both sides. Start checking at the 30 minute mark.
Nutrition
Calories:
98
kcal
|
Carbohydrates:
14
g
|
Protein:
1
g
|
Fat:
3
g
|
Sodium:
75
mg
|
Potassium:
23
mg
|
Vitamin A:
35
IU
|
Calcium:
3
mg
|
Iron:
0.3
mg