Baked polenta manchego fries with marinara sauce are the ultimate appetizer recipe! If you want a change up from the traditional potato french fries, then this gluten-free recipe is for you!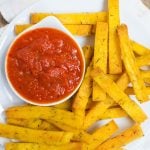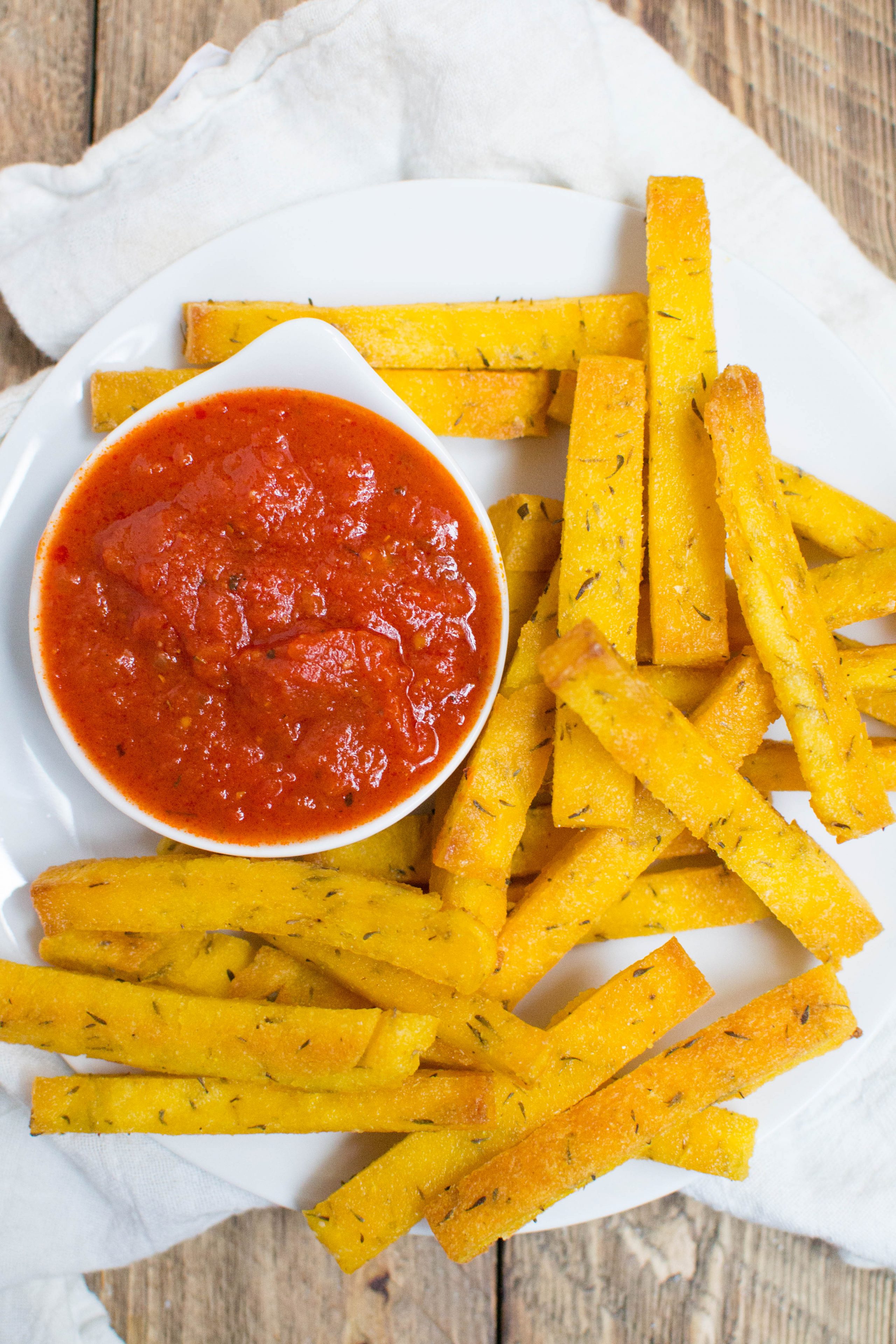 Today is the day! My blogiversary. You know… my anniversary of blogging. Blog + anniversary = blogiversary. Just go with it. I've officially been blogging here at A Dash of Megnut for EIGHT years. I almost can't believe it! Time sure has flown by, but at the same time this blog has changed SO much that it seems like it's been forever.
In my early years, it was just write a post and my roommates, sisters and mom would read the post and that would be it. Now… there are THOUSANDS of you visiting my blog each and every month. It's just crazy to me!
But I absolutely love having you here and sharing in this with you. As you may or may not know, this blog really just started as a way for me to learn how to cook during college and I created recipes from others and shared them here.
The pictures were atrocious, the writing was "meh" at best, and I sometimes can't even bear to go look at some of those early posts. But since I like you and we all need a good laugh sometimes, I'll share my first photo ever on Instagram if you dare to go look at it.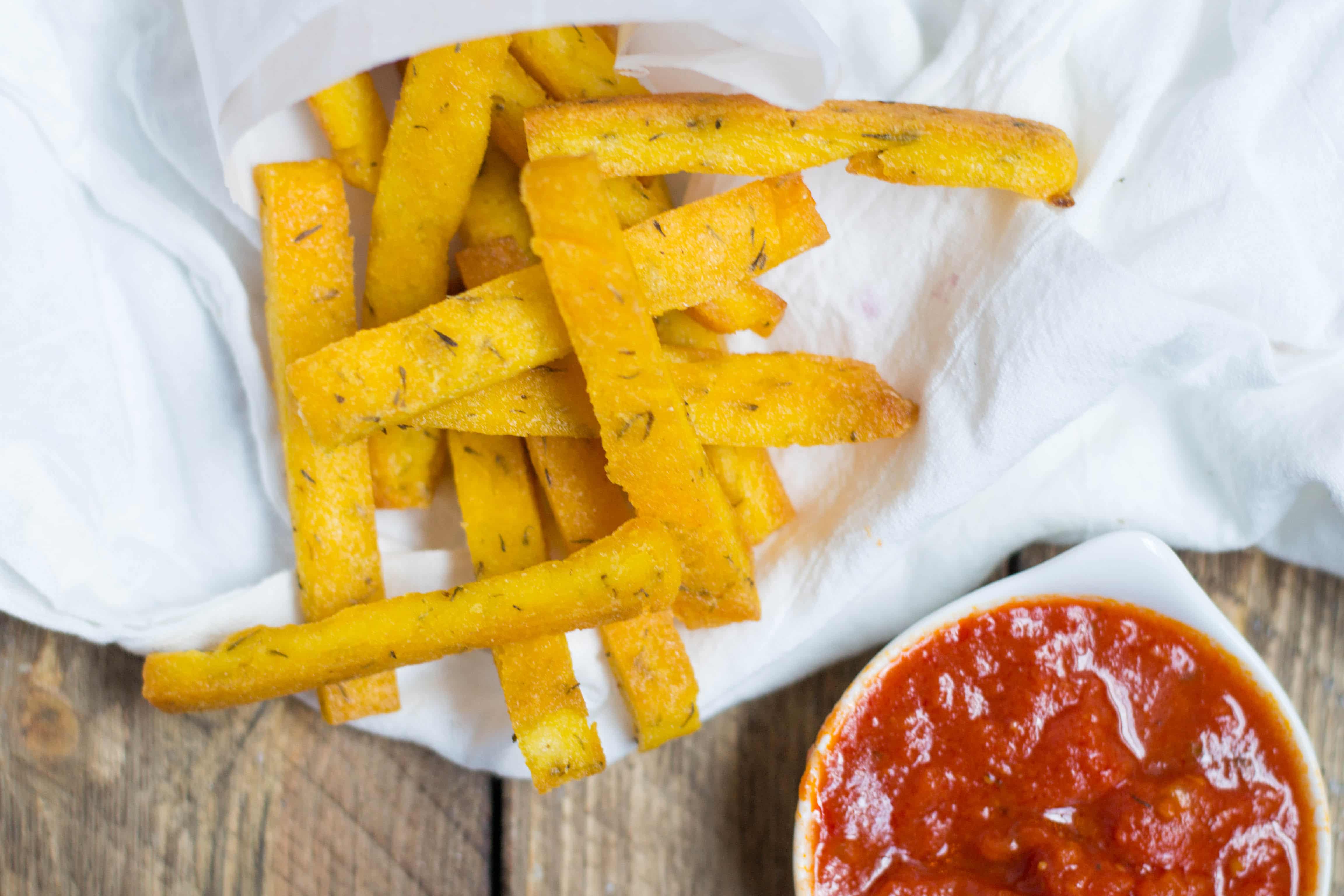 A little over four years ago, I was diagnosed with celiac disease and this little blog of mine became a gluten-free food blog.
After starting a gluten-free diet (and soon after incorporated dairy-free, egg-free and vegan recipes into my life), I began focusing on creating my own recipes to make my favorite dishes gluten-free.
I love sharing my favorite recipes and products with you all, especially those of you who are on the gluten-free journey with me. I know it's not always the most easy lifestyle but so necessary for so many of us. Before I get REAL sappy, I just want to thank you all for being here the last 8 years. It truly means the world to me!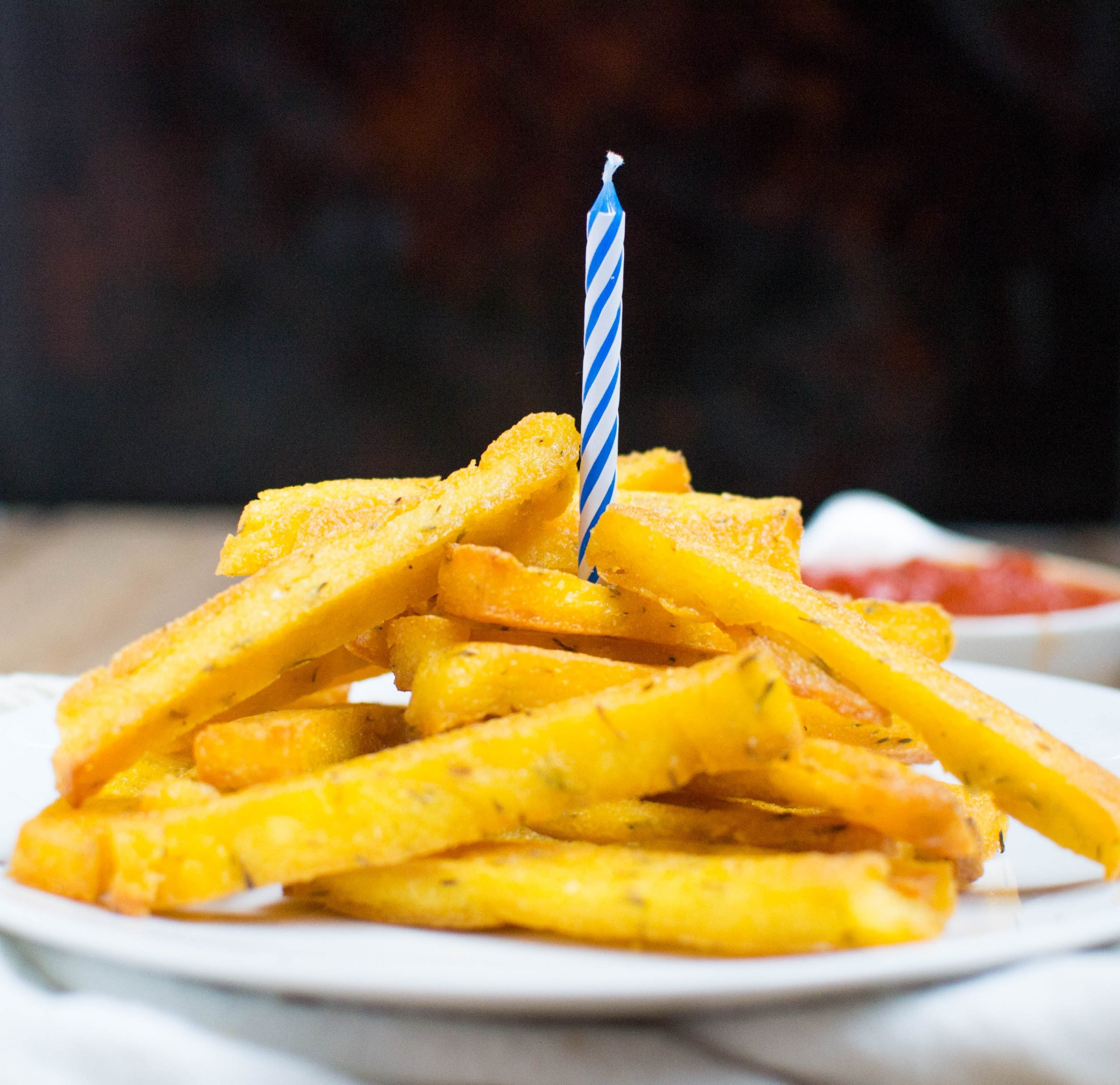 For my 8 year blogiversary, I was thinking I could make a cake or cookies as you normally would do with any sort of birthday. However, polenta fries were just calling my name.
But not just ANY polenta fries, but baked polenta manchego fries. I mean… who wouldn't want to put a candle in the middle of a stack of fries? Exactly. In case you're wondering, manchego is a Spanish cheese made of sheep's milk and it is quite possibly my favorite cheese ever.
I'm mostly dairy-free due to a casein intolerance but I've found in the last 6 months or so that I can tolerate goat and sheep's milk cheeses (but cow's milk is still iffy for me). You won't really get an ooey gooey kind of cheesiness from using manchego but it does give the baked polenta fries a really great cheesy flavor.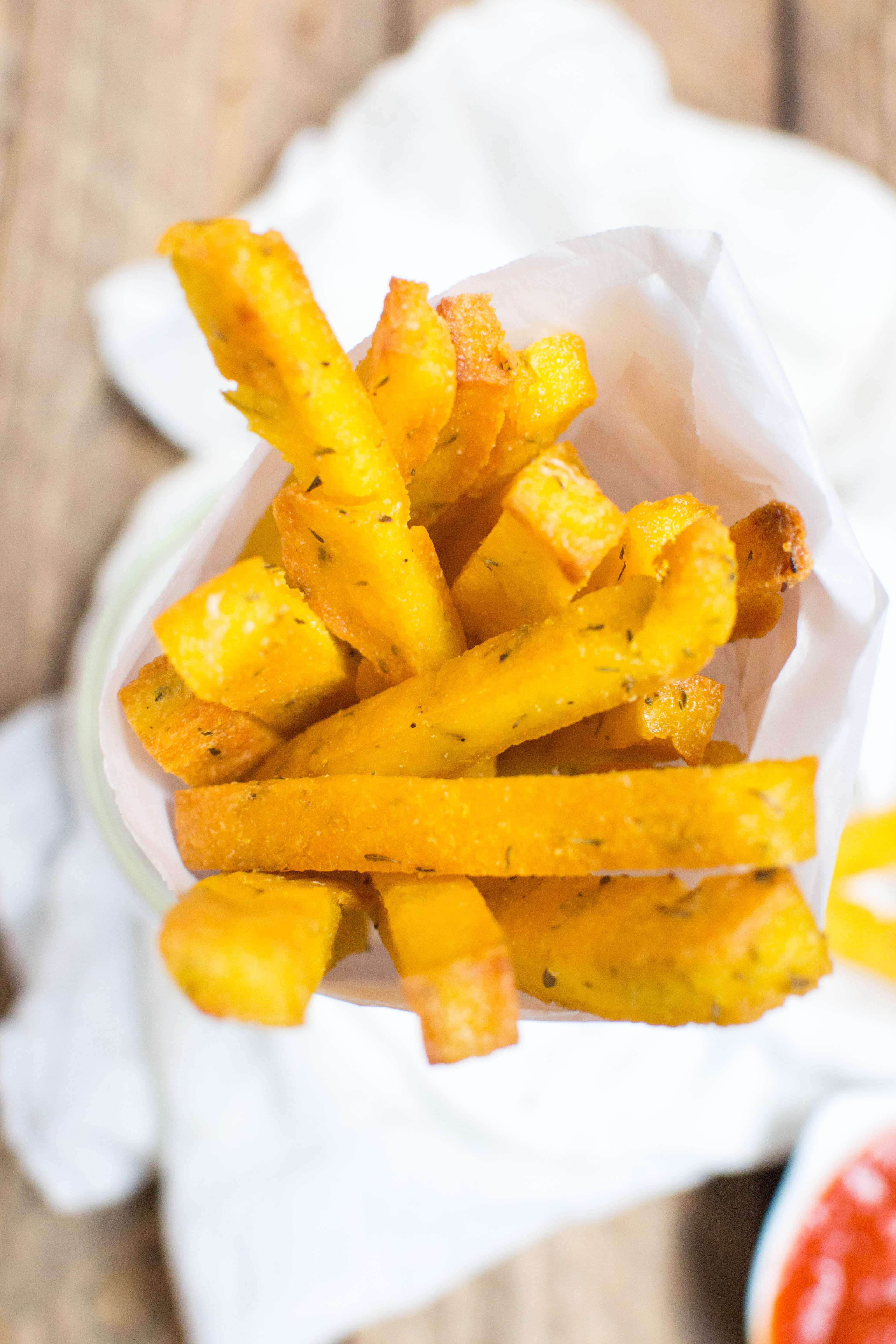 I used baked polenta as croutons for my cranberry pork polenta stuffing and found myself eating the polenta croutons straight out of the oven. That made me realize that they would make amazing fries! And did they ever!
I went for a kind of pizza vibe with these and seasoned the polenta with dried thyme before baking. Then, I served it with marinara for the the perfect dipping sauce. An aioli or even ketchup if that's your sort of thing (I hate ketchup, sorry) would be great, too!
These baked polenta manchego fries would be a great side with dinner or served as an appetizer for a party. Can you say Super Bowl appetizer status? I think so!
Baked Polenta Manchego Fries
Baked polenta manchego fries with marinara sauce are the ultimate appetizer recipe! If you want a change up from the traditional potato french fries, then this gluten-free recipe is for you!
Print
Pin
Rate
Ingredients
3

cups

water

1

cup

instant polenta

(I used Colavita)

1

tsp

salt

1/2

tsp

ground thyme

1/2

cup

manchego cheese

(shredded)

1

tbsp

avocado oil or olive oil

1/4

cup

marinara sauce

(for serving)
Instructions
Bring water to boil in a high sided pot. Slowly add polenta to the pot and stir constantly until the polenta and water are mixed. Lower the heat to medium-low.

Add salt and ground thyme to the pot. Stir frequently for about 5 minutes, or until polenta starts pulling away from the pot.

Stir in the manchego cheese until melted.

Pour into a 8x8 inch baking dish (sprayed with cooking spray), spread with a wet or oil covered spatula, and refrigerate for 30-45 minutes.

Once the polenta has cooled and set, cut into 4 inch x 1/2 inch rectangles.

Preheat oven to 450F. Brush or toss the polenta fries with oil. Bake for 25 to 35 minutes, turning once, until golden and crisp. Drain on a paper towel lined plate.

Serve with marinara sauce for dipping.
Nutrition
Calories:
243
kcal
|
Carbohydrates:
32
g
|
Protein:
7
g
|
Fat:
9
g
|
Saturated Fat:
4
g
|
Cholesterol:
15
mg
|
Sodium:
757
mg
|
Potassium:
105
mg
|
Vitamin A:
230
IU
|
Vitamin C:
1.1
mg
|
Calcium:
157
mg
|
Iron:
0.7
mg