Last Updated on
Spiced gluten-free pumpkin muffins are paired with a cheesecake filling for a moist and flavorful gluten-free pumpkin cream cheese muffin that you'll want to make all season long! Serve for weekend brunch or pair with a cup of coffee in the morning. The whole family will devour these yummy pumpkin cheesecake muffins!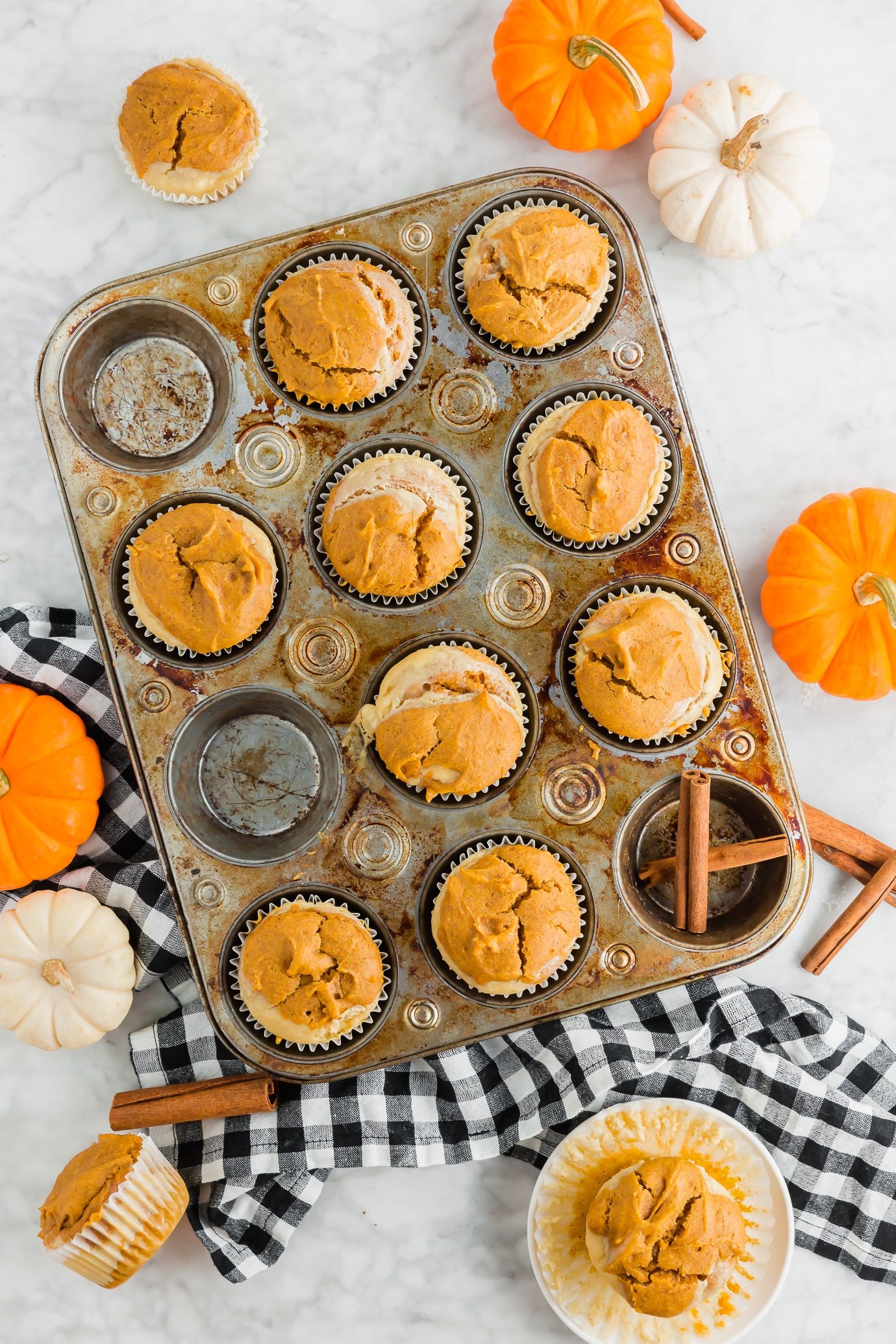 I saw a sale for pumpkin puree at the store.. and can you guess what I did? Bought seven cans. SEVEN! I have a problem. Luckily, problems are meant to be solved. And the best way to solve a pumpkin puree hoarding problem? Make these gluten-free pumpkin cream cheese muffins, of course!
Perfectly spiced and swirled with a cream cheese filling, these gluten-free pumpkin cheesecake muffins are better than what you'll find at a bakery or local coffee shop!
While these gluten-free pumpkin muffins require two steps to make the pumpkin batter and cream cheese filling, they are so easy to whip up! You can get them in the oven and have warm muffins on the table in about 45 minutes, which makes them a great option for weekend brunch!
What makes these Pumpkin Cheesecake Muffins Gluten-Free?
I used Bob's Red Mill Gluten-Free 1-to-1 Baking Flour for these pumpkin cream cheese muffins. It works as a 1-to-1 replacement with all-purpose flour.
It's one of my favorite blends to use since its readily available at many of the local grocery stores near me. Plus, it already contains xanthan gum, so you don't have to add any to the recipe.
I have only tested this recipe using Bob's Red Mill 1-to-1 Gluten-Free Baking Flour (Note: It is in a blue bag. I do not like the all-purpose baking flour in the red bag). Therefore, if you use a different gluten-free flour you may experience different results.
If your flour blend does not contain xanthan gum, you'll need to add it to the recipe as indicated below.
The rest of this recipe is naturally gluten-free! If you are not gluten-free, you can use all-purpose flour which I tested many years ago when this recipe was originally written.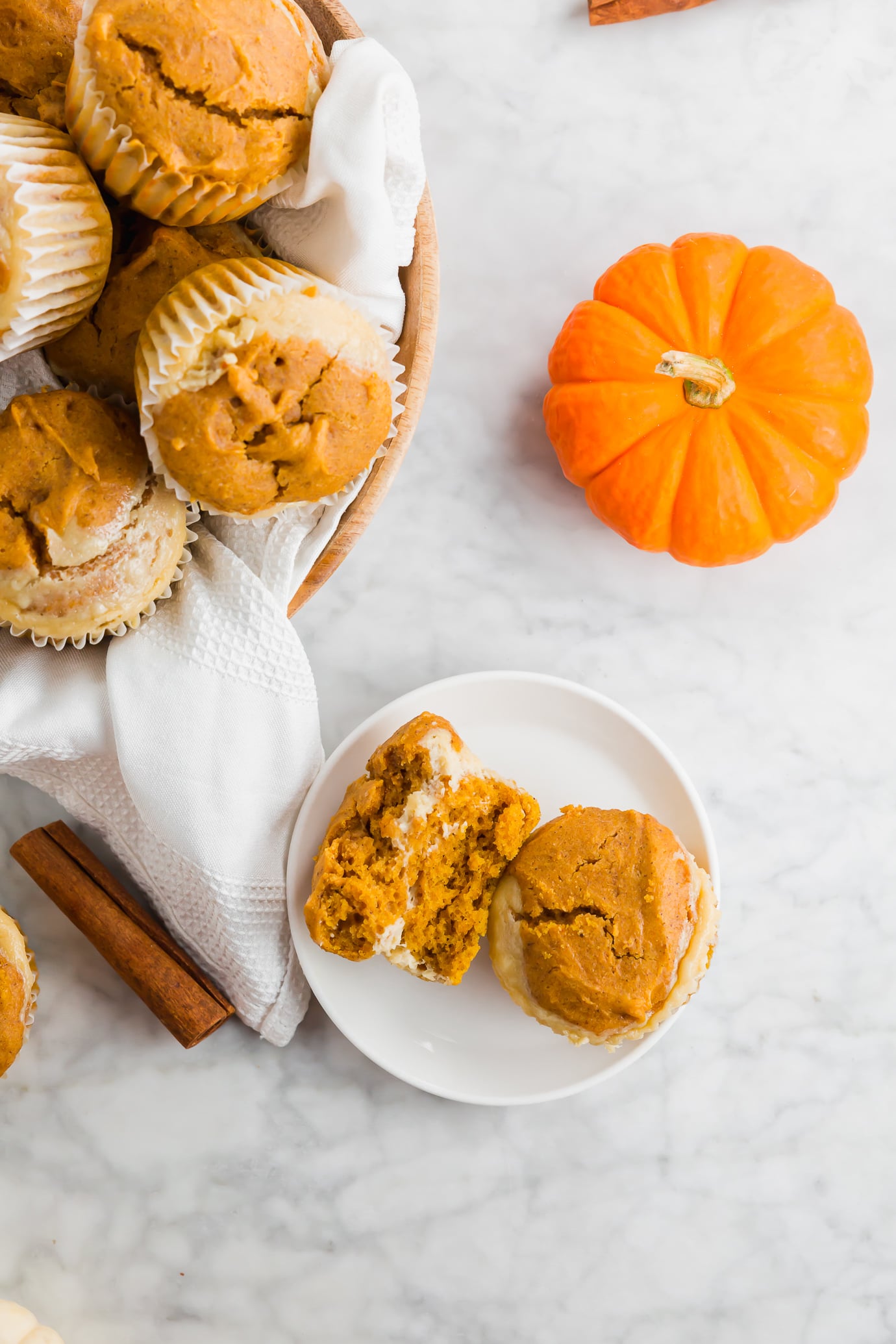 Can I make these Pumpkin Cream Cheese Muffins Dairy-Free?
Yes, these gluten-free pumpkin muffins can also be made dairy-free! Just use a dairy-free cream cheese, such as Daiya, in place of the regular cream cheese in the recipe.
Does this Recipe Use a Whole Can of Pumpkin?
YES!! This gluten-free muffin recipe uses a WHOLE CAN OF PUMPKIN! Hallelujah!
There is nothing worse than using half of a can of pumpkin for a recipe and then letting it sit in your refrigerator with great intentions of using the rest for something else and letting it grow things on it instead. Am I right? Clearly I speak from experience.
While it's not always possible for me to use a whole can of pumpkin in one of my recipes, because sometimes too much pumpkin is a thing, this muffin recipe works perfectly to use a whole 15oz can of pumpkin!
Can you tell I'm excited?
The Secret to getting the Cream Cheese in the Middle of the Muffin
I used to make these pumpkin cheesecake muffins with the cream cheese in the center and then I'd swirl with a knife. The only problem was all the cream cheese was on top and I wasn't getting the right ratio of cheesecake to pumpkin in every bite.
Don't worry, I've figured out the perfect solution!
First, you fill the muffin tin up half way with pumpkin muffin batter. Then, you spoon a little bit of cream cheese filling in the center.
Finally, you top it off with more pumpkin muffin batter. That way, the cheesecake filling stays in the center and you get the perfect amount of cream cheese in every bite.
How to Store Pumpkin Cream Cheese Muffins
Since there's a cream cheese filling, if you are planning keeping these more than a day, I like to store them in the refrigerator. Store in an airtight container in the refrigerator for 3-4 days.
They'll keep nice and moist this way, plus the taste of cold cheesecake filling is absolutely divine! You can eat them cold or let come to room temperature if you prefer.
If you like these gluten-free pumpkin cheesecake muffins, try these other pumpkin recipes:
Making muffins for a gluten-free fall brunch? Finish the rest of your meal with these recipes:

How to Make Gluten-Free Pumpkin Cream Cheese Muffins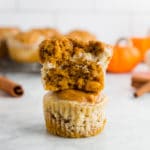 Print Recipe
Gluten-Free Pumpkin Cream Cheese Muffins
These gluten free pumpkin cream cheese muffins are better than what you'll find at a bakery! Perfectly spiced and loaded with a cheesecake filling, they're a quick and easy muffin recipe that works beautifully for brunch or dessert!
Ingredients
For the Cream Cheese Filling:
8

oz

package cream cheese

softened

1

egg yolk

1

teaspoon

pure vanilla extract

1/4

cup

brown sugar
For the Pumpkin Muffins:
2 1/2

cups

gluten free flour blend

1/2

tsp

xanthan gum

if your blend doesn't already contain it

3/4

cup

granulated sugar

3/4

cup

brown sugar

2

teaspoon

baking powder

1

tablespoon

ground cinnamon

1

teaspoon

ground ginger

1/2

teaspoon

nutmeg

1/4

teaspoon

cloves

1/2

teaspoon

salt

2

eggs

15

oz

canned pumpkin puree

not sweetened pumpkin pie filling

1/2

cup

vegetable oil

2

teaspoon

vanilla extract
Instructions
Preheat the oven to 350 degrees Fahrenheit.

Fill 24 muffin cups with paper liners.

To make the cream cheese filling, put cream cheese in a medium sized bowl. Using an electric mixer, beat until soft.

Then add egg, vanilla, cinnamon and brown sugar. Mix until smooth and set aside.

To make the muffins, in a large bowl, whisk together flour, xanthan gum (if using), sugar, baking powder, cinnamon and salt.

Make a well in the center of the dry ingredients and add in the eggs, pumpkin puree, vegetable oil and vanilla.

Mix together until the batter is smooth.

Fill the muffin cups with the pumpkin batter 1/2 way full.

Add a tablespoon of cream cheese to the center of the batter. Try to make sure that the cream cheese does not touch the sides of the muffin.

Top with remaining pumpkin batter.

Bake at 350F for 20 to 25 minutes, or until baked through. You can test this by inserting a toothpick in the center of the muffin. If the toothpick comes out clean, the muffins are ready.
Nutrition
Serving:
18
muffins
|
Calories:
252
kcal
|
Carbohydrates:
36
g
|
Protein:
4
g
|
Saturated Fat:
8
g
|
Cholesterol:
43
mg
|
Sodium:
120
mg
|
Fiber:
3
g
|
Sugar:
22
g
Note: This recipe was originally published on October 24, 2011 and was updated on October 4, 2019 with a new recipe, tips, and photos to help you make these gluten-free pumpkin cheesecake muffins perfectly every time!