You'll love how fluffy these gluten-free and vegan pumpkin spice pancakes are. With the perfect amount of spice, these pancakes are perfect for a fall brunch!  Just drizzle with some pure maple syrup or even some sauteed apples and vegan caramel sauce for breakfast perfection!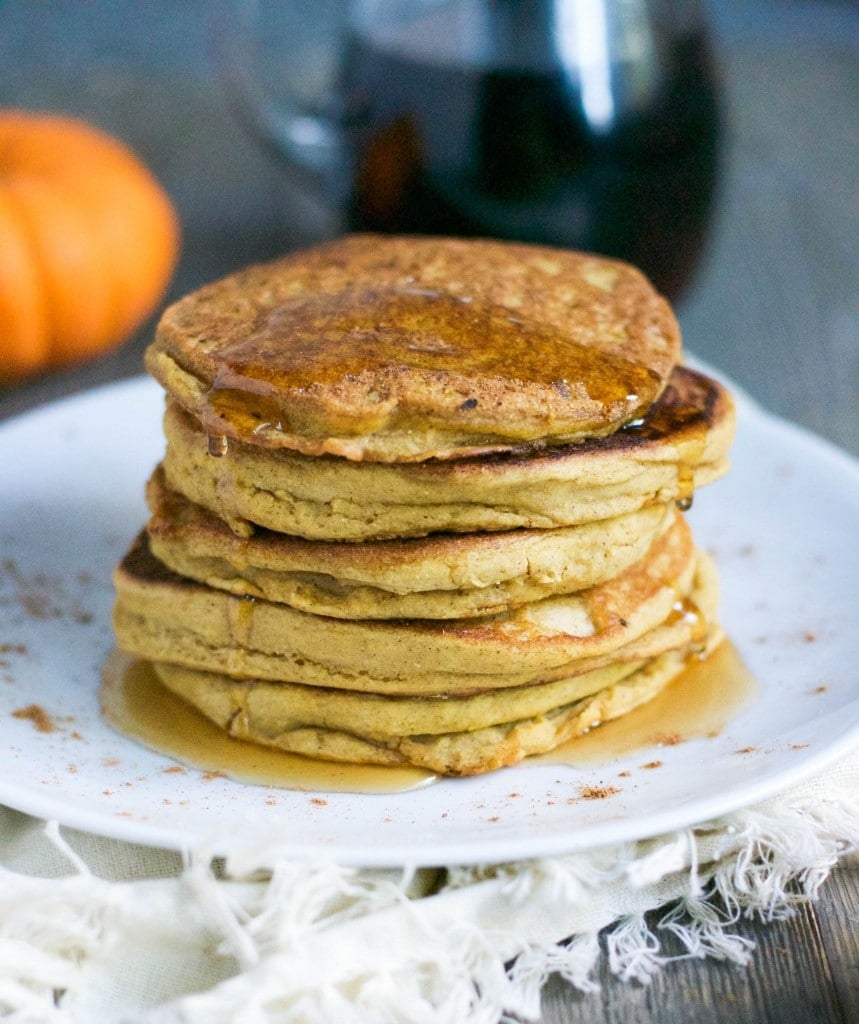 All I want for my birthday is a big stack of pancakes.
I believe it was the great 2 Chainz that once said those words in his hit song "Birthday Song" and I couldn't agree more. That's definitely how the lyrics go. Right?
In all seriousness, today is my 28th birthday! And I couldn't think of a better way to celebrate it this morning than sharing this epic recipe for gluten-free vegan pumpkin spice pancakes with my favorite people (that's you). After going gluten-free and then also egg-free and dairy-free years ago, I've struggled to make some pancakes that weren't gummy in the center and had that same fluffy taste from the pancakes I remembered years ago. After finding a gluten-free vegan pancake at one of my favorite restaurants in Chicago, I knew it could be done and that I needed to get back in the kitchen and try again.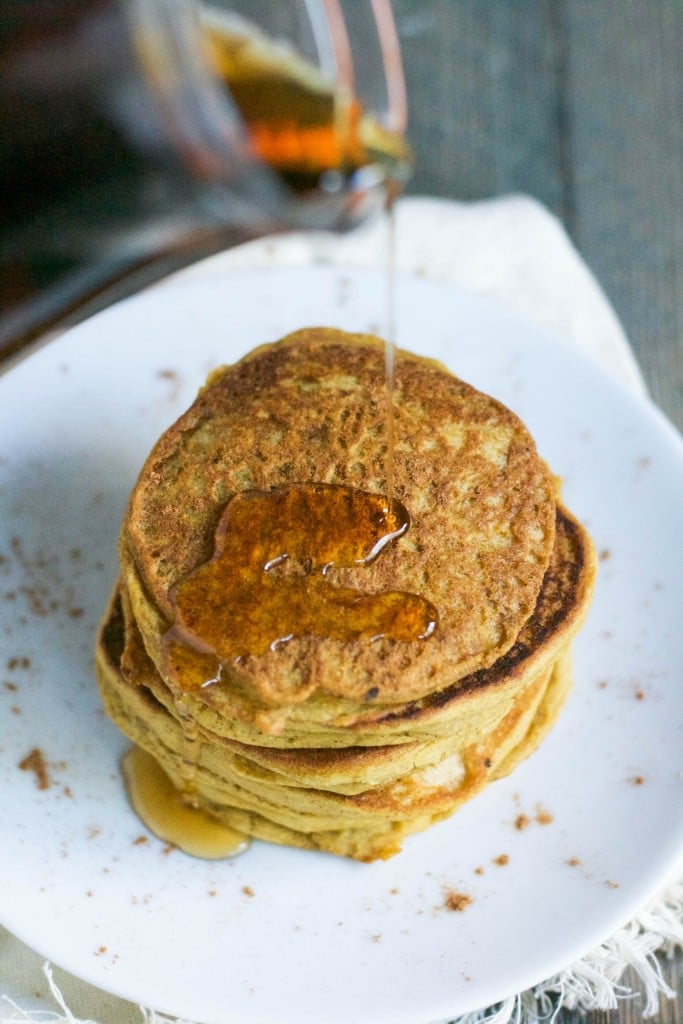 A few batches later and these gluten-free vegan pumpkin pancakes were born. They are perfectly spiced and have a great texture. You won't even realize they're gluten-free or vegan. I love topping mine with a little pure maple syrup or for an extra treat I top them with a drizzle of caramel sauce with some sauteed apples. 
On my birthday, I don't have many profound things to say about what I've learned over 28 years or what I hope lies ahead. I'm just thankful for the love I have surrounding me from my friends and family and happy to be where I am right now. And I truly hope there are many, many batches of these pancakes ahead! With caramel sauce, obviously. Also, if 2 Chainz wants to start rapping about pancakes I'd be fine with that too.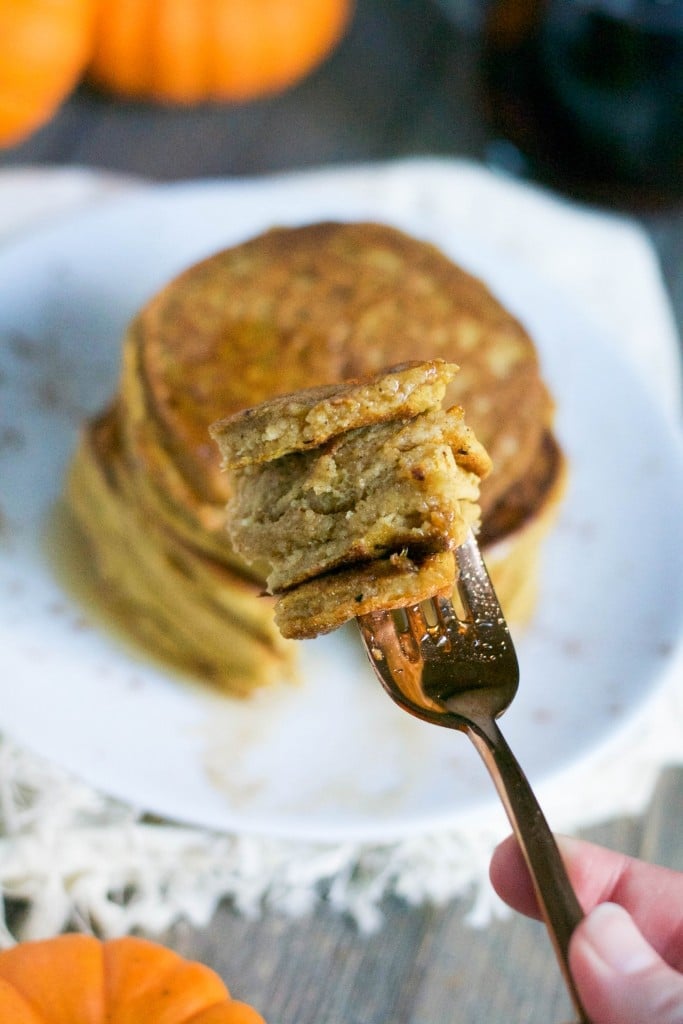 Gluten-Free Vegan Pumpkin Spice Pancakes
Prep time:
Cook time:
Total time:
Ingredients
2 cups gluten-free flour blend (I used Bob's Red Mill Gluten-Free 1 to 1 Baking Flour)
2 tsp pumpkin pie spice
1 tsp salt
2 tsp baking powder
1 tsp baking soda
1¾ cup almond milk
⅔ cup pure pumpkin puree
1 tsp apple cider vinegar
2 tbsp maple syrup (I like my breakfast less sweet, so feel free to add more here)
1 tbsp vegetable oil (vegan butter or coconut oil also work here) - plus more for pan
Instructions
In a large bowl, mix flour blend, pumpkin pie spice, salt, baking powder, and baking soda together with a whisk. Set aside.
In a medium bowl, stir together almond milk, pumpkin puree, apple cider vinegar, maple syrup and vegetable oil until combined.
Pour a well into the dry ingredients and add the wet ingredients. Stir until combined.
Preheat a large skillet over medium heat on the stove. Spray with cooking spray, vegetable oil or vegan butter. Pour about ¼ cup of batter into the pan for smaller pancakes and ½ cup of batter into the pan for larger pancakes. Cook for 3-5 minutes, until you see bubbles in the pancakes and the edges look set. Flip and cook another 3 minutes, until cooked through. Repeat with remaining batter.
Serve with pure maple syrup and vegan butter.