Who says you can't eat cookies for breakfast! These easy gluten-free pumpkin breakfast cookies make a great snack or breakfast and are ready in about 30 minutes!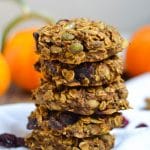 These gluten-free pumpkin breakfast cookies make a great option for a healthy breakfast or portable snack this fall! You'll love how easy they are to make and they're freezer friendly, too! Gluten-free, dairy-free, and vegan – the whole family will love these!
Did you know that today is National Pumpkin Day? Well it is! Don't worry if you didn't know. I didn't realize it either until I woke up and began checking my emails.
I was all set to share this gluten-free vegan apple hand pie recipe that I teased on Instagram yesterday, but you can't share apple pie on National Pumpkin Day now can you? No, no you can't. Lucky for me, I had these gluten-free pumpkin breakfast cookies all set to share next week. So with a little blog magic switcharoo, here we are!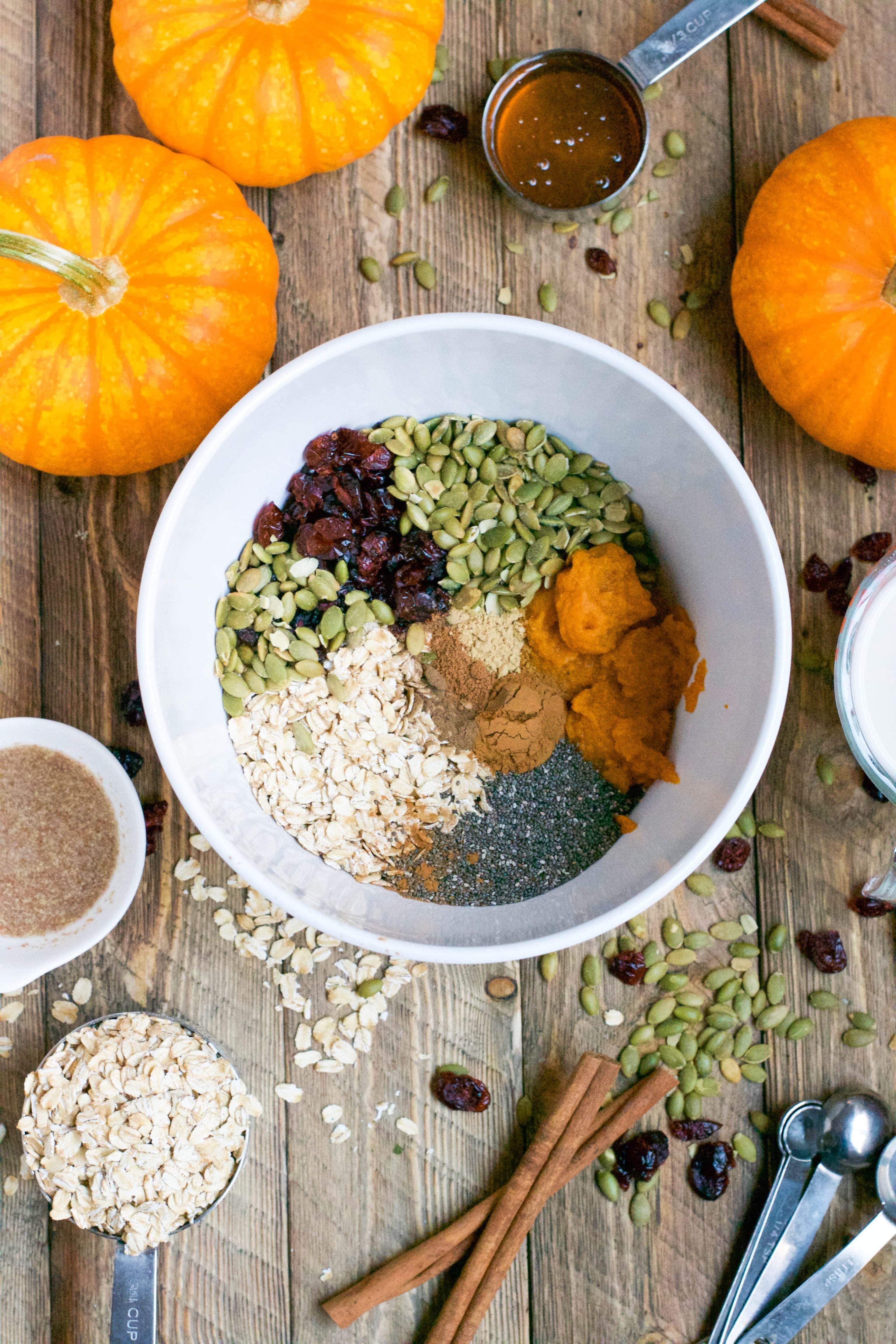 I have big life news. I left my corporate job in accounting last week to pursue my blog and my cookie company, Lush Bites, full time. I've been blogging here at A Dash of Megnut for almost 8 years and while I haven't always been consistent (I'm looking at you 80+ hour work weeks in tax season), and the focus of the blog has definitely shifted, my heart has never strayed from this blog. So I decided to give it a go!
What can you expect? Well, a lot more recipes, that's for sure. I'll be in the kitchen more… testing, eating, photographing, eating, writing, and eating. I'll also be sharing more with my gluten-free cookie subscription box, Lush Bites.
If you haven't heard of it – go check it out! I send out cookies the 3rd Monday of the month all throughout the US. Always gluten-free and always delicious. There are a few other projects I'm working on with both of my companies but those will all be announced in due time!
So now that I'm working from home, I'm in need of healthy breakfasts and snacks around the house. These gluten-free pumpkin breakfast cookie fall into both of those categories which is why I love them SOO much! Basically, a breakfast cookie is a way to trick yourself into eating oatmeal.
They're soft and chewy, and although they're in cookie form, they don't really taste like a dessert cookie. I love that they are super portable so I can put a few in my bag while I'm out running errands.
They also freeze beautifully so you can make a big batch and store them in the freezer for a rainy day. If you love pumpkin, you'll definitely love these gluten-free pumpkin breakfast cookies. They taste just like fall!
Looking for more breakfast cookies? Try these Banana Breakfast Cookies, too!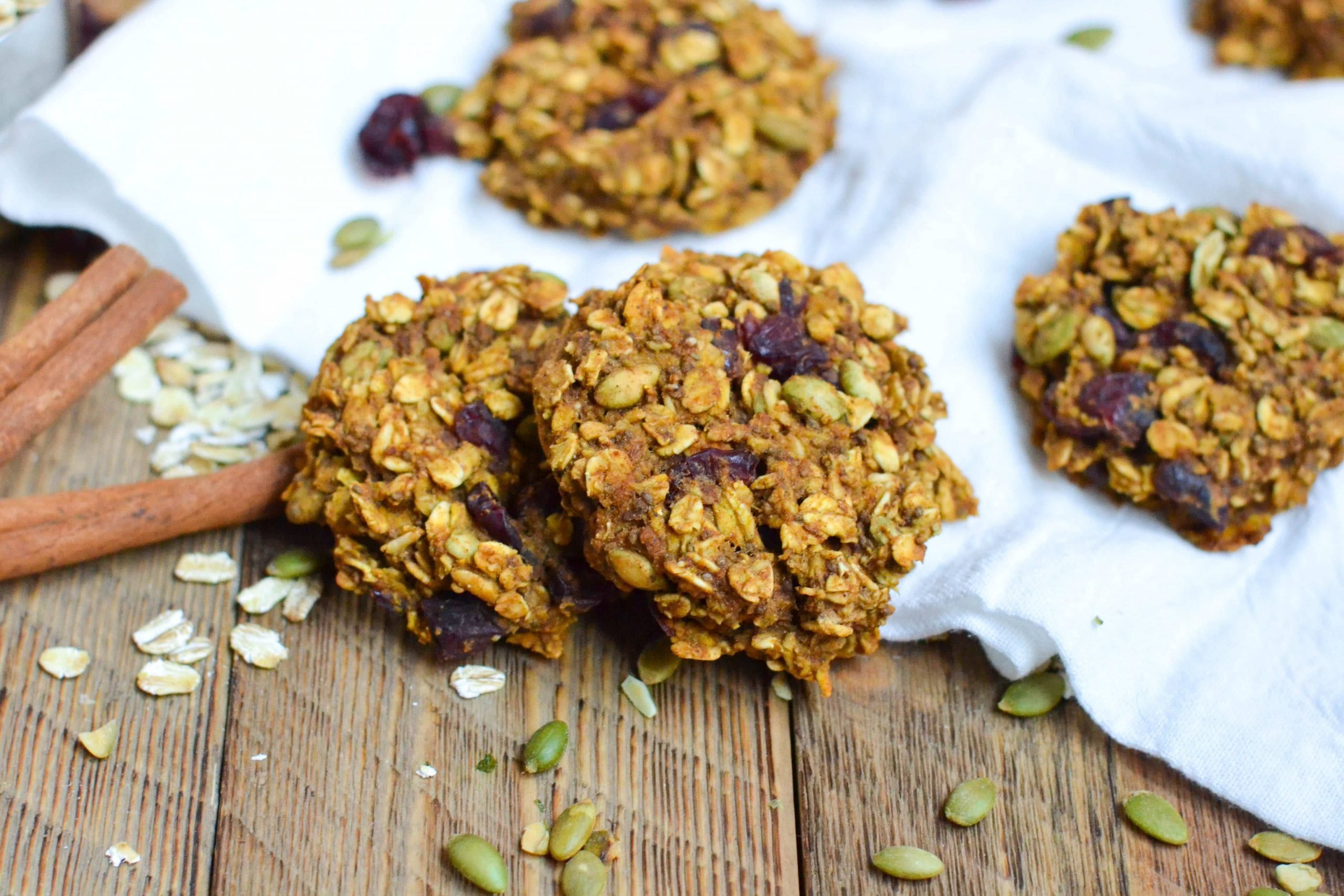 More Gluten-Free Pumpkin Recipes You'll Absolutely Love!
Gluten-Free Pumpkin Breakfast Cookies
Who says you can't eat cookies for breakfast! These easy gluten-free pumpkin breakfast cookies make a great snack or breakfast and are ready in about 30 minutes!
Print
Pin
Rate
Ingredients
1

tbsp

ground flax meal + 2.5 tbsp water

(can also use regular chicken egg)

2

cups

gluten-free certified oats

1/2

cup

dried cranberries

1/4

cup

pepitas

2

tbsp

chia seeds

2

tsp

cinnamon

1

tsp

baking powder

1

tsp

ginger

1/2

tsp

nutmeg

1/2

tsp

allspice

1/4

tsp

cloves

1/4

tsp

salt

1/2

cup

pumpkin puree

3/4

cup

unsweetened almond milk

1

tsp

pure vanilla extract

1/4

cup

honey

(use maple syrup for vegan)
Instructions
Preheat oven to 350F. line two baking sheets with parchment paper sprayed with cooking spray. Set aside.

In a small bowl, mix together flax meal and water and stir. Let sit for 5-10 minutes, until it has thickened.

In a large bowl, combine oats, dried cranberries, pepitas, chia seeds, cinnamon, baking powder, ginger, allspice, nutmeg, cloves, and salt. Stir to evenly distribute the spices.

Add flax egg (flaxmeal and water mixture from earlier), pumpkin puree, almond milk, vanilla and honey. Stir to combine.

Using a cookie scoop (see notes below), portion out 15 cookies. Lightly press down to flatten the cookies before baking as they won't spread. Bake at 350F for 20-25 minutes, until the edges are lightly browned. Let cook on the pan for 5 minutes before transferring to a wire rack to finish cooling.
Notes
I used a #24 scoop which is 1.33 oz or roughly 3 tbsp. You can also use 1/4 cup which may need to bake a little longer. Or use 1/8 cup (2 tbsp) and check the oven around 15 minutes.
Nutrition
Calories:
95
kcal
|
Carbohydrates:
17
g
|
Protein:
2
g
|
Fat:
2
g
|
Sodium:
57
mg
|
Potassium:
113
mg
|
Fiber:
2
g
|
Sugar:
7
g
|
Vitamin A:
1270
IU
|
Vitamin C:
0.3
mg
|
Calcium:
53
mg
|
Iron:
0.9
mg