Gluten-Free Mashed Potatoes
Whip up the best gluten-free mashed potatoes that are both rich and creamy. Simple to make with Yukon gold potatoes, butter, and a hint of garlic, they're a guaranteed crowd-pleaser. Perfect for any meal, these potatoes are naturally gluten-free and incredibly versatile. Follow this easy recipe to add a comforting, delicious side to your dinner table. Every bite is so creamy, ensuring you'll never need another mashed potato recipe again!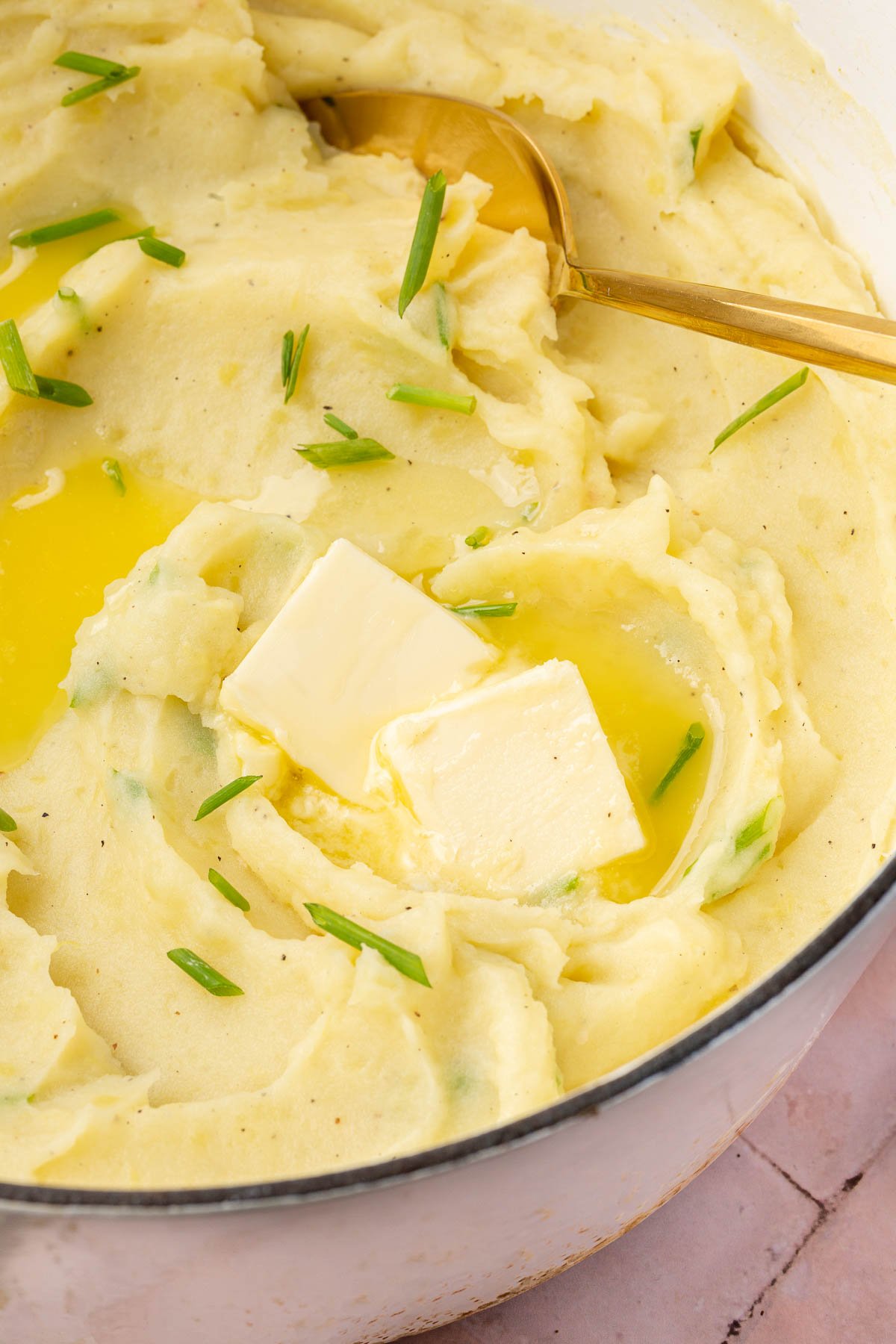 Want to see variations on mashed potatoes? Check out Twice Baked Mashed Potatoes, Roasted Garlic Mashed Potatoes and Gluten-Free Scalloped Potatoes!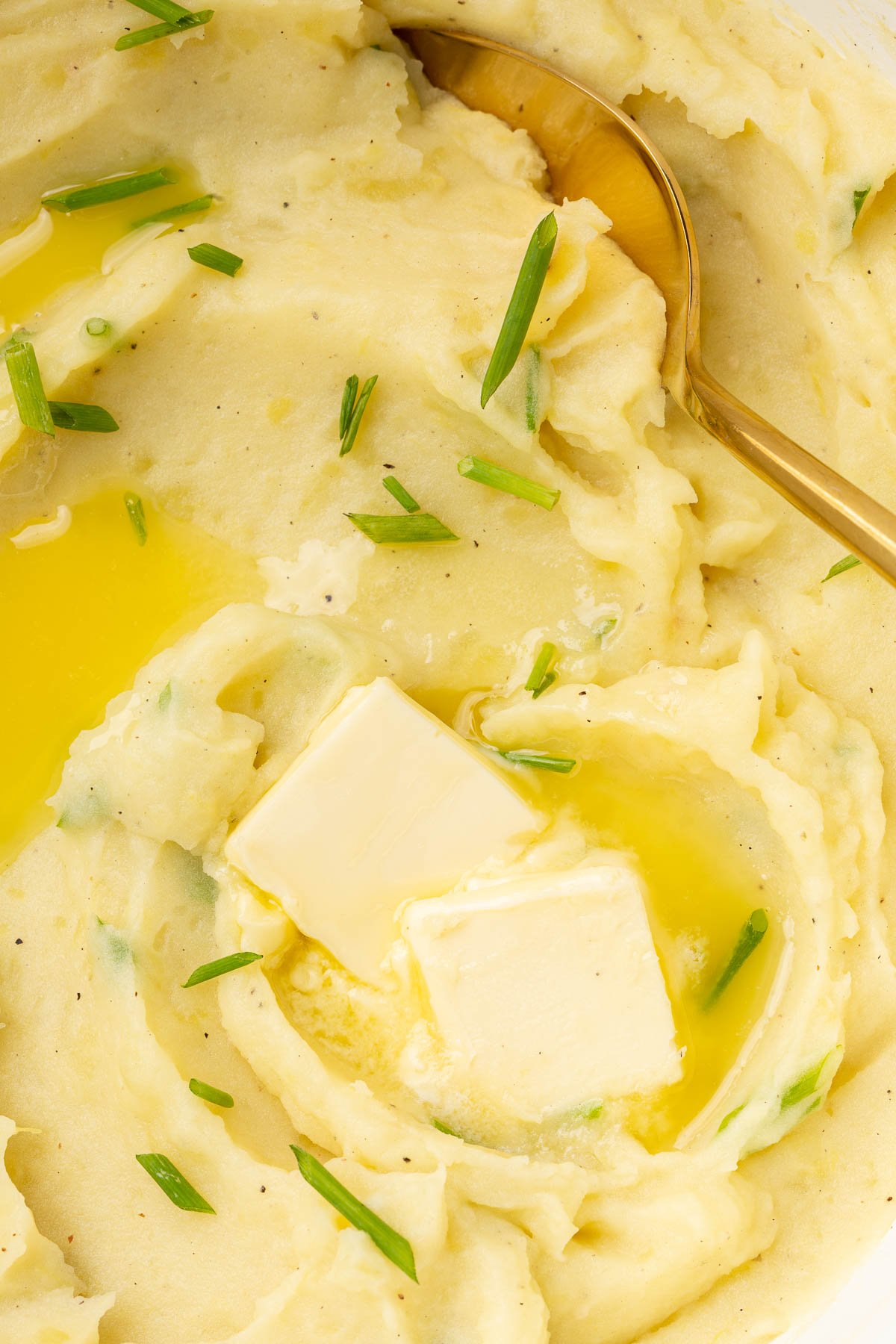 Mashed potatoes are a timeless favorite for a reason. They go with so many different dishes – from turkey, to ham, to chicken and more! The good news is that potatoes are naturally gluten-free and typically mashed potatoes are gluten-free, too!
These gluten free mashed potatoes use Yukon gold potatoes for their buttery texture, a touch of garlic for depth, and the richness of butter and milk to bring it all together. Whether you prefer your mashed potatoes smooth and silky or with a bit of rustic texture, this recipe is easily adaptable to suit your taste.
For those with dietary restrictions or allergies, this dish has you covered. It's naturally gluten-free and can easily be made dairy-free and vegan, too!
Serve these gluten-free mashed potatoes with a pat of butter, a sprinkle of fresh herbs, or a drizzle of gluten-free gravy. No matter which way you choose, they're sure to be delicious!
You'll love this recipe because:
Ingredients
Ingredient Notes
Yukon gold potatoes – Yukon Gold potatoes are ideal for mashing due to their creamy texture and slightly buttery flavor. For smoother mashed potatoes, peel them, but leaving the skin on adds texture and nutrients. Alternatives like Russet (for fluffiness) or Red potatoes (for a denser texture) can also be used, either alone or mixed with Yukon Golds for varied texture and flavor.
Garlic – Fresh garlic adds a subtle, aromatic depth. Minced finely, it infuses the potatoes with flavor. If fresh isn't available, 1/2 teaspoon of garlic powder can be a great substitute. Add the garlic powder with the ground black pepper later in the recipe.
Salt – Use coarse kosher salt for a well-rounded seasoning. I use half of the salt while boiling the potatoes to flavor the potatoes overall, and the other half later when adding my seasonings. I find seasoning in 2 steps provides the most flavor. Always be sure to taste and add seasoning a little at a time to ensure you don't overseason your mashed potatoes. You can always add more, but you can't take it away!
Whole Milk/Heavy Cream – Whole milk gives a rich, creamy texture, while heavy cream makes it even more luxurious. You can use either or a combination for this recipe. For a dairy-free version, unsweetened almond or soy milk can be used.
Unsalted Butter – Adds a rich, smooth finish to the potatoes. Using unsalted butter allows you to control the overall saltiness of the dish. For a vegan alternative, try a plant-based butter.
Ground Black Pepper – Freshly ground black pepper offers a warm, slightly spicy kick. Adjust according to taste.
Chives (Optional) – Fresh chives bring a mild onion-like flavor and a pop of color. They're optional but highly recommended for an added gourmet touch. You can also add fresh parsley, fresh rosemary, or fresh thyme instead if you prefer!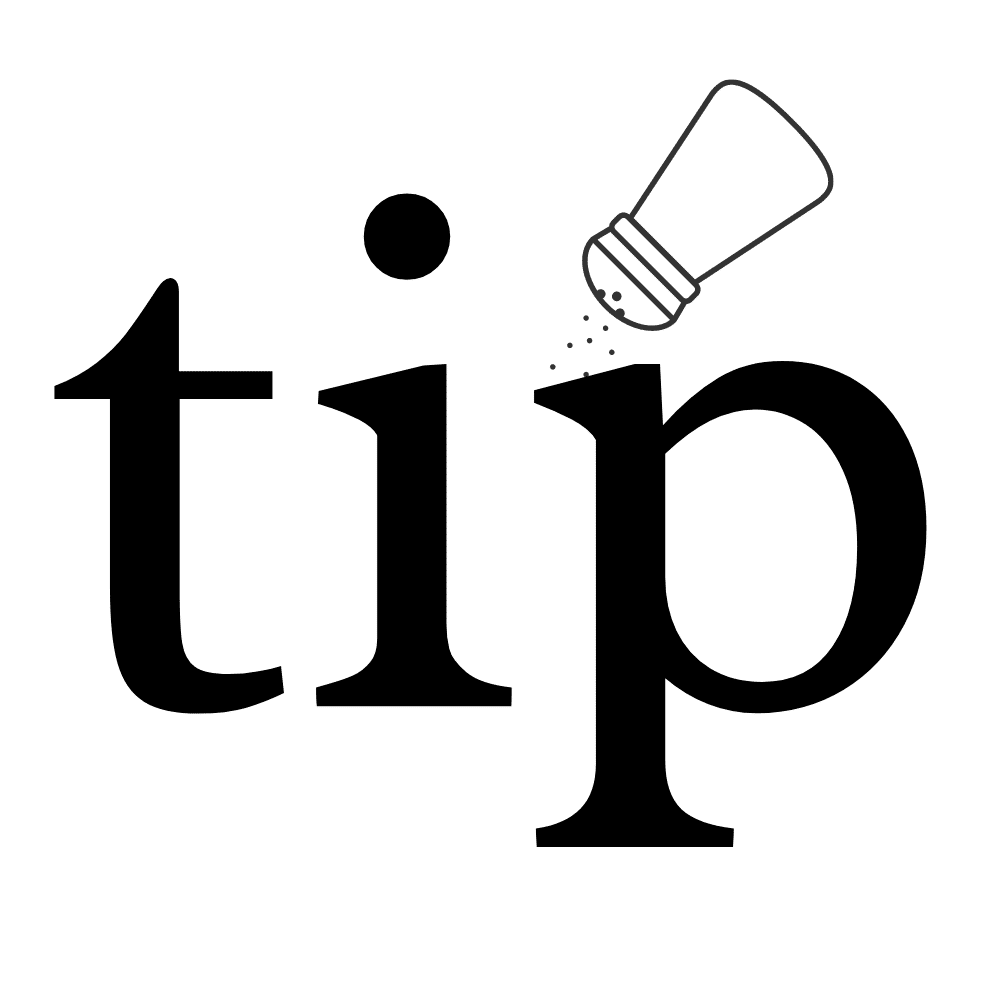 To avoid gluey or overly starchy mashed potatoes, be careful not to over-mix. Hand mash them until they're just smooth enough for your liking, then gently fold in the butter and milk. I like to use a potato masher, but a potato ricer works as well. I don't recommend using an electric mixer, which tends to result in gummy potatoes.

Step-by-Step instructions
These gluten-free mashed potatoes from scratch are so easy to make! The below photos with matching steps are not meant to be the full recipe, but are there to help you see the recipe made at various stages so you can make them perfectly every time.
For the ingredient list with measurements, full instructions, printable recipe, and additional notes, please scroll down to the recipe card.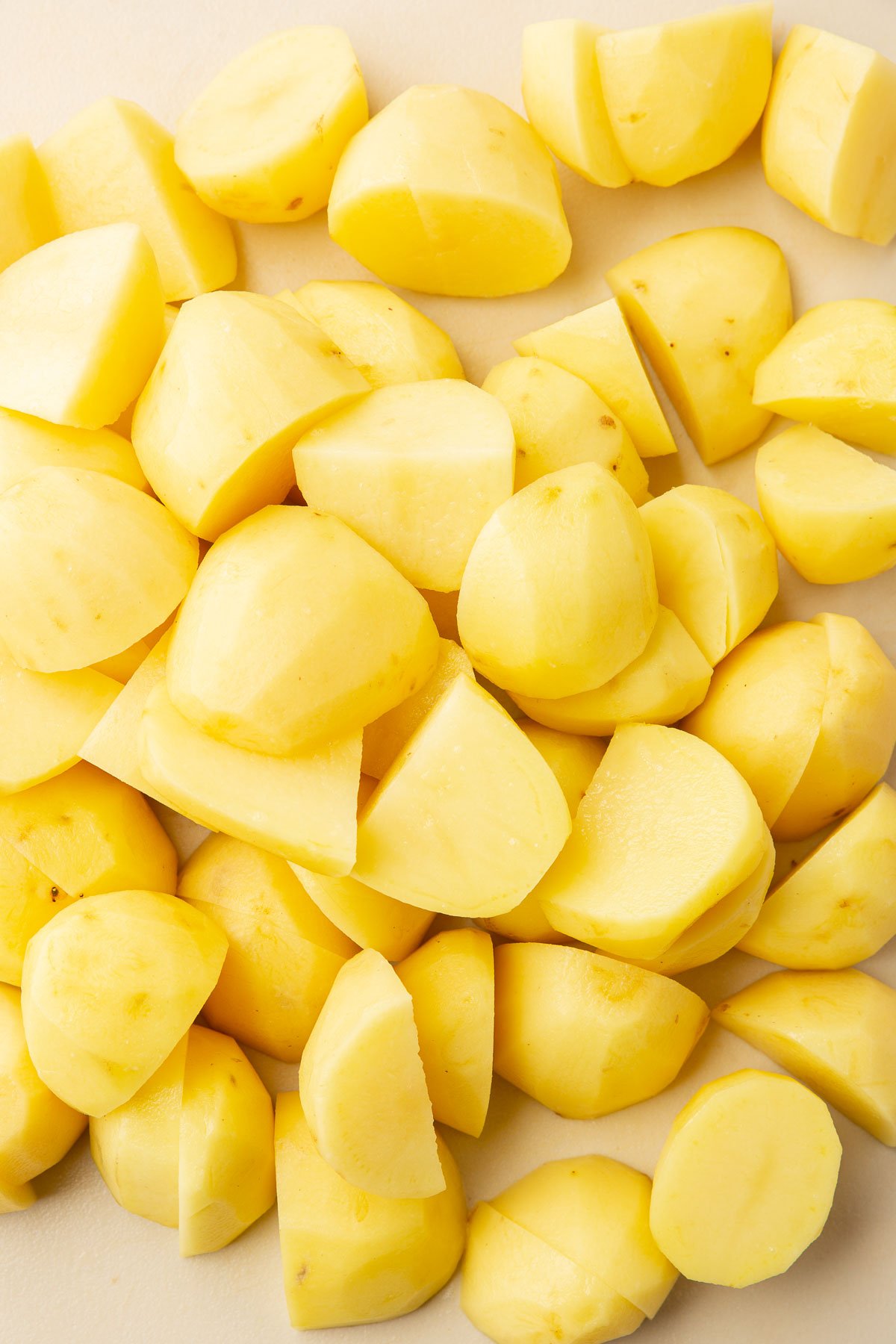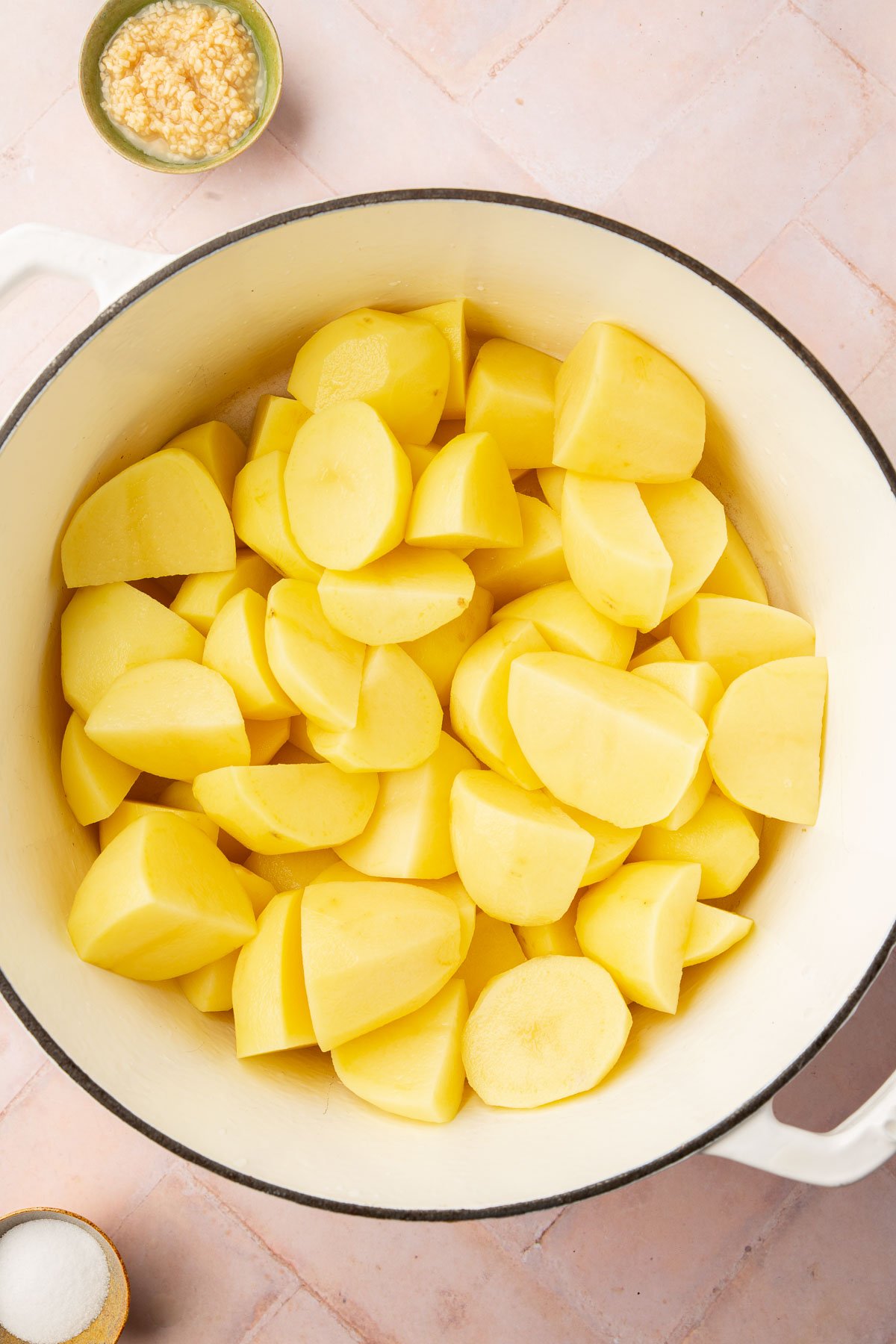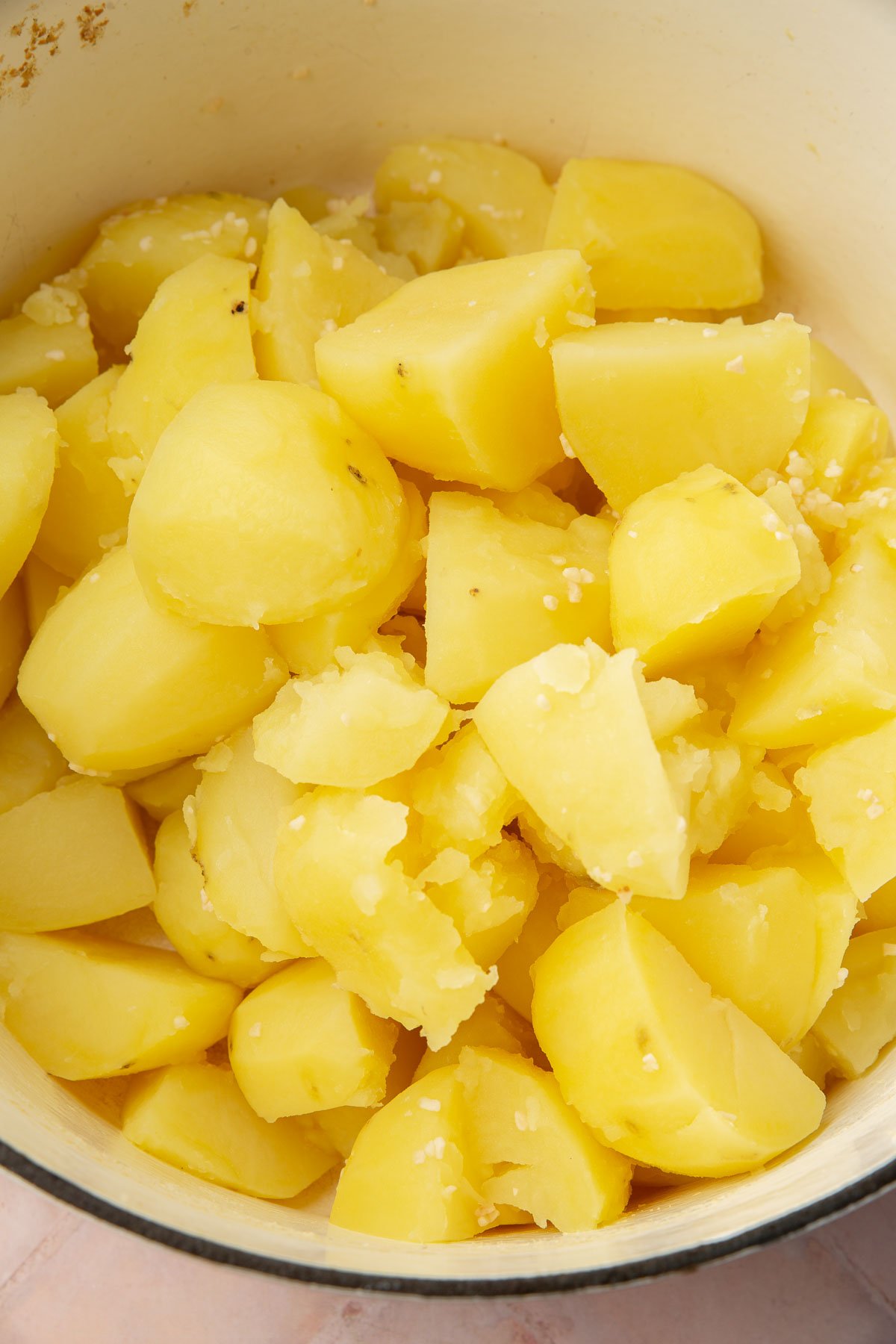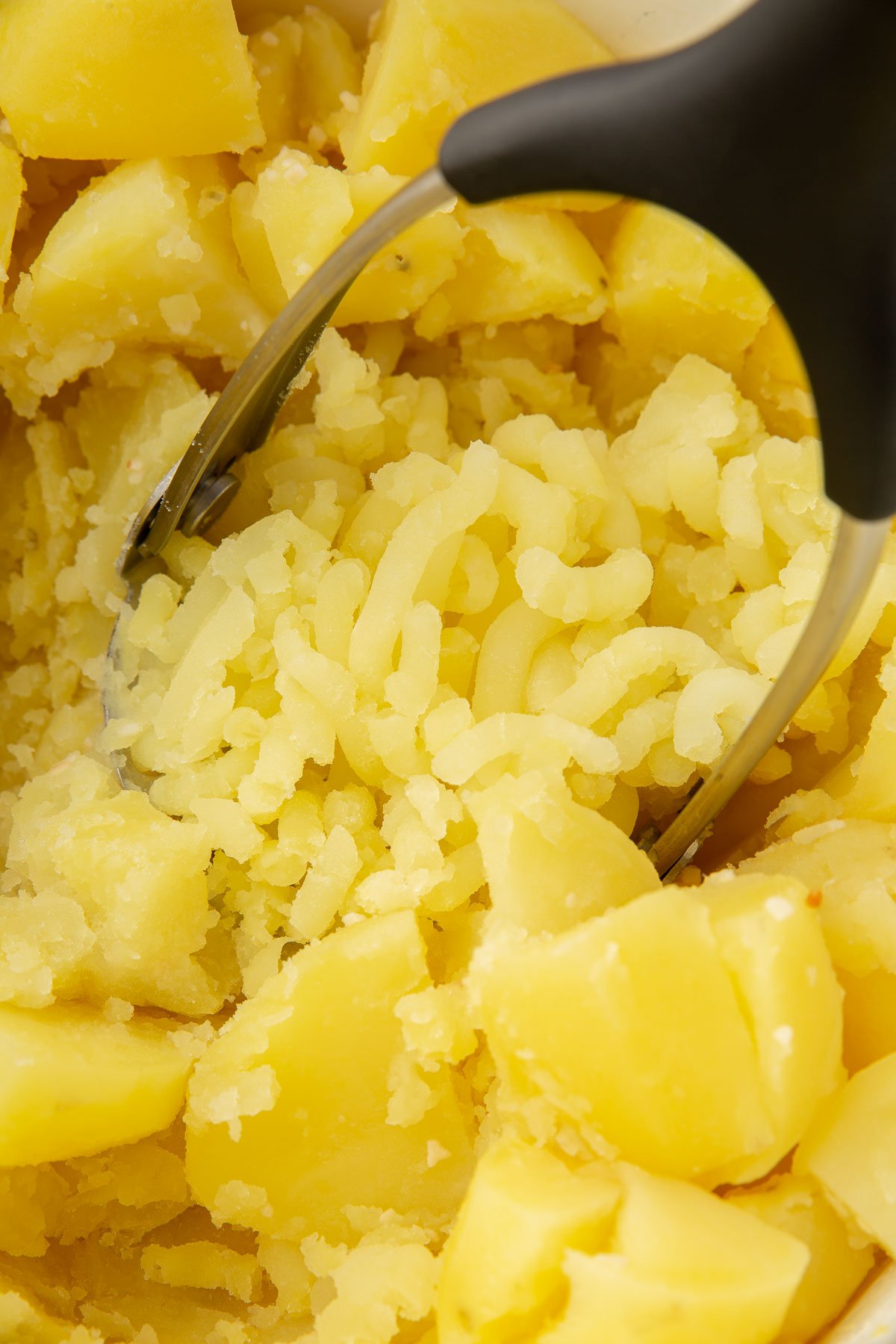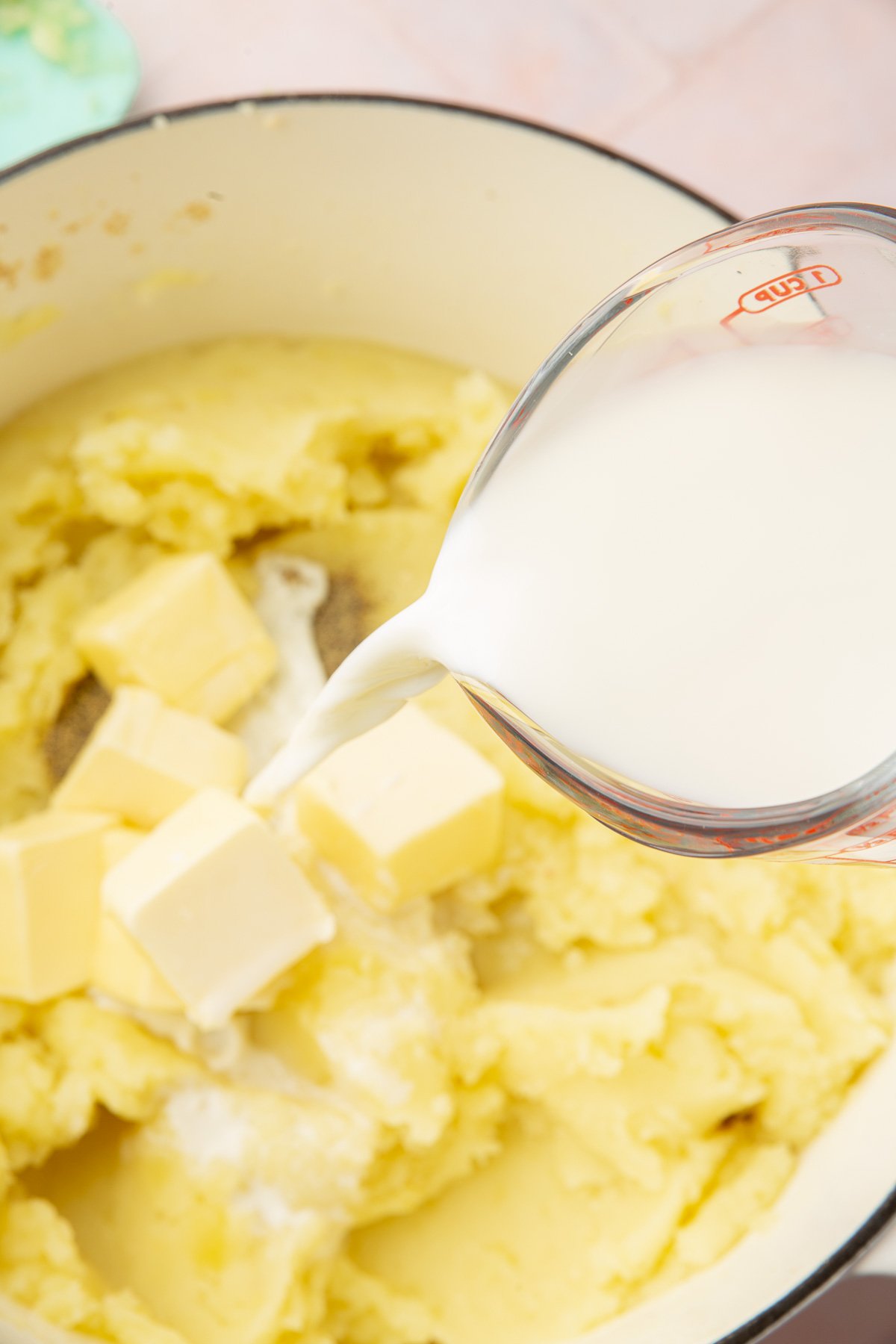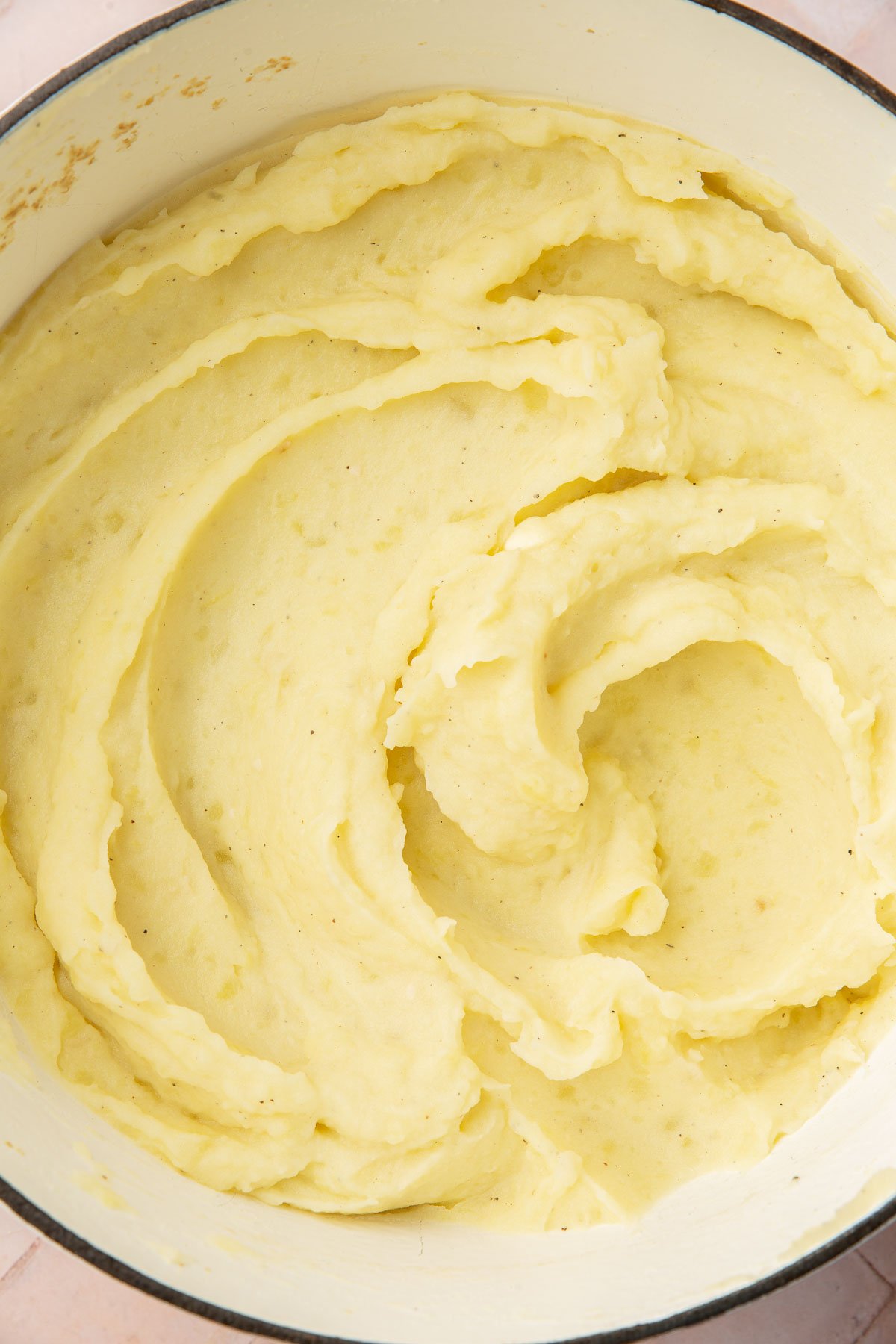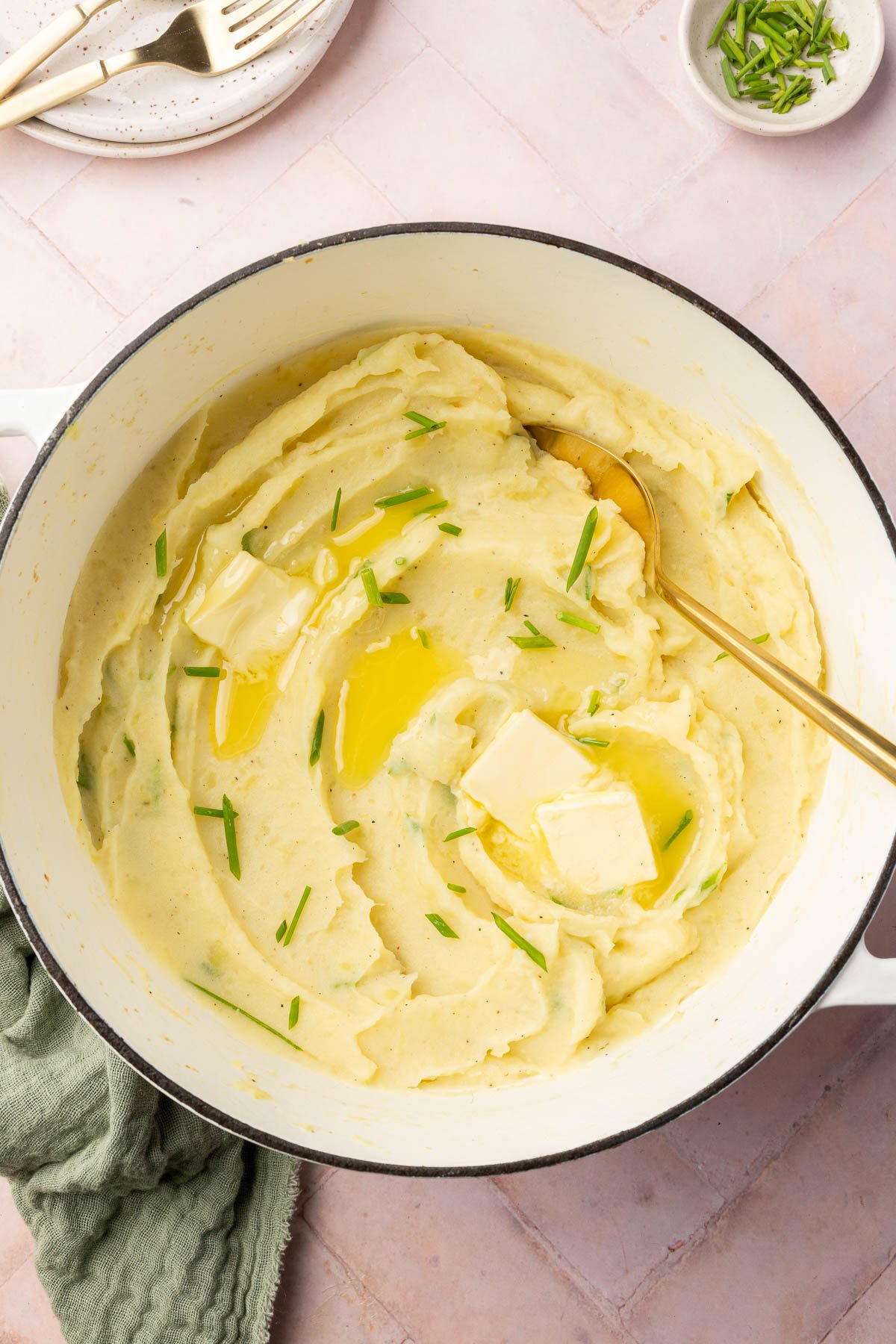 Recipe FAQs
Are mashed potatoes gluten-free?
Most traditional mashed potato recipes are naturally gluten-free, as they mainly contain potatoes, milk, butter, and seasonings. However, it's important to check all ingredient labels, especially if using any packaged products like broth or seasonings, to ensure they don't contain gluten.
Can I make mashed potatoes ahead of time?
Yes, you can make mashed potatoes ahead and reheat them. Store them in the refrigerator and reheat in the oven, microwave, or on the stove, adding a bit of milk or butter to maintain creaminess.
Why are my mashed potatoes gluey?
Over-mashing or using a food processor can release too much starch and result in a gummy or gluey texture. Stick to a potato masher or ricer for the best texture.
What's the best tool for mashing potatoes?
A potato masher or ricer works best. Avoid blenders or mixers, as they can make the potatoes gluey.
Can I use a different type of potato for mashing?
My favorite potato to use for mashed potatoes are Yukon Gold, but Russet or Red potatoes can also be used in this recipe. For Russet potatoes, be sure you peel them before using. You can leave the peel on red potatoes if you'd like.
Storage instructions
Storage
Refrigerator Option: Store leftover mashed potatoes in an airtight container in the refrigerator. They will keep well for up to 4-5 days. Make sure they have cooled to room temperature before refrigerating.
Freezer Option: Mashed potatoes can be frozen for up to one month. To freeze, spread them in a thin layer in a freezer-safe bag or container. For individual servings, you can use ice cube trays or small containers. Thaw frozen mashed potatoes in the refrigerator overnight before reheating.
Reheat
Stovetop: Reheat in a pot over low to medium heat, stirring frequently to ensure even heating. You may need to add a little milk or butter to bring back the creamy texture.
Microwave: Place the mashed potatoes in a microwave-safe dish, cover loosely, and heat on medium power. Stir every couple of minutes to distribute heat evenly. Again, a splash of milk or a dollop of butter can help restore creaminess.
Oven: Transfer to an oven-safe dish, cover with foil, and reheat at 350°F (175°C) for 20-30 minutes or until heated through. Stirring once midway through can help retain the texture.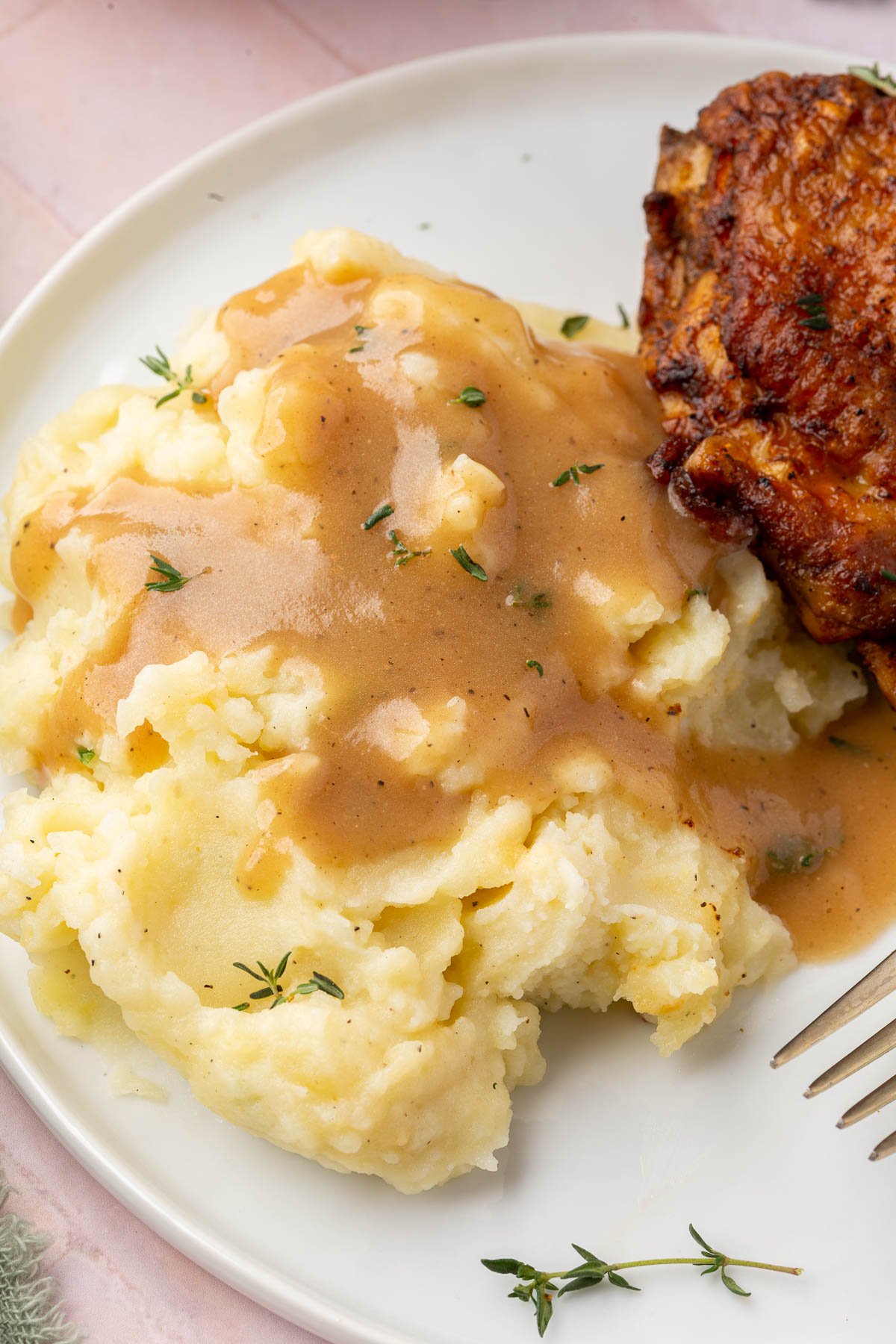 Serving Suggestions
Roasted or Grilled Meats: Mashed potatoes pair beautifully with classics like roast beef, grilled chicken or air fryer chicken thighs, meatloaf, or gluten-free chicken parmesan. The creamy texture of the potatoes balances well with the richness of the meat.
Stews and Braises: Serve alongside stews or braised dishes like gluten-free beef stew, Italian white bean sausage stew, beef bourguignon or coq au vin. The potatoes are excellent for soaking up the flavorful sauces.
Holiday Dinners: A must-have for Thanksgiving or Christmas dinners, they pair well with turkey, ham, and all the traditional trimmings.
With Gravy or Sauces: Top with homemade gluten-free gravy, cheese sauce, or brown butter for added flavor.
In Shepherd's Pie: Use as a topping for shepherd's pie or cottage pie for a satisfying all-in-one meal.
As a Base for Bowls: Use as a creamy base for bowl meals, topped with proteins and vegetables of your choice.
Leftovers: Use leftover mashed potatoes to make loaded mashed potato cakes, beef taco potato croquettes, mashed potato waffles, or leftover Thanksgiving shepherd's pie.
More gluten-free sides to try
Did you make this recipe?
I'd love to know! Please rate it and leave a comment below. You can also share your pictures and tag @adashofmegnut on Instagram.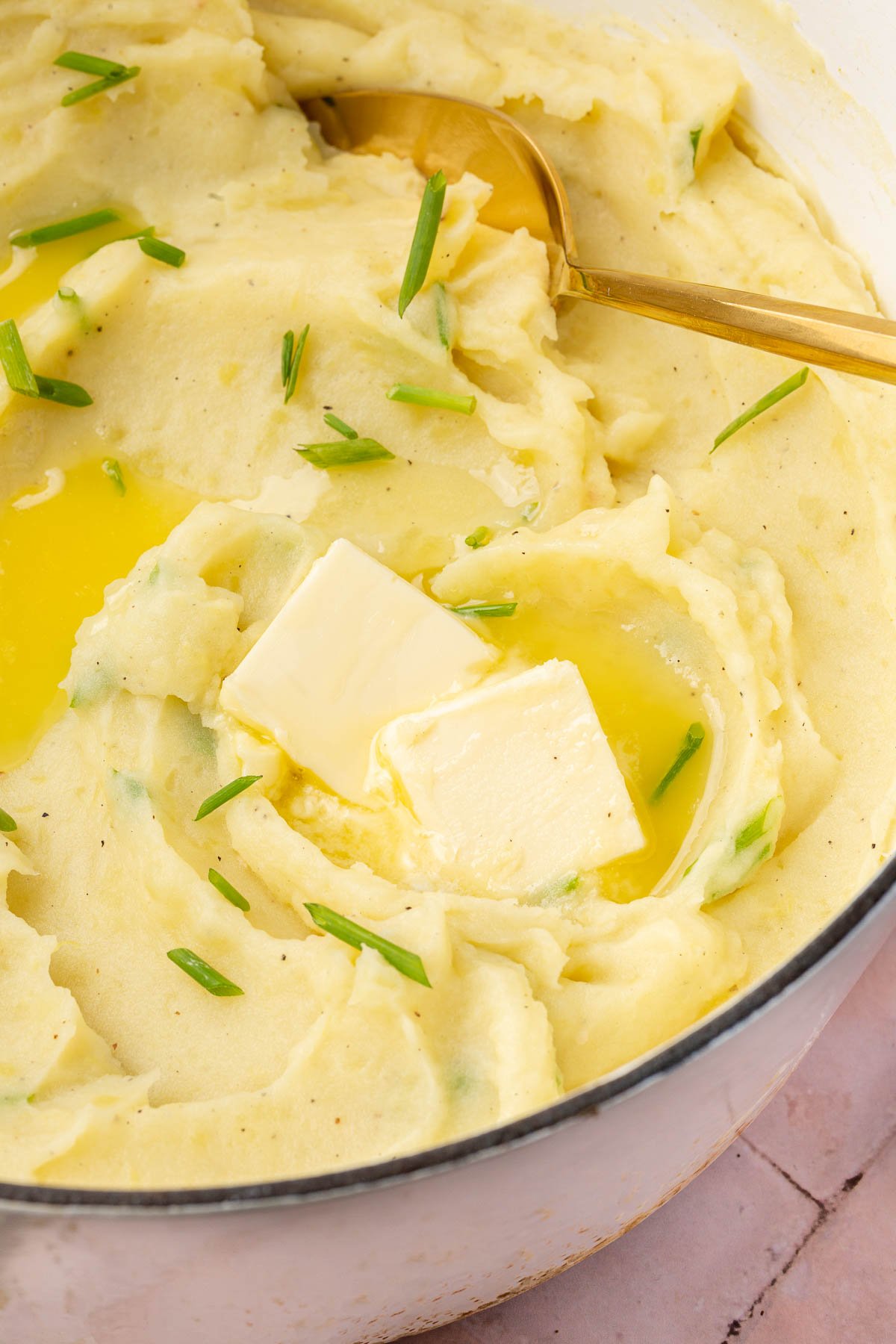 Gluten-Free Mashed Potatoes
Whip up the best gluten-free mashed potatoes that are both rich and creamy. Simple to make with Yukon gold potatoes, butter, and a hint of garlic, they're a guaranteed crowd-pleaser. Perfect for any meal, these potatoes are naturally gluten-free and incredibly versatile. Follow this easy recipe to add a comforting, delicious side to your dinner table. Every bite is so creamy, ensuring you'll never need another mashed potato recipe again!
Print
Pin
Rate
Ingredients
4

lbs

yukon gold potatoes

(peeled and quartered)

3

cloves

garlic

(minced)

2

teaspoons

salt

(divided)

3/4

cup

whole milk or heavy cream

(or dairy-free milk of choice, warmed)

1/2

cup

unsalted butter

(at room temperature (or dairy-free butter))

1/2

teaspoon

ground black pepper

2

tablespoons

minced chives

(optional)
Instructions
Peel the potatoes and cube into 2-inch pieces.

Place the cubed potatoes in a large pot or dutch oven. Pour cold water over the potatoes so that they are completely covered. Add the minced garlic and 1 teaspoon of the salt to the water.

Bring the potatoes to a boil. Reduce the heat and let simmer for 10-15 minutes, until the potatoes are fork tender. Drain the water, and return the potatoes to the pot. Turn the heat back on low for a few minutes to let the potatoes dry out.

Mash the potatoes until relatively smooth using a potato masher or a heavy wooden spoon. A few lumps are okay.

Add the warmed milk or cream, butter, ground black pepper and remaining 1 teaspoon of salt to the potatoes. Stir until the butter is melted and everything is distributed. Taste and adjust seasonings as needed.

Top with fresh chives if desired before serving.
Notes
While mashed potatoes are typically gluten-free, always be sure to double check any ingredients to ensure that they are gluten-free.

Boil just until fork-tender to avoid waterlogged and mushy potatoes. After boiling, drain the potatoes thoroughly to prevent a watery mash.

Heat the milk or cream before mixing into the potatoes for a smoother, more consistent mash.

Serve hot. For an extra touch, top with butter, herbs, or cheese. Serve with gluten-free gravy if desired!

Store leftovers in the fridge for up to 4-5 days, or freeze for longer storage.
Nutrition
Calories:
292
kcal
|
Carbohydrates:
41
g
|
Protein:
6
g
|
Fat:
12
g
|
Saturated Fat:
8
g
|
Polyunsaturated Fat:
1
g
|
Monounsaturated Fat:
3
g
|
Trans Fat:
0.5
g
|
Cholesterol:
33
mg
|
Sodium:
605
mg
|
Potassium:
1001
mg
|
Fiber:
5
g
|
Sugar:
3
g
|
Vitamin A:
430
IU
|
Vitamin C:
45
mg
|
Calcium:
62
mg
|
Iron:
2
mg
I'm Megan
A gluten-free food blogger from Chicago and lover of all things food, showing you gluten-free can be easy and delicious, too. Let's make gluten-free stress free together! Read more…