Gluten-Free Scalloped Potatoes
Whip up some easy gluten-free scalloped potatoes with this straightforward recipe. With just a handful of ingredients, these scalloped potatoes are filled with tender potatoes in a creamy, cheesy sauce. Perfect for any meal, including weeknight dinners and special occasions like Thanksgiving or Christmas. These cheesy potatoes pair perfectly with a variety of main dishes, like glazed ham, turkey, roast beef or even roasted chicken!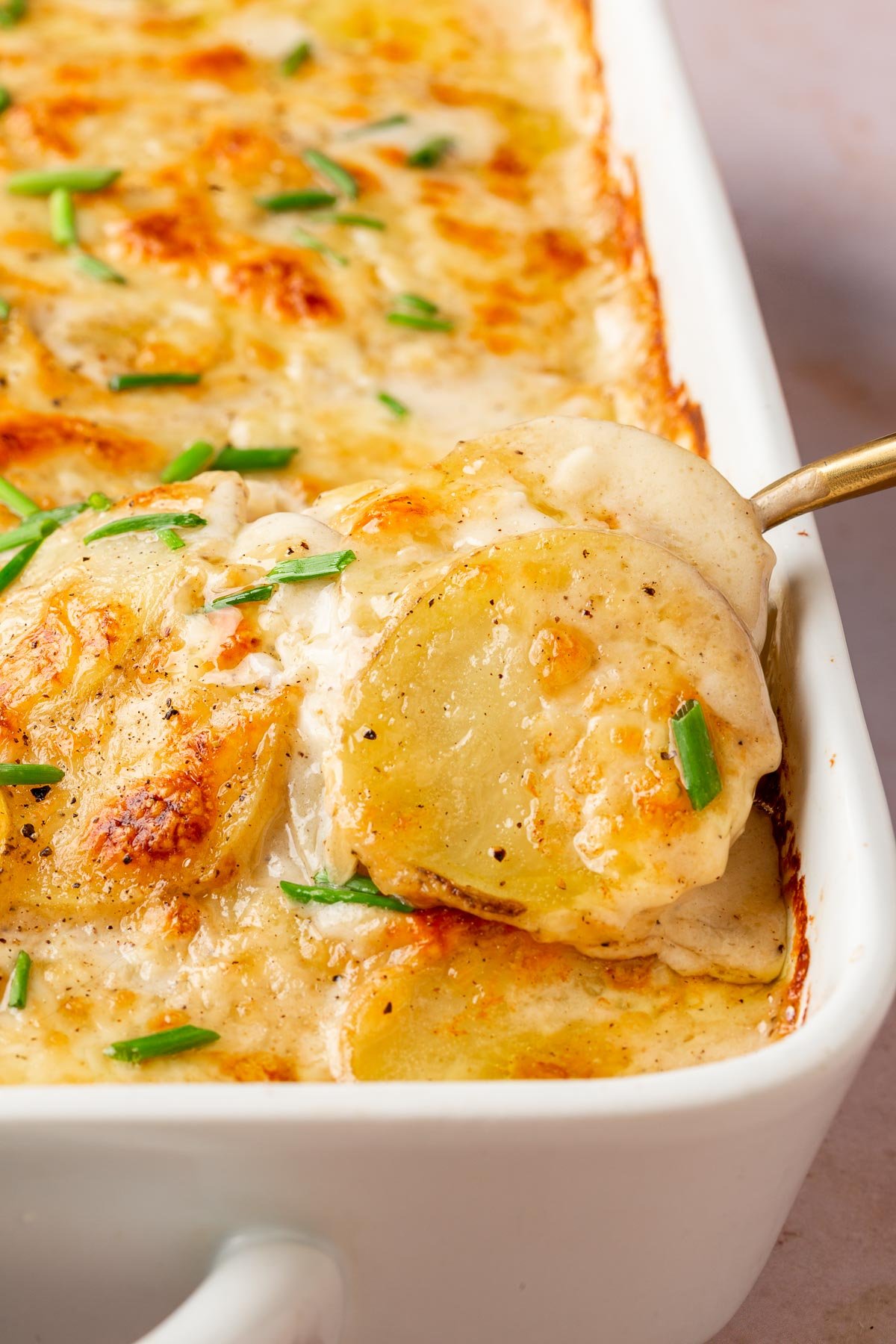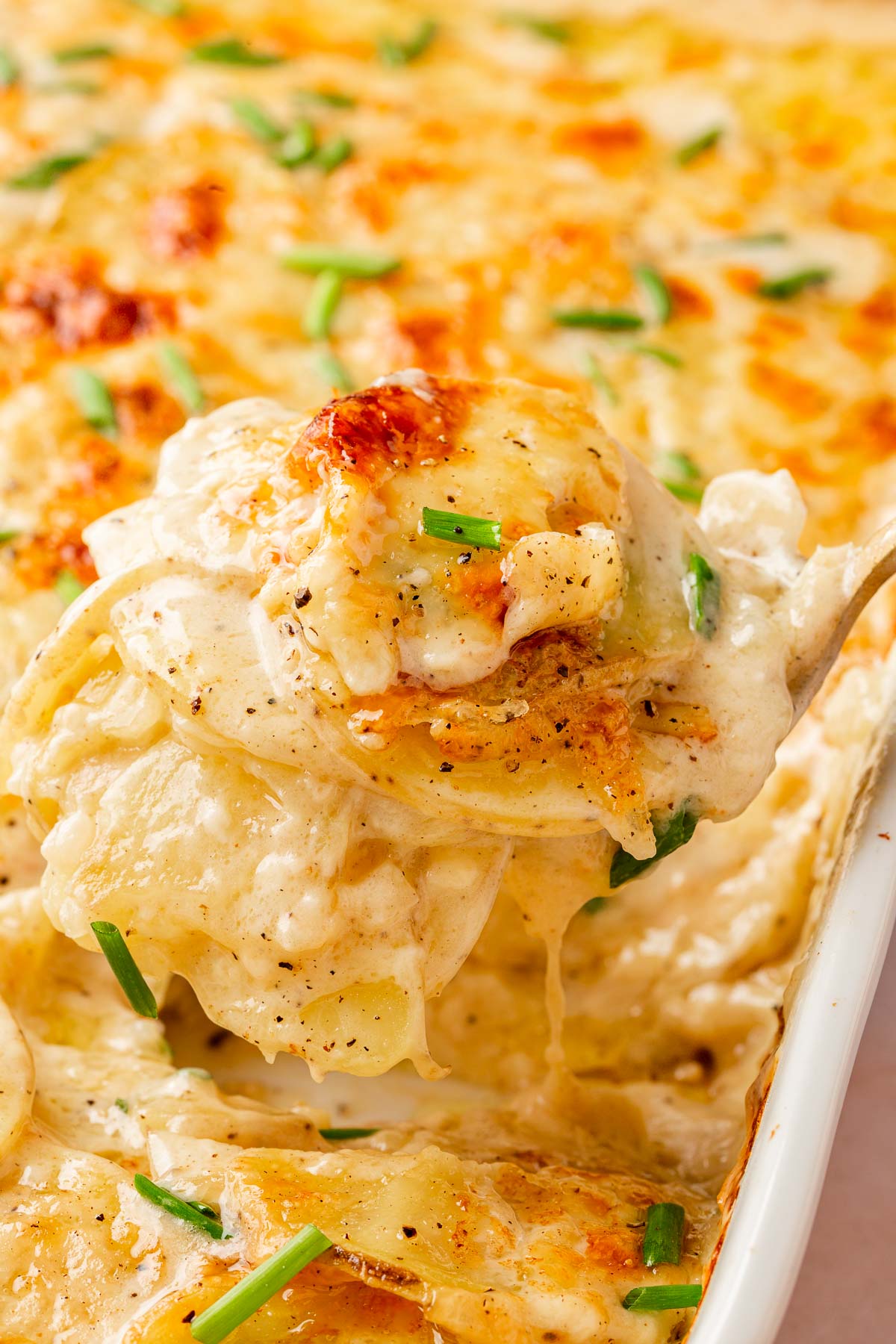 These gluten-free scalloped potatoes are a classic dish that can elevate any meal with its creamy texture and layers of tender potatoes. The blend of sharp cheddar and parmesan cheeses creates a rich and savory flavor that compliments the onions and garlic. Each slice of potato is coated in a smooth, thick sauce with a hint of nutmeg, providing a nuttiness to the dish.
This recipe is not only delicious but also versatile. It's perfect for a family dinner, but it's also impressive enough to serve at gatherings like holiday meals or potlucks. It's as at home on your Thanksgiving or Christmas menu as it is on your dining table for a weeknight meal. The steps are laid out clearly, making it easy to follow and ensuring that you get a consistent result of golden, bubbly perfection every time.
You'll love this recipe because:
Ingredients
Ingredient Notes
Butter: Opt for unsalted butter to control the sodium in your dish. If you need a dairy-free option, look for plant-based butter alternatives that are gluten-free.
Finely Diced Onion: A yellow onion is preferred for its sweetness and versatility in cooking. Make sure it's finely diced to distribute flavor evenly and cook uniformly with the garlic.
Minced Garlic: Fresh garlic will give you the best flavor, but jarred minced garlic can be a time-saver. Aim for finely minced garlic to integrate well into the sauce.
Gluten-Free Flour Blend: Choose a blend that is designed for baking and thickening, ensuring it has xanthan gum or a similar binder. This is crucial for the right texture in your roux. I used Bob's Red Mill 1-to-1 Gluten-Free Baking Flour in the blue bag.
Chicken or Vegetable Broth: If you're keeping it vegetarian, go for a good-quality vegetable broth. If you are gluten-free, be sure to use a gluten-free chicken broth as not all are gluten-free.
Heavy Cream: This ingredient adds richness to the dish. A full-fat version is ideal for the creamiest texture, but you can substitute with a lighter cream or a lactose-free alternative if desired.
Salt: Sea salt or kosher salt is preferred for a more controlled seasoning. Adjust according to your dietary needs and preferences.
Black Pepper: Freshly ground black pepper provides a better flavor than pre-ground. Adjust the amount to suit your taste.
Ground Nutmeg: This adds a subtle depth of flavor. It's best to grate it fresh right before use, but pre-ground nutmeg will work in a pinch.
Yukon Gold Potatoes: These potatoes are chosen for their creamy texture and buttery flavor, which work perfectly in scalloped potatoes. Make sure they are firm and free of sprouts or green spots.
Cheddar Cheese: Sharp cheddar adds a nice bite, but you can swap for a milder cheese if you prefer. Look for block cheese that you can shred yourself for better melting since pre-shredded varieties have starch included for anti-caking purposes.
Parmesan Cheese: Freshly grated parmesan cheese will melt more smoothly and provide a better flavor than pre-grated varieties.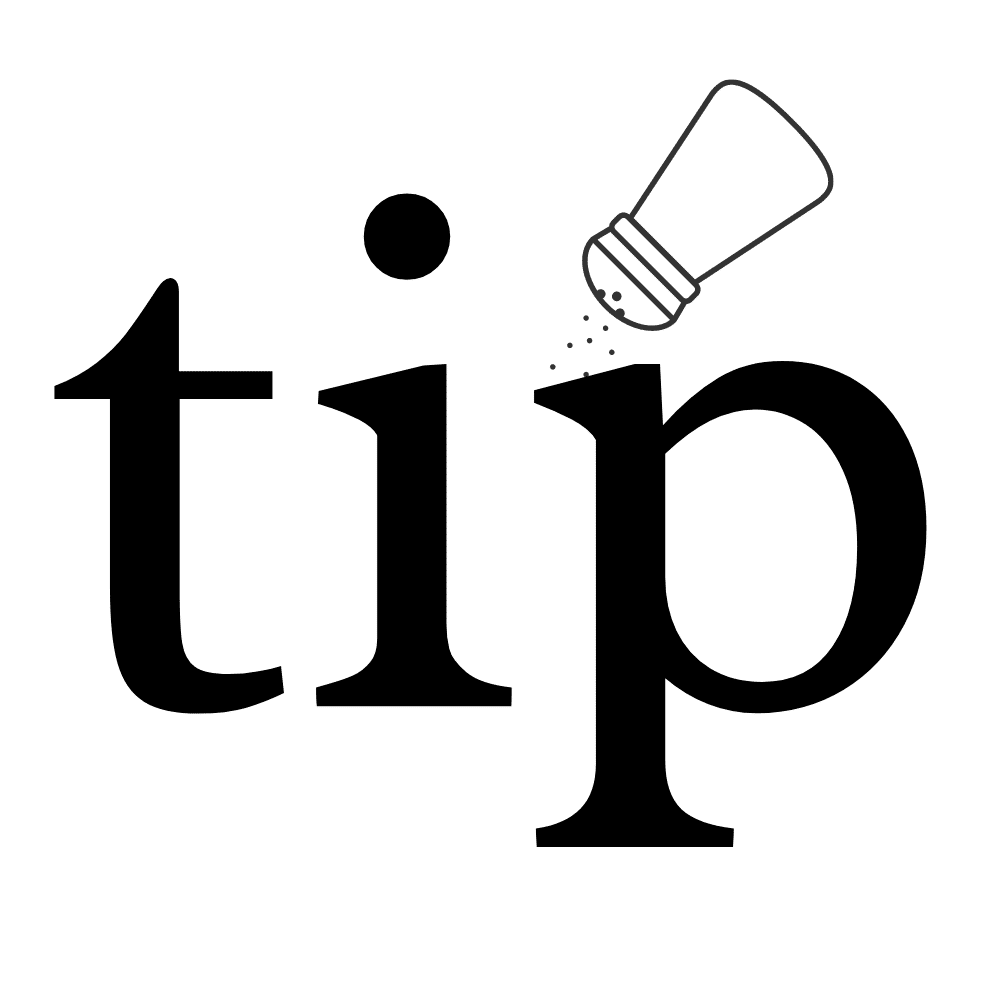 When preparing the scalloped potatoes, one crucial tip is to slice the potatoes evenly, ideally at ⅛-inch thickness. This uniformity ensures that all the potato slices cook at the same rate, resulting in a consistently tender texture throughout the dish. Using a mandoline slicer can be a great help for this task, but if you're using a knife, take your time to make the slices as uniform as possible for the best results.

Step-by-Step instructions
These gluten-free scalloped potatoes are very easy to make with minimal ingredients and a few steps. The below step-by-step photos with matching steps are not meant to be the full recipe, but are there to help you see the recipe made at various stages so you can make these au gratin potatoes perfectly every time.
Pay special attention to the color and texture of the gluten-free roux, the thickness of the potatoes, and the layering technique.
For the ingredient list with measurements, full instructions, printable recipe, and additional notes, please scroll down to the recipe card.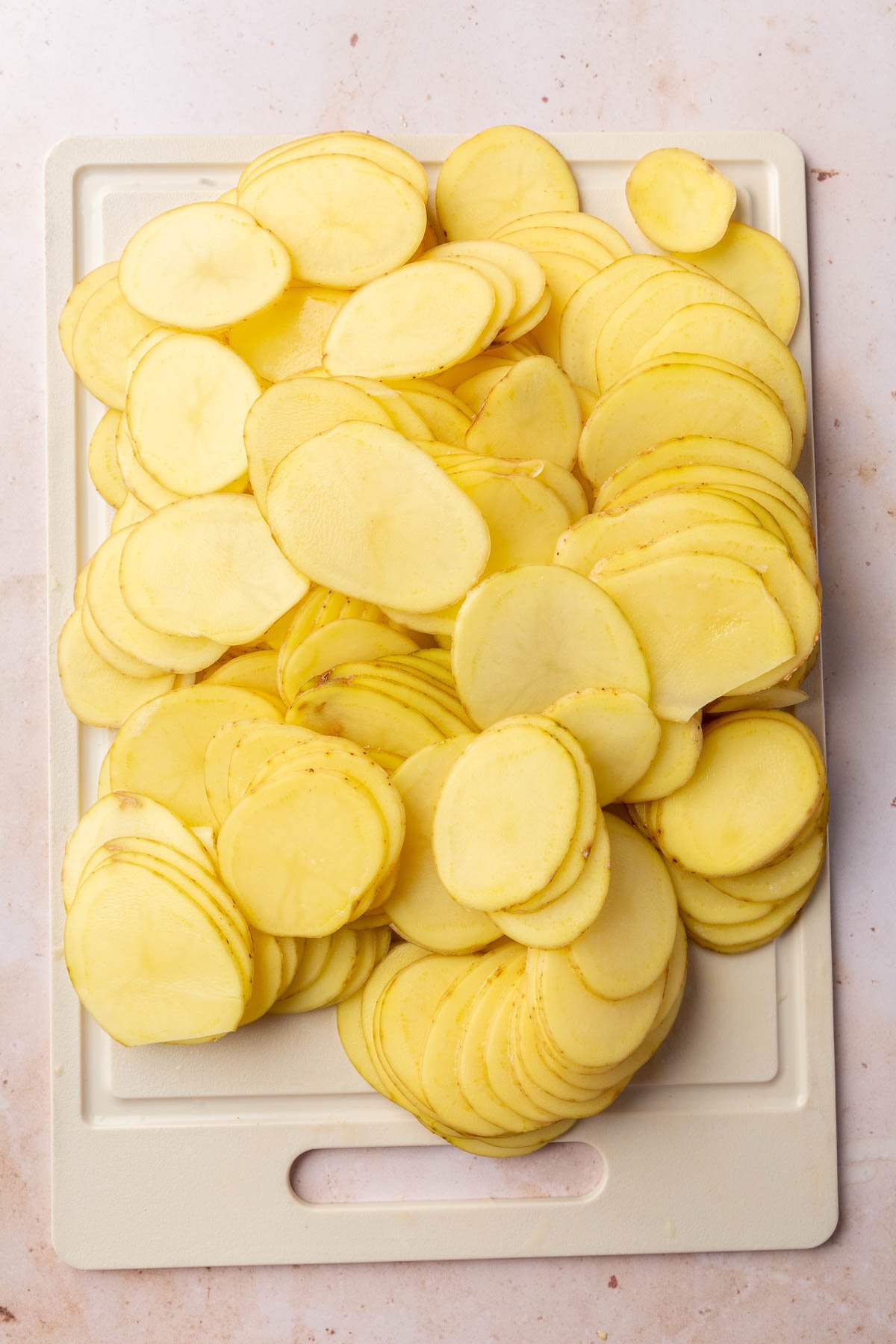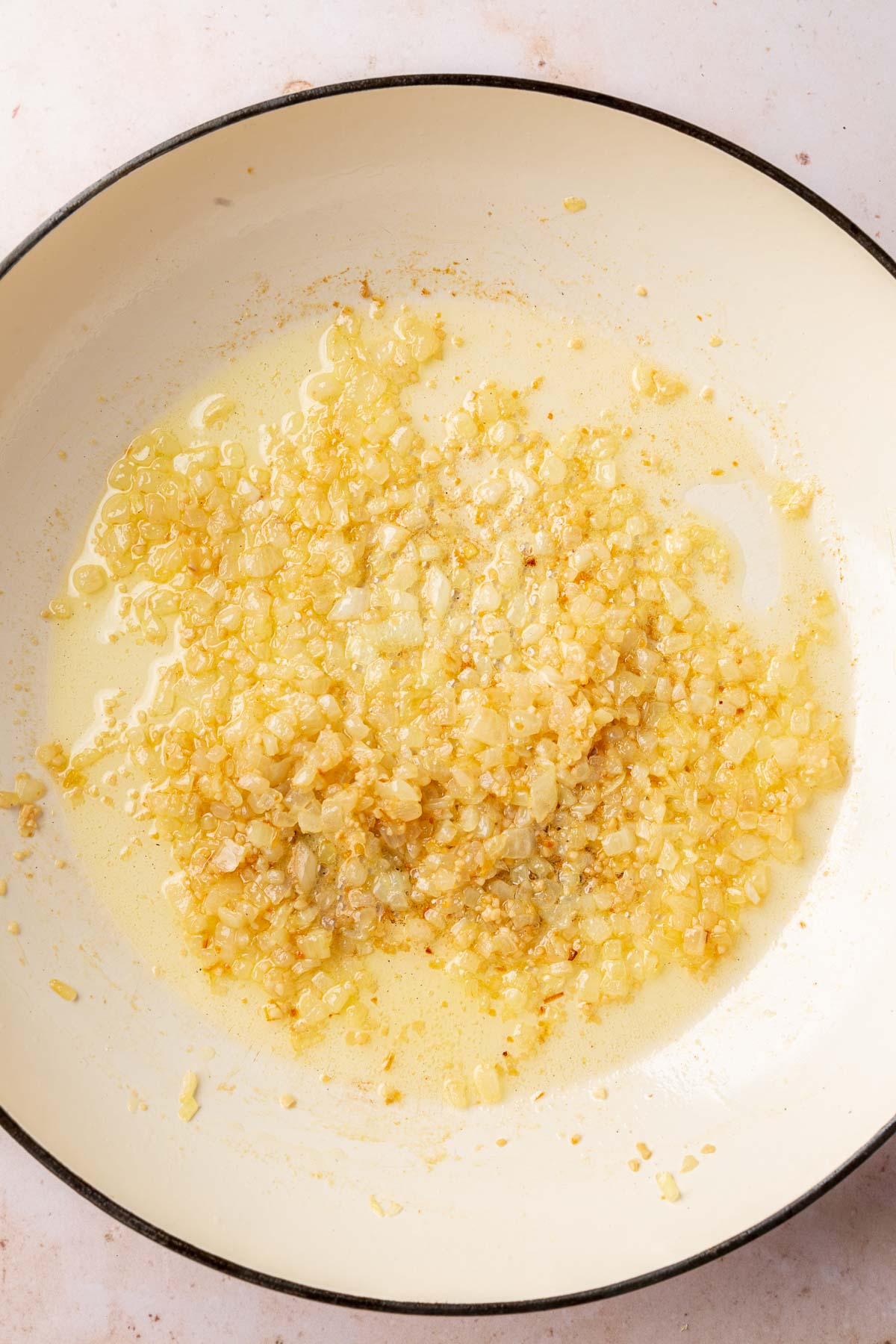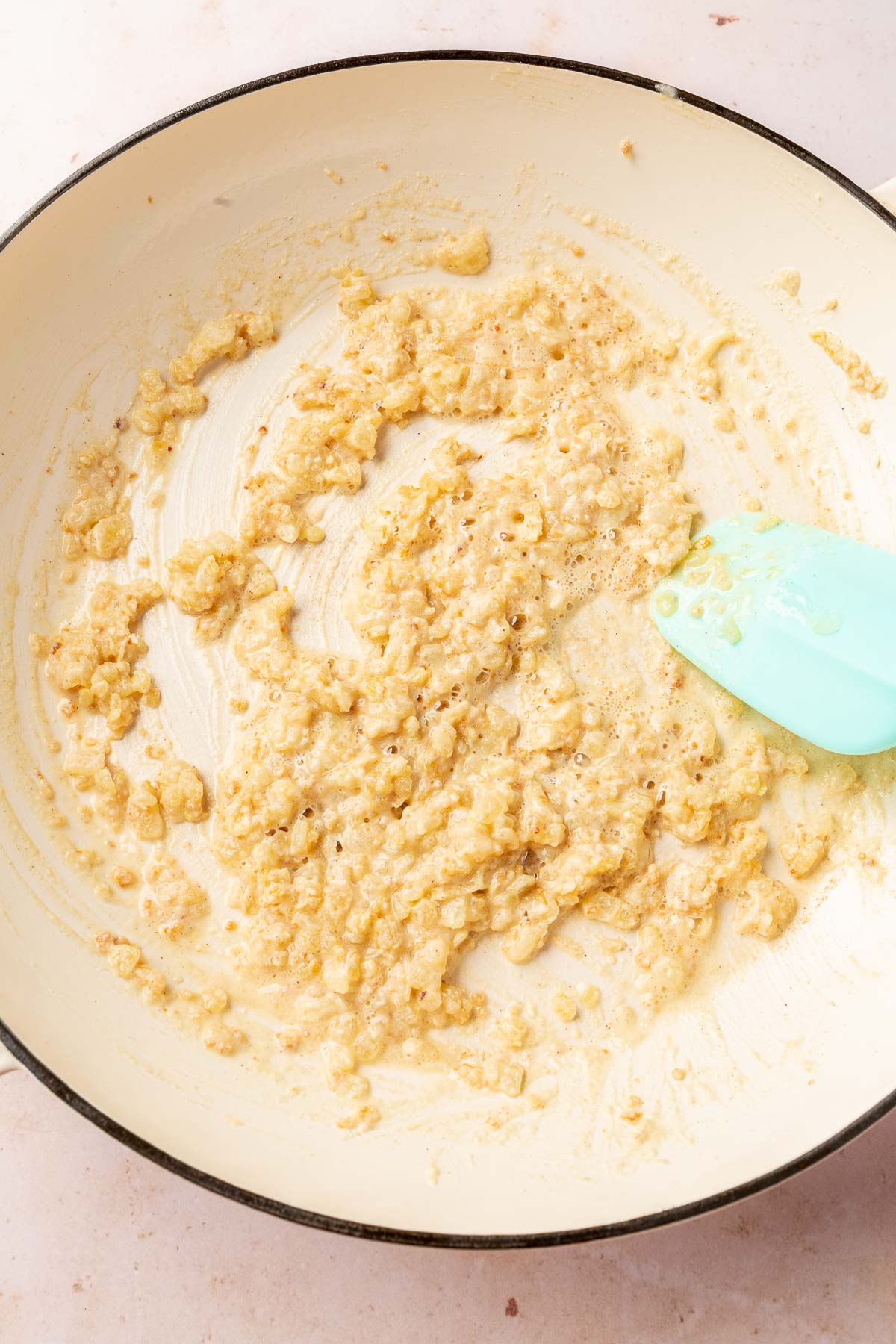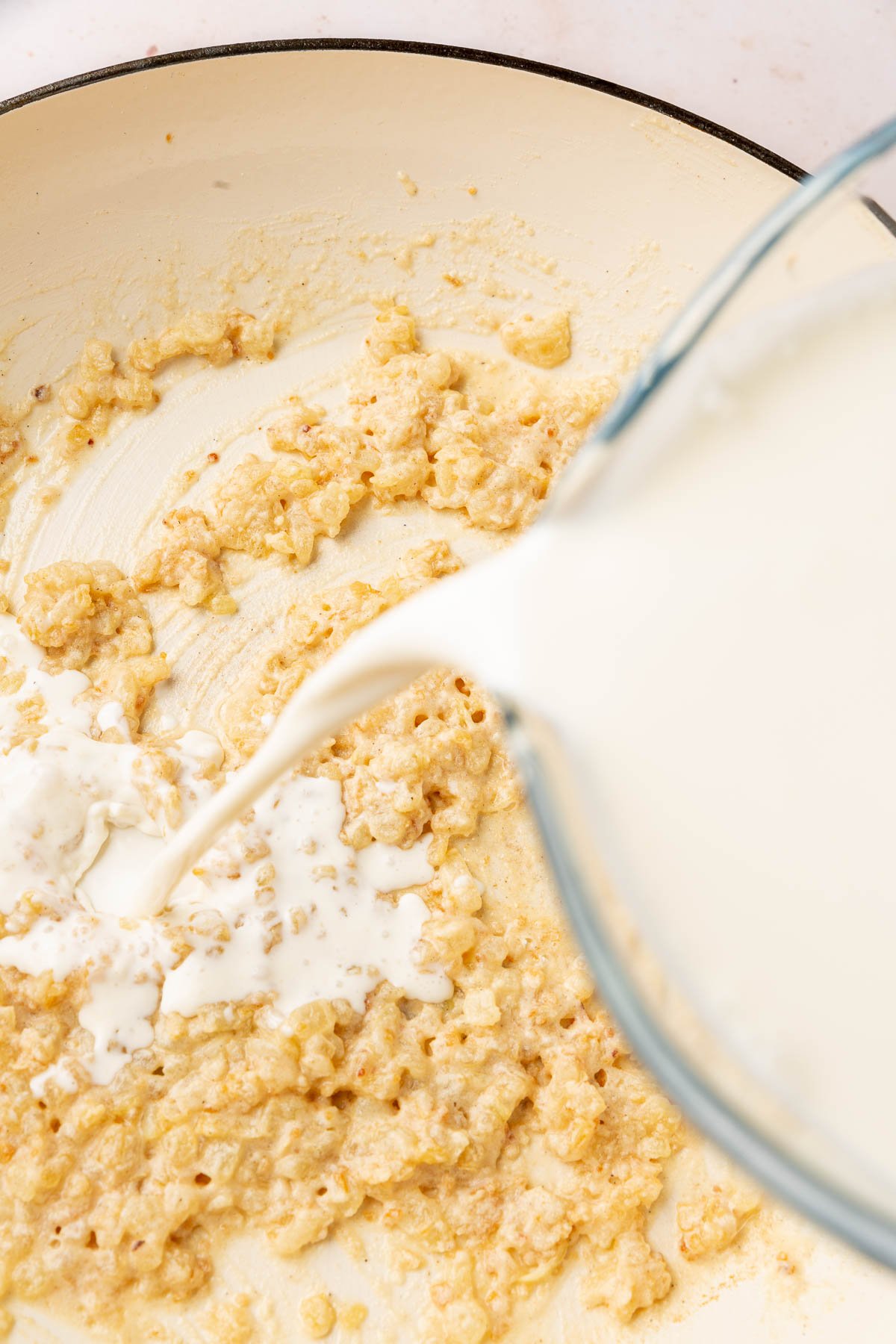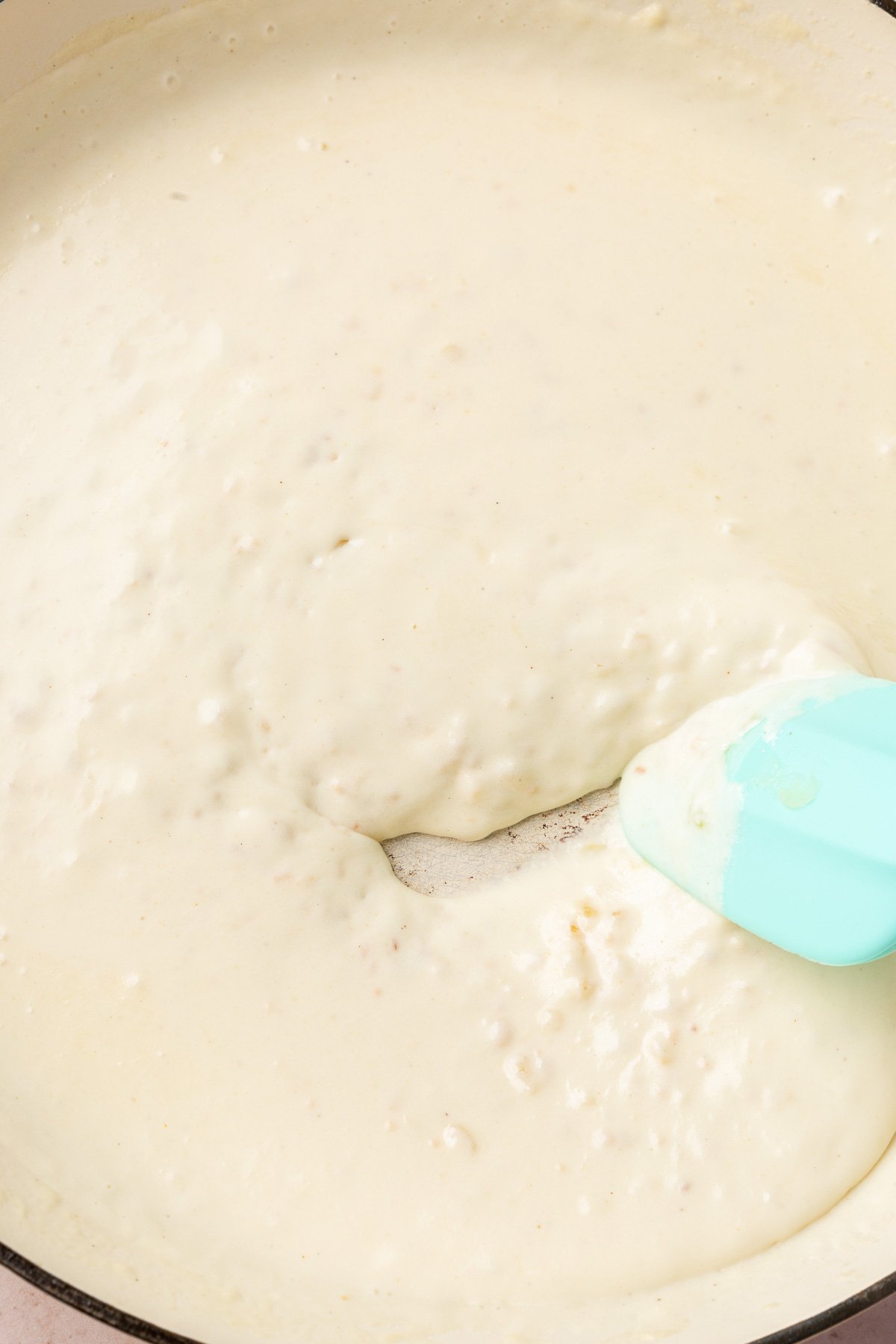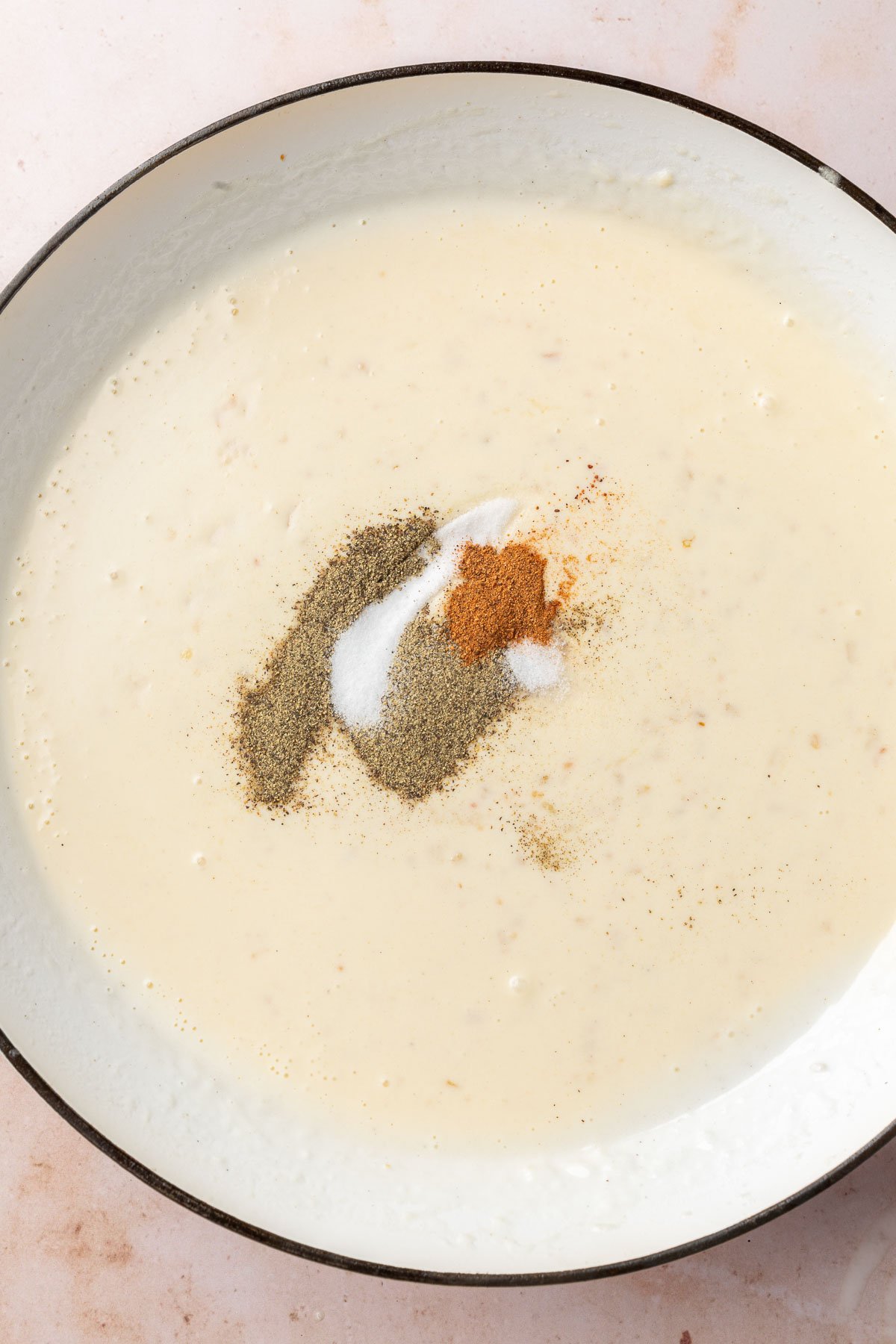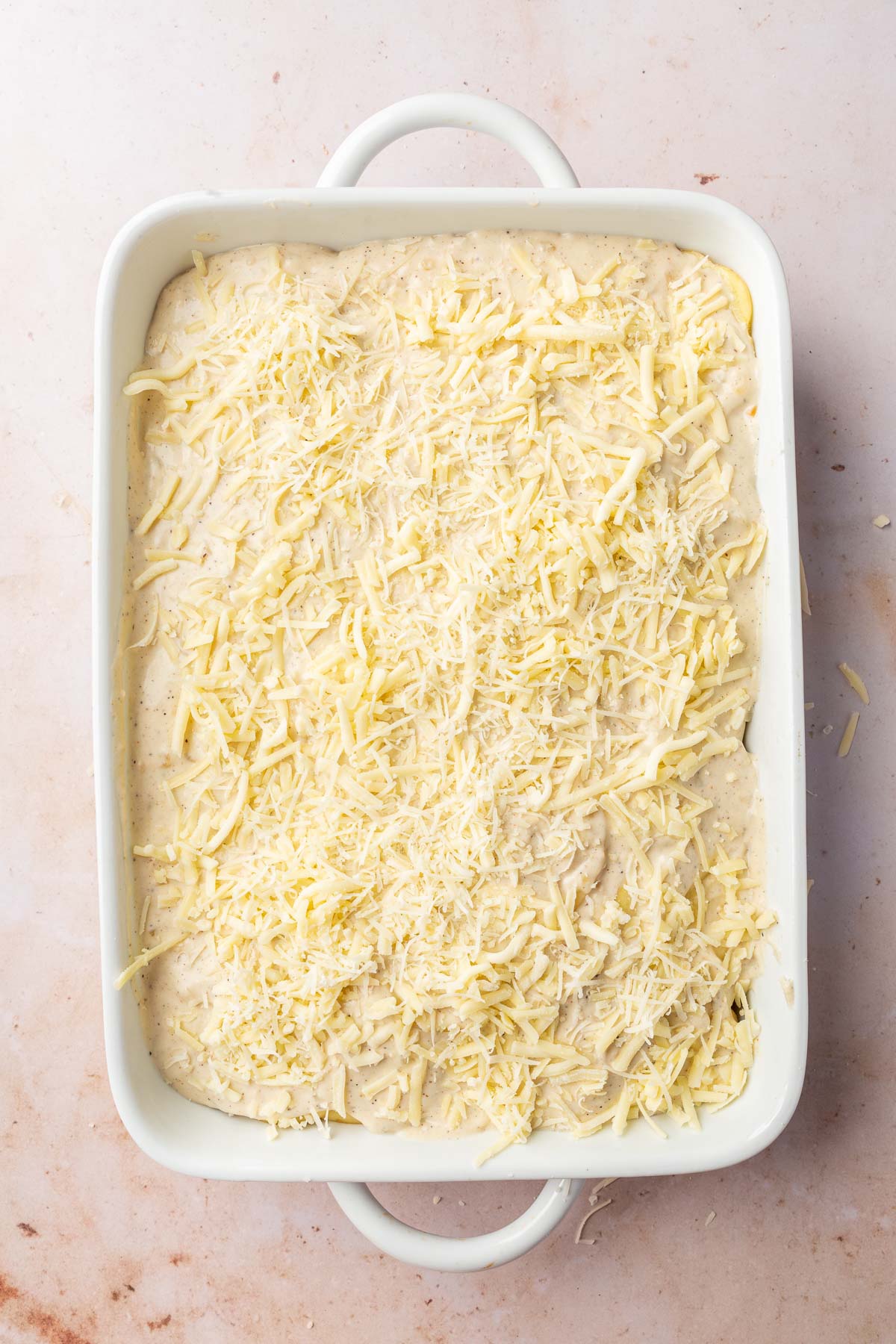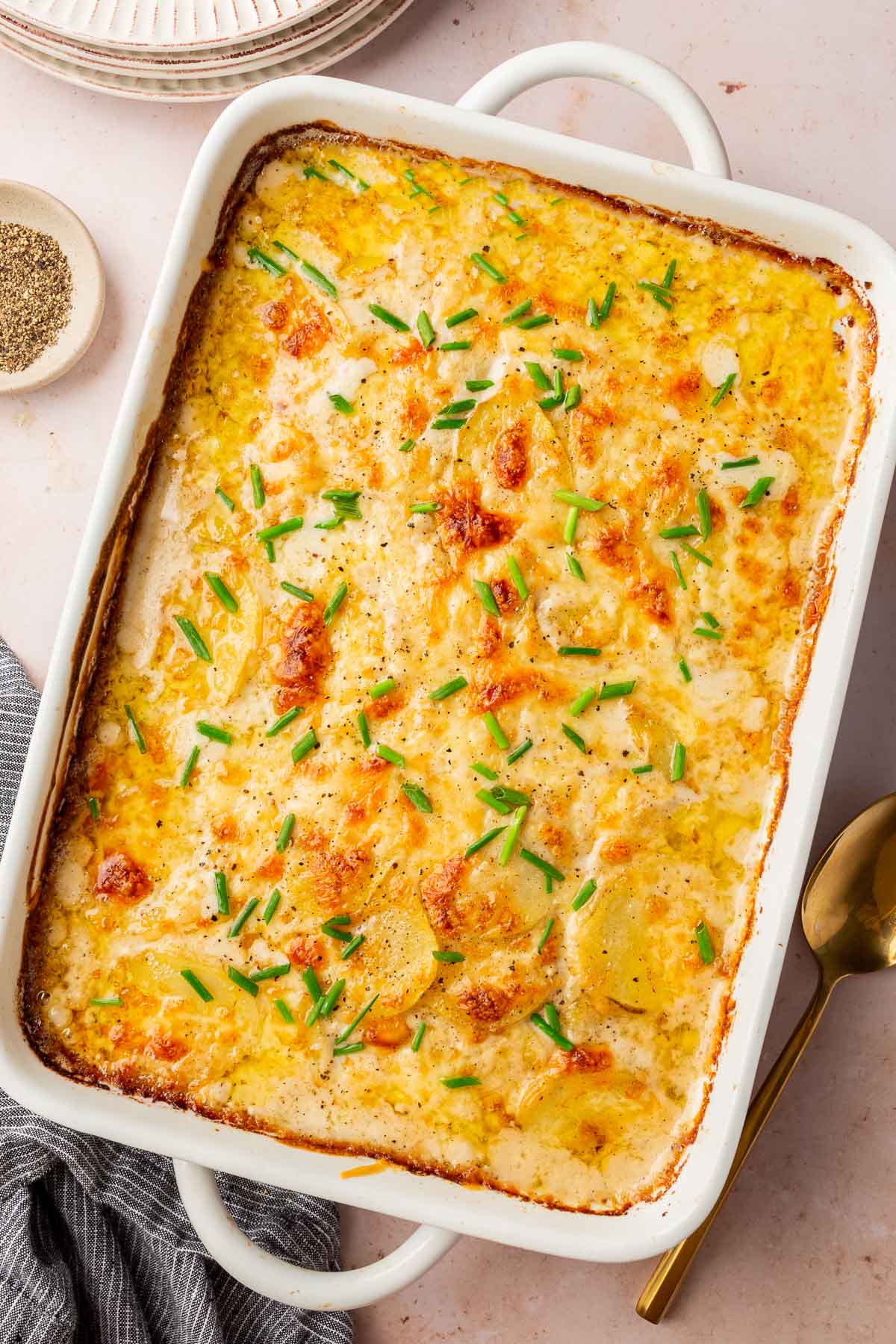 Recipe FAQs
What's the difference between scalloped potatoes and au gratin potatoes?
Traditionally, scalloped potatoes do not include cheese in the recipe. They are characterized by thinly sliced potatoes baked in a creamy sauce, often flavored with onions and seasonings. However, many modern variations of scalloped potatoes do incorporate cheese for added flavor and richness, blurring the lines between scalloped potatoes and potatoes au gratin, which traditionally include cheese. In my opinion, everything is better which cheese so I add cheese to my scalloped potatoes!
Are scalloped potatoes gluten-free?
Typically, scalloped potatoes are not gluten-free because they use all-purpose flour to make a roux to thicken the cream sauce. However, this recipe was made gluten-free using Bob's Red Mill 1-to-1 Gluten-Free Baking Flour (in the blue bag) to make a gluten-free roux. Also, be sure you pick up some gluten-free chicken stock as not all are gluten-free!
Can I make this recipe ahead of time?
Yes, you can assemble the scalloped potatoes up to 24 hours in advance. Follow all the steps up until the point of baking the scalloped potatoes in the oven. Store the prepared dish, covered, in the refrigerator. Before baking, let it sit at room temperature for about 30 minutes, then bake as directed. This makes it perfect for planning ahead for dinners or events, like Thanksgiving or Christmas.

What's the best way to slice the potatoes to get the right thickness?
The ideal thickness for the potato slices is ⅛-inch. Using a mandoline slicer is the most efficient way to achieve uniformly thin slices. If you don't have a mandoline, a sharp knife will work; just aim to keep the slices as consistent as possible for even cooking.
Can I use a different type of cheese in this recipe?
Absolutely! While sharp cheddar and parmesan are suggested for their flavors, feel free to experiment with other cheeses. Gruyère, Fontina, or Monterey Jack are great options that melt well and complement the dish's creamy texture.
How do I know when the scalloped potatoes are fully cooked?
The potatoes are done when they are tender all the way through and the top is golden and bubbly. This typically takes about 60 minutes in the oven. To test for doneness, insert a knife into the center of the dish; it should slide through the potatoes with little resistance.
Storage instructions
Storage: Allow the scalloped potatoes to cool to room temperature before storing. Transfer them into an airtight container or cover the baking dish tightly with plastic wrap or aluminum foil. They can be stored in the refrigerator for up to 3-4 days.
Freezer Option: To freeze, first let the potatoes cool completely. Then, wrap the dish securely with a layer of plastic wrap and then a layer of aluminum foil. Scalloped potatoes can be frozen for up to 2 months. For more convenience, you can also freeze individual portions in freezer-safe containers. This makes it easier to thaw and reheat smaller servings as needed.
Reheat: To reheat refrigerated scalloped potatoes, cover the dish with foil and bake in a preheated oven at 350°F until heated through, about 20-30 minutes. If you're reheating individual portions, reduce the time accordingly. For frozen scalloped potatoes, it's best to thaw them in the refrigerator overnight before reheating. Once thawed, reheat in the oven as you would with refrigerated potatoes.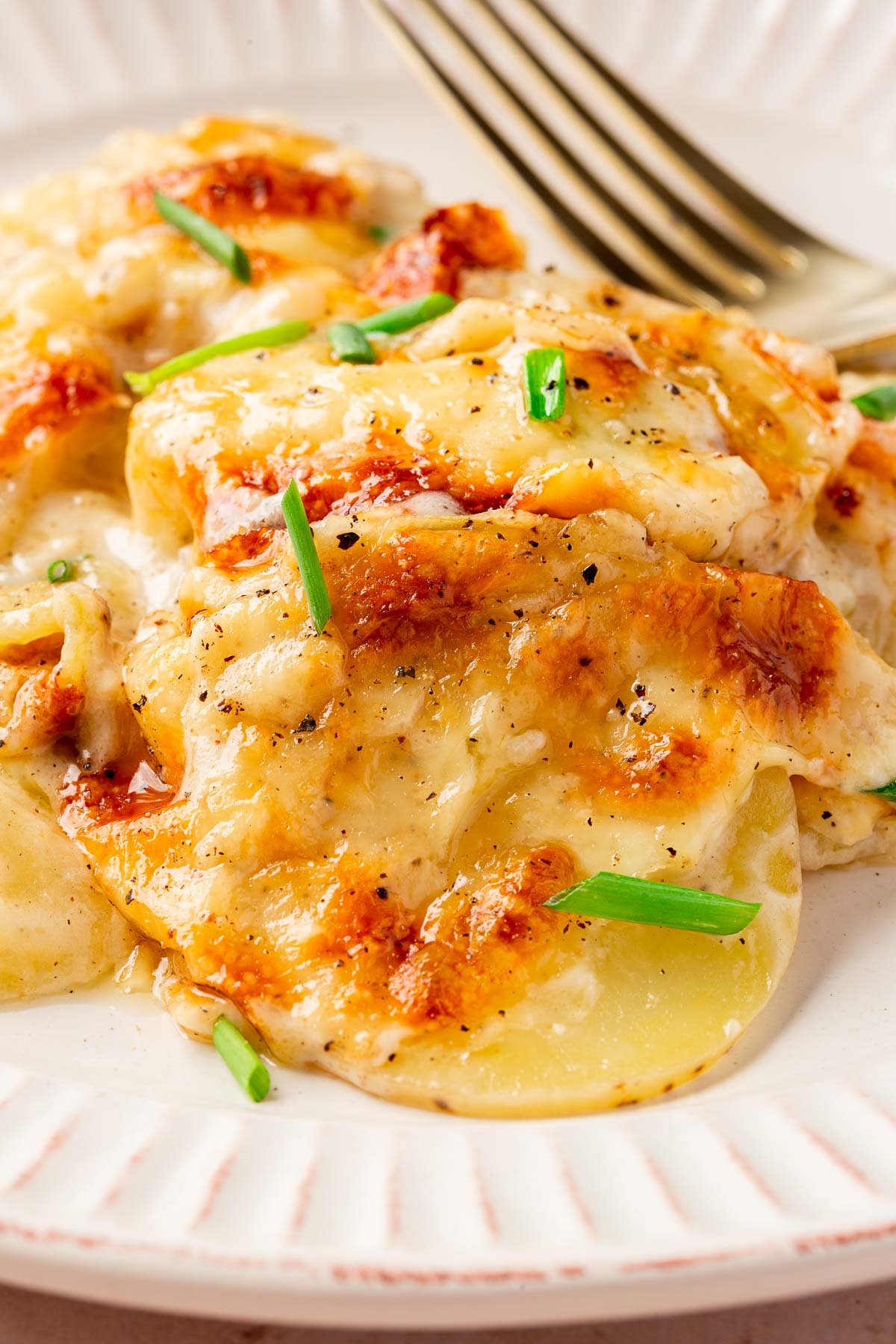 Serving suggestions
These scalloped potatoes are delicious on any Thanksgiving or Christmas table for the holidays. They pair perfectly with gluten-free cornbread stuffing or red wine cranberry sauce. Don't forget to make my gluten-free cheddar biscuits to sop up any of that leftover cheesy cream sauce!
If you want to serve these gluten-free au gratin potatoes for an everyday weeknight meal, I suggest serving it with my crispy air fryer chicken thighs! There's nothing better!
More gluten-free side dishes to try
Did you make this recipe?
I'd love to know! Please rate it and leave a comment below. You can also share your pictures and tag @adashofmegnut on Instagram.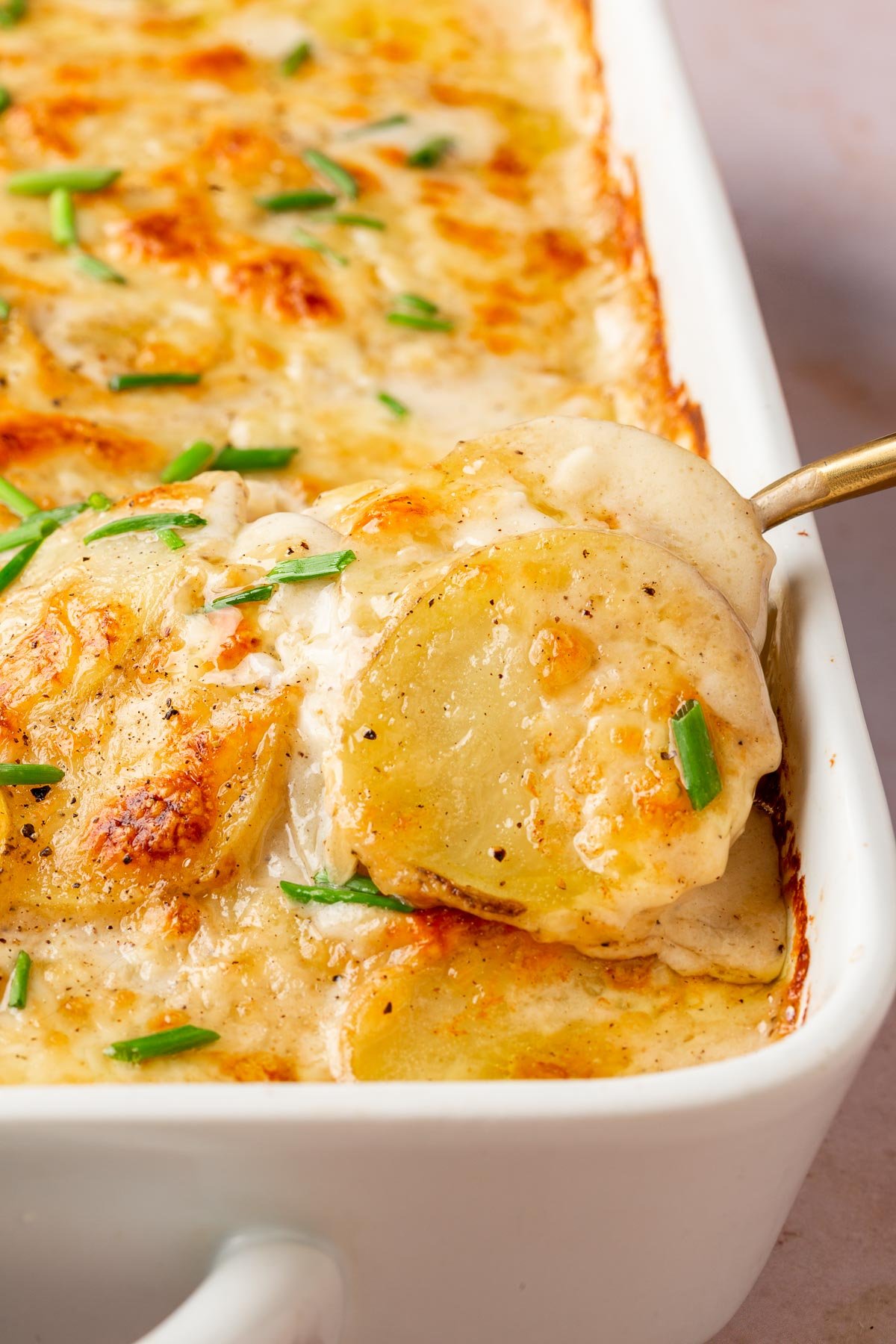 Gluten-Free Scalloped Potatoes
Whip up some easy gluten-free scalloped potatoes with this straightforward recipe. With just a handful of ingredients, these scalloped potatoes are filled with tender potatoes in a creamy, cheesy sauce. Perfect for any meal, including weeknight dinners and special occasions like Thanksgiving or Christmas. These cheesy potatoes pair perfectly with a variety of main dishes, like glazed ham, turkey, roast beef or even roasted chicken!
Print
Pin
Rate
Ingredients
4

tablespoons

unsalted butter

(57g)

1

cup

finely diced onion

(from 1/2 large onion)

3

garlic cloves

(minced)

1/4

cup

gluten-free flour blend

(36g)

1

cup

gluten-free chicken broth

(or vegetable broth)

2

cups

heavy cream

1/2

tablespoon

salt

3/4

teaspoon

black pepper

1/4

teaspoon

ground nutmeg

4

pounds

Yukon Gold Potatoes

(about 6 cups, washed and sliced into ⅛-inch round slices (1.8 kg))

2

cups

white cheddar cheese

(shredded, divided (8oz))

1/2

cup

parmesan cheese

(shredded or grated, divided (1.5 oz))
Instructions
Preheat the oven to 375°F. Grease a 9×13-inch baking dish. Set it aside.

Melt the butter in a large skillet or braising pan over medium heat.

Then, add the diced onions and sauté for 5-6 minutes, until the onions are soft and translucent.

Add the minced garlic to the pan and cook for an additional minute, stirring frequently to ensure the garlic does not burn.

Add the gluten-free flour and stir, cooking the flour, for 2-3 minutes until the roux has turned a golden brown color.

Reduce the heat to low. Combine the chicken broth and heavy cream in a measuring cup.

Slowly pour in the cream mixture into the roux, whisking as the mixture thickens.

Add the salt, pepper and nutmeg. Whisk to combine. Keep whisking until the cream sauce is smooth.

Bring the cream sauce to a low boil, and then remove from the heat. Set aside.

Place half of the sliced potatoes in an even layer slightly overlapping in the prepared 9×13-inch baking pan.

Spread half of the cream sauce in an even layer over the potatoes and then sprinkle half of the white cheddar cheese and parmesan cheese over the sauce.

Repeat with the remaining potatoes, cream sauce and cheeses.

Cover the pan with aluminum foil and bake at 375°F for 35 minutes. Remove the foil and continue baking for an additional 25 minutes until the top is golden, the potatoes are fork tender, and the sauce is bubbling.

Remove from the oven and let cool for at least 5 minutes before serving to let the sauce thicken up. Serve warm and enjoy!
Notes
Achieve uniform thickness in your potato slices for even cooking. A mandoline slicer is ideal for getting consistently thin (⅛-inch) slices. If using a knife, try to keep the thickness as uniform as possible.

I used Bob's Red Mill 1-to-1 Gluten-Free Baking Flour (in the blue bag) for this recipe.

Taste your cream sauce before layering it with the potatoes. Adjust the salt, pepper, and nutmeg to your preference. Remember, the cheeses will also add saltiness.

Potatoes should be fork-tender, and the top should be golden brown when done. If the top is browning too quickly, cover it with foil to prevent burning.
Nutrition
Calories:
394
kcal
|
Carbohydrates:
32
g
|
Protein:
11
g
|
Fat:
26
g
|
Saturated Fat:
16
g
|
Polyunsaturated Fat:
1
g
|
Monounsaturated Fat:
6
g
|
Trans Fat:
0.2
g
|
Cholesterol:
77
mg
|
Sodium:
604
mg
|
Potassium:
722
mg
|
Fiber:
4
g
|
Sugar:
3
g
|
Vitamin A:
925
IU
|
Vitamin C:
31
mg
|
Calcium:
236
mg
|
Iron:
1
mg
I'm Megan
A gluten-free food blogger from Chicago and lover of all things food, showing you gluten-free can be easy and delicious, too. Let's make gluten-free stress free together! Read more…