Apple cider caramels are lightly spiced with cinnamon and apple cider and topped with sea salt for a dessert that is both sweet and salty!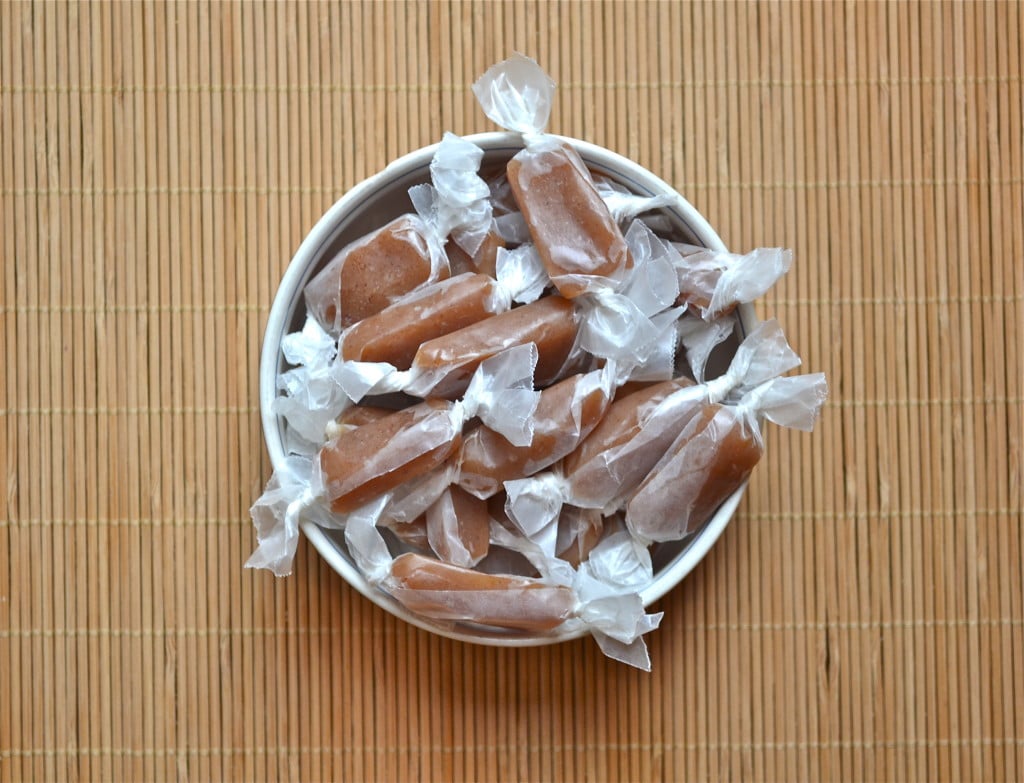 If someone asked me to choose caramel or chocolate, I'd choose caramel. Hands down. Always. Any day of the week. Just caramel. Most people look at me crazy whenever I say that, because how could I not love chocolate? I truthfully don't know. But, I've always been that way. A caramel person at heart. Don't get me wrong, I'll still eat chocolate, it's just that I'll secretly wish it was caramel, that's all. So I guess with a love for caramel, it's kind of a surprise that I've never made it before. When I saw this recipe for apple cider caramels I knew I had to give it a go.
As you heard in my post about my apple crisp, my friend Jackie and I were on a mission to make caramel apples a few weeks ago. The plan was apple cider caramel apples, but obviously it was kind of a fail. Do you know what wasn't a fail? The apple cider caramels! Luckily, I had Jackie with me to make these because let me tell you folks, it's a long process.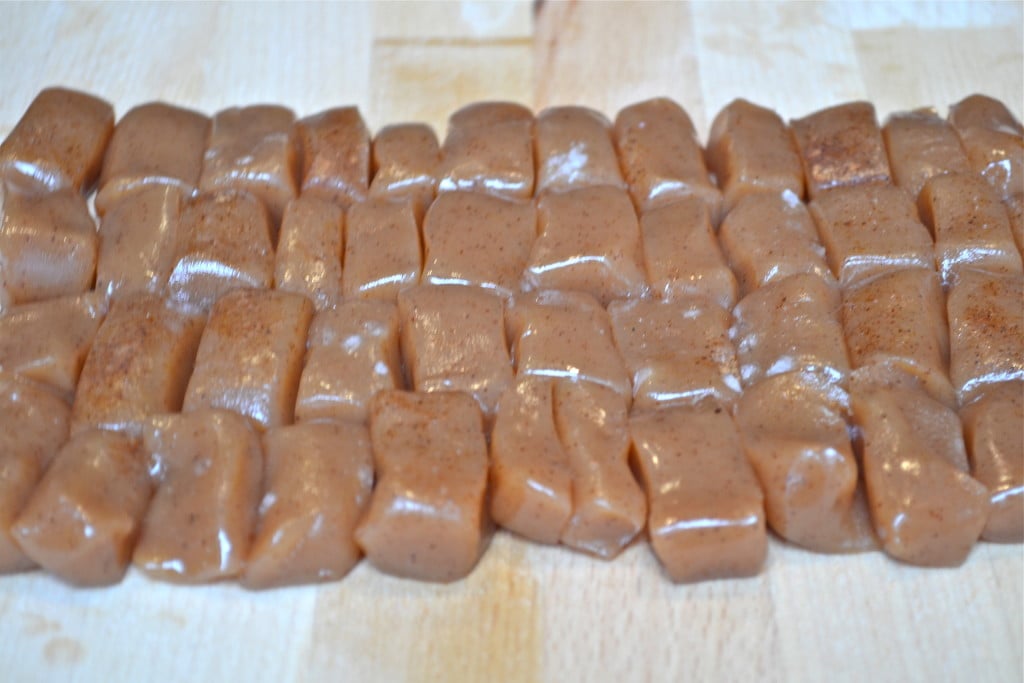 Like maybe two or three hours. So I highly suggest you do this on a day where you have a lot of time. There's a lot of time to just sit and stare at the pot and wait for it to reach a certain temperature while ensuring it doesn't burn or boil over. So having a companion in the kitchen is necessary for this recipe.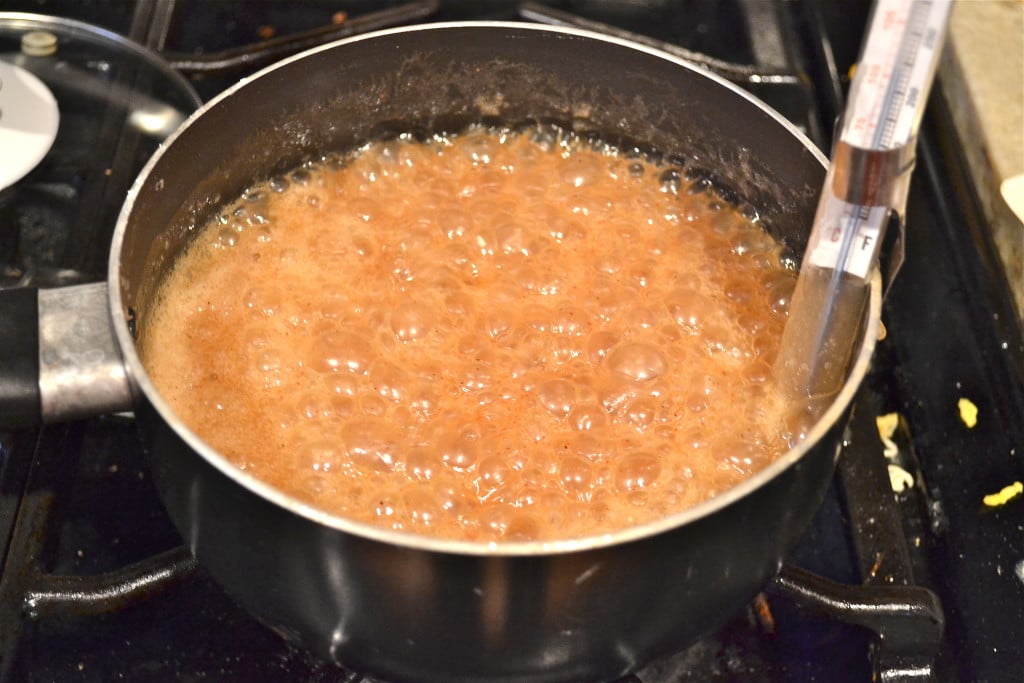 Do I still think you should make these? Oh yeah. They were so amazingly delicious. You can definitely taste the apple cider in the caramel, which was a huge selling point for me. I also love that this recipe makes so many caramels.
It makes that 2-3 hour effort really worth it. I bought some more heavy cream yesterday just so I can make some more this weekend. I love them that much! I just wish they would have worked with my caramel apples. Oh well! More for me to eat!
Oh, P.S. you need a candy thermometer for this. I highly recommend getting one. They're super cheap at Walmart or Target and I've used mine for a ton of things, even frying cheese curds!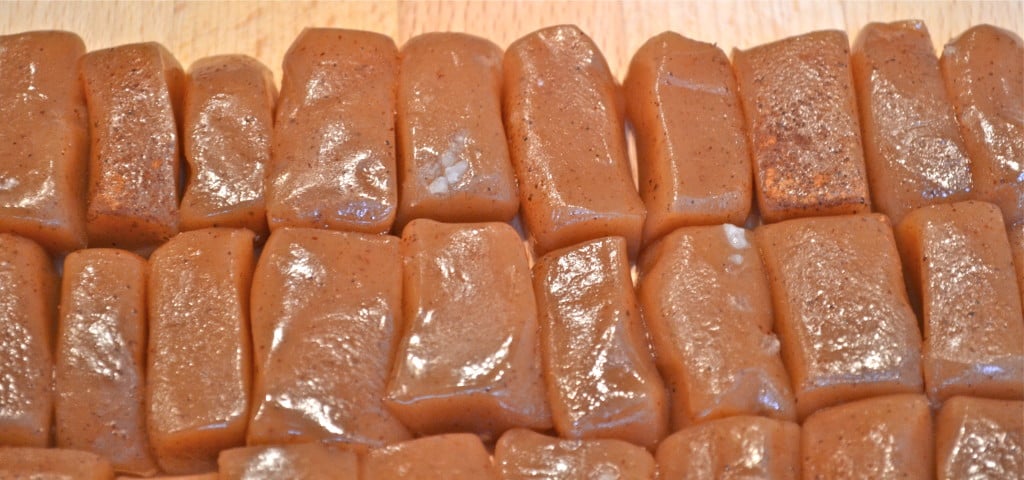 Apple Cider Caramels
Apple cider caramels are lightly spiced with cinnamon and apple cider and topped with sea salt for a dessert that is both sweet and salty!
Print
Pin
Rate
Ingredients
2

cups

apple cider

1

cup

heavy cream

(divided)

1

tsp

ground cinnamon

1/4

tsp

nutmeg

1/4

tsp

allspice

1

tsp

salt

1 1/2

cups

sugar

1/3

cup

light corn syrup

1/2

cup

unsalted butter

(cubed)

1/4

tsp

sea salt

(for topping)
Instructions
Pour apple cider into a small sized saucepan. Cook over medium heat and bring the apple cider to a simmer.

Continue simmering until the apple cider reduces to 1/3 cup, about 30 to 40 minutes.

In the meantime, butter the sides of an 8 x 8 inch dish and cover the bottom with parchment paper for easy removal of caramels. Set aside.

In a small bowl, combine 2/3 cup heavy cream, cinnamon, nutmeg, allspice, salt and the reduced apple cider. Set aside.

In a glass measuring cup, add 1/3 cup heavy cream. Then add enough water to get the liquid to the 1/2 cup line on the measuring cup. Pour contents into a large pan.

Add sugar and corn syrup. Stir together to combine.

Heat over low until the sugar dissolves, stirring frequently.

Then, insert a candy thermometer and simmer, stirring frequently, until the syrup boils, about 25 minutes.

Continue cooking, without stirring, until the syrup reaches 234F.

Remove from heat and slowly whisk in the cream and spice mixture.

Add butter and stir until combined.

Return pan to heat and cook over low, while stirring, until the mixture boils.

Then stop stirring and continue cooking until it reaches 250F.

Pour caramel into your 8 x 8 inch dish. Let mixture cool slightly before adding sea salt. Cool in the refrigerator until it is set.

When it is set, remove caramel from pan by lifting the parchment paper. Place on a cutting board and cut caramel into 3/4 inch squares.

Wrap each caramel in a small piece of wax paper by twisting the ends around the caramel.

Store in an airtight container in the refrigerator for up to 2 weeks. Makes about 80 caramels.
Nutrition
Calories:
41
kcal
|
Carbohydrates:
5
g
|
Fat:
2
g
|
Saturated Fat:
1
g
|
Cholesterol:
7
mg
|
Sodium:
38
mg
|
Potassium:
8
mg
|
Sugar:
5
g
|
Vitamin A:
80
IU
|
Vitamin C:
0.1
mg
|
Calcium:
3
mg
Source: Recipe from Sweet Pea's Kitchen