While I admittedly am not a huge chocolate lover, I do LOVE Oreos. What do I like more than Oreos though? Cheesecake. Combine those two and I am in trouble. These Oreo cheesecake truffles are so easy it's ridiculous. What's worse (or better) is that it makes 48 truffles. That's a lot. That's probably twice the amount of calories I should eat in a day. And I will eat them all in one day if they're sitting there. So I did what any good food blogger would do, gave them to my friend Nathan. I also made some of my favorite
sausage and white bean stew
 and brought that over to Nathan's for him and my friend Ben. The mistake was that I gave them one tupperware of Oreo Cheesecake Truffles for the two of them to share. Nathan and I went out with some of our accounting friends later and Ben and Nathan proceeded to have an argument via text message over who gets the truffles. I think they ended up splitting them in the end but next time I'll definitely put them in two different containers haha.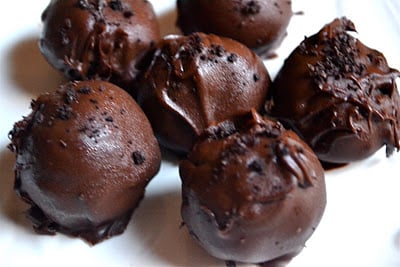 Ingredients:
1 package Oreos
8 oz package of cream cheese, softened
2 cups semisweet chocolate chips
2 tbsp shortening
Directions:
Place oreos in a food process and process until finely ground. You can also place oreos in a ziploc bag and go to town with a rolling pin if you don't have a food processor. Put 3 cups of the oreo crumbs in a large bowl. Save the remaining oreo crumbs for the topping. Add the cream cheese. Using a spoon, mix together until the cream cheese is thoroughly mixed in with the oreo crumbs. You'll have a soft, homogenous mixture when you're done. Using a small cookie scoop, or the equivalent of 2 teaspoons, make small balls. Place the balls on a cookie sheet lined with wax paper. Then, refrigerate the cookie sheet for 30 minutes, or until the oreo balls are firm. In a small bowl, microwave the chocolate chips and shortening in 30 second increments at 50% power, until the chocolate is melted. Mix with a spoon. Dip the oreo balls in the chocolate and remove from the bowl by scooping it out with a fork. Use the fork to tap off the excess chocolate so that the topping is smooth. Place the truffle on the baking sheet to dry. Sprinkle some of the extra oreo crumbs over the truffle. Repeat with the remaining truffles. Return the baking sheet to the refrigerator for another 30 minutes to harden. Bring to room temperature before serving. To store, place in a tupperware in the refrigerator.
Makes about 4 dozen truffles.