Gluten-Free Halloween Candy List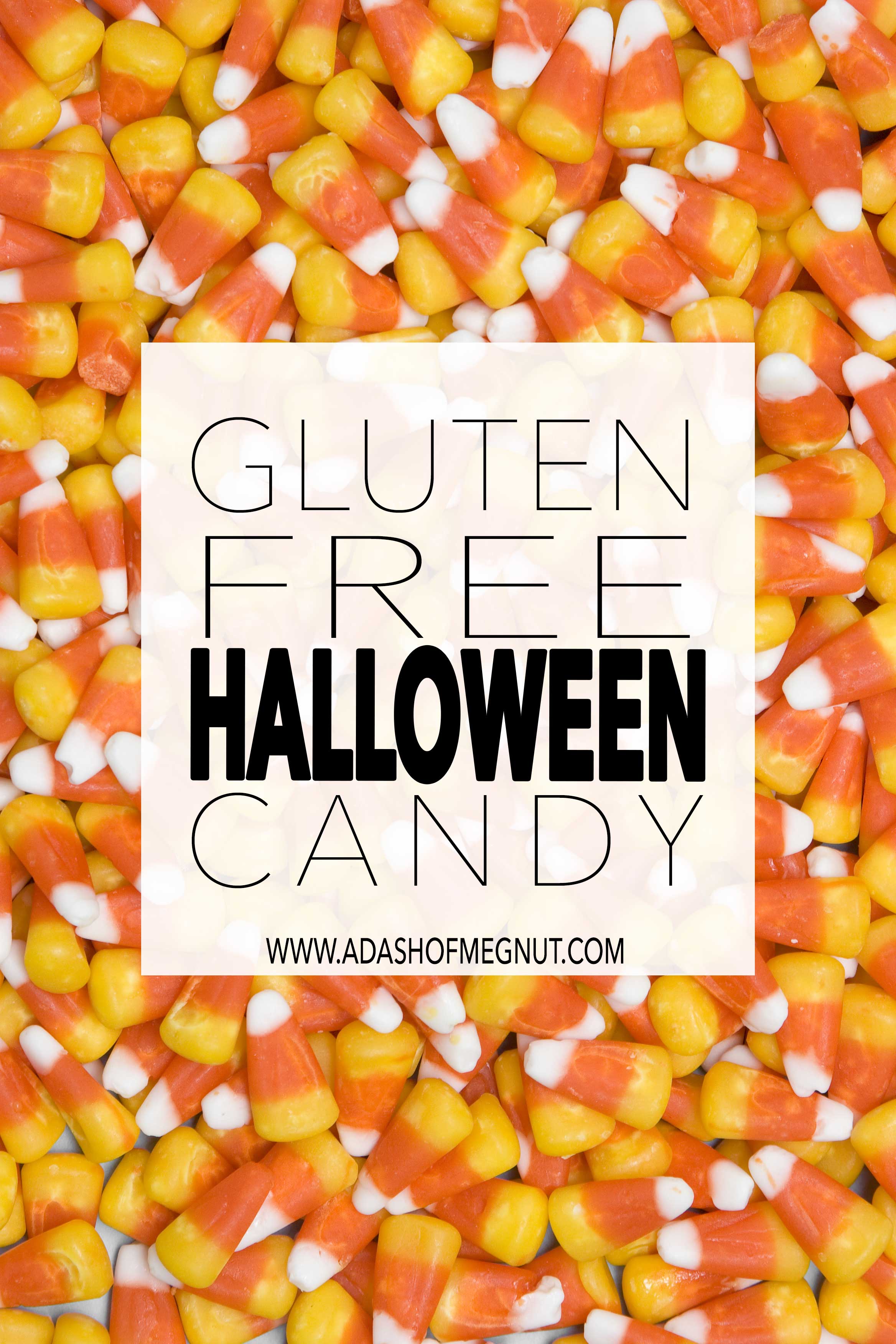 Halloween is coming up quickly and you know what that means… CANDY!! For those on a gluten-free diet because of celiac disease, gluten intolerance, or other health issues, navigating trick-or-treating can be a little… well… tricky. However, Halloween doesn't have to be such a bummer for kiddos with gluten allergies and intolerances. With some research and due diligence, they can enjoy trick-or-treating with their friends!
This list is meant to be a guide to begin your own research. Always check labels and call companies if you are unsure if a product is gluten-free before consuming. Companies are often changing ingredients and facilities, so this information is subject to change. I will be updating this post as new information is available.
Gluten-Free Halloween Candy Tips
Read your labels. Many products will change over time so even if you think a candy may be gluten-free, always double check.
Companies have to label if a product contains wheat. However, they aren't required to call out other gluten-containing ingredients, like barley. Malt barley can be a common ingredient in some candy so be sure to check the ingredient labels for it.
During the holidays, some companies use extra manufacturing facilities to keep up with demand. These facilities may not be gluten-free and make some of your typically gluten-free favorites no longer a good choice. Often times, "seasonal" and "special shape" varieties of candies are not gluten-free.
Variety packs are not your friend. Often, companies will make wholesale purchases of popular name brand candies and repackage them in large variety packs. There is greater chance for cross-contamination in the packaging process. Stick with candy that you know is produced and packaged at the company's normal facilities.
If you're looking for a list of dairy free halloween candy, check out this post from Simply Whisked.
The Teal Pumpkin Project
The Teal Pumpkin Project is a great way to show your support of kids living with food allergies or who may not be able to eat candy at all. It's a great idea to always have non-food treats for trick-or-treaters at your home so every kid can enjoy.
All you have to do is place a teal pumpkin in front of your door to indicate you have non-food treats available. Why teal? Well it's the color of food allergy awareness!
You can also add your home to the Teal Pumpkin Project map so those looking for non-food treats can find your house!
Top 8 Allergen Free Candy
There are a few companies to make candy that is free from the top 8 major allergens — milk, eggs, fish, crustacean shellfish, tree nuts, peanuts, wheat and soybean.
Enjoy Life Halloween Chocolate Minis (comes in 4 flavors!)
Smarties – Read Smarties allergy statement for more info – There are some products with the Smarties brand that are not manufactured by Smarties Candy Company. If the UPC code starts with "0 11206" then it is packaged in the Smarties facility and safe from the top 8 allergens.
Surf Sweets – all products are certified gluten free and free of the top 8 allergens
Spangler Candy – Childhood favorites like Dum Dums and Sat-T-Pops! Products may contain trace amounts of soy oil in some of their candies.
No Whey Chocolate – Think spider pops, skull chocolate pops, but they also have a variety pack that is free from the top 8 allergens! Note that candy is produced in a dedicated, but not certified facility, from the top 8.
Gluten-Free Candy
Note that the following candy do not contain gluten ingredients, but some may be manufactured in a facility containing gluten. If you have Celiac Disease, please use your best judgment if you decide to eat candy that is made in a facility with gluten. Refer to ingredient labels for the must up to date information. I have noted which candies are certified gluten free and have linked to any allergen statements from candy companies.
All Tootsie products are gluten-free, including:
Tootsie Rolls
Tootsie Pops
Caramel Apple Pops
Dots
Junior Mints
Tootsie has the following statement on their website – "At this time, all of our confections are gluten free. We do not use wheat, barley, rye, oats, triticale, spelt or any of their components and that includes our dusting on our conveyor belts. We do use corn and soy products in the manufacturing of our products."
Yum Earth – All products are gluten-free, but some products are manufactured in a facility that contains gluten
Mars – Click here to see the Mars allergen statement
M&M's (EXCEPT for pretzel-flavored M&M's and crispy M&Ms) – Some seasonal and temporary flavors may have risk of cross-contamination so always check labels!
3 Musketeers Bars (all flavors)
Milky Way Midnight Bar (note regular Milky Way is NOT gluten-free)
Milky Way Caramel Bar (see above note)
Dove Chocolate products (all flavors except for milk chocolate cinnamon graham & cookies and cream)
Snickers Bars
Munch Nut Bar
Hershey – see the gluten-free list on their website here
Almond Joy Candy – All Except Almond Joy Pieces Candy
Hershey's Kisses
Hershey's Kisses (all EXCEPT milk chocolate kisses with almonds, AirDelight kisses, Candy cane-flavored kisses, Holiday Kisses Mint Truffles wrapped in dark chocolate, Cookies 'N Creme Kisses, Cupcake Kisses, Dark Chocolate with Chocolate Truffle Kisses)
Hershey's Hugs (all varieties)
Hershey's Giant Kiss (7 oz. only)
Hershey's Milk Chocolate Covered Almonds
Hershey's Nuggets
Hershey's Nuggets Milk Chocolates

Hershey's Nuggets Milk Chocolate with Almonds

Hershey's Nuggets Special Dark Chocolate with Almonds

Hershey's Nuggets Extra Creamy Milk Chocolate with Toffee and Almonds

Hershey's Nuggets Special Dark Chocolate
Hershey's Milk Chocolate Bar
Hershey's Milk Chocolate Bar (1.55oz only)

Hershey's Milk Chocolate Bar with Almonds (1.45oz only)
Payday Candy – All (Includes PayDay Snack Bites)
Reese's Fast Break Bar

Reese's Nutrageous Bar

Reese's Peanut Butter Cups – All Except Seasonal Shaped Items

Reese's Pieces Candy – All Except Reese's Pieces Eggs
Reese's Pieces Peanut Butter Cups – All Except Seasonal Shaped Items
Rolo® Caramels in Milk Chocolate Candies – All Except Rolo® Minis
York Peppermint Patties ( all except York Pieces, Minis, and Shapes)
Wrigley
Cremesavers
Hubba Bubba Gum
Hubba Bubba Bubble Tape
Lifesaver Gummies
Life Saver Big Ring Gummies
Lifesaver Hard Candy
Skittles
Sour Skittles
Skittles Darkside
Starburst
Starburst Fruit Flavored Candy Corn
Wrigley is a subsidiary of Mars Incorporated. See their allergen statement here.
Jelly Belly – all flavors
As stated on the company website, "All flavors of Jelly Belly beans are free of gluten. We do not use any wheat, rye, barley, or oats in the basic recipe for Jelly Belly jelly beans. The modified food starch listed on the package is cornstarch."

Ferrera USA
Some of these items in the past have been owned by Nestlé but were sold in March 2018 to Ferrera USA.
Butterfinger regular sized, fun size, share pack and Butterfinger Dark Candy Bar are gluten-free (Butterfinger Bites, Butterfinger Minis, Butterfinger Cups, and special holiday-shaped Butterfinger items are NOT gluten-free)
Black Forest – gummies and fruit snacks are all certified gluten-free
Brach's Naturally Flavored Candy Corn (NOT their normal candy corn)
Nestlé products that do not contain gluten ingredients but not tested to ensure under 20 ppm:
Baby Ruth
Oh Henry!
Sno-Caps
Wonka Pixy Stix
Laffy Taffy (including Laffy Taffy Rope)
Mondelez International
Sour Patch Kids
Sour Patch Xtreme
Sour Patch Xploderz
Sour Patch Watermelon
Swedish Fish
Mondelez has the following statement on their website, "When labeling products, we consider – and label for – all possible sources of the 8 major allergens recognized by the FDA. These are eggs, fish, crustacean shellfish, milk, peanuts, soy, tree nuts and wheat. If there is any risk of cross contamination we will label the allergen in the "manufactured on equipment that processes." See the full statement regarding allergens here.
Airheads
Regular Airheads
Sour Airheads
Airheads has a very clear statement about what products are gluten-free and which are not. They also label on their products that they are produced in a facility with wheat because the Airheads Xtremes contain wheat and are produced in the same facility. See their statement here.
Just Born, Inc
Hot Tamales (all except Licorice Bites)
Just Born Jelly Beans
Peanut Chews (all except Original Dark)
Peeps (all except Rainbow Pops)
Just Born verified the modified food starch in their products is made from corn, not wheat. See their FAQ section which refers to questions about allergens.