Pumpkin Pie Spice Sugar Cookies
These gluten free pumpkin pie spice sugar cookies designed like pumpkins and spider webs are such a cute cookie design for Halloween! They're a party favorite!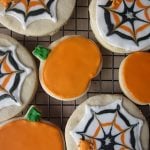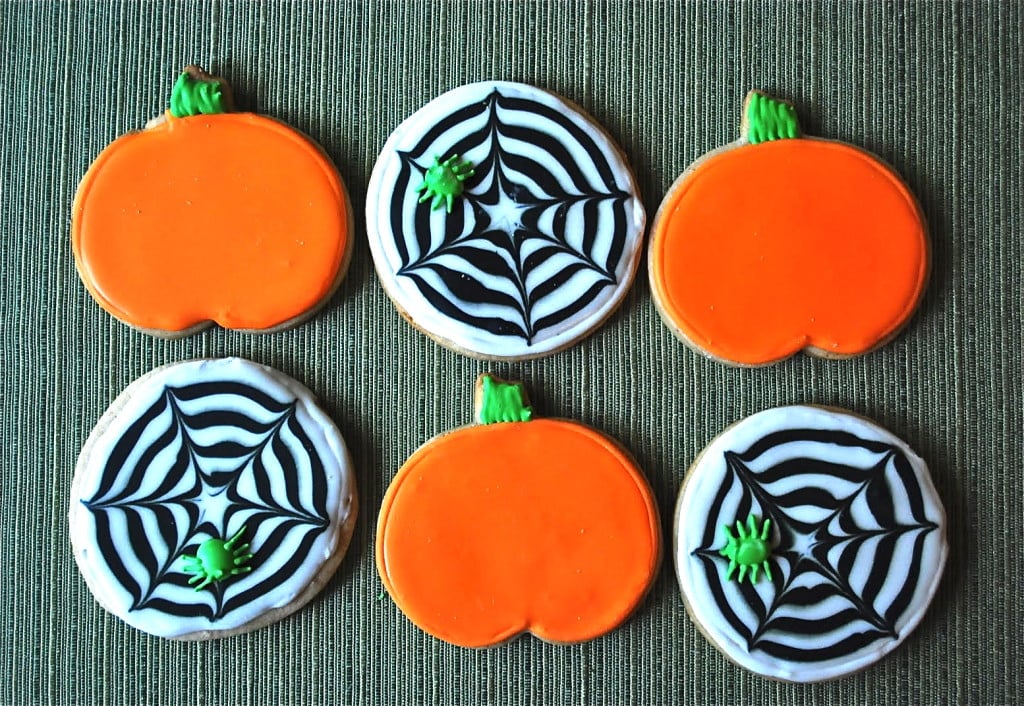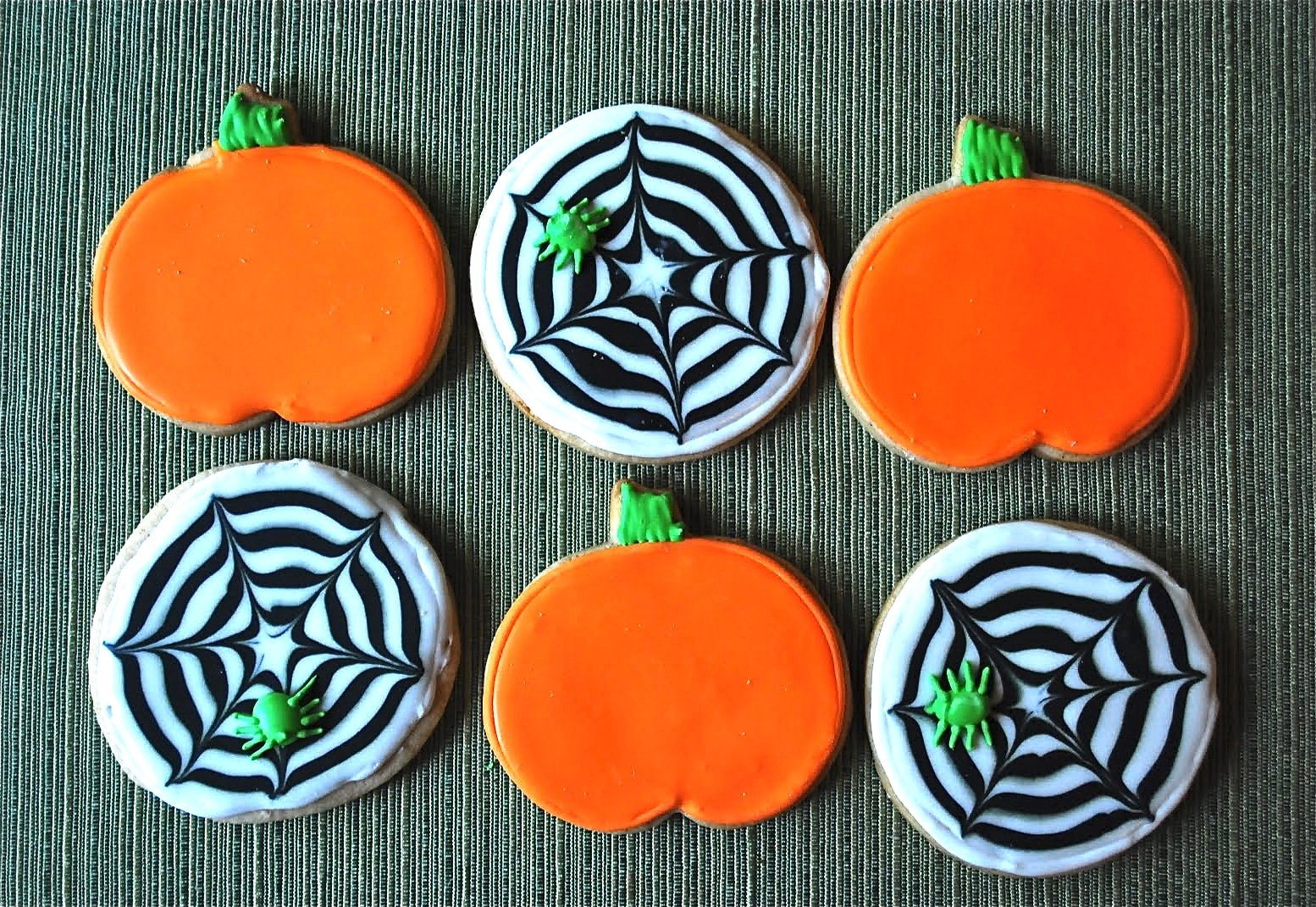 As you all know, there is not a holiday that I let pass by without making sugar cookies. I just love how festive they are and they taste pretty darn good too! Well a few weeks ago, my sister asked me to go to a pumpkin party with her. The only catch was that I had to bring something pumpkin related.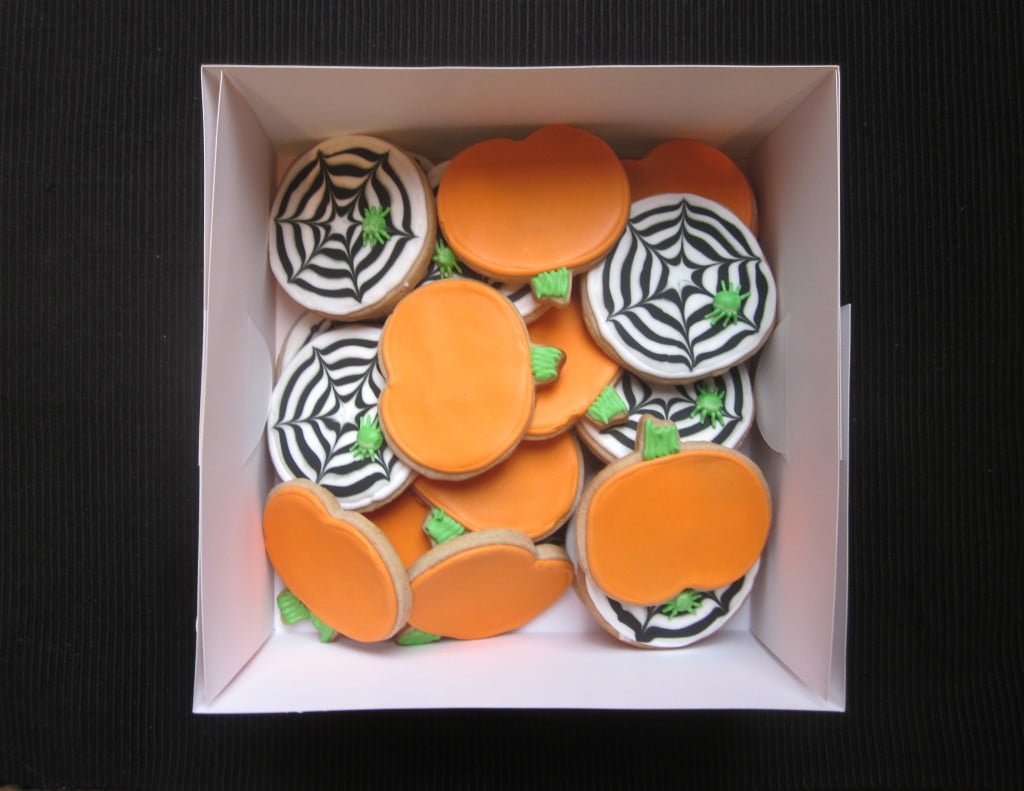 I immediately thought of making sugar cookies but to spice it up a little I thought pumpkin spiced sugar cookies would be really fun. There were so many good treats there: pumpkin chili, pumpkin mac and cheese, pumpkin donut holes, pumpkin ginger bread, and of course pumpkin beer, to name a few. The pumpkin chili was probably my favorite of the day.
I had already had way too many sweets (that was the week of the cookie diet I was on) so something savory was just what I needed. If you know me at all, when I do something, I do it big. Case in point: When I decide to make sugar cookies, instead of making 20 for a party, I make 75 so that I can send some over to my grandma's house, some to my parents, some to my aunt's house, some to the party, some to the girl who's supposed to sew my roommate's pillow cases together (yeah, we ate hers.. sorry), some to my boyfriend in Atlanta, and some for my house of course. That's a lot of cookies.
We also had a bunch of people staying at our house that weekend so I made sure to make extras for after-bar snack food. Yum. Moral of the story is it took me like 8 hours to bake and decorate the cookies but it was well worth it. I got to catch up on some TV shows while I decorated and I made some pretty awesome cookies. I really liked the pumpkin pie spice in the cookie. I was worried it wouldn't be enough pumpkin flavor in the cookie but you definitely taste it. Loved it. I hope you make these while there's still time left before Halloween! By the way, if you're going trick-or-treating check out my Gluten-Free Halloween Candy List to know which candy is safe!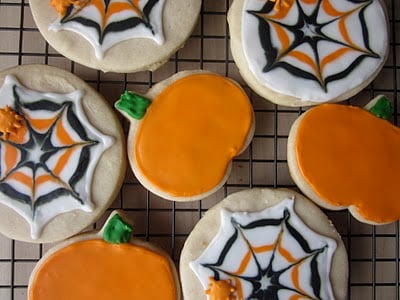 Pumpkin Pie Spice Sugar Cookies
These gluten free pumpkin pie spice sugar cookies designed like pumpkins and spider webs are such a cute cookie design for Halloween! They're a party favorite!
Print
Pin
Rate
Ingredients
For the Royal Icing:
4

cups

powdered sugar

(sifted)

2

tbsp

meringue powder

5

tbsp

water

1/2

tsp

vanilla

gel food coloring

(Americolor is gluten free)
Instructions
For the Cookies:
Cream butter and powdered sugar in a large bowl with an electric mixer.

Mix in egg, vanilla, and salt and beat until mixed well.

In a large bowl, mix together gluten free flour blend, xanthan gum (if using), and pumpkin pie spice. Then, gradually add in flour to the sugar mixture (1/2 cup at a time) and beat after each addition. Be sure not to over mix. I use the electric mixer for the first 2 cups of flour and then hand mix the last 1/2 cup.

Wrap dough in plastic wrap and then place dough in the refrigerator for an hour or so, or until the dough firms up. You can also put it in the freezer but I would only do that for 20-30 minutes otherwise it's very difficult to roll out.

Sprinkle your work surface and rolling pin with powdered sugar.

Roll the dough out to a 1/4 inch thickness.

Cut with cookie cutters.

Place on a greased cookie sheet and bake in the oven at 375 degrees Fahrenheit for 8 to 10 minutes or until cookie is cooked all the way through. The cookie should not brown, but the edges can be slightly browned (that's a good indication it's done).

Cool on a wire rack.
For the Royal Icing:
To make icing, In a bowl of an electric mixer fitted with the whisk attachment, combine the powdered sugar, meringue powder and water.

Mix for 7-10 minutes, until the ingredients are well blended and the icing has a matte finish. This is the base consistency.

I usually add about 1 tsp more of water for a good outline icing (I use a 10 second rule) and add more water until I reach a 4-second icing for flood icing. This means that when you drizzle icing over the bowl of royal icing then the icing will flow back in with the rest of the icing in 4 seconds (10 second icing is the same but it will sink back in with the rest of the icing in 10 seconds). If you need to thin it out more then add more water. If you need to thicken it add more powdered sugar.
For Decorating:
To decorate spider web cookies, outline the cookies using either a #2 or #3 tip with white icing. Let the outline dry for about an hour.

Reserve some of the thicker icing to make the spiders at the end.

Then, thin out the icing (4 second icing) in white and black and transfer to squeeze bottles (like the bottles used for ketchup or mustard at a restaurant).

Then flood the cookies with the background color. Using a toothpick, drag the icing so that it fills the entire outline.

While the flood icing is still wet, use the squeeze bottles to make 3 circles of black. Then with a toothpick, start in the center of the cookie and drag the toothpick out to the edge of the outline to make a weblike pattern.

Let dry for a few hours or overnight. When the icing is dry on the cookie, using a #7 tip (or any other large circular tip), pipe a circle with the thicker icing (10-second icing) in green until it resembles the body of a spider.

Then using a #2 tip pipe the legs of the spider. Let the cookie sit until it is dry.
Nutrition
Calories:
280
kcal
|
Carbohydrates:
45
g
|
Protein:
2
g
|
Fat:
11
g
|
Saturated Fat:
6
g
|
Cholesterol:
36
mg
|
Sodium:
226
mg
|
Potassium:
6
mg
|
Fiber:
1
g
|
Sugar:
33
g
|
Vitamin A:
330
IU
|
Calcium:
15
mg
|
Iron:
0.7
mg
I'm Megan
A gluten-free food blogger from Chicago and lover of all things food, showing you gluten-free can be easy and delicious, too. Let's make gluten-free stress free together! Read more…