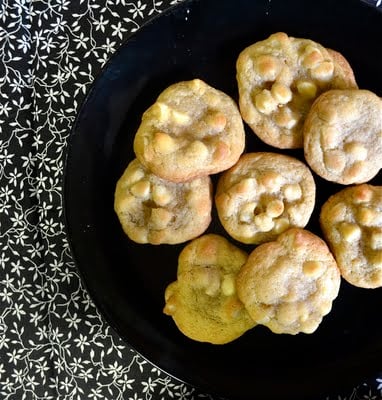 To be honest, I've never had a white chocolate macadamia nut cookie before today. I have no idea why. I guess I've never really been a huge nut person in the past, but recently I've been giving nuts another chance. I was talking to one of my friends the other day and he mentioned that his favorite cookie was a white chocolate macadamia nut cookie. I was a little surprised because you don't hear about them too often.  So, I decided to give them a try and boy am I so glad I did. These cookies have crispy outer edges, with a chewy and soft interior. Combine that with the crunch of salty macadamia nuts and melty white chocolate chips and I'm in absolute heaven. If you've never had a macadamia nut before they are a rather mild and smooth tasting nut. I really enjoyed the flavor of them. These cookies are definitely worth a try, you will not be disappointed!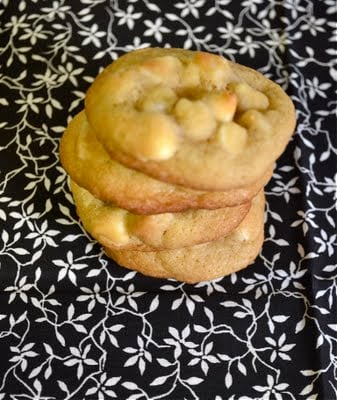 Ingredients:
1 cup (2 sticks) unsalted butter, at room temperature
3/4 cup light brown sugar, packed
3/4 cup granulated sugar
2 tsp vanilla extract
2 eggs
2 1/3 cups all-purpose flour
1 tsp baking soda
1 tsp salt
1 cup coarsely chopped macadamia nuts
1 1/2 cup (12 oz) white chocolate chips
Directions:
Preheat oven to 375 degrees Fahrenheit. In the bowl of a stand mixer fixed with the paddle attachment, combine butter, sugars, and vanilla extract. Blend until creamed together. Blend in the eggs, one by one. Gradually add in flour, salt, and baking soda. Mix together until dry ingredients are completely incorporated. Stir in macadamia nuts and white chocolate chips. Line a baking sheet with parchment paper. Drop teaspoon sized rounds of cookie batter onto the baking sheet and bake for 8-10 minutes. Let cool on the baking sheet for a few minutes before transferring to a wire rack. Store in an airtight container.
Makes 3-1/2 to 4 dozen cookies depending on size.
Source: Recipe from The Comfort of Cooking