4th of July Sugar Cookies
Whether you're celebrating for 4th of July, Memorial Day, or Labor Day, you'll want to make these patriotic gluten-free 4th of July star sugar cookies!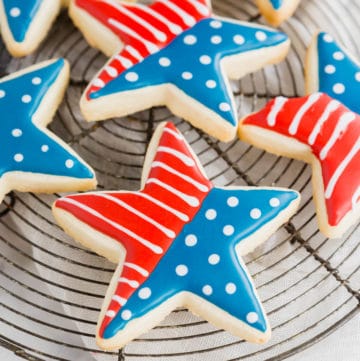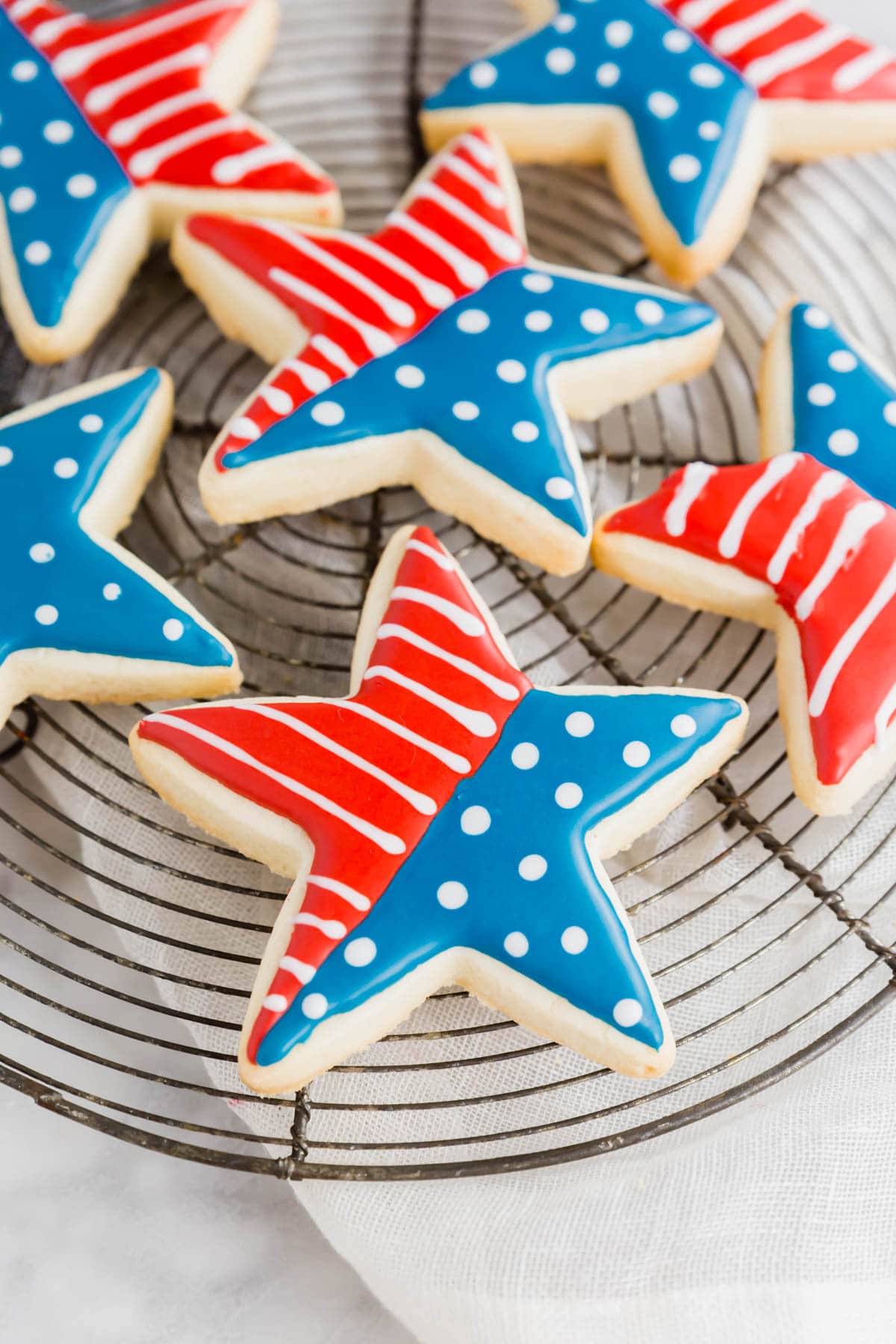 I love making sugar cookies. Maybe even a little too much (I think a few members of my family are sick of them right now). There are just so many possibilities in the shapes, colors and designs and they really make any occasion extra special.
4th of July is no exception in the sugar cookie department… they had to be made. I taught my younger sister Katie how to design sugar cookies this time. She's helped me before but I don't think I've ever let her do much since I'm super crazy about how my cookies are done.
This time I showed her how to do the different consistencies of icing, how to outline, and more detailing work. She's really getting a hang of it. Now if I could only get her to help me bake the cookies instead of only decorating. We brought these cookies over to my grandma's lake house (across the street from ours) for our Saturday night dinner.
They were a perfect ending to a great dinner!
A Dash of Megnut is a participant in the Amazon Services LLC Associates Program, an affiliate advertising program designed to provide a means for us to earn fees by linking to Amazon.com and affiliated sites.
Here's what you'll need to make this recipe
Ingredients: butter, powdered sugar, egg, vanilla extract, salt, gluten-free flour blend, xanthan gum (if needed), meringue powder, gel food coloring
Equipment:
pastry bag
hand mixer or stand mixer with whisk attachment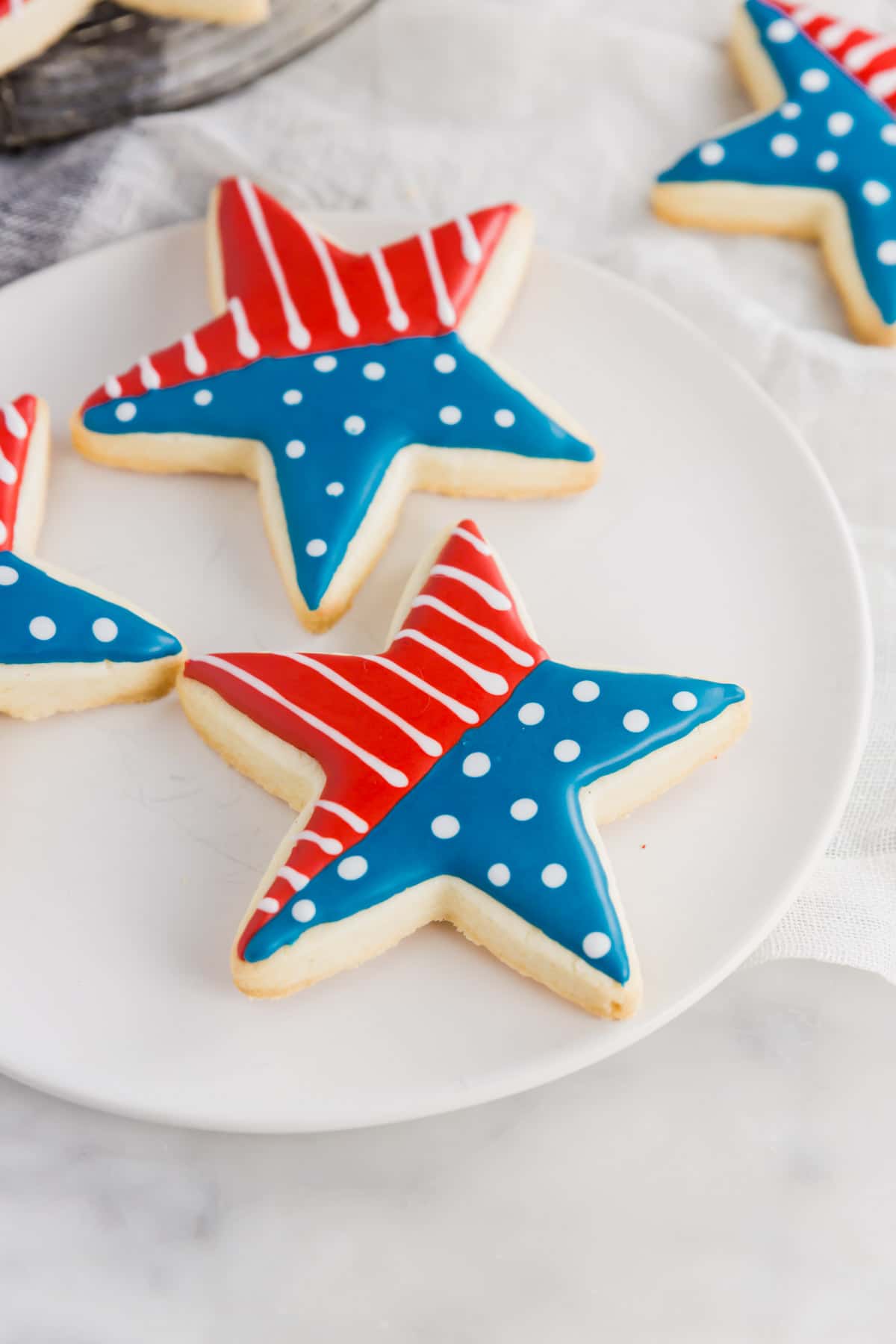 FAQs and Tips for Making 4th of July Sugar Cookies
Do I need to add xanthan gum to this recipe?
You only need to add xanthan gum if your gluten-free flour blend does not already contain it. I've used both King Arthur Gluten-Free Flour and Bob's Red Mill 1-to-1 Gluten-Free Baking Flour with great results. Both of these already contain xanthan gum.
Can I use a reusable pastry bag?
Yes, you can. Reusable pastry bags normally have a larger whole in them already, so you'll need to use a pastry tip. I recommend a #3 tip for this design.
Can I use buttercream instead of royal icing?
If you want to decorate with buttercream you can! This design is only a suggestion so decorate these cookies any way that you would like!
What kind of gel food coloring should I use?
I like Americolor gel food coloring. The colors are very saturated and come in a squeeze bottle. You do not want to use liquid food coloring that you find at the grocery store. You can find gel food coloring at a craft store or online.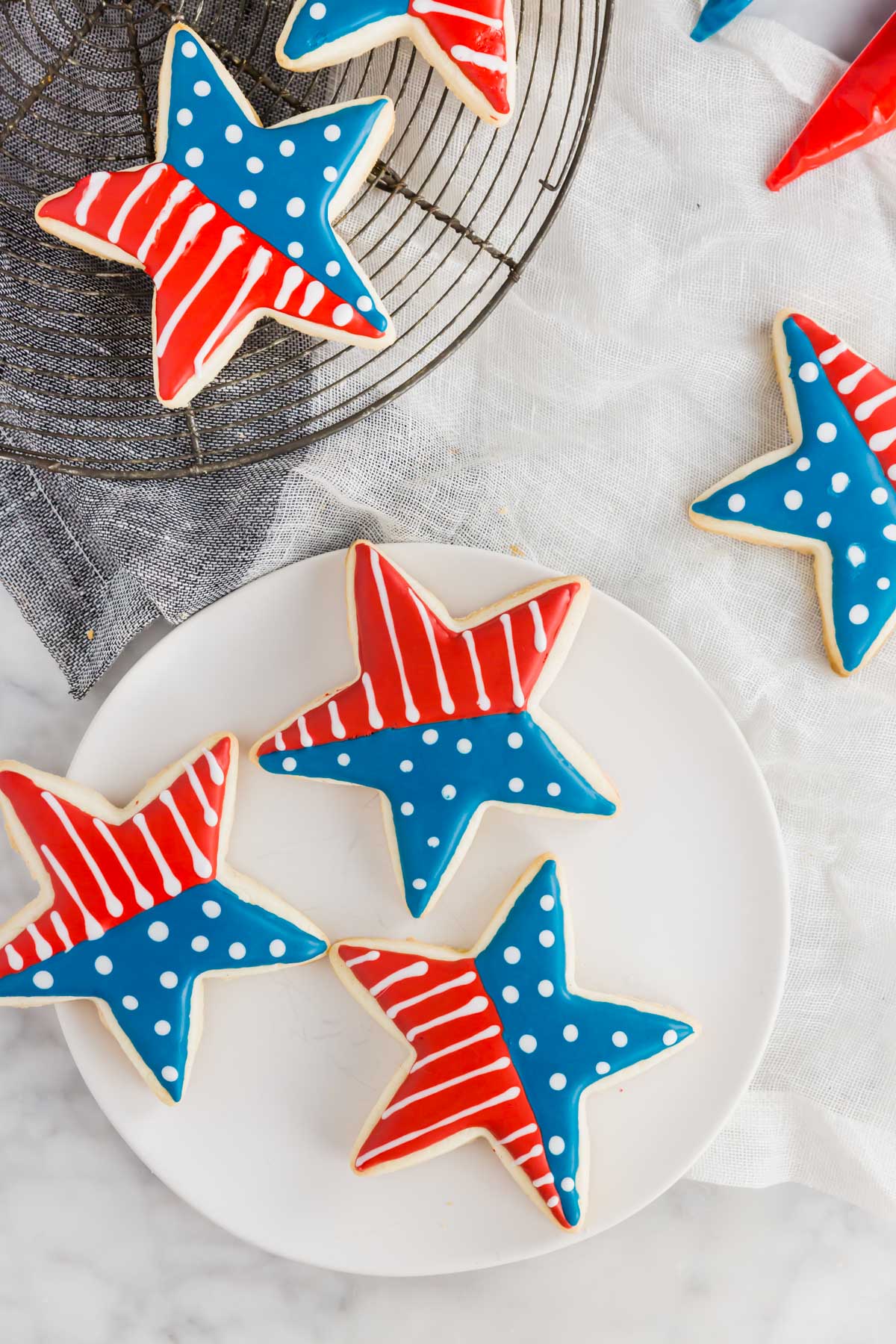 More patriotic 4th of July recipes
Having a cookout for 4th of July? Try these other gluten-free recipes!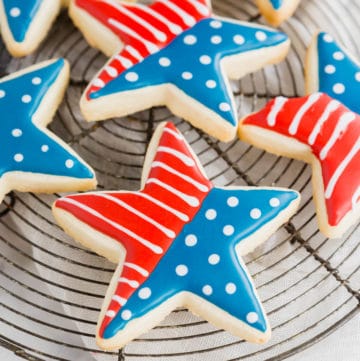 Gluten-Free 4th of July Star Sugar Cookies
Whether you're celebrating for 4th of July, Memorial Day, or Labor Day, you'll want to make these patriotic gluten-free 4th of July star sugar cookies!
Print
Pin
Rate
Ingredients
Sugar Cookies:
1

cup

butter

(softened)

1

cup

powdered sugar

2

tsp

vanilla extract

1

tsp

salt

1

egg

2 1/2

cups

gluten-free flour blend

1/2

tsp

xanthan gum

(if your blend doesn't already contain it)
Royal Icing:
4

cups

powdered sugar

(sifted)

2

tbsp

meringue powder

5

tbsp

water

1

tsp

vanilla extract

red and blue Americolor gel food coloring
Instructions
For the Sugar Cookies:
Cream butter and powdered sugar in a large bowl with an electric mixer.

Mix in egg, vanilla extract and salt and beat until mixed well.

Gradually add in flour (1/2 cup at a time) and mix after each addition.

Turn the dough out onto a piece of parchment paper and pat into a circle about 1 inch thick. Put dough in the refrigerator for an hour or so, or until the dough firms up.

Sprinkle your work surface and rolling pin with powdered sugar. Roll the dough out to a 1/4 inch thickness.

Cut with star cookie cutters.

Place on a baking sheet lined with parchment paper and bake in the oven at 375 degrees Fahrenheit for 9-11 minutes or the edges are lightly brown.
For the Royal Icing:
In a bowl of an electric mixer fitted with the whisk attachment, combine the powdered sugar, meringue powder, water, and vanilla extract.

Mix for 7-10 minutes, occasionally scraping down the sides with a spatula, until the ingredients are well blended and the icing has a matte finish. This is the base consistency. I usually add about 1 tsp more of water for a good outline icing (I use a 10 second rule). This means that when you drizzle icing over the bowl of royal icing then the icing will flow back in with the rest of the icing in 10 seconds. If you need to thin it out more then add more water. If you need to thicken it add more powdered sugar.
To Decorate:
To decorate the cookies, you'll need to dye your royal icing. Split the icing into 3rds and dye one bowl red, one bowl blue and leave the 3rd white. Use 8-10 second icing to outline and fill your cookies.

Fill your pastry bags with the icing. Cut the very tip of the pastry bag. The hole should be very small – small enough that you have to apply some pressure to the bag to release the frosting, but not too small that it's a struggle to frost the cookies.

Draw the outline of half of the star in red to create a barrier. Then, fill in the cookie with the red icing. Immediately, take the white icing and draw stripes. This will create a wet-on-wet technique and the white stripe will bleed into the white so it's a smooth surface.

Then, draw the outline of the other half of the star with the blue icing. Fill in that half with with blue icing. Immediately, take the white icing and quickly squeeze white dots over the blue icing.

Let dry for 4 hours before serving.