Last Updated on
I don't know about you, but the 4th of July is one of my favorite days of the year. There is nothing like grilling outside, enjoying the weather with family and friends, and chowing down on red, white and blue themed desserts. Let's be real, the last part might be everyone's favorite!
I honestly wasn't sure how I was going to partake this year, given my usual 4th of July desserts normally involve these star cookies or this cookie flag cake, both of which are no no's on the fabulous (not) Megan diet. However, I am so glad I came up with these layered popsicles! I've been dying to make some layered popsicles because well, I'm a weirdo. First, I just love the look of them. And second, I'm someone who is literally the worst at making any kind of decisions, especially those involving food. For example, typical Friday night decision: Do I want sushi or do I want ribs for dinner? Hard question. Because the real answer is I want both and I want them now. See? This is exactly why layered popsicles are amazing! I can have all the flavors!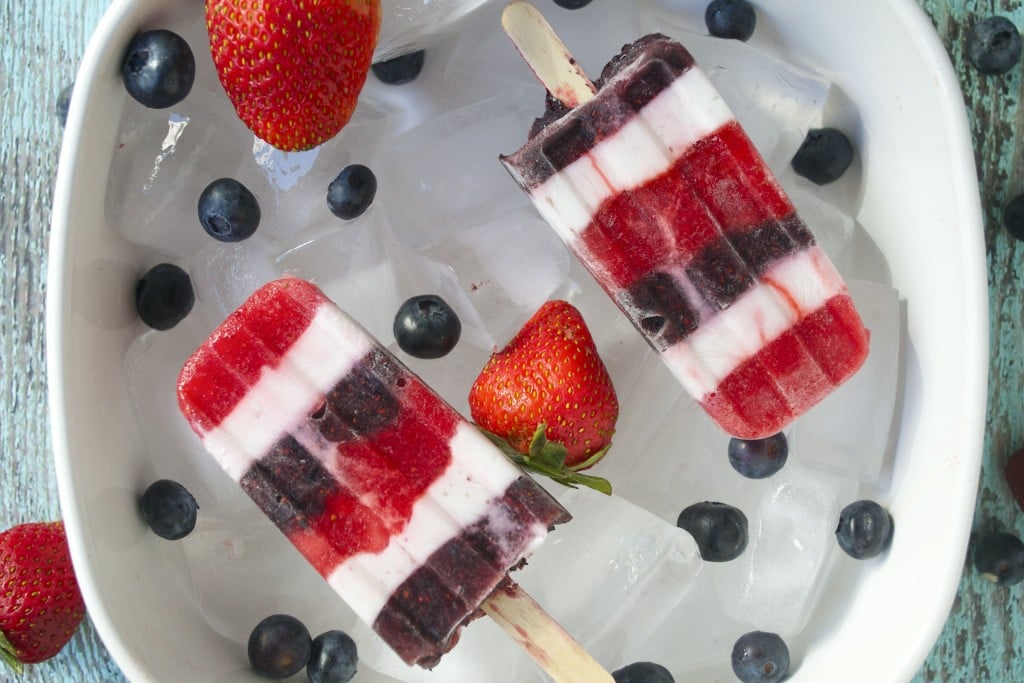 Layered popsicles are a bit on the tedious side, since you have to freeze each layer for at least an hour before adding on the next layer. But, the steps are not difficult and I was able to get it all done on a lazy Sunday afternoon. So I promise, you can do it too! I used strawberry, coconut milk, and blueberries to get my red, white and blue on. However, you can use whatever your heart desires – maybe even raspberries, greek yogurt, and blackberries – as long as it's red, white and blue!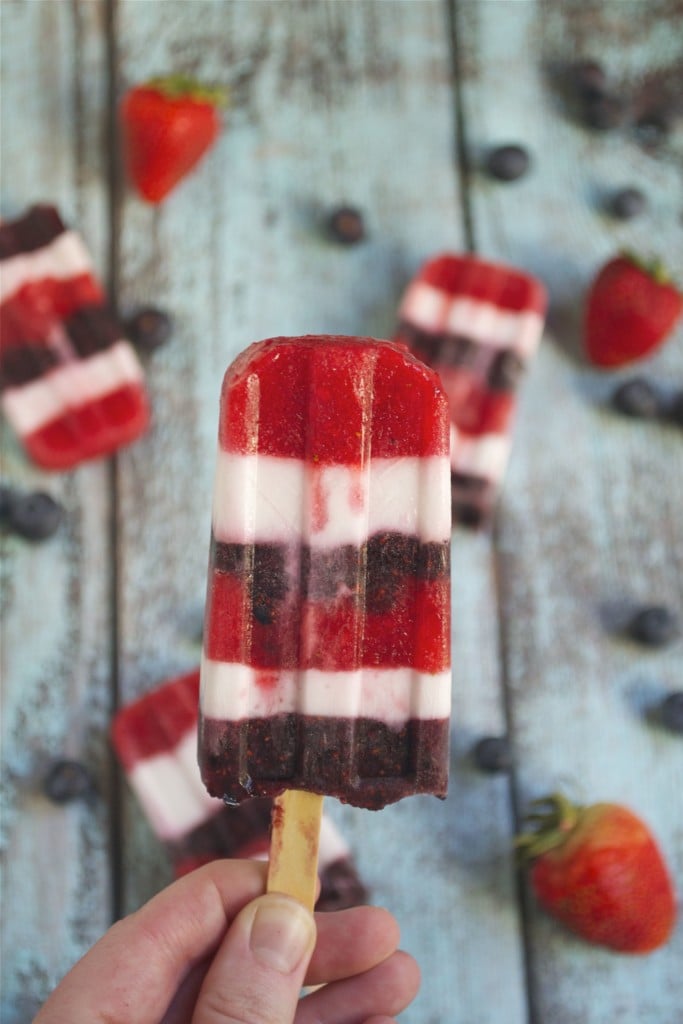 Print Recipe
Red, White and Blueberry Popsicles
These red, white and blueberry popsicles are festive, fun and easy to make! Filled with berries and coconut cream, you can't go wrong with this gluten-free, dairy-free and vegan dessert.
Ingredients
1 ½

cup

quartered strawberries

1 ½

cup

blueberries

1

cup

coconut milk

½

tsp

vanilla extract

sweetener

to taste (optional) such as honey, stevia, or maple syrup

½ to 1

cup

water
Instructions
In a food processor, add your strawberries. Process on high until blended completely. Drizzle in ¼ cup to ½ cup water to thin out the strawberries, giving it a pourable consistency. Pour in a bowl or measuring cup with a spout and set aside.

Now, do the same with the blueberries. Process on high in the food processor until blended completely. Drizzle in ¼ cup to ½ cup water to thin out the blueberry mixture. Pour in a bowl or measuring cup with a spout and set aside.

In a small bowl, mix together coconut milk, vanilla, and sweetener until combined. Set aside.

In a popsicle mold, start by pouring a little bit of the strawberry filling in the bottom of each pop. Freeze for at least one hour.

Then, pour a little bit of the coconut filling on top of the frozen strawberry filling. At this point you'll want to stick in the wooden popsicle sticks. Freeze for at least one hour.

The third layer is our blueberry filling. Pour a little bit of that in there and then freeze for another hour.

Repeat with the remaining layers – red, white and finish with blue, freezing at least one hour in between each layer.

To serve, run the popsicle mold under hot water for 30 seconds and the popsicles should pop right out with a gentle tug.
Notes
Just an FYI, for this dessert you'll need some wooden popsicle sticks and a popsicle mold. So you better run off and grab those before starting!
Nutrition
Calories:
64
kcal
|
Carbohydrates:
5
g
|
Fat:
4
g
|
Saturated Fat:
4
g
|
Sodium:
3
mg
|
Potassium:
99
mg
|
Sugar:
3
g
|
Vitamin A:
10
IU
|
Vitamin C:
15.1
mg
|
Calcium:
9
mg
|
Iron:
0.9
mg